Sometimes it is frustrating when your communication with customers is not going well. You look for the best feasible solution where customers enrich their experience. Therefore, we want your attention here as we have the best and easiest way of connecting with your customers and that is Twilio.
Your level of communication always stays strong as you don't need to be fret when the platform is here for your assistance regarding communication build-up. First, allow us to share what is Twilio. No such hassle when Twilio is here for the communication purpose as Twilio is the topmost method where you get to engage with your customers. Twilio is considered to be everyone's priority as the platform simply added many multiple communication like via SMS, Calls you can meet your customers. In fact, communication can go on with ease and saves your quality of time and efforts both.
Features to know how Twilio is best for business
Well, not a single definition is going to highlight a good image of any platform, so we decided to share some of the advanced features of Twilio that you need to know before going to invest in it. So, let's make a start
First, we are going to share a feature where Twilio can win your heart as the platform saves the entire recordings of their previous customers. This is a plus point because if by chance, you need a conversation of one of your customers, you can reach there.
Move on to the next and here you can read out about your customers. Yes, that is true if you save their number then Twilio platform role is to present information about the customers on your screen.
The third positive point of Twilio is the cost. We all know money matters the most for everyone. If you call via mobile to your international customers then charges may be high but going to take the assistance of Twilio is a good option because the platform is cost-effective.
How many of you are frustrated just because communication with international customers going not so good? We guess many so here we would like to mention Twilio as the calling quality here is excellent. Get incomparable experience via Twilio for communication now
Understand in brief about three extensions of Twilio
Above you have read out some pieces of content regarding Twilio and it's exceptional features for CRM business. So now we are ready to share the gist of this blog as three extensions of Twilio are here-
Twilio SMS
Clients like to aware their customers about business, so they mostly choose SMS job is suitable but sending SMS one by one relentlessly can be a hectic moment sometimes. Furthermore, you can be fed up with this method that's why we have a feasible solution for you and that is Twilio SMS. Why? This superior platform strives to save your time by sending SMS in bulk at one single time.
More amazing features it has liked you can save the entire customer's data so that whenever you need, you can go through that conversation. Also, if you want to stop the conversation then you can as there is no such big process to stop. Just type STOP and send it. For this stopping conversation, the Opt-Out option will assist you. Last but not the least as Twilio SMS offers a feature of SMS Templates to make your conversation more good with customers so choose whichever template you would like to share.
Twilio Auto Dialer
Dialing your customers to call again and again is not a good solution so why don't you go for the holistic approach for this concept. We are talking about Twilio Auto Dialer for this task where it is the best platform to manage multiple phones. That's amazing! Twilio Auto Dialer is going to be your priority as it is the right choice for auto-generated calls. Some more features it has so let's understand one by one as here it offers the same feature of saving conversation like what you have read out in Twilio SMS.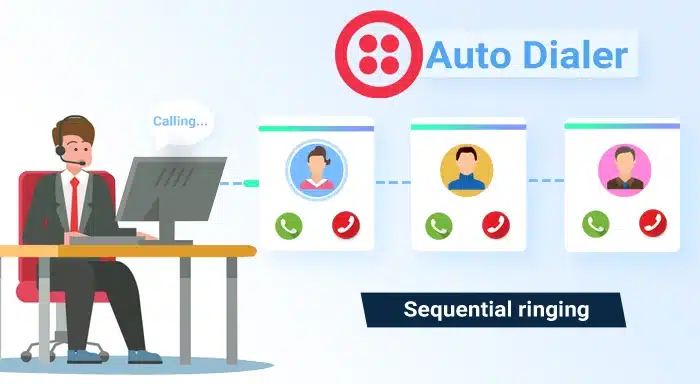 Here the Auto Dialer platform will save your entire recording so no chance here of delete and all. Also, you have a chance to set the delay time of receiving the calls as if you are busy with one of your customer's and suddenly the next customer calls you then a pop-up appears on your screen whether you want to receive it or not.
You can set the time too at what time you want to talk to that person. This is the best way as a call directly goes to the next person, you don't have to write a number to call so you can say that the platform is best to save your precious time and efforts.
Twilio Click To Call
Above the two extensions are great regarding communication so allow us to share one more for you which brings ease when communicating with customers is going and that is Twilio Click to Call. Readout this paragraph thoroughly as the extension can be a fascinating one for you where you can manage one call at a single time.
Let's discuss some of its features as Twilio Click to Call helps you to know who is calling you. A pop-up appears on your screen and even you get the information about that person who wants to contact you. And status will be shown so that you get to know whether your customers accept your call, reject your call. Just like Auto Dialer or Twilio SMS share a feature of saving conversation, Click to Call also provides this feature.
Twilio Pricing
Getting deep information about the Twilio platform clears all our doubts now. We have shared our best regarding the Twilio so now we are going to introduce the price aspect here. See the realm of Twilio Pricing

To make a call, it starts from $0.013/min
To receive a call, it starts from $0.0085/min
To send or receive SMS, cost starting from $0.0075
If you want to send WhatsApp Template message then cost starts from $0.0042
And for your WhatsApp Session messages, it starts from $0.005
Cost starting at $0.03 per active user per month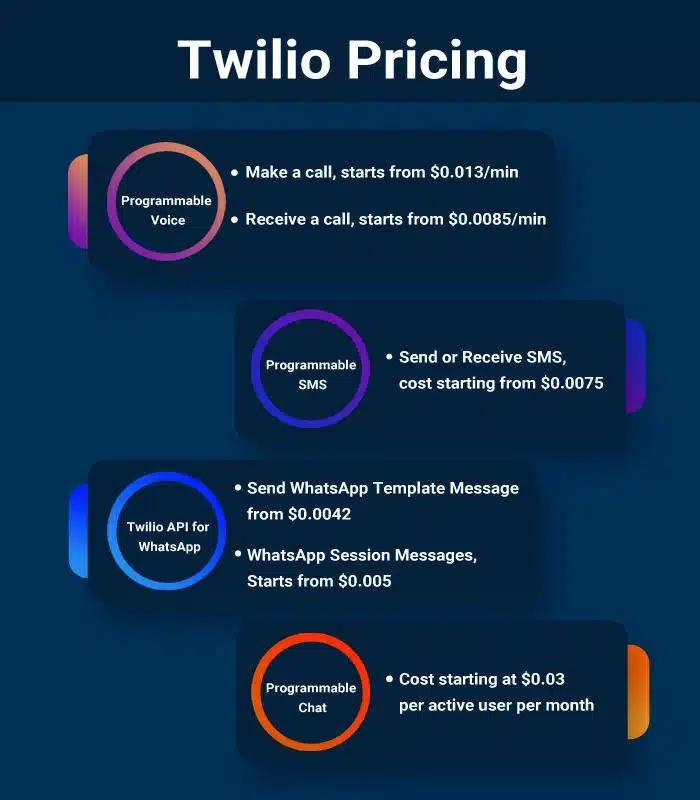 Some competitors of Twilio that you need to know
Giving a tough competition to Twilio regarding communication with customers we would like to see. Most of you want to use two or more platforms for this purpose, so we hope that you read out about Twilio above briefly. It's time to share the best alternative of Twilio platform now
Nexmo
Nexmo is considered to be a well-known largest global presence for communication APIs as the platform will offer SMS numbers to at least 35 countries. And if about the voice number we talk then Nexmo offers to 90 countries. There can be a moment when you need customer service so if working with Nexmo then it gives all day 24/7 service for you all just with the assistance of email. Now, this can be interesting as Nexmo also provides a business manager just for your assistance if there is a need for any help regarding business and also can guide you regarding the technical problem.
Plivo
Getting engaged with customers is everyone's priority so this platform called Plivo can assist you as every client can connect with their customers rapidly. Here using this communication platform, you can send SMS swiftly as here you are allowed to take the help of SMS shortcodes. Some more advanced features that Plivo can offer to you like Call tracking, delivery reports, bulk messaging, two-factor authentication, voice broadcasting alert, conference calls and many more. If you have a question about what is SMS shortcodes then let us share that these are the short numbers which are easy to read out and remember too.
Sinch
Now we are going to talk about the cloud-hosted platform that is Sinch which is considered as mobile communications that play a key role regarding voice, verification, SMS just for app integration. If we go ahead and talk about Sinch features that are essential for you to know then let us share that it offers video calling, number masking, SMS Solutions, phone number verification and many more.
We can say that the platform is best regarding the protection of both clients and customers as it provides a phone number and flash call verification too. Well, we must say that Sinch has done something advanced regarding video calling as they are offering software development kits where you can enhance personal communication.
| | | | | |
| --- | --- | --- | --- | --- |
| | Twilio | Nexmo | Plivo | Sinch |
| | | | | |
| Make a call | $0.0130 | €0.0212 | $0.0120 | $0.01 |
| Receive a call | $0.0085 | €0.1200 | $0.0085 | $0.004 |
| Send SMS | $0.0075 | €0.0155 | $ 0.0035 | $0.0620 |
| Receive SMS | $0.0075 | €0.0025 | Free | Free |
Final words
Hope you have read out the blog above and now you understood Twilio is an utmost important for your CRM business these days. Everyone wants to get engaged with their customers and make them feel valued so we want all of you to grab the chance to make Twilio platform your first priority. Well, Twilio content is incomplete without their extensions so read out thoroughly about the above extensions that we mentioned which can make your conversation go smoothly without any hassle. We suggest you check out their competitors which we mentioned so that you get to know which platform is more powerful and convenient these days. Don't just compare with price aspect, go deeply about their functions too which we shared.