A well-performed communication assists you in maintaining the physical and social aspects of the workflow in any organization. By having good communication anybody can generate practical relations with their surrounding and also create healthy coordination with the people. Furthermore, by having smooth and fluence communication the director or manager of the companies can encourage their subordinates to drive more work in less time. Reasonable communication does work in every field for creating beneficial relations even with outsiders. For knowing the communication procedure deeply you need to know about cloud communication. A method that can shine your connections and level up your contact as well as your business.
What is Cloud Communication?
Cloud communication is a way of communication that works based on cloud-host technology. For driving more connections through the this process, you do not need a (Public Switched Telephone Network) PSTN instead you just require an internet connection.
Cloud Communication not only includes voice calls but also emails, chats, video calls, etc by using internet-based connectivity. This internet-based communication can make all types of communication and also can streamline your business broadcasting.
How Does Cloud Communication Work?
The maintenance and hosting procedure of this cloud communication service is done by its providers by using the data centers and the servers. After that, customers do select the pricing level according to their needs and then access these servers and data centers through the cloud.
Cloud communication comprises the cloud Telephony service over the internet that helps you in making calls and receiving them. This internet-based voice and data communication service performs the entire work using hosted PBX and VoIP (Voice Over Internet Protocol) technology just within a smidge of time.
Types of Cloud Communication
Generally, there are three types of cloud communication available that serve different activities according to their nature or work. Here, you will know the three types of cloud communications and their working eligibility. For getting a deeper understanding let's learn about it in detail.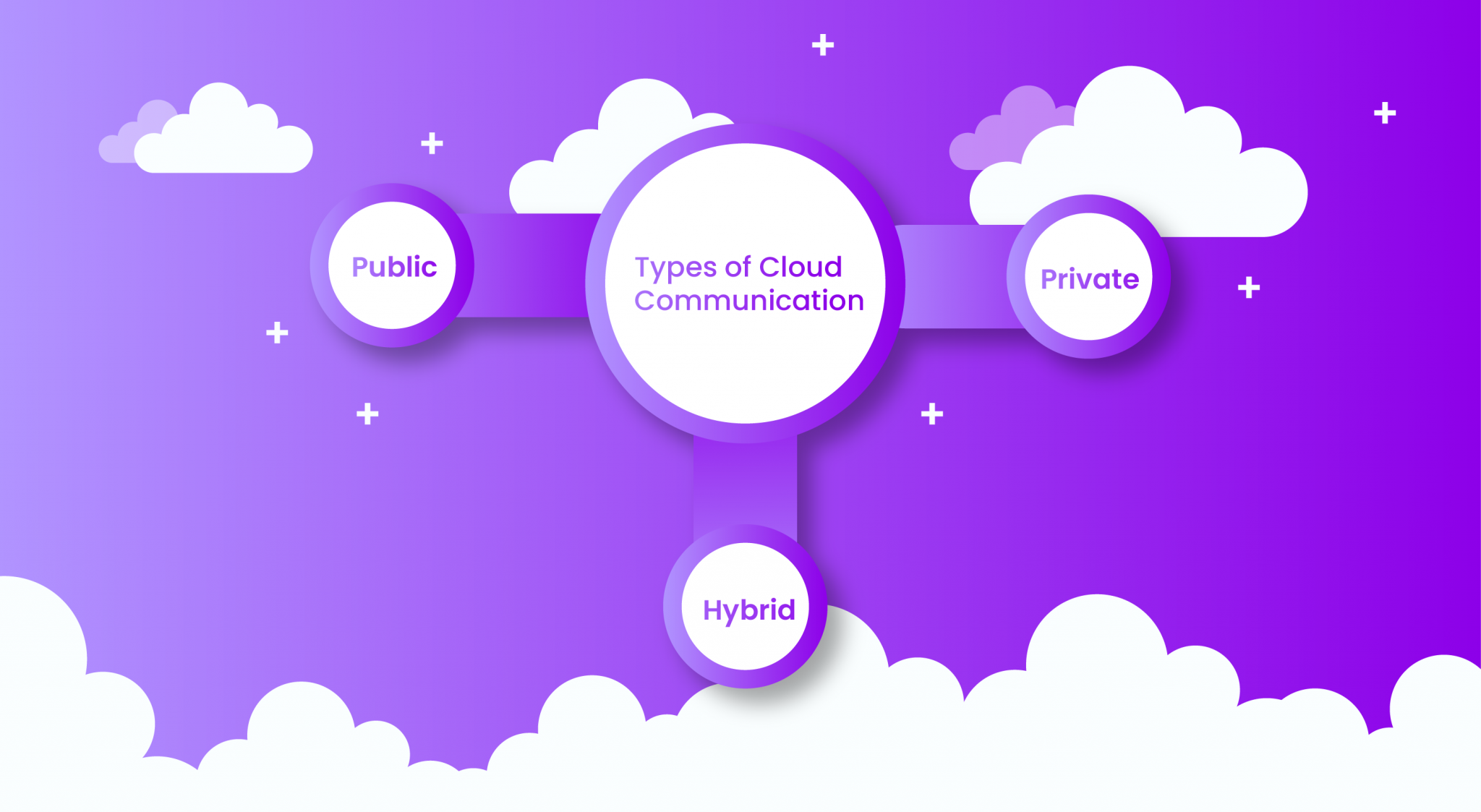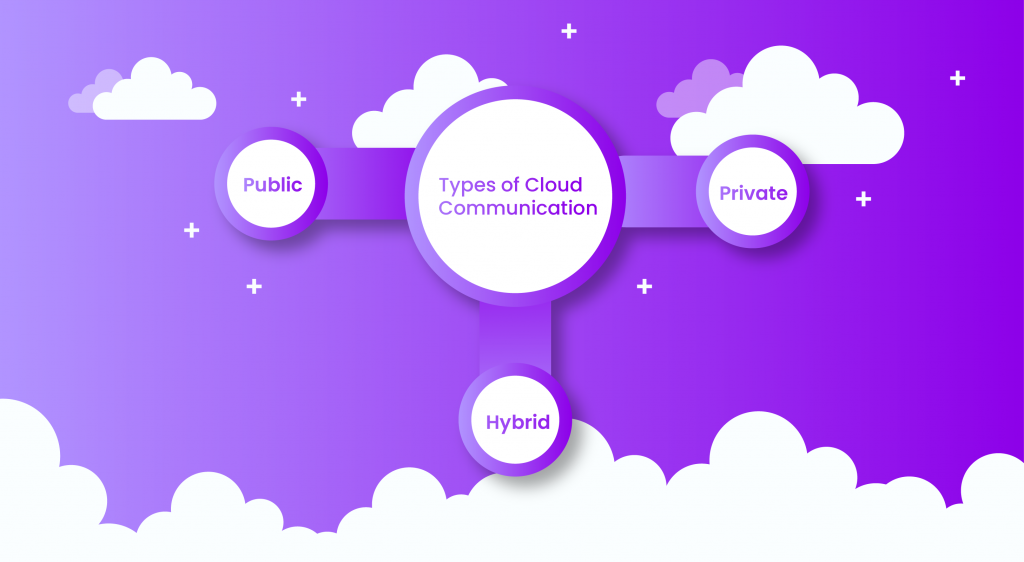 Under the public cloud communication system you will see that each provider is different but your space in the cloud would be encrypted and secured. So, no one can hack or steal your data or database.
As it is Public cloud communication it does not mean that anyone can access it and reveal your important and private business information. It has the functionality to operate better for all small or medium-sized businesses and is available in per user per month method.
As the private cloud communication system is a non-state-run so it does use an internal network that helps you in getting high security & safety for your business data. The private service is mainly available with "as a service" such as Communication Platform as a Service (CPaaS) or (Unified Communication as a Service) UCaaS.
Generally, the private mode also goes all most as same as the public one does with a little difference in extra security. The private mode is preferred by those large organizations that want more privacy or rely on strict privacy policies.
Hybrid cloud communication refers to the synchronous and asynchronous exchange of information among remote employees and in-office employees. It mainly includes asynchronous communication which does not require an immediate response.
In the hybrid environment, employees can use numerous methods and platforms to accomplish the goal of their organization. The most proficient benefit of this system is that here your calls won't get stopped, this system can make route calls through backup lines automatically.
Why should you use Cloud Communication for your business?
Cloud communication is the most frequent service since it empowers remote working. Just by having two things, the cloud communication platform, & the internet-connected device, you can easily perform your exclusive work from any location in the world.
As most businesses have a decentralized nature with all branches globally & have the authority to work from anywhere in the world so, they must use cloud communication. And later they can spread out their businesses universally by broadcasting their brands with different methods of cloud communication.
The business owners who have transmitted their business to cloud communication have got mobility, flexibility, cost-efficiency, security, reliability, productivity, etc. For providing a better growth and pleasing experience to the organization this unified communication or UC does use the (PAYG) pay-as-you-go pricing model.
Since cloud communication is the basis for numerous advanced telecommunication & UCaas solutions (provide features like call forwarding, recording, ID blocking, routing, voice mail, call management, & auto-attendant). So, it is the most functional communication service used by 60% of people.
The increasing number of customers indicates the increasing expectations in reference to the updated technologies and demands of the customers. So, here cloud communication will serve you better since it has multiple functionalities that may help you proving a better customer experience.
5 Top Cloud Communication Platforms
The best cloud communication platform not only leads to access to platforms but also do align those channels for better tracking & analytics throughout the end-to-end business journey. For conducting a strong relationship and coordination among all the team members you must pick out a practical cloud communication platform that can handle the entire operation.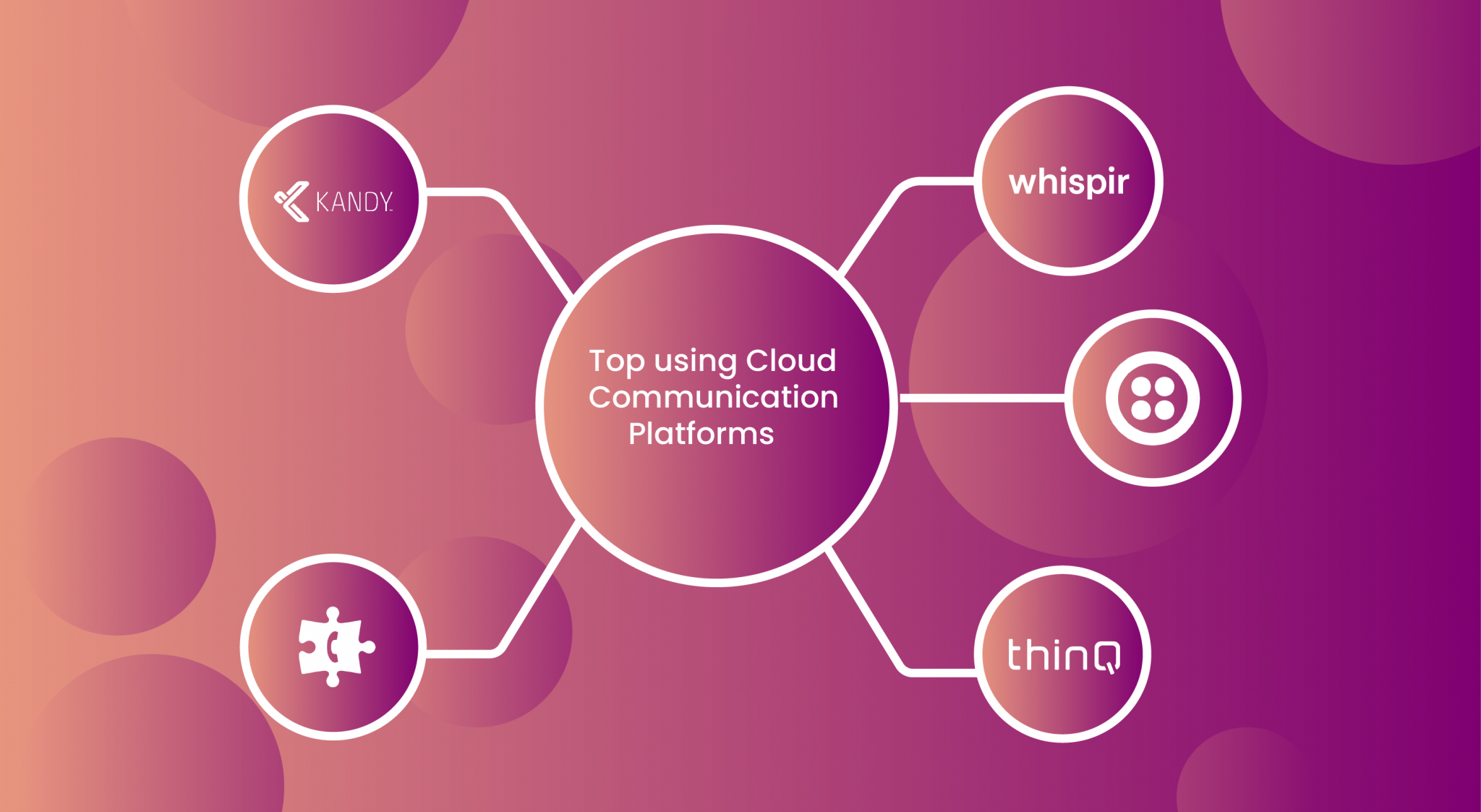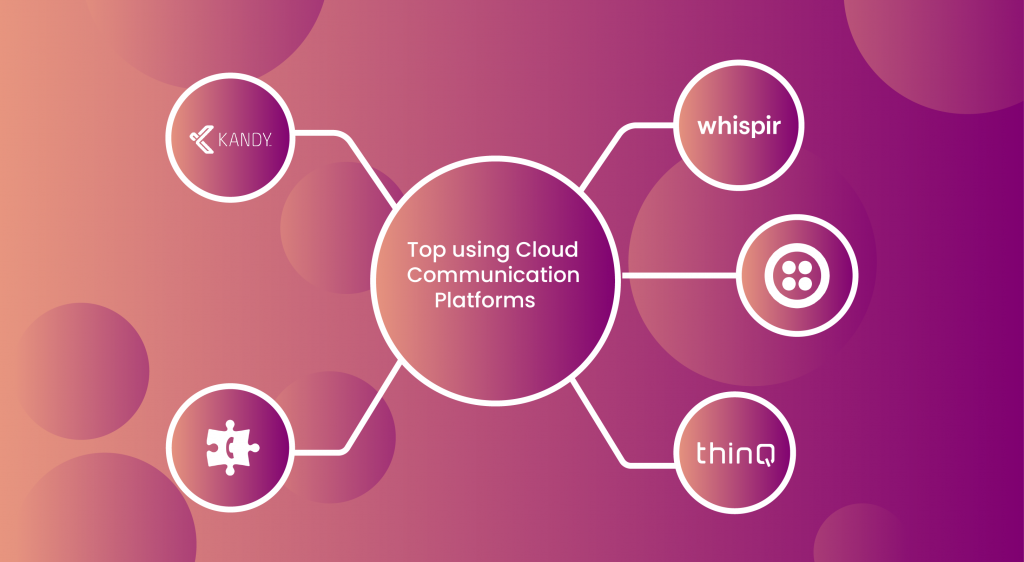 Let's have a look at which of the platforms would be calculated in the top cloud communication platforms list.
Whispir
The communication platform would be easily available to you once you will integrate it with your software. Later, will provide you the message-building functionality and allow you to automate the workflow of all multi-step conversations for a better understanding experience.
The Whispir platform does provide numerous features like Voice In/Out, Sending email and SMS, Geo-tracking Module, post publishing on Facebook, SSO, event automation functionality, etc.
If you want to know the pricing of this platform then there are four standards available the first and basic are Growth at $140/ month. The second is Accelerator $499/month after that the Enterprise $999/month, and lastly, the Platinum but for this, you need to direct contact with the leader.
Kandy
The Kandy cloud communication platform provides the solution, especially for CPaaS (communication Plftrom as a Service), and UCaaS (Unified Communication as a Service). Additionally, for DRaaS (Direct Routing as a Service), and STaaS SIP Trucking as a Service).
By using the Kandy Platform, all agents like system consolidators, value-added resellers, distributors, & software dealers can simply integrate Kandy's suite of the white label with other applications.
Voximplant
The Voximplant basically is a non-code application that has great experience in providing services to all kinds of industries. We are sure that here you will get every functionality needed for your communication like telecommunication, number masking, audio/ video call, avatar, Dialogflow connector, notification, etc.
Moreover, you can run the campaign, can do call tracking, and also phone surveys, in Voximplant. For the use purpose, you must know its pricing plan which is different for different functions but the basic is starting from $0.013 per minute.
The VoximPlant let your business grows up since this technology allows you to smoothen your communication flow, and hire employees. Additionally, it will enhance your marketing efficiency by operating through 30,000+ companies.
thinQ
The thinQ platform is designed to enhance your communication and make your customer engaged with your business in considerable ways. It will allow you the features like making fighting Robocalls, routing lookups, intelligent call routing, text messaging, toll-free disasters, recovery solutions, monitoring, and more
The operating procedure of this cloud communication platform is so fine and simple since here you will get the instructions for use. Not only but also, you will get the blog, emails, case studies, and infographic data that will guide you.
Twilio
The Twilio platform gives you three ways to start: signup, talk to sales, and the last as see the pricing of the plan. It will transform your customer relationship to the next level, personalize each interaction in real-time, and also allow you to connect with people on their preferred channels.
The Twilio customer engagement platform allows you to send grid emails, unify customers' data, and make programmable video and voice calls. Additionally, you can try it for free and lately choose the pricing plan based on your need.
Conclusion
To drive consistent and betters sales in your business your first need is to make your communication process so smooth and purposeful. And for filling this requirement the best method is cloud communication which can engage your all current customers and attract potential customers. In this article, you will learn about cloud communication, its type, its working process, & mainly why should you use this approach for your business. Additionally, you will know about the top 5 cloud communication platforms that can assist you in upsurging your business by matching your requirement and budget.