In today's busy world, every organization should get connected with the leading platform for their calling and SMS purposes. Therefore, we will unhide the term Twilio communication platform which raised the communication level and worked perfectly to enhance your SMS experience. This cloud-communication platform is the best example to empower communication between mobile devices, applications, systems, etc. Well, not only this, but you should also get aware of the Twilio latest extensions which are worth it, and the add-on Twilio Pricing. Let's make a fresh start-
For dialing phone numbers automatically: Twilio Auto Dialer
We are going to talk about Twilio products and plans, so let's explore the Twilio Auto dialer plugin first. Generally, we have to call plenty of customers within an hour for our business purpose and we are fed up with the traditional method to dial the call one by one and then getting connected with our customers. Your business needs a vast change so this is why we shared about the Twilio Auto dialer. Here the role of the addon is to dial the phone number automatically in a sequence from the searches.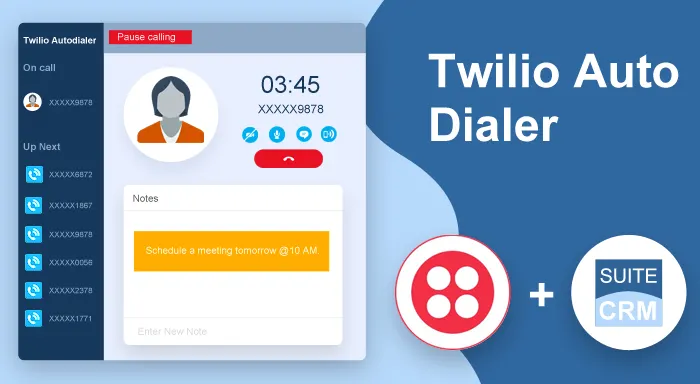 Outright Store introduced this addon which saves you countless hours as you don't need to dial the number of your customers one by one. Try the advanced way by using this stellar plugin in your business to save your efforts. Beyond just saving tons of time, the plugin is much more beneficial for your businesses such as you can save the recordings of your customers and can access them later on. Moreover, you will see a pop-up appear when someone calls you. Pop-ups will always appear on your screen. Ready to know about the Twilio Pricing plan for this extension? The extension cost you $499.00.
For saving time when dialing phone number: Twilio Click to call
We are reading out Twilio products and plans, so let's understand the next most exceptional plugin for your business enhancement the name of this addon is Twilio click to call. It is similar to the Auto dialer plugin but has different functionality. The role of click to call plugin is to save your time in connecting with customers as here you just have to tap one time in the phone number field and you will get connected. Imagine just clicking on the phone number and you will start your conversation.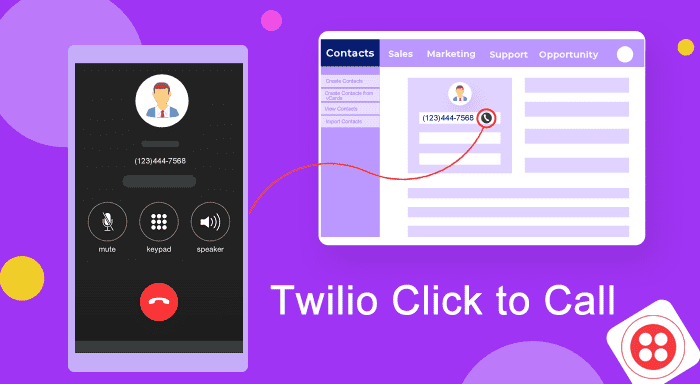 No such longer process now when you have this latest extension that will surely enrich your calling experience. The extension is really superior for the industries like Call center organizations, Real-estate businesses, and also for the Sales business because they have to manage multiple calls, so you should endeavor for Twilio click to call today. Outright Store introduced this plugin where you are allowed to save the conversation and also you can strive for the feature of default number. Are you curious to know about the Twilio Pricing of this wonderful addon? The extension may cost you $399.00.
Send Bulk of SMS promptly: Twilio SMS
Every day you have to send your business messages to various clients and we are a hundred percent sure that you send them one by one to your clients. It is stopping you to work on the crucial activities because you are giving entire efforts in this SMS sending activity. Now allow us to take your burden because we are highlighting an extension for you called Twilio SMS. What is it? Twilio SMS helps you to send SMS to multiple clients at a single time. Here with just one tap, you can send an SMS to your client and that saves your precious time and effort. This is a remarkable plugin that is ready to reduce your efforts and give you something that you never expected as the bulk of the SMS feature is hard to find in the extensions these days.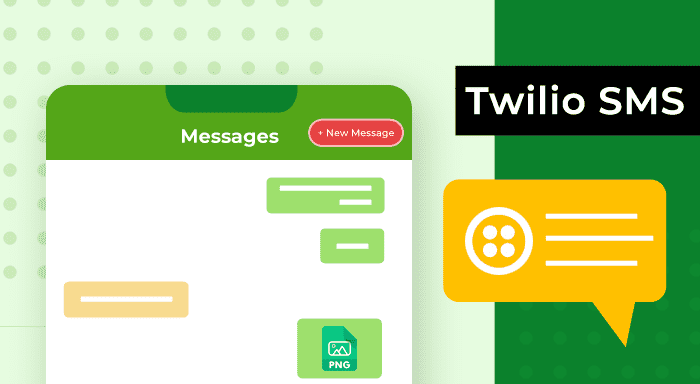 The addon called Twilio SMS is perfect for the sales or marketing business, Human resource management, the Hotel industry, and many other sectors that alert their clients by sending SMS. The Twilio Pricing plan of this plugin we will discuss later on but first, let's pay attention to the functionalities of this addon. You can save the SMS conversation of your clients, you can strive for the functionality of the SMS template, you can do a live chat with the CRM users, etc. There is also a feature of opt-out which is beneficial for many businesses. This addon Twilio Pricing is $499.00.
Twilio Pricing
Time to Invigorate your business process by understanding the Twilio Pricing plan given below-
This offers you advanced call control
Global Low latency
Unlimited capacity
It is 50% faster with the Messaging service software
The best feature is automatic content encoding
Real-time reporting too
Soon we are going to launch this functionality but this cloud communication platform is offering features like template messaging,
Developer sandbox for app testing and easily managing the WhatsApp Container Infrastructure
Unlimited capacity

Starting at $0.0042 to send a WhatsApp Template message and $0.005 for WhatsApp Session messages.
This shares the functionalities such as cross-platform SDKs
State sync message encryption and UI elements

Starting at $0.05 per active user per month.
Twilio Alternatives and their latest Pricing
We believe everything is crystal clear to our readers about the Twilio platform. Such information indicates that this cloud communication platform never intertwines your business. But before we end up, we guess you should be aware of the Twilio alternatives with their pricing. Here we go-
1. plivo
Research says that this software got a 98% Customer rating so we guess it is vital to share it with you all. Introducing another awesome platform called plivo which offers the best Voice API platform and SMS API Platform. If the "want to know functionality" question is bouncing around your head then let us inform you that it gives a two-factor authentication feature, Appointment Reminder, SMS Marketing, Call Forwarding, Call tracking, and much more. The Twilio Pricing and plivo pricing plan are different and we will tell you this below.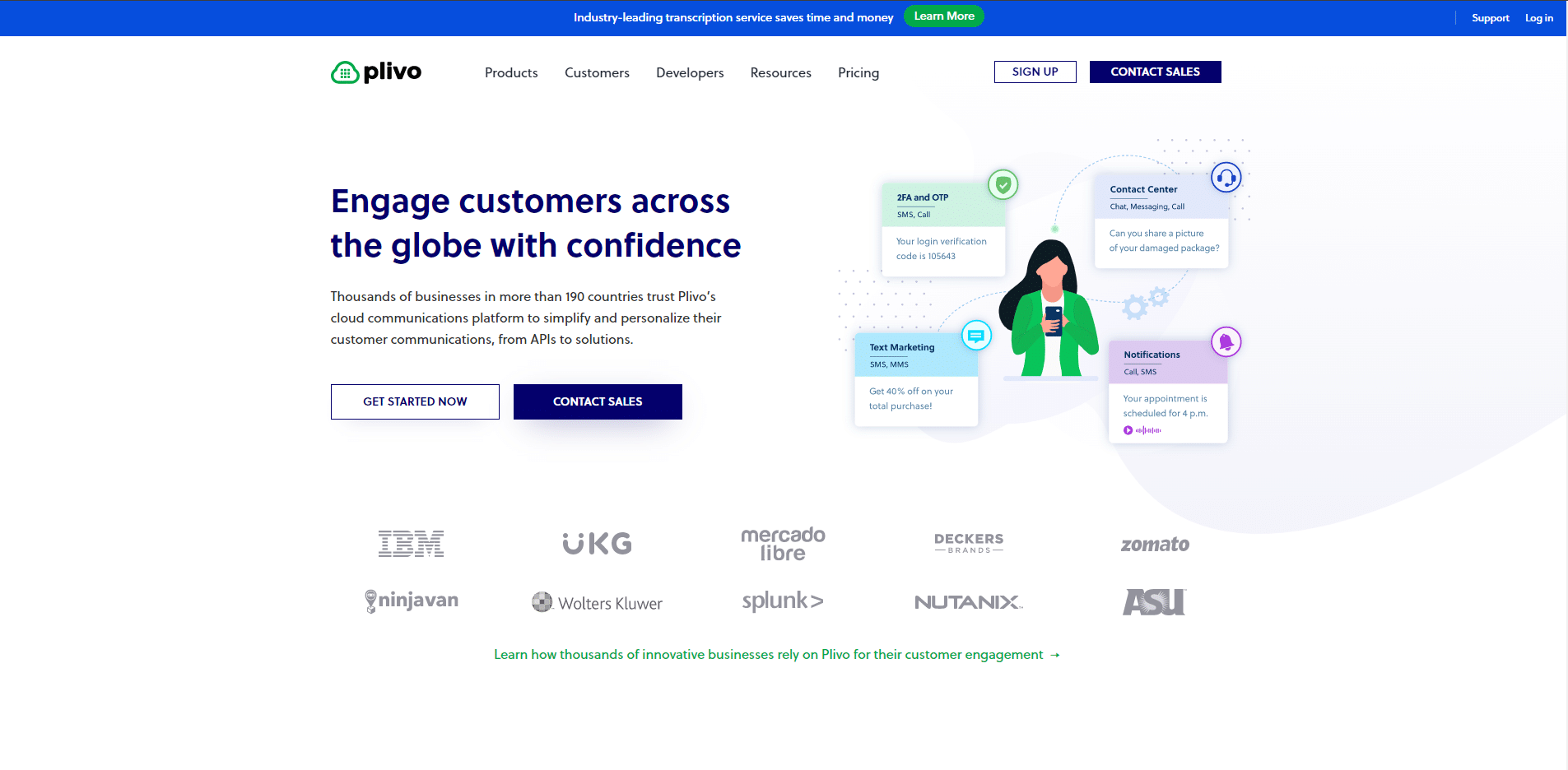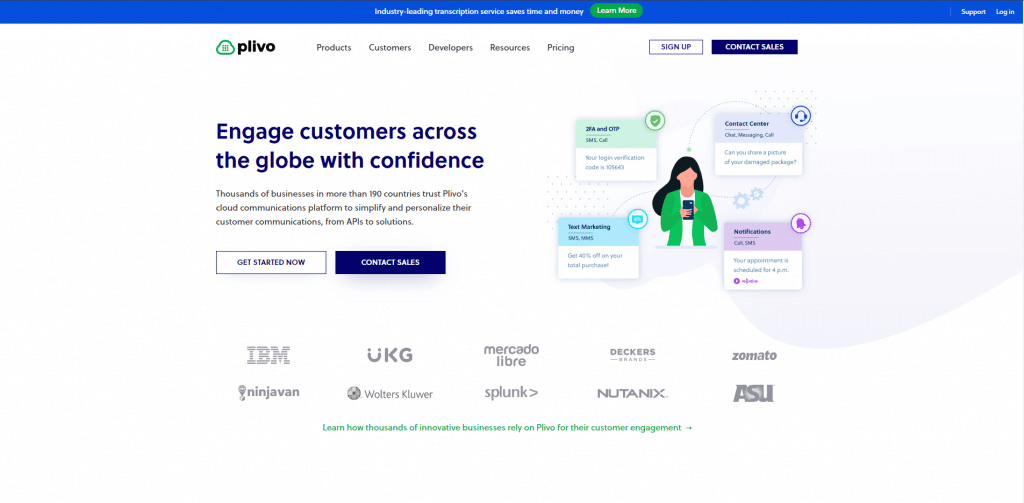 What's the Pricing of this software?
Voice API Platform: to make a call- $0.01/per min
SMS API Platform: to send an SMS- $0.005/SMS
Zentrunk SIP Trunking: to make a call- $0.00650/per min
2. TELYNX
Let's uncover the next-generation communication platform that can match the communication level of Twilio software. It is TELYNX and what we like the most is it is easy to use and simple to integrate with Voice, FAX, Wireless, Messaging, etc with your application that you operate regularly. The software has a user-friendly voice API and the users always stay protected if the network fails anytime. When using TELYNX you can get the complimentary services that are most essential such as enterprise-level security, fraud detection, configuration management, etc.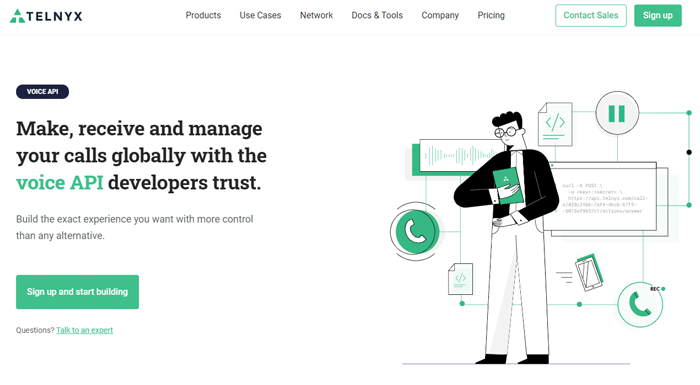 What's the Pricing of this software?
Voice API Pricing: Local calls-$0.0070/min (termination)
Toll-Free call-$0.0020/min (termination)

SMS API Pricing: Local numbers-$0.0025(send)
Toll-Free Numbers-$0.0055(send)
3. thinQ
We heard many times that the best competitor of Twilio software is thinQ. If you want to know why then keep reading till the end of this paragraph. This software is an advanced platform to power your SMS, MMS, and Voice to make better communication with the audience. It is powerful enough to entail APIs for controlling inbound and outbound voices. Here it is quite simple to connect to existing SIP providers as the software is vigorous to improve the quality of a call. Research says this software is still in the hands of more than 1200 customers.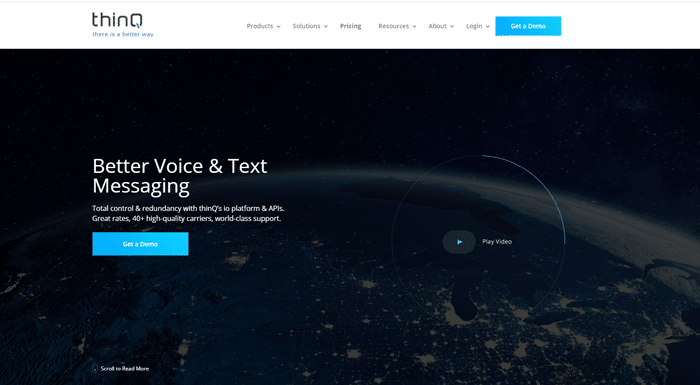 What's the Pricing of this software?
Let's see how this software pricing is different from the Twilio Pricing plan.

Inbound Calling: .0025/per min
Outbound Calling: .003/per min
Phone Number: .20/per number
Inbound Text: Free
Outbound Text: .004/per message


Final words
You are managing the communication via call or SMS which means half of the job you did. The rest of the work will be completed if you go for the Twilio platform which has changed the gear of business and takes your communication level higher. Now you are aware of Twilio Pricing and its plans as you want the latest extension of today's era then how you are not supposed to update yourself for Twilio products and plans? We have put a spotlight on one of the most vigorous and accurate plugins to grow your business in the market and provide ease in every communication task. Outright Store has introduced these exceptional add-ons for your organization and shared the Twilio Pricing plan for you. The choice is yours which according to you is the topmost plugin that you need today.