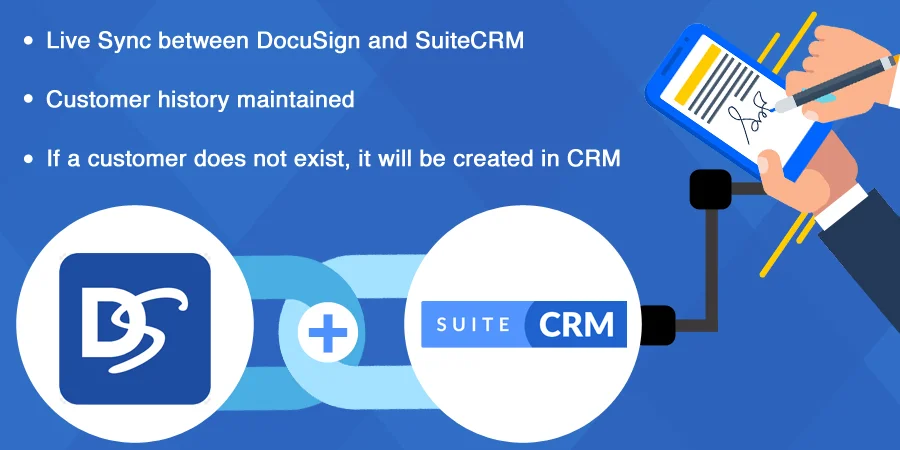 SuiteCRM Docusign Connector
Life is moving faster, why we need to move somewhere just for signing documents? SuiteCRM DocuSign Connector likes applications making it easier for everyday life.
We build a DocuSign Connector to make it easy for your customers within CRM.
More and more in our everyday lives, we come across the term "electronic signature" or "E-Signature". This term may sound daunting to some of us, but in essence, they stand for one of our generation's biggest breakthroughs, the ability to transform a hard copy document into a digital document or file and sign it electronically in a way that ensures both the integrity of the original document and the identity of the signer.
How DocuSign works:
DocuSign Connector is a San Francisco–based company that provides electronic signature technology and digital transaction management services for facilitating electronic exchanges of contracts and signed documents. DocuSign's features include authentication services, user identity management, and workflow automation.
Key Features :
Live Sync between DocuSign and SuiteCRM.
The completed document can see/ preview or downloaded instantly after they completed/signed.
Customer history maintained.
If a customer does not exist, it will be created in CRM.
To Sum up, if your business comes with E-Signing with customers, you need to have an integration power between CRM and E-signing tool. We make our best to get both synced in Live manner.