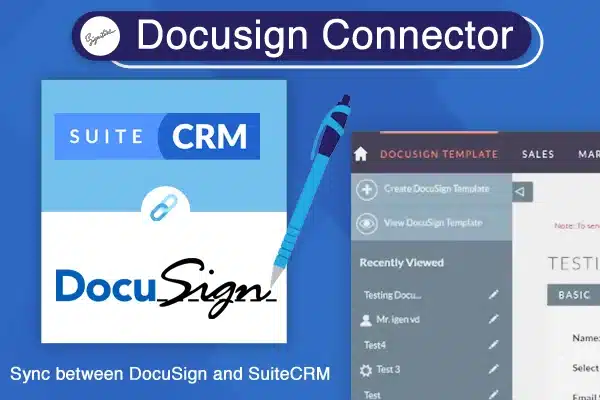 Time Saving 2 way DocuSign Connector
Real Time 2 Way Sync of documents between SuiteCRM and Docusign.
You can preview and download the complete document.
Customer history will be maintained in CRM.
Supported to All SuiteCRM Versions
2 Licences ( Production and Development )

Lifetime Support

Unlimited User
Screenshots
---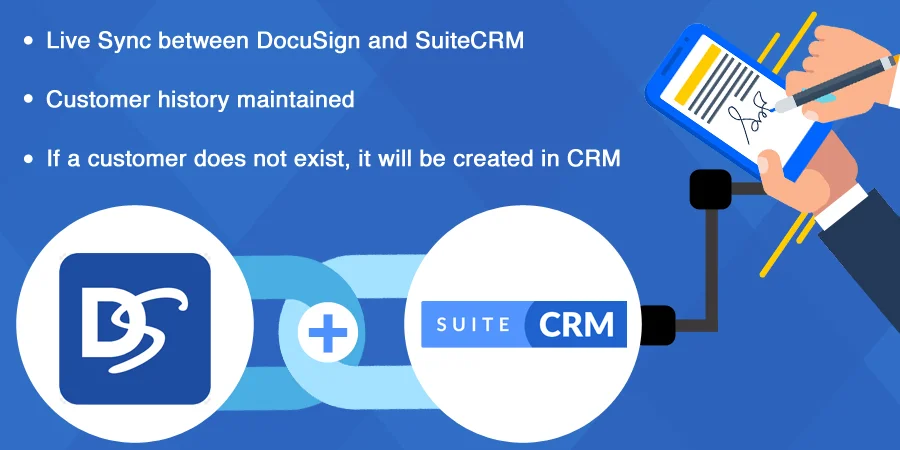 SuiteCRM Docusign Connector
Send your business documents with your digital signature from SuiteCRM to your customers instead of going to meet them. We have an extension called SuiteCRM DocuSign Connector which saves your precious time by helping you for a digital signature where you can add it to your CRM and can share that document with your customers. DocuSign Connector is a faster and most reliable addon for signing purpose which not only saves your time but also raises business productivity as well. Using DocuSign Connector, you will always receive a notification whenever someone sends you any document as you always be updated.
For example: You are working in a company and daily you have to sign a lot of documents for your business activities. So, this signing documents and sending physically is an old method as using DocuSign Connector you can do digital signatures and can send documents from your CRM rapidly. The entire process is secure and safe.
Key features of DocuSign Connector:
Real-time sync between DocuSign and SuiteCRM.
Time-saving extension as sending and receiving document work goes rapidly.
You can see/preview the complete document and also you can download it after they completed/signed.
Every customer history maintained in DocuSign Connector as the records are always secure.
You will always receive a notification on a real-time basis.
DocuSign Connector can also create a profile in CRM for those customers who don't exist earlier.
Conclusion: It's time to get used to a digital signature which can take your business to the next level. The plugin DocuSign Connector is worth using for CRM business which not only helps you for the sending and receiving documents but also can save your quality of time regarding signature purpose. No such process of going to sign documents as the extension is here for your assistance. Understand the features of DocuSign Connector above and how it can enhance your business.
Frequently Asked Questions
What is E-Signature?
Most of the users want the best short method for signing purposes to send documents. You can go for the e-signature where you can sign the document in a digital format and can send it from your CRM.
How SuiteCRM Docusign Connector Works?
If you want to send a document from your CRM with your sign then send it by using e-signature which can save your time and efforts as you don't need to go there. Add a digital signature in your CRM and send that document from there.
Can I Check the status of the sent document?
Yes, it is easy to check out the status of the document that you have sent to your client.
How to create an E-Signature using extension?
Well, creating e-signature is quite easy. Outright Store can share with you the guidance that you all need to do for this.
What are the features of DocuSign Connector?
If we talk about the features then let us tell you that it real-time sync between SuiteCRM and DocuSign, it can save your quality of time when sending any document from your CRM. You will also receive a notification.
Is it worthy to buy only for Signature?
Your time and efforts will be saved as you don't need to go anywhere just for signing purposes. In just one tap and using digital signature you can transfer that document to your clients.
Why choose SuiteCRM DocuSign Connector for digital Signature?
You want to save your precious time for signing documents then you can do this if you adapt the extension like the DocuSing connector where you can also check the preview and download that document if you want.
How much time did it take to sign a document using this plugin?
The plugin is time-saving for you where you just have to add a digital signature for sending that document. It saves your time a lot.
What is the difference between electronic signature and digital signature?
Digital signature you can say a type of electronic signature. Electronic signature is an electronic symbol attached to contacts or records. And, digital signature shows whether electronic signature is authentic or not.
How do I get an e-signature using this plugin?
When you choose our extension for e-signature purpose then we can help you to know how to do the whole process to get that signature for your business purpose if you want to send any document via CRM.
Video
---
Reviews
---
All Add-Ons are life time purchases, there are no recurring/hidden charges