Let's make the first thing clear, Twilio and Segment are two different platforms. Twilio is a cloud communication platform, whereas Segment is a Customer Data Platform or CDP. Twilio acquired the Segment in October 2020 at a record value of $3.2 Billion Dollar. Apparently, it is said both platforms are a perfect fit because they complement each other's functionality. Let's find out how much value this statement holds and what can it deliver to users. But before learning about Twilio Segment, let us first understand both of these platforms individually.
What is Segment?
The Segment is a leading CDP (Customer Data Platform). In this, you can have a unified view of all customer touchpoints and also push this data to other platforms like (Content Management System) CMS and CRM (Customer Relationship Management). Segment collects customer data from many platforms including second and third-party sources.

Consider Segment as a Data Junction and it comprises customer information from all the applications that a business uses whether it's social media touchpoints or behavioral data. Marketers and even other platforms can access this data to heighten their efforts and effectiveness.
What is Twilio?
Twilio is the world's most used Customer Engagement platform. Twilio describes itself, "We're a customer engagement platform used by hundreds of thousands of businesses and more than ten million developers worldwide to build unique, personalized experiences for their customers. We're known for democratizing channels like voice, email, chat, video, and text through APIs, making it easy for every organization to build meaningful interactions with customers on the channels they prefer."

Some other noteworthy products of Twilio are Twilio Engage, Twilio Flex, and Twilio Frontline.
How does the Twilio Segment make sense?
In the year 2020, Segment published its CDP report and it clearly concluded that customers who use the services of Twilio do not require Segment and it goes both ways.

So naturally, the question arises, why does Twilio acquire Segment if their customers are never going to be benefited from this? It is not that they will offer the Segment functionalities to existing customers, so what's the end goal.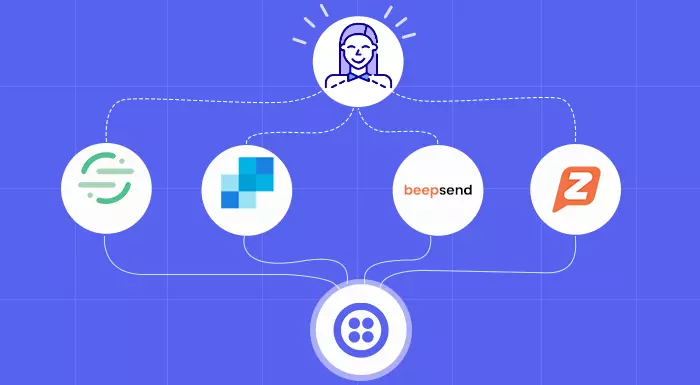 Being a CDP, the Segment acquisition would make more sense if made by a CRM company, Salesforce per se. There must be some underlying benefits that we can't seem to identify. Let's dig a bit deeper.

Twilio Segment alone might not make sense but when you put it in frame with Twilio's other acquisition SendGrid then you'll get the complete picture. Plausibly, Twilio wants to build a platform that will allow the companies to digitally interact with their customers via communication channels like voice, SMS, call, and emails (which Twilio and SendGrid already provide) and at the same time utilize the customer data of Segment.

Jeff Lawson, Twilio's CEO said during the time of acquisition, "With the addition of Segment, Twilio's Customer Engagement Platform now enables companies to both understand their customer and engage with them digitally — the combination is key to building great digital experiences."
Difference Between CRM and CDP
Customer Relationship Management (CRM) and Customer Data Platform (CDP), are the two most interchangeably used terms in the marketing sector. Therefore, we want to clear the air before moving forward.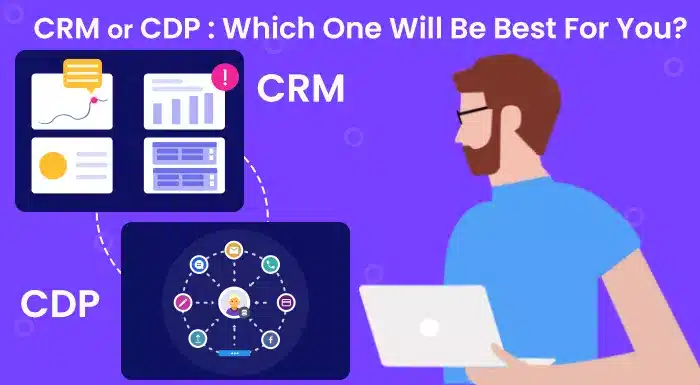 HTML Table
| CRM (Customer Relationship Management) | CDP (Customer Data Platform) |
| --- | --- |
| The Fundamental need of a CRM is to build, track, and nurture customer relationships. It primarily focuses on improving customer loyalty and retention. | A CDP comprises all data of a person since when they've become your customer. For example, how they found your business in the first place and how're they interacting now. |
| A CRM software consists of data that only helps in analyzing pipelines and forecasting purposes. | The platform is built for handling data from multiple data points and sources. It includes all Online as well as offline sources. |
| At its core, CRM is mostly used by the sales personnel for handling details of new and existing customers. For marketing and other types of data, a CRM needs to integrate with third-party applications. | CDPs are predominantly used by marketers in order to collect some insights related to their customers. Consider it as a data-intelligence platform that tells you new ways to interact with customers. |
| Most of the data in a CRM is sourced by sales and marketing. It is generally used for tracking transactions, managing customer data, examining sales pipelines, and keeping customer records. | On the other hand, when we talk about CDP, it literally means all data points of customers from online and offline sources to even some third-party applications. This data demonstrates the intent, behavior, and preferences of customers over their entire journey. |
| Example: Salesforce, SuiteCRM, SugarCRM | Example: Segment, Insider, Bloomreach |
Significance of Twilio Segment
Segment collects customer data from almost all touchpoints and Twilio leverages this data for building highly personalized and data-driven customer engagement platforms. By using the Segment, Twilio is aiming to build a cross-channel communication platform. Below, we have described the features of the Twilio Segment.

Personalized Communication on Every Channel: As we have already discussed Segment provides real-time customer data to its users. Twilio is encouraging developers to use this data and build personalized channels for communication. Twilio Engage is one step towards strengthening this goal of building an omnichannel customer engagement platform.
Enhancing Customer Experience: The CDP Developers will have a single view of all customer activities and interactions. Even though customers are communicating via various channels, you will get a unified view and thus engage in more meaningful conversations.
Get rid of Data Silos Forever: Even today data silos are a huge problem for companies. This issue is haunting marketing, sales, and customer service because they never know what others are doing and how it's going to affect their decision. But, Twilio Segment has made it possible due to its centralized approach toward customer data.
Sleek Integration with Existing Twilio Ecosystem: Twilio offers various modes of communication like SMS, Messaging, Voice, Video, Email, Internet of Things (IoT), etc. Now, Twilio Segment will make sure to connect quality customer data with your existing ecosystem.
A Platform for Everyone: One thing we can say for sure is that Twilio Segment is the only platform you will ever need. Whether you are a marketer, customer representative, call center agent or manager; this is the only platform you are going to need.
Ending Note
Do you know, marketers will not be able to track the activities of their users using third-party cookies by the end of 2023. This will lead all the companies into the dark since they will not be able to learn about customer intent and interactions. In these demanding situations, Twilio Segment emerges as a Saviour nonetheless. Paul Greenberg, author of CRM at the Speed of Light, and founder and principal analyst at 56 Group agrees, saying, "Segment gives Twilio the ability to use customer data in what is already a powerful unified communications platform and hub. And since it is, in effect, APIs for both, the flexibility [for developers] is enormous."