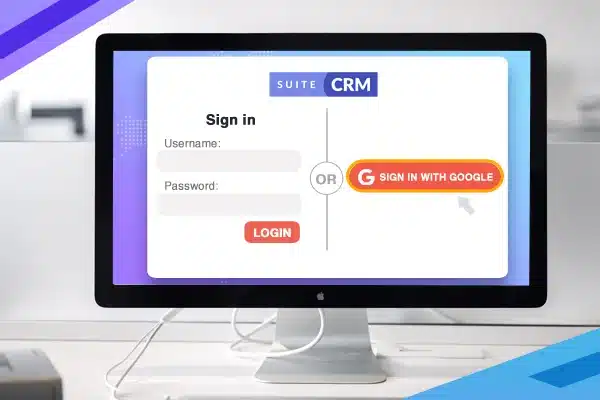 Single Sign-in with Google Account
User can sign in simply using google login.
No need to remember CRM credentials.
Admin can set the roles and teams for the new user's signup.
Supported to All SuiteCRM Versions
Unlimited License for Single Domain & its Sub-domains

Lifetime Support

Unlimited User
Screenshots
---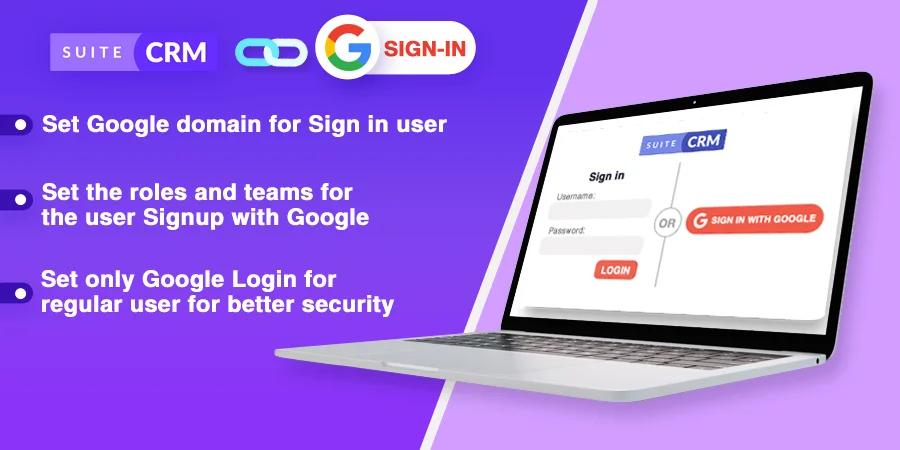 Users can Sign in SuiteCRM with Gmail Account!
You don't need to remember the ID, password all the time to open your CRM. We want to introduce a plugin called Google Sign-in Integration where in just one tap, your CRM will open. Entering an ID password to open all the time is an old method now. The plugin is very helpful as if you are admin then you can easily assign roles to your new users. Furthermore, you don't have to write whole details to sign-in, so you can say that a plugin is time-saving.
Let's understand with an example: Suppose you want to register one account then of course, it may take a lot of time to complete the process. Going with Google Sign-In Integration, there is no such long process as everything goes faster and in an accurate way. One-click and your CRM will open so a plugin can save your time too.
Key features of Google Sign-In Integration:
Admin can simply set G-suite for sign-in users.
No such need to remember ID Password all the time. Google Sign-In extension can save your quality of time.
For better security, Google Sign-In Integration has a feature where admin can off the normal log-in functionality for the users.
After creating a new users account, you can assign roles and teams to them.
Creating new users via Google sign-in can possible as Google Sign-In addon creates it for a particular Google domain.
Concluding Note: Registration process is quite frustrating because of entering ID, Password, address all the time. We have the best feasible solution as Google Sign-in extension works faster and saves your precious time. You don't need to keep Log-in details in your mind all the time. The plugin is worth to use so get aware of advanced features that can help you in your daily work.
Frequently Asked Questions
How can it save the time & effort of User?
Remembering an ID password and entering it to open CRM is an old method. In just one tap you can open your CRM system by using this latest addon called Google Sign-in Integration. It saves your time and efforts.
Why is Google Integration Required?
There is much-needed of Google Integration in day to day business activity as you don't have to write ID password to log-in relentlessly. Moreover, Admin can set up G-suite for sign-in users.
Key features of Google Sign In
The ebay features of Google-Sign in Integration is here it saves your time and efforts for not typing password ID again and again. Admin can easily off the normal log-in functionality if required.
How to enable this Plugin?
To enable this plugin for your work, you need the installation guidance step by step. For Google Sign-in Integration, we have shared some steps for you where we can also guide you what to follow first then next.
Additional feature like assign role to new users
Like other plugins, Google Sign-in Integration too enables role to a special users easily.
How to integrate Google Sign In With SuiteCRM ?
The process is simple just click on Sign-in with Google button and then log-in with your Google ID. The next and the last step is Log-in into CRM with the similar Google-ID. The process is done to integrate both platforms.
Video
---
Reviews
---
All Add-Ons are life time purchases, there are no recurring/hidden charges