The current condition is quite critical because of COVID-19 pandemic, so it's tough to create and manage the events anywhere. Thanks to Twilio which worked on this and is ready to create a big event this year. Twilio has a big surprise for you all that they scheduled Twilio Signal event this year.
Whenever someone announced a conference or event we got the signals that something big is going to happen. It can be regarding the technology, system, business or anything. If we entail such technology or platform then we have to dovetail with that conference and understand how it may help us to expand the organization. This time it is about the Twilio Signal 2020 where our suggestion is for all those who operate the Twilio or if want to know what it is then must attend this event.
When the event is going to be held?
We told you above that a Twilio event is going to be conducted this year but on which date? First of all, let us inform you that the conference will be held online like a Virtual event because of the Coronavirus situation. And the date is from September 30th 2020 to October 1st 2020. These two days just set yourself free and attend this event to understand what new changes can be helpful and how this Signal Conference expounds you to grow your business in an effective way.
Who needs to join a Signal Conference at any cost?
The Signal Twilio conference is something unprecedented so we researched and got to know that professional Developers, Product Managers, Executives, Twilio Customers, etc should keep their eyeballs when the event begins. Why?
Professional Developers
If the developers attend this event then they will get to know how to operate new communication tools because it will assist them to solve the communication problems and even you can solve customer experience challenges. 185+ sessions will be conducted, so it's very important for you to learn new things and grab the ideas to work in the future.
Product Manager
The business project manager will surely attend because they are looking to gear up their business to drive straight to business productivity. Learn something extraordinary about the product architecture in the Twilio Signal event with the API-first communications.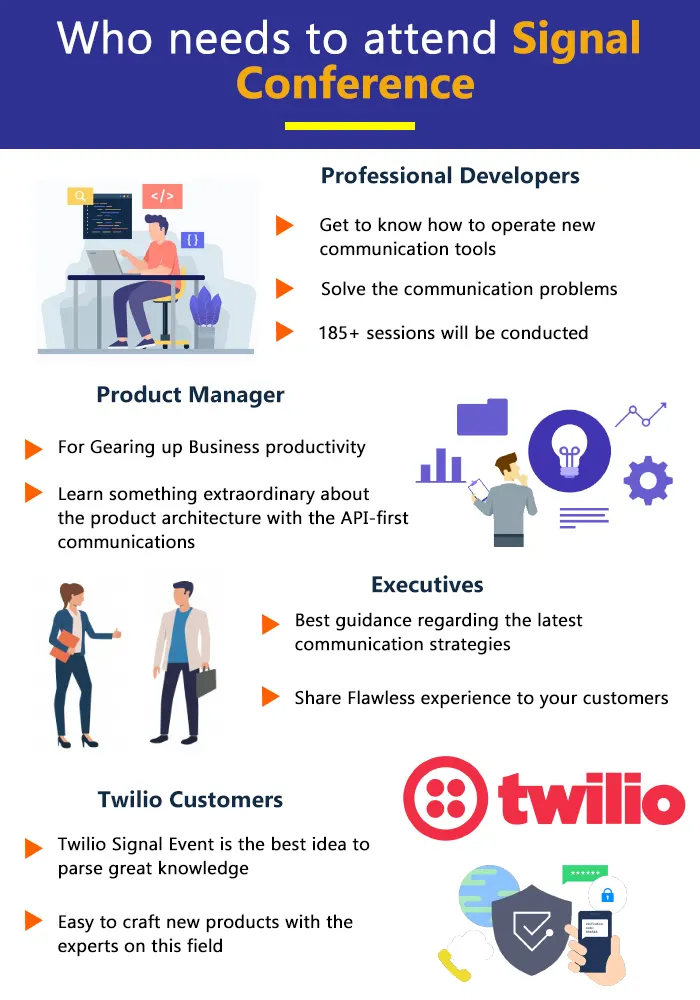 Executives
You will watch your field experts there and they give you the best guidance regarding the latest communication strategies that you need to adapt soon. Chances are very high for you to share a flawless experience to your customers this year.
Twilio Customers
For your better communication, the Twilio event of Signal is the best idea to parse great knowledge. Learn to make the best communication into new products and it can be easy to craft new products with the experts on this field. Moreover, you will get to know the insight of the new Twilio product that can help you.
Twilio Signal conference even conducted last year
After meeting up with the success last year of this Signal Conference, once again it is going to be scheduled this year. The 2019 event of Twilio was very successful as for the first time they tracked the marketing concept.
At that time, they gave numerous use cases of Twilio communication APIs and solutions. Now the fact is 83% of 2019 Signal Twilio conference attendees said that they will return to this event which is going to happen this year on 30th September. Last year 91% of the attendees rated the general session conducted as good.
Statement of the Attendees regarding Twilio Signal 2019
Let us share what they said last year. One of the attendees said, "Twilio has continually delivered on an experience that encourage and empowers creators. SIGNAL is an opportunity to learn from and celebrate the community."
One more statement of the expert there said, "SIGNAL was a great conference with really interesting content. I would recommend this conference to anyone who works or is planning to work with Twilio. I also have an opportunity to network with really smart people from all over the world."
What more topics can they discuss with you?
2-Days are very special regarding the Twilio platform that what changes you need to bring and what more functions can take your communication at peak. In this Twilio Event, we got to know that they can also discuss about Developing and deploying Customer engagement apps, Building with Twilio channels, Contact center, Internet of Things, Trusted Communication, Twilio Marketing and many more.
All you need to do is just focus on these topics to get aware of how your business communication platform can give you more such exceptional benefits that you never saw. Also, attend both the days to hear what the experts of Twilio Signal share their views and hope they can highlight something new about Twilio for next year.
Concluding note
Many of you are already using the Twilio platforms and working on Twilio extensions where it simply indicates that you all are happy with the Twilio platform regarding its bundled advantages for your business growth and for maintaining good communication. Time to understand Twilio's new concept like you did last year at the Signal conference. This time Twilio Signal 2020 is ready to gear up your communication platform and keen to share the best features to fulfill your needs. We repeat that the event is going to conduct online like a virtual event and it is for 2-days from 30th September to 1st October 2020. We will update you if any further new concepts Twilio share regarding the event.