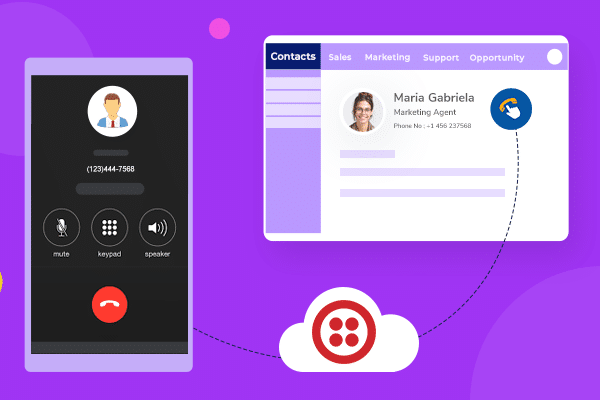 One Click to Make Call Directly from Computer Using Twilio
Call directly from SuiteCRM interface by just clicking on phone number field.
Save notes in Inbound and Outbound Call.
Call recording will be save of every customer.
Supported to All SuiteCRM Versions
Unlimited License for Single Domain & its Sub-domains

Lifetime Support

Unlimited User
Screenshots
---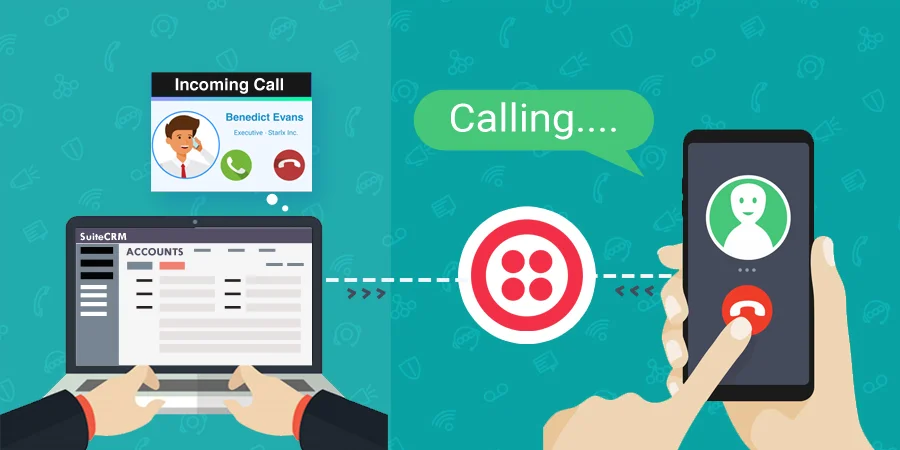 New Popular Aphorism "Twilio Call" Plugin is On
Saving your precious time is hard these days while communicating with customers but now this is going to solve as we want to introduce you to a new popular extension called "Click to Call". This plugin is offered by Twilio Call. Well, a feature can't be called the best when it does not offer any exceptional feature so keep your eyeballs below and get aware of how "Click to Call" is the best option.
Pros of using this Plugin
A pop up appears when customers contact you
Suppose, someone wants to contact you so there is no such chance where you miss any call because when anyone calls you, pop up appear on your screen. Even some information about the caller appears on your screen which enables you to know who wants to contact you.
Recordings always stay alive here
You can face the situation like you want to hear what your earlier customers said to you via call. Here the function of Click to Call is to show the recording where you can hear what they said. So you don't need to show too much effort to call that person again, just hear your recordings which already get saved.
What to remember before going to install Twilio Call?
This is important for you to know before going on the aspect so make sure your CRM should have Outright Utils file. Suppose if you have not then don't worry just install the pre-requisites package and after that, install Twilio Call.
One more thing you need to remember that before using Twilio Calls, make sure you have Twilio account and of course, a number with balance.
Step by step installation of Twilio Click to Call
Move your cursor to the Administration Page first and tap on "Module Loader"
Now your second step folks are to browse the SugarCRM/SuiteCRM Twilio zip file and tap on the package.
Next is you need to click on upload>install button
And at last, just tap on the commit button to complete this process.
For those, who are still in search of the process to buy a number here we have written two steps what you have to do so read out the points given below-
When you open the main menu, you will find the option of "Phone numbers", click on it first
So if you don't have a number and you want it, click on the "Buy a number" button.
Frequently Asked Questions
How do I use Click to Call ?
If interested to operate this plugin for your day to day business work, Outright Store has shared the initial steps and procedure of Click To Call that how it will work. The process is quite easy if follow the steps procedure in a sequence wise.
How does Click to Call work ?
This plugin is different as compared with other communication tools as here in just one click you can get connected with the customer to whom you want to maintain communication. No need to write numbers and dial relentlessly.
What can you do with Click to Call ?
If running a call center industry then click to call is of the best and vigorous extension as it can save your precious time and your high efforts. Just one tap and you will get connected with that person. You can also save your conversations.
How to Log a Call in SuiteCRM ?
To Log a call in SuiteCRM, there are three steps that you need to follow as we can explain to you what to follow first then next and so on. Moreover, you also need to create three fields: New call notes, Last call notes and Last call date.
What hardware do I need in order to integrate Click to Call ?
It is quite obvious that a hardware is required to integrate click to call. For this, there is a requirement of a separate machine with Asterisk installed. After that, there is also a need for PBX.
Video
---
Reviews
---
All Add-Ons are life time purchases, there are no recurring/hidden charges