All Businesses welcome Virtual Communication since COVID-19 hit the entire world badly. Well, without any doubt, this COVID-19 ceases people from going out. Everyone prefers to go for virtual communication to manage everything. This communication totally depends on a technology called "Communication APIs". It is one of the greatest technologies to strengthen virtual communication. But if you want a versatile one for your business handling then you must strive for the Twilio platform. But the situation is Twilio is not alone in this race to dovetail with any business. Get aware of every Twilio alternative from here.
What is the Twilio Platform?
Twilio software is an API-based platform that allows users to start communication with their customer and other audiences via VoIP features from the website. It is not just about making the conversation on call or SMS. It offers you unbreakable flexible solutions of all sizes for making your communication much better. Strive for any communication channel which according to you can grab an audience more and implement the channel from your app.

How can Twilio software improve the Customer Experience?
This is also a question but we have an answer for this too. Twilio no doubt works wonders in every format. Take advantage of Twilio's Programmable APIs where the user may find great comfort to curate an application for improving the customer experience. Even the user can work and embed reliable functions into the new apps or existing applications. There is nothing complex.
It's wonderful to work with Twilio for getting the central omnichannel communication hub. It is beneficial for businesses of all sizes the goal of personalizing Customer Interaction.
Still, people are looking for Twilio Alternative. Why?
Many familiarize themselves with its products like Twilio Click to Call, Twilio SMS, etc. But research says people are looking to plunge into other platforms for virtual communication where they can also get a communication API.

Do you think the Twilio Pricing plan is the reason people want other dynamic software these days? Well, every software has numerous plans with different costs. Many wish to succeed in business but with low investment. And they might find a great Twilio alternative on the internet.

Even one of our team members got to know that someone shared a complaint of SMS API that there was a problem earlier in a delivery notification. The SMS sent was highlighted by the Twilio platform, but not sent from the application of the user.

Are you looking for more such technical functionalities? Want some more assistance with cloud-based software? Join us on this guided tour of Twilio Alternatives.
Most Trending Alternatives of Twilio Software that are Useful
Every software that we are going to mention in the list below has a different way to offer flexibility and efficiency. Choose according to your business needs.
Plivo
Earlier, we recommended the Twilio platform for the Banking Industry or even for Credit lenders. But these businesses can also try the opportunity in Plivo software. It is capable of offering a browser-based called Center SDK to smoothen your communication with every customer globally.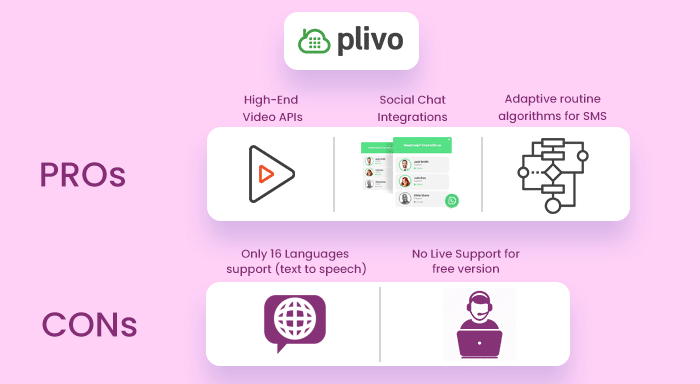 Strong Network?
Dropping a secret bomb here. This software has connectivity in 195 countries and a strong network of 1600 global networks. We guess you will not think twice before using it for SMS APIs or custom calls. It gives you the super advantage of recording the conversation or doing conference calls with multiple audiences. Additionally, the maximum support text limit here is 1600 characters. It is different from the Twilio software in offering Free Call Recording and Storage.
Bandwidth
Just because of sharing the 911 API services such as coordinating, dynamic locations, etc, the software is compatible with the Healthcare business and the logistics industry. Bandwidth is the most trending alternative of the Twilio platform which offers features like voice, messages, automated phone numbers, porting, and much more.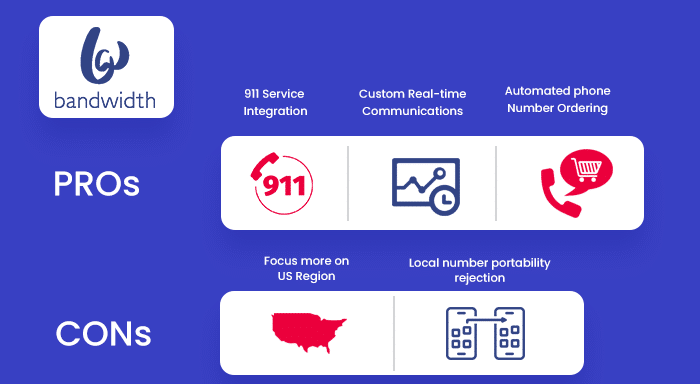 Strong Network?
An easy way to access 52 million phone numbers in the US. The bandwidth country-wide reach facility is astonishing. Easy to apply its programmable APIs to manage every vital project of your business operations. When taking advantage of sharing SMS with your audience you can use: PIN Codes, emoji functions, push notifications, and much more. It is different from Twilio because it syncs with the 911 services without any support from the Contact Center.
Sinch
Software is available for Automobile businesses. What is it or why to choose this one for the Automotive businesses? The name is "Sinch" which helps you to get embedded communications into cars, trucks, etc. We heard that it is an excellent choice. Want to know the reason behind it? It supports REST APIs which is remarkable enough to integrate Android and IOS apps.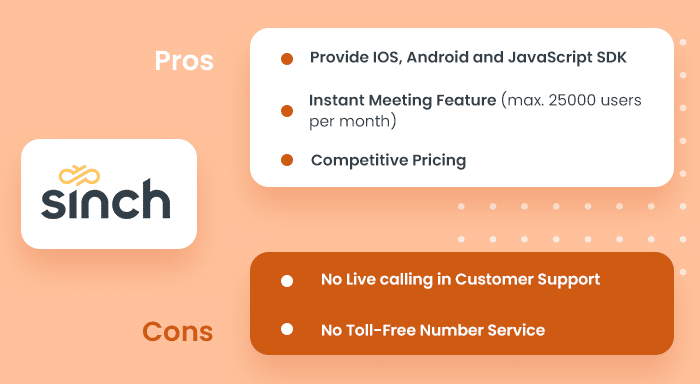 Strong Network?
Research says 50,000 or more that developers use the APIs of this Twilio alternative. And 25 billion transactions were executed via Sinch software. One of the great features: A2P messaging via programmable APIs. Like if you want to compare it with Twilio then let us inform you there it is simple to use. Also, the software will not take plenty of your saved dollars. It is cheaper and more importantly, no coding is required. The software provides you with the support of Native apps.
Telnyx
Call Center industry if ready to put the right foot forward for the best software for communication then choose Telynx. Better software to enhance your audio and record voice data. This record is beneficial for your decision-making just like we guide you about recording a conversation in Twilio Auto Dialer. Get the faster switchover to save a significant amount of time when having a conversation with someone.

What is the most necessary service to know about?
When having the Telynx in your business then it can provide Fastport service to your business. Before the request of the port, it helps communication with the segmentation rights. Automation is a key to saving countless hours so get the advantage of automation calls from this software. The user can sync the voice workflow to follow every step in a sequence. This is why it is different from the Twilio platform as Telynx can provide free Inbound SMS to fetch the audience more globally. Remember: when using this software in your company it supports JSON language in APIs.
Clixtell
We have numerous Twilio competitors to represent you. Let's talk about another vital one to refresh your experience again. The name is Clixtell which is also exceptional for taking your call communication to the next level. Like how we explained to you the benefit of call recording in the Twilio click to Call product, the same goes for Clixtell. It enables the business to save the call conversation of every person.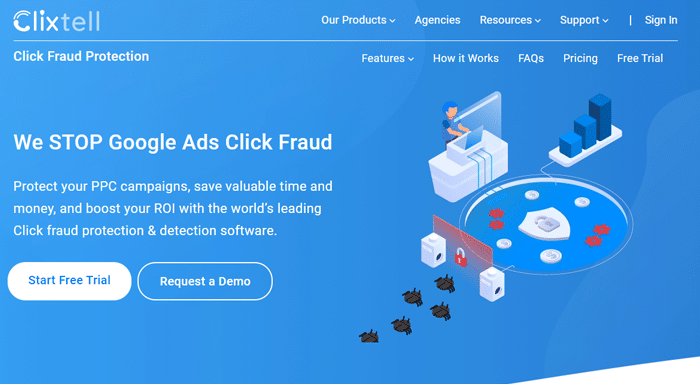 How does it minimize your communication burden with others?
We are very excited to announce that this unbreakable software provides functions like call routing, conversation tracking, mobile search tracking, etc. Not seen great software like Clixtell for managing the Campaign of every business these days. The software has a bunch of more functions to enrich your experience. Want to know? The most demanding features such as IVR/VOICE Recognition, Dashboard, Time on-site tracking, Screen activity Recording, and much more. Affordable software for your business with ultimate benefits. Will you go for anything else?
Freshcaller
Our exhaustive search says the software Freshcaller also deserves to be on the list of best Twilio competitors for businesses. The question "Which software to adapt" always eats your mind, especially of the call center organizations. They get multiple tools and software but choosing the right one is always daunting for them. This is why they believe they can start their regular day work with Freshcaller. It can provide call monitoring, historical reporting, etc.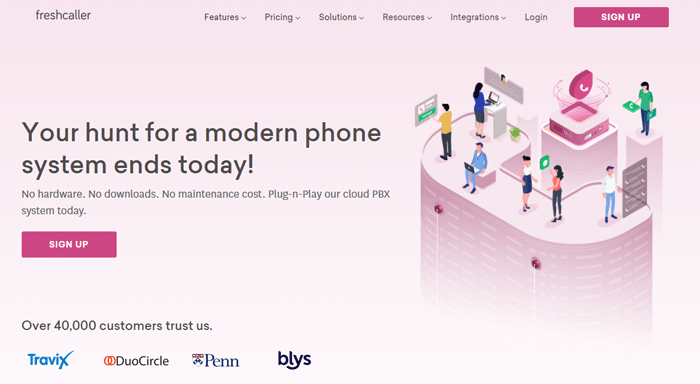 Will you get the right Workflow here?
This Feature-packed cloud-based software can offer you workflow management. Everyone knows the significance of it as we shared about SuiteCRM Workflow where the proper process of the task gets followed. Same with the Freshcaller to minus your burden. It is available for call center companies and gives you the advantages of conferencing calls, recording of calls, call logs, call routing, and much more. Not every cloud-based software offers you the Live Chat function. Make sure to go for this tool to boost up your daily task.
RingCentral
Getting good reviews and support from millions of people, RingCentral is ready to be a part of your business. One more award-winning tool to minimize the gap between the business and the customer. Communicate in a better way with some ultimate features. Start with RingCentral in your company. You can say that it is one of the top-most Twilio competitors these days. This persuasive software brings unlimited meetings and in-built team messaging. Catch the end number of the audience from this software.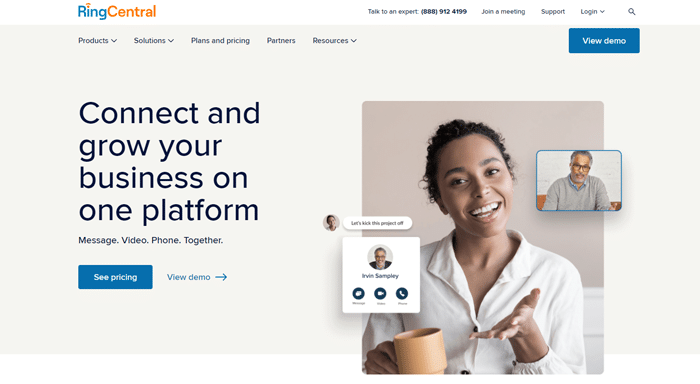 What is the use of the Admin Portal here?
Start your way by setting up a new team here and you can easily manage users and more importantly, monitor service quality. It's wonderful to monitor the system analytics for making decisions in the future. You will be surprised to get the latest advantages such as mobile access, call monitoring, IVR/Voice Recognition, Call list management, etc. Adapt every big function.
MyOperator
The fact is not every software can smoothen your call communication and there are numerous which can help you to make your communication better. MyOperator software is one of those that gives you a smarter way for business continuity and advanced remote communication. This tested software always provides 24/7 support service if you are in trouble or want to ask something urgently.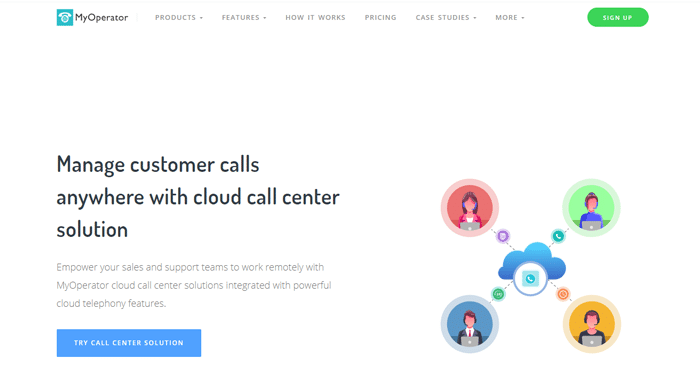 MyOperator can offer Click to Call to save your efforts
If no great functionality, forget about your company's growth. This software provides Click to Call which stops your team members to do manual dial calling. It can take hours and you need to stop other crucial tasks. Make sure to strive for the latest benefit (Click to Call) of this software for your business. In addition to this, the MyOperator can simply integrate with the CRM software for effectively managing your customers. Get the up-level advantages like call reports, mobile applications, toll-free calls, outbound calls, and much more for your help.
CloudTalk
We have one more uncover here. It is dominant for all those who are looking to hike up their sales and for support team assistance. This software is also well-known for integrating with the CRM software. We are talking about CloudTalk software which allows you to make smarter relationships with every customer for a lifetime. The software also can sync with the Salesforce CRM, Zendesk, and with many business tools that offer end-to-end solutions to everybody.

What's the big advantage of call center analytics here?
Every newbie or every professional-versed of your company can measure and improve the call communication with your prospects/leads. It is also an opportunity for getting aware of Real-time analytics. It presents the performance of your agents. This is just the beginning. We have more profitable functions such as training management, text-to-speech, SMS, Mobile app, recording of every call, etc. This alternative of Twilio will offer you a free trial of 14 days. Make sure to understand each feature to reinforce your goals.

Way forward: First, this article is not just to make a bad image of Twilio software. Well, Twilio will always remain on the top as leading cloud communication software. It is all up to the businesses. As if they find the Twilio Pricing high or they want more amazing functions. This is why we present to you the best Twilio alternatives. Every software above gives you innumerable benefits and turns your business smarter. Make sure to choose the Twilio competitors above according to your business requirement.