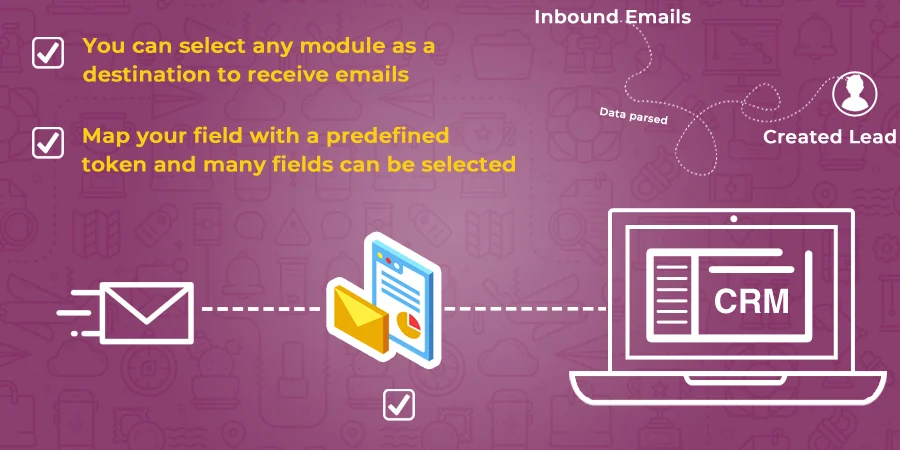 SuiteCRM Email to Lead : Create Lead with data parsing from Inbound Emails
Generating leads more rapidly with the help of email process as we want to introduce to you a powerful extension called SuiteCRM Email to Lead. The extension is very helpful for your email business task as the entire emails from your customers you can capture via incoming mailbox.
The best feature of Email to Lead extension is creating records in multiple modules. Your expectation of running your business in a positive way and increasing productivity is possible if you entail Email to Lead plugin in your business.
For example: You are running your business for a long period of time, so we are sure that you receive humongous emails daily. Sending emails one by one to your team or even arranging in a proper format can take a lot of time. You can use Email2Lead plugin for this which saves your time and efforts. Moreover, generating leads and assigning tasks is possible here.
Features of Email to Lead
Let's understand some features of this plugin
You can create records here and it can be done automatically. Using Email to Lead extension you can create records via inbound emails. Furthermore, these records can be created in any target module.

The next feature of this plugin is about the notification. You will receive the notification on the Email ID of your preference.

Finding some accurate data of customers is simple. CRM plays a key role in capturing email descriptions. CRM can capture data and this is important just to fill the text body.

Using Email to Lead addon, mapping of fields is possible and also you can see that all the fields can easily be selected.

Assigning the records by using this plugin can be done. Email to Lead plugin will help you to assign the task to your team as the entire process goes automatically.
Conclusion: We have shared an extension that frees up your efforts in business. We know that most of the business work via email, so we are sure that Email2Lead generates revenue and raise your organization productivity. Well, creating cases in multiple modules is possible and more features are there which we shared above. Understand its features that how it will enhance your business.