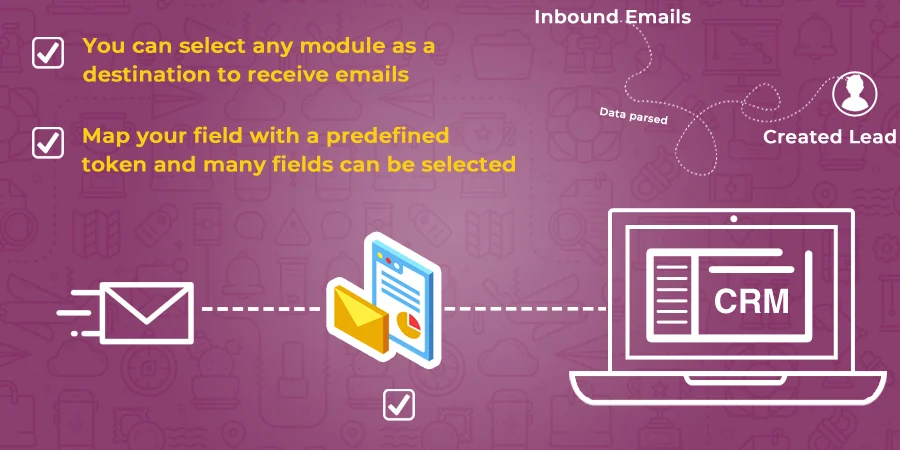 SuiteCRM Email to Lead: Create Leads by parsing Data from Emails
Generating leads more rapidly with the help of the email process we want to introduce to you a powerful extension called SuiteCRM Email to Lead. The extension is very helpful to automatically create records from incoming emails. In short, it can parse information from emails more quickly for you. 
The best feature of this "Data parsing from Email" extension is creating records in multiple modules. Your expectation of running your business in a positive way and increasing productivity is possible if you use the Email to Lead or Anything plugin in your business.
For Example: You are running your business for a long period of time, so we are sure that you receive humongous emails daily. Sending emails one by one to your team or even arranging them in a proper format can take a lot of time. You can use the Email2Lead plugin for this, which saves your time and effort. It parse data from email body promptly. Moreover, generating leads and assigning tasks is possible here.
How does Email to Lead work?
This extension works on a schedule-based service that runs on "As soon as possible" mode. It means whenever a  new email hits on your INBOX it immediately grabs this email, fetches its sender, subject, and body, and parses data from the email body with its best possible combinations of fetching rules and configured mappers. After getting all the data, it passes to the targeted module and duplicates checks. And if it is a duplicate then it can update the record and attach a new email in history or simply create a record and attach it to history.
Super-Important features of SuiteCRM Email to Lead
Email to Anything: The plugin enables you to select any SuiteCRM module as per your choice for creating/updating records. 
Multiple Inbound Email Addresses: You can create various inbound email settings. (For Premium only )
Field Mappers: A user can create a "Field Mapper" here which helps in creating new records with the right-field values. 
Duplicate Detection: This extension will check for Duplicates as well if you receive an email twice by the same email sender, subject line, and phone number. Rather than create a new record, it will update the existing one. 
Sender is Customer: A functionality here called "Sender is Customer" will only save the email address of the "FROM field" in records. This will be viable in cases where the customers are directly sending emails to the company's email address.
SPAM keyword detector module: Suppose you added mybusiness.com (just an example) keyword in this module. Before making any record this module will first check the Subject and Body and if this same keyword matches there then the extension will not create a new record. It will be treated as a SPAM Email.
Authorized Domain module: A company has so many Domains to deal with the leads. You can allow important domains only for the record-creation process. This add-on will skip the rest of the domains from the same company and will create records only from the domains you choose.
Strictly from Emails: Your team only wants to create records from the email: [email protected] (just an example). The add-on will skip the rest of the others and will always create and update records from this email address only.

Strict CC email address: You choose [email protected] (just an example) in the "CC" of incoming emails. The add-on Email to Lead will create only those records if this email address is added in CC. It will skip the rest of the records.
Strict Subject: The product will create a record that provides a fixed or pre-defined subject in Email.
Field sources functionality:

If you receive lead info from various sources then this extension lets you justify where the source of leads comes from. Just make sure to switch on the strict CC, Subject, or TO option. 

Round Robin Method:

This functionality means all records from inbound emails will be assigned via the round-robin method which means the records here will be assigned equally in some rational order.

Assigned to user option: It means to assign directly to the appropriate users like assigning to admin.
Unassigned option: When you don't want to assign a record to any user. This option is to manually assign later on.
Randomly assign option: When you want the record to be assigned randomly to any user.
Least Busy option: The record will be assigned to the least busy user.
Fuzzy Logic or Fuzzy Detection: This helps to find approximate matching even when the values in the email body are misspelled or omitted. For example, your CRM has a record called "Stephen" and someone sent "Stefen" in the email then with the help of fuzzy detection the data will find its way.
Free Scan: If the free scan is enabled, information like name, email address, website, phone number, and designation (CEO, Co-founder, CTO, etc.) will automatically be extracted from emails. It means if you are receiving unstructured emails with no key-value pairs then free scan will parse the crucial information.
Compatible with all Email Service Providers: The SuiteCRM Email to Anything works with all email service providers including but not limited to Gmail, Outlook, Apple Mail, or any custom email service provider.
Conclusion: We have shared an extension that frees up your efforts to create records from web form too. We know that most businesses work via email. If you need an add-on that can extract the data fields from the email body, then the Email to Leads product is an exceptional choice. Well, creating cases in multiple modules is possible and more features are there than we shared above. Understand its features and how it will enhance your business.
For SuiteCRM Email to Lead Configuration: Click Here