Is it perplexing for you to understand the differentiation between SMS and MMS exactly? Let's dive into the article and get your answer with advanced knowledge of SMS vs. MMS.
Everyone sends text messages in their life such as SMS, MMS, WhatsApp messages, Facebook messenger text, and more. But have you ever wondered how are they all the same or different from each other?
If you come to the differentiation among all the text message services mentioned in the above content, then you'll find several parameters. Let's take a look at further content to learn, what all these text services have in their own pockets. Let's begin!
What is SMS? A Short Message Service
A Short Message Service or SMS is a text message having up to 160 characters. This character limit even gets shorter to 70 characters in some cases.
Here, you may be wondering when and why the SMS characters limit decreases. This is because when your SMS carries Unicode characters like emojis. A Unicode is the international encoding character that includes script or other coding language like H = U+0048.
The most effective motivation behind using the SMS service is that it doesn't require any internet connection for sharing & receiving information. Secondly, it is more concise than other messaging alternatives because of character limits that allow you to convey short information.
SMS marketing is one of the most popular marketing strategies because of its high deliverability and engagement rate.
What is MMS? A Multimedia Messaging Service
A Multimedia Messaging Service or MMS is one of the messaging services. It allows you to send 1600 characters and required multimedia in your message.
In a nutshell, MMS is a message in which you can send and receive information having 1600 characters. And also can send and receive various kinds of attachments like audio, video, clip, GIF, document, screenshots, and more.
Now, you may have the question, What is the most effective reason that will motivate you to go for this one? Frequently, MMS is the only one that allows you to share Multimedia or various categories of files in a message format.
In Multimedia Messaging Service you are allowed to share files like PNG, JPG or JPEG, MP3, MP4, and GIF animated clips. Additionally, you are allowed to share lengthy content up to 1600 characters and approximately 250 words which is enough to promote your product & services.
As MMS or Multimedia Messaging Service contains 50MB of files and content, it has a more advanced sharing rate than other messaging services. That means, for sharing or receiving the MMS message you have no need to for long and also no need to wait for its loading as it is only 50MB.
Pros and Cons Of SMS and MMS
Generally, both messaging services SMS and MMS are used to interact with people for any purpose. But there are a lot of differences between them. So, here we'll let you know the pros and cons of each of the services. Let's jump over the SMS vs MMS in terms of their advantages and disadvantages.
Pros of Short Message Service (SMS)
The SMS text message service allows you to deliver and accept text messages even when there is no internet connection. Just because SMS supports the offline operation.
SMS does support a high open rate and the instant delivery time as it contains concise content.
Short Message Service is a ubiquitous service that does not require any installation of any specific software applications. Also, it does not require any updation based on innovative technology and trends.
In the US, Short Message Service is approximately free of cost and at other locations, it charges much less in comparison to other text messaging services.
SMS service allows you to expand its characters limit for sending Unicode characters.
Cons Of Short Message Service (SMS)
SMS will not allow you to deliver and accept any kind of attachment and even emojis when it comes to traditional SMS.
Here, you are not allowed to make your conversation more personal without emojis and are not able to grab customer attention as well.
Short Message Service is not beneficial when it talks about business promotion as it does not support a higher character limit than 160 characters.
Pros of Multimedia Messaging Services (MMS)
Multimedia Messaging Service allows you to share and receive (multimedia) attachments like files, screenshots, Voice, videos, documents, audio, GIFs, and more.
You can deliver and accept any informational and promotional content having 1600 characters and approximately 250 words in your MMS message. In addition to this, this character limit is ultimately enough to broadcast your brand's voice and generate leads.
It gives you the authority to share and receive 50MB and up to the limit which is enough for the sales and marketing department.
Multimedia Messaging Service is more attractive than SMS (short message service) as it allows you to image along with content. So, customers are not required to on the website, they can have the knowledge by reading out content and viewing images.
Multimedia Message Service is also a ubiquitous service that does not run on any specific software application and requires installation. Also, it does not require any updation based on innovative technology and trends.
Cons Of Multimedia Messaging Service (MMS)
MMS does not allow you to exchange your text message without an internet connection as it has to transmit multimedia in the message. 
For sending MMS text message service, you are required to spend a little more amount of money than the SMS service.
In the case of sending & receiving the customer design images and videos, you have to pay an additional amount which may make this service unpractical.
These days people use innovative phones that do not allow them to deliver and accept MMS over their phones. Also, some people do not enable their MMS service on their cellular phones, so they can not exchange MMS messages.
SMS vs MMS – Use Cases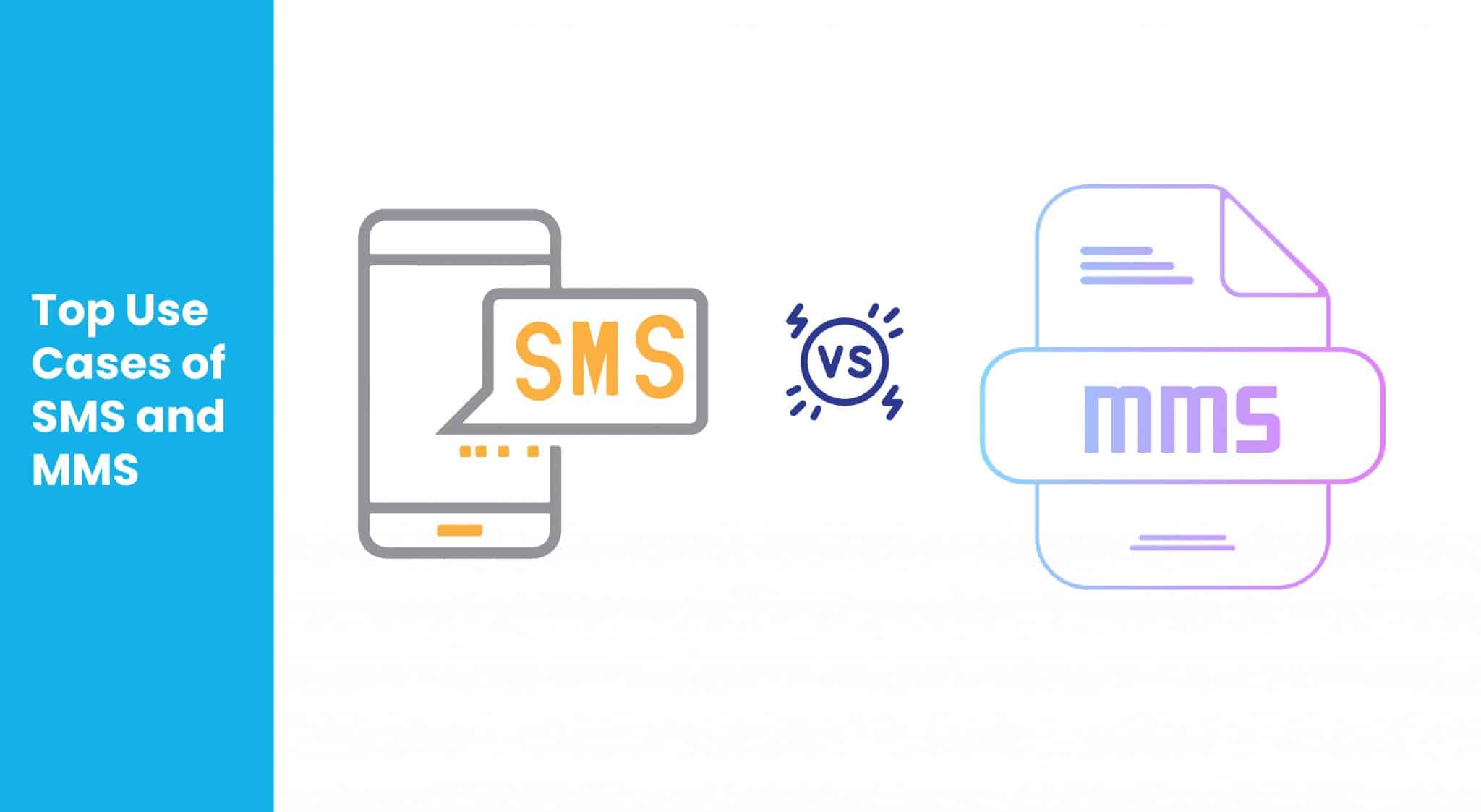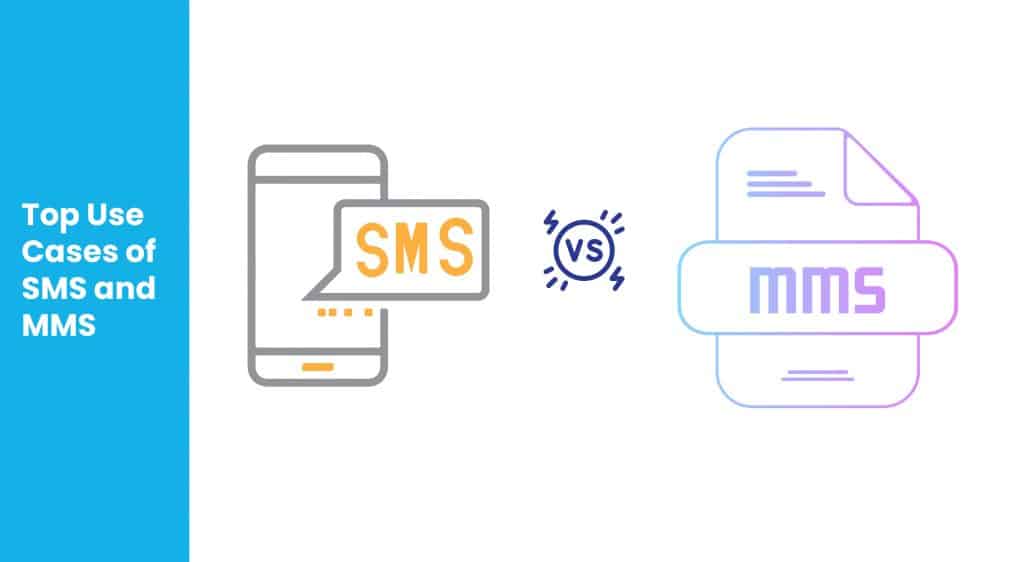 SMS is the fastest and shortest method to share your information with others while MMS is the best way in the context of business promotion. Here, we'll show you the top use cases of both text messaging services. So, let's jump down!
Use Cases of Short Messaging Service
You can use a Short Messaging Service or SMS as your time-dependent alert because it allows you to save time and reach your alter to others in time.
Whenever an organization makes some changes in its policies then also that organization can use SMS service for policy updates.
In order to place the order you are allowed to use the SMS service for purchase confirmation & for shopping cart abandonment.
SMS also play a vital role in sales and marketing promotion as business do use this text messaging service in their business.
If you will integrate SMS operation with AI then you can use SMS service for all-around customer support response. In addition to this, you are not required to be active 24/7 as your SMS service will satisfy you.
Use Cases of Multimedia Messaging Service
As MMS offers the feature to share screenshots, videos, and all other multimedia content you are allowed to assist your customers through a proper walkthrough.
With the MMS you provide troubleshooting support to your customers by requesting screenshots to solve the enduring issues.
As MMS allows you to send any multimedia content, you can simply let your customers know about your new launching and updation in pre-released brands.
All know that images are more attentive than text content so with MMS service you can grab the attention of your customers for discounts & festival offers.
MMS will also help businesses in the case when the customer has ordered any item and that item is currently out of stock. In addition, the customer can take a screenshot of the product or download its photo to order it later.
MMS is a growing technique to reach customers with interactive multimedia. Check out this blog on MMS marketing to learn how you can benefit from this.
Messages sent via SMS vs. MMS vs. WhatsApp vs. iMessage vs. Other Over The Top Applications (OTT) | A Huge Comparison.
Hope you have got to know the SMS vs MMS, but there is a lot more to the equation. Modern text-based conversation isn't limited to SMS and MMS.
Now, here we'll enlighten you on how SMS & MMS text message service differs from iMessage, WhatsApp, Facebook Messenger, WeChat, and other OTT applications. So, let's have a look and understand the differentiation of all the text messaging services. Let's jump down!
Before understanding how all the text messaging services provide different functionality from each other, we need to know all of them separately.
No one is unaware of WhatsApp, Facebook Messenger, WeChat, and iMessage but what about other Over The Top applications? Basically, all the mentioned platforms such as Facebook Messenger, WeChat, iMessage, and WhatsApp are known as Over The TOP applications. But each of the messaging services does carry their different requirements.
iMessage is a messaging service that can be run only on iPhone, iPad or iPod touch running iOS 5, and Mac devices. If you are an Android user then you can't use iMessage which is one of the biggest cons of iMessage. Secondly, both the sender and receiver must have an iOS device for iMessage to work.
For example, a person operating iMessage on their iPhone can not chat with a person who has Android in context to iMessage texting service. Also, required that the contacting person must have the installation of the same software application on their phone. Apart from this, both the contacting persons are required to have a good internet connection whether it is from their own device data or a Wi-Fi connection.
In the light of other OTT applications like WhatsApp, Facebook Messenger, WeChat, and other platforms have some difficulties in the comparison of MMS service. Since all the mentioned OTT applications do not carry a cellular network connection or use Internet protocol, they require a strong network connection for operation.
Moreover, for all the OTT applications you and the person with whom you are connecting must have the same software application in their phone. If one of them hasn't the same application on their phone, one is completely unable to contact to other. For using some of these applications, you have no need to pay but other of these charge highly.
When it comes to SMS and MMS service, all things become smooth & workable. Since SMS doesn't require the same application, internet connection, & IOS for operation. And here you are not required to have space on your device for the installation of applications and composing messaging.
In connection with MMS, you just need to have a fair internet connection but no need for application installation from the app store. Also, no need to have the same device for operating service as you are required the same device for operating iMessage. This is how SMS and MMS texting services are excellent over the other OTT applications.
Key Takeaway
This article will blow your mind on the topic of SMS vs MMS and provide in-depth knowledge of both messaging services. Here, we've covered every single piece of information for analyzing the proper differentiation between SMS and MMS services. Furthermore, this article will let you know "Why SMS and MMS text services are so important in the comparison of WhatsApp, iMessage, Facebook Messenger, and other OTT applications. 
The content mentioned in this article will also let you know the pros and cons of both the text messaging service, SMS, and MMS. So, after reading out the considerations here, let's choose the best text messaging service for your business.