CRM (Customer Relationship Management) Software is software used by companies to manage and foster their relationship with their customers, leads, or clients. A CRM system organizes and maintains customers' data. You can store information such as customer preferences and purchase history. It also manages leads and tracks sales. It streamlines the entire workflow of an organization. Most of the Free CRM is cloud-based hence it is highly secured with unlimited data storage capacity.
Must have features for your Free CRM
Store and manage all the contact information i.e. all the contacts information like their names, email addresses, phone numbers, special media handles, etc.
Should be able to track all the sales opportunities and do accurate sales forecasting.
Activity management of the employees and department can be done by following up on the leads, scheduling appointments and sending emails, etc.
Everyday tasks as well as sales and marketing tasks should be automated.
Tracking of leads and initial conversation with them through website forms, emails, etc.
Should have a dashboard showing insights into sales and marketing activities and performance.
Your CRM software should be able to integrate with other software such as marketing automation software, email and SMS marketing software, customer service software, etc.
Should be mobile-friendly. Sales and marketing departments are always on the go hence they should be able to do their work from anywhere.
Your CRM software should be highly customizable so that you can create everything according to your requirements and preferences. It should have your company's reflection in it.
Various people should be able to work together on it, share information and collaborate. This enhances team productivity.
However, free CRM lacks certain features and functionalities in comparison to paid ones. Some of those features and functionalities are:
Free CRMs may lack advanced customization options. You won't be able to get many of your requirements and preferences.
Free CRMs may not have reporting and analytics capabilities which may hamper you from getting valuable insights from your customers' data.
Free CRMs may not be able to integrate with other CRM tools, which can deter you to automate many of your tasks and streamline your tasks.
Customer Service of free CRMs is not of that level as of paid CRMs. You won't be able to resolve your customers' issues which can lead to disastrous consequences.
If a business is small and limited then it should go for a free CRM.
Best Free CRM for Small Businesses in 2023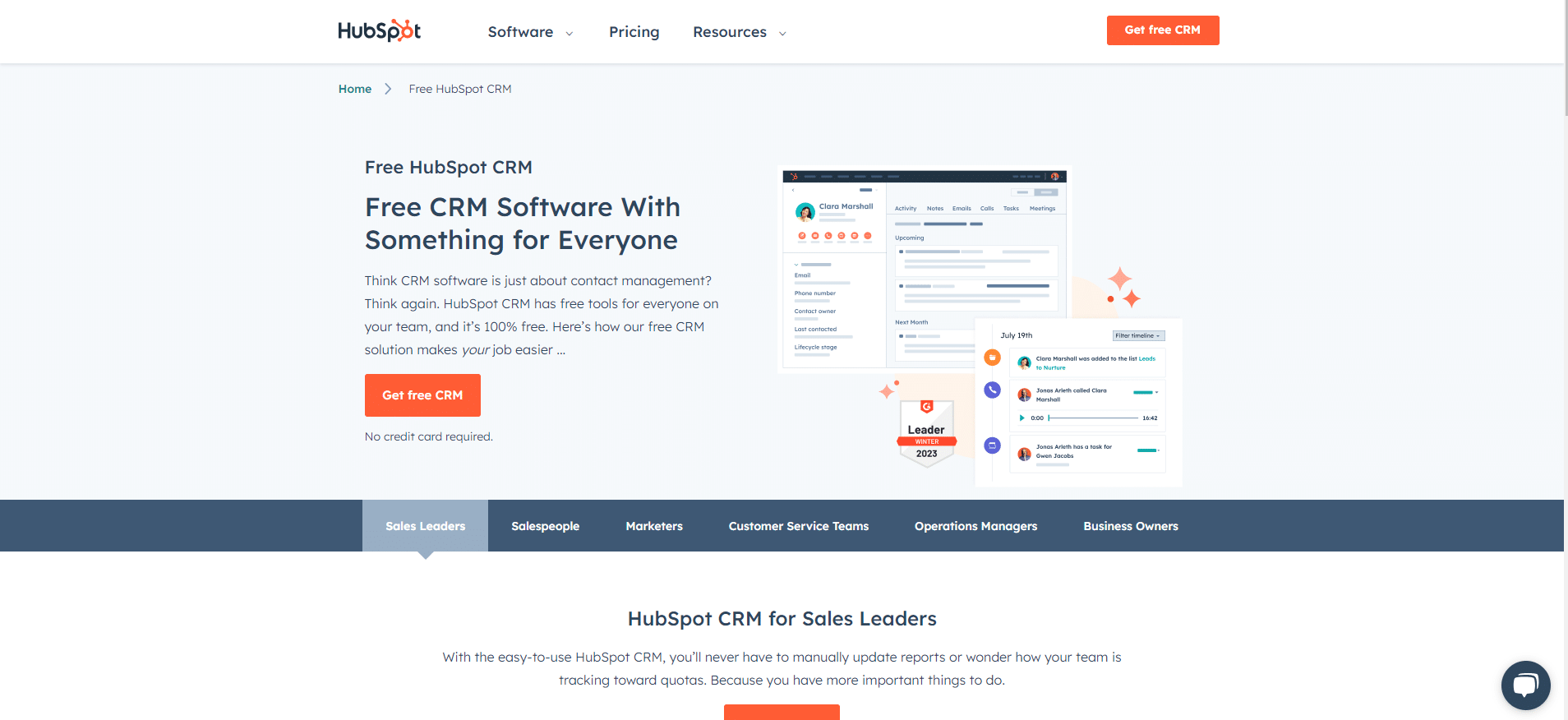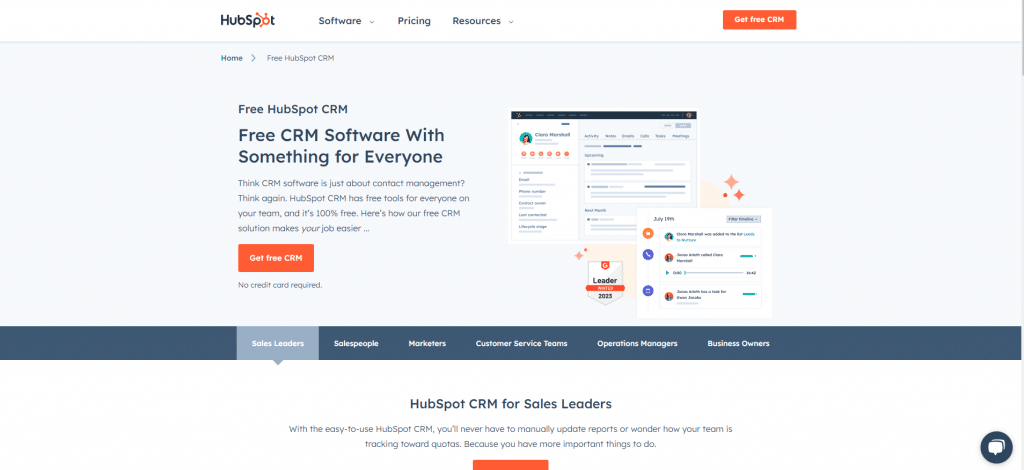 HubSpot
It is one of the most popular and used CRM software available in the market. It is free for basic features to unlimited users.
Features of free HubSpot CRM-
Identify and track leads
Manage sales and marketing activities and streamline workflows.
Record and monitor customers' and leads' activities.
It has extensive email marketing and inbound marketing tools.
It is compatible with Google Workspace and Microsoft Office which makes top-notch data synching and implementation capabilities.
It can integrate with Zapier and allows information sharing and task management across Google Sheets, Facebook lead ads, Slack, etc.
However, in the free version, you won't get AI-integrated tools, robust customization, etc.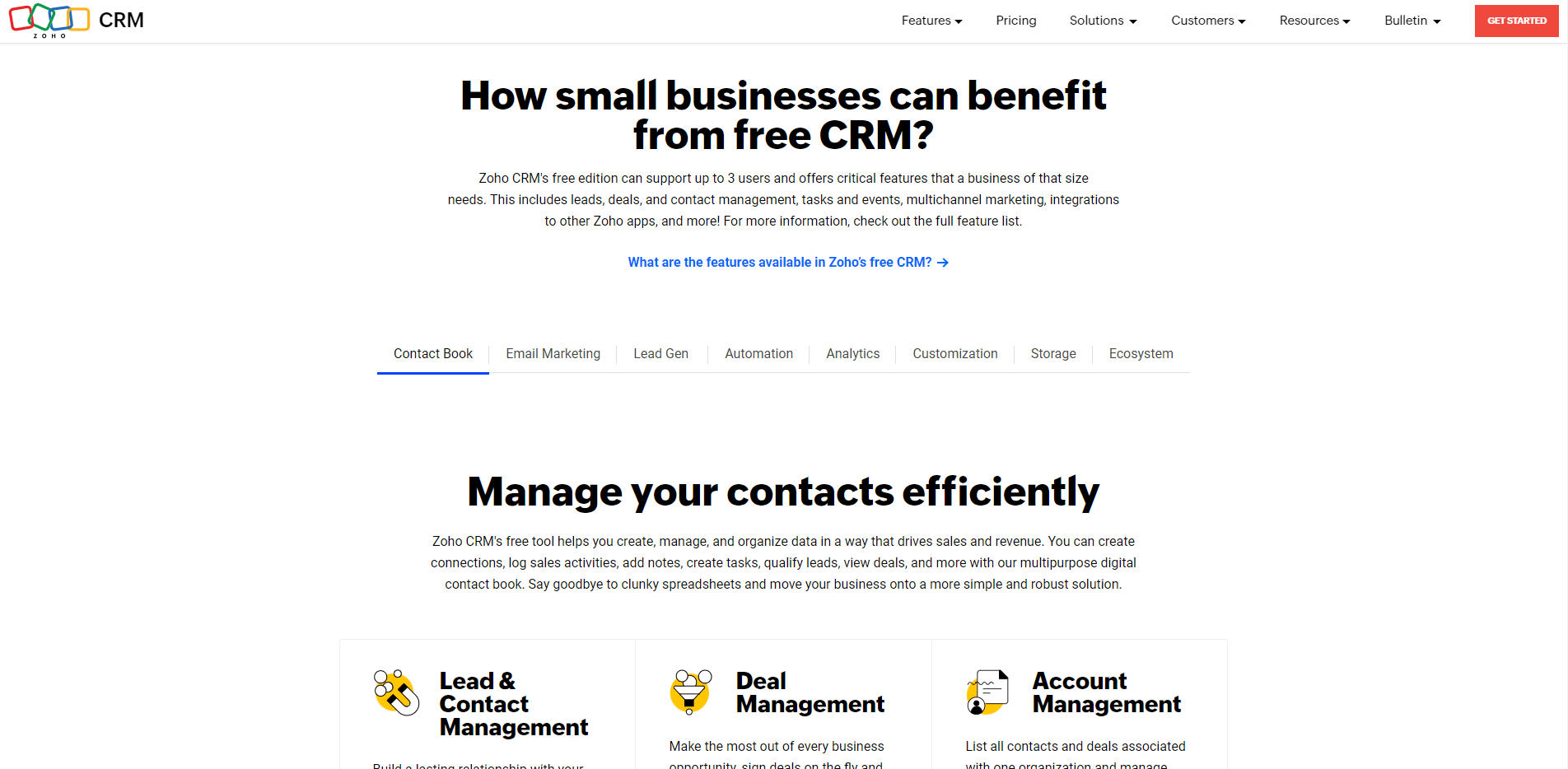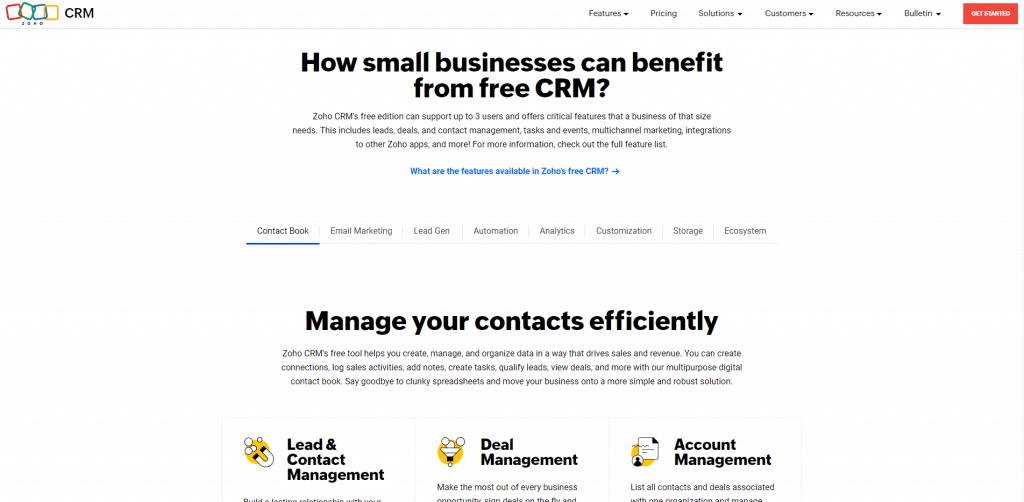 Zoho
It is suitable for all small-sized businesses. It has a simple user interface, customizable modules, excellent automation, and social media tools.
The free version offers to build up workflows, manage leads, and automate daily repetitive tasks.
It can also integrate with Facebook, Twitter, and Google+.
The free version is available for only up to 3 users.
However, the free version lacks an email marketing campaign feature and enough customization.
Salesforce Sales Cloud
It is a perfect solution for almost all types of businesses. It automates many of the sales processes. It makes the sales operations more effective and efficient. It enhances the overall sales productivity of the organization and its customer relationships. It gives a good forecast of the future and it manages customers' accounts. Its free version is capable of generating huge revenues for companies.
Features
Contact and lead management, tracking of contacts and deals
Workflow automation
Dashboards for reporting
Mobile-friendly
Importing of data
Integration with other sales tools.
However, in the free version, the dashboard is not very functional.
You can check out our Hubspot vs Salesforce article to make a better choice.
Monday sales CRM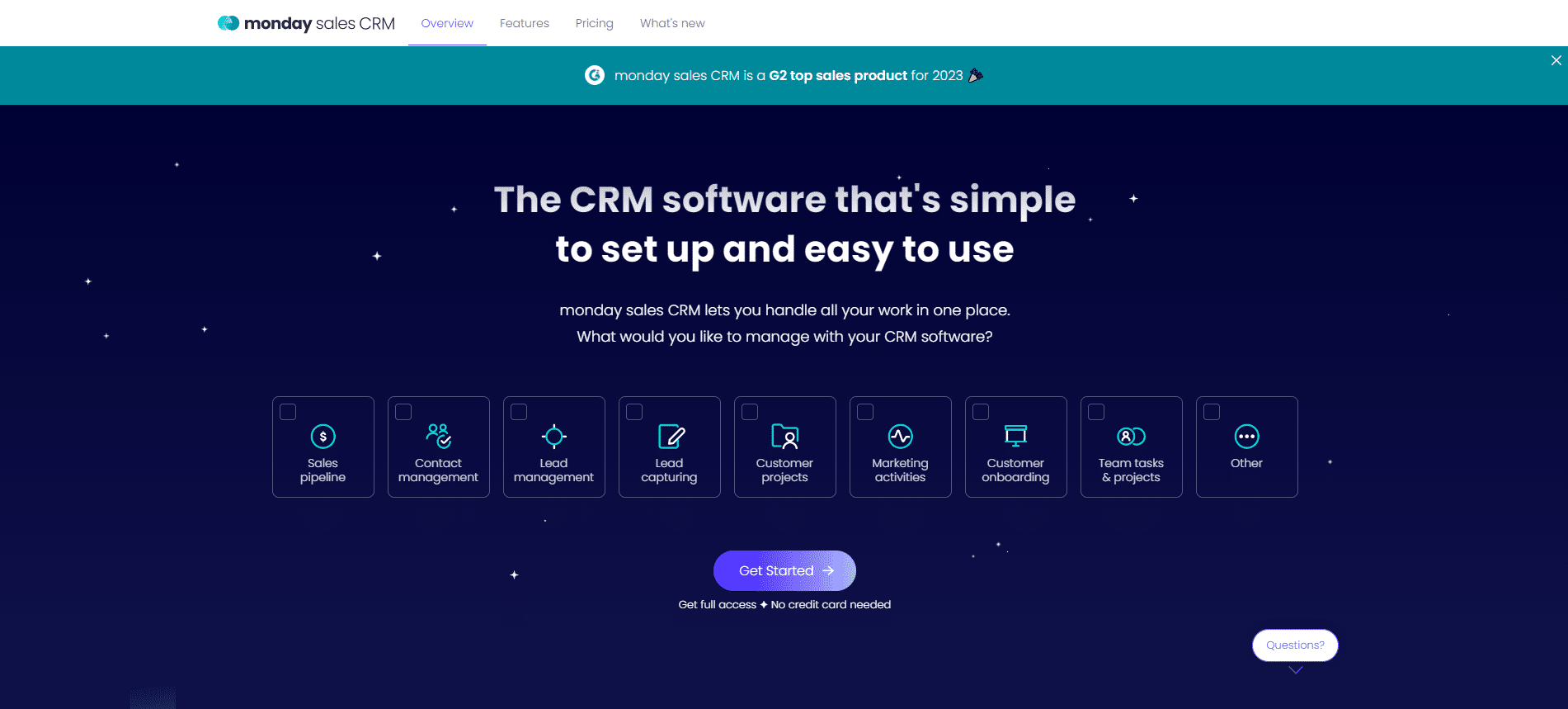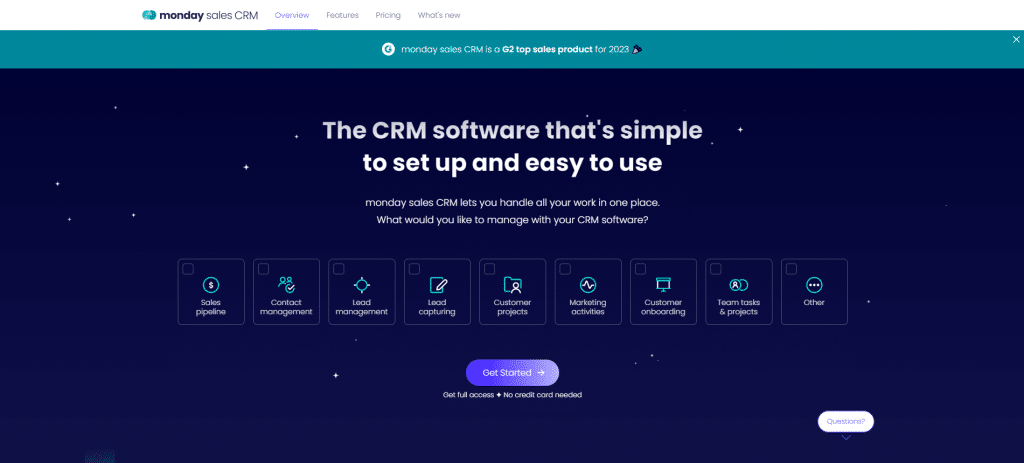 It helps you in managing the sales cycle and customer data in a centralized location. It manages contacts and accounts and streamlines sales and post-sales processes. Emails, phone calls, contacts, and meetings can be tracked easily. You will get a notification for every activity and event. Users can have multiple email accounts with a single email address. The dashboards it provides are customizable. It integrates with many sales tools and apps.
ClickUp
It offers various functionalities like project management, budget, and other resources management, dashboards, and sales pipeline management. It is fully customizable so you can customize any fields and modules according to your requirements and preferences. You can also modify the internal tracking of projects. However new users may have difficulty in understanding features and functionalities as its user interface is not very simple to use.
KeyCRM
It is best for online stores and social networks. It's simple to use hence it's very good for new entrepreneurs. It offers many features for CRM systems and it is mobile friendly. You can track your leads through social media. Other functionalities are processing requests and orders, communication with customers and leads, control of the manager's work, accounting, detailed analytics, accounting for income and expenses, etc.
Features
It automates the process of sorting inquiries from leads through messages or any other social media platform.
It manages communication with customers through a variety of channels hence you don't have to switch between the various apps.
You can set up access rights for various employees in each section of the system. This makes it highly secure.
You can keep track of each user's complete history of their activities.
You can get detailed analytics of all business processes.
Conclusion
CRM apps or a data centralization tool have become a necessity for almost all types of businesses these days. However many businesses don't have enough funds or simply don't have many requirements. In that case, they can opt for free CRM apps so that they can get what they require and start their business work even if they don't have that many funds. Free CRM apps lack in some aspects in comparison to the paid ones but almost provide all the basic functionalities required to automate everyday repetitive monotonous tasks. This eliminates the expenditure and needs for employees to do those tasks. Thus new businesses can save a lot of money through it.