Both Hubspot and Salesforce are the most used and renowned platforms for sales and marketing. But they both have their own specifications and specialties hence both are suitable for different applications. Hubspot vs Salesforce is a comparative analysis, we'll try to understand in which scenarios we should use which platform.
HubSpot CRM
It is a CRM platform with software, integrations with software, and other automation tools for sales, marketing, customer service, content management, etc.
Various features provided by HubSpot CRM for different applications
Marketing- Lead generation, marketing automation, analytics, etc.
Sales- Meeting scheduling, payments, advanced CRM, etc.
Customer Service- Knowledge base of the customers and leads, tickets and customer feedback, etc.
Customer Management Software- SEO recommendations, website themes, drag and drop, etc.
Operations- Program and data quality automation, data synchronization, etc.
Salesforce CRM
It is a cloud-based platform specially designed for businesses to provide their customers and leads with the best marketing and sales automation tools.
Its applications are-
Marketing Cloud- Send targeted personalized messages to various customers and leads. Whenever a customer will click on your advertisements or on your website then an automated message will be sent to the sales team notifying them about a new lead.
Sales Cloud- AI-integrated tools let the sales team know when to take the appropriate action based on customer's and lead's activities.
Tableau Analytics- This feature sends an automated notice whenever any service issue is detected.
Dashboards- All the data is available here and centrally accessible to the entire team so that each member can view it anytime and take action accordingly.
There are apps for every step of the customer life cycle also there are appropriate apps for every size of the business.
Similarities Between Salesforce and HubSpot
HubSpot and Salesforce both are CRM platforms.
They both offer similar sets of features like
Sales forecasting and analytics
Contact scoring
Sales and Marketing
Hubspot vs Salesforce: Features Comparison
HubSpot mainly has inbound marketing tools whereas Salesforce mainly has sales automation software.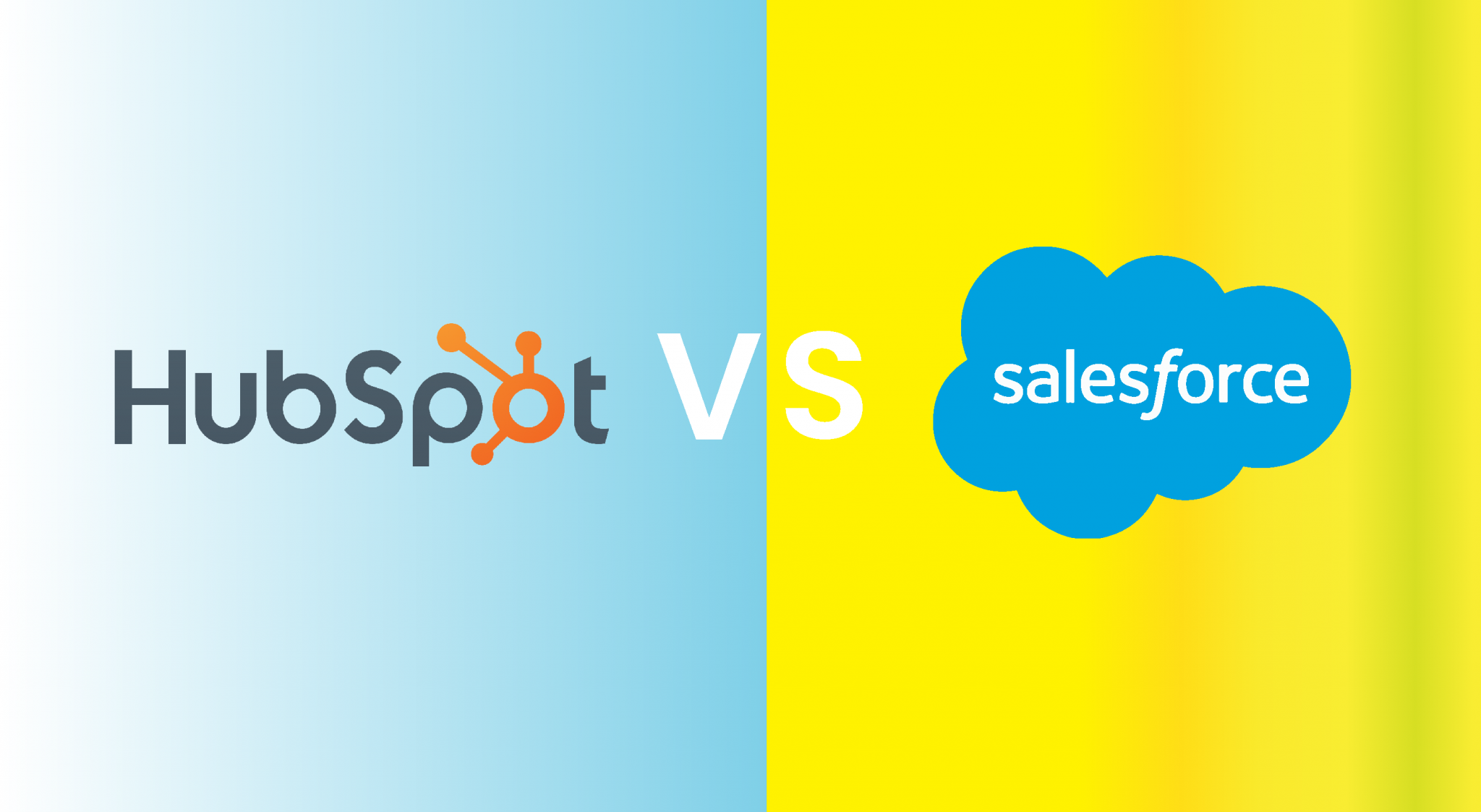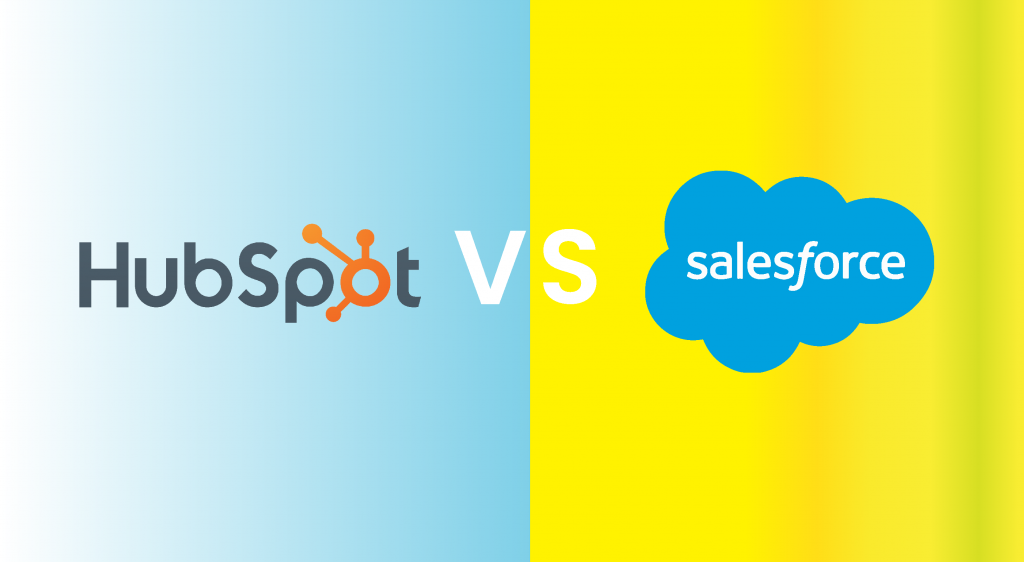 HubSpot
Salesforce
Customization
Customizable but not to the extent of Salesforce. It offers an open API.
Most customizable CRM of all. Processes and workflows can be customized without IT help. It's harder than HubSpot, but still, it has many features that other platforms don't.
Integration
It has internally supported integrations with other platforms like SalesForce, WordPress, Zapier, Google Calendar, Google Chrome, etc. Externally-built integrations are available. Open API allows you to build your own custom integrations.
Has tremendous integrations, which you can see in their App Exchange and choose what you want from there.
Support
It has many free features for support.
1. Training Courses
2. Multiple Certification Tracks
3. Blogs, eBooks, White Papers
4. Downloads
5. User Documentation
6. 24*7 Live Customer Support
7. User Groups
8. Community Forums
9. HubSpot Academy

24*7 phone and email support is available with paid subscriptions.
Includes limited support. Free support features include
1. Read-only access to knowledge basis content
2. How-to Guides
3. Forums
4. e-School Courses
5. Certification Tracks
Platform Maintenance
The entire platform is based on one programming code
Set up the platform and then maintain its cloud-based integrations. It takes 20 hours to configure then you have to pay in order to maintain it.
Customer Satisfaction Rate
4.4/5
4.07/5
Pricing
Basic versions are free.
All versions are paid.
When Should You Opt For What?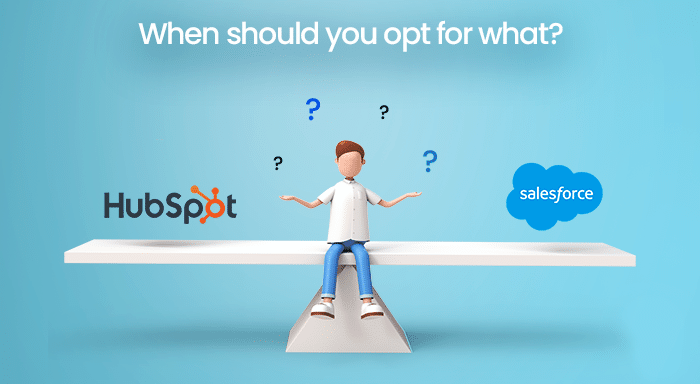 Customer Support
HubSpot- Depends on the package that you have selected. The basic plan consists of only community support. The starter plan consists of an email and live support option too. With enterprise and professional plans, you get phone support too.
Salesforce- There are 1-800 customer support numbers but getting the right customer service agent can be difficult. It offers you customer support forms before actually connecting you to a customer service agent. To access online chat you need to be logged in.
Salesforce customer service is pricey and HubSpot's basic version is free if you want to add ons you need to subscribe to paid plans. Hence for new and small-sized businesses, HubSpot is a more ideal option in Hubspot vs Salesforce battle when it comes to customer support.
Knowledge Base for Users
HubSpot – HubSpot is full of knowledgeable articles that will help users in learning and getting awareness about the technologies. It has a huge knowledge base for its users. There is also a HubSpot community where users can watch informative videos. It provides all the documentation for API for developer issues.
Salesforce – It also has ample services for a good knowledge base for users. It has docs, videos, and walk-throughs of various tools. Salesforce even has events to help businesses with their learning about the technologies. It has interactive tutorials. You also get a community portal where you can ask questions and get answers.
Salesforce here is better in this category as it has much more features.
Ease of Use
HubSpot – Most of the HubSpot tools require a very easy onboarding process. It also has classroom training so that its users can learn about its features. There is also a HubSpot Academy where there are tips and guidance provided to enhance your sales and marketing strategies.
Salesforce – Here learning can be a bit difficult for people who don't know about CRM. It has wonderful features which can really enhance your business activities but you require technical knowledge to operate it well and also you have to do more work here as compared to HubSpot.It also has online training resources under the Trailhead banner to make users know about its operations.
HubSpot is definitely more user-friendly and you can very well operate it without much technical knowledge. Salesforce is not very difficult, it just requires technical knowledge and knowledge about CRM.
Market Share
HubSpot – It has a market share of around 32%, and approximately 137,000 websites use HubSpot. It is considered to be the number one marketing automation software.
Salesforce – Has a market share of 38%, and approximately 100,000 websites use Salesforce. It is considered to be the number one customer relationship management system.
Since market share is never constant and always fluctuating hence we cannot measure which one will excel in this category. Salesforce has more market share but on the other hand, HubSpot has more websites. Hence we cannot select between the two.
Verdict: Hubspot vs Salesforce
HubSpot and Salesforce are the leading marketing, sales, and customer service platforms. Both are CRM platforms. Although they offer similar services still they have their own specifications and users need to understand for which task which platform will be better. Like HubSpot, many basic features are free of cost which makes it more suitable for new and small businesses. Also, it doesn't require much technical knowledge making it more user-friendly. Salesforce on the other hand is the number one CRM software that offers excellent features but all its services are paid and require good technical knowledge and knowledge of CRM to be operated properly. It is more suitable for large-sized organizations. We hope you found this Hubspot vs Salesforce comparison insightful.