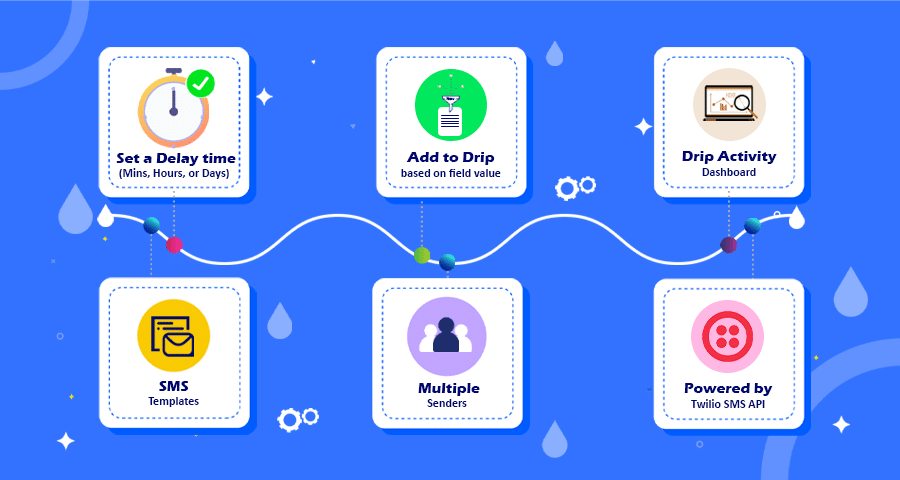 An SMS drip campaign is a way to send text messages to customers at different time intervals automatically. You can chain several drips together to create a series of automated text messages that will be sent after hours, days, weeks, or even months.
With this text message automation tool, you can automatically send SMS based on triggers, statuses, and fields to an individual or group. This entire process will be done without manual intervention. This level of marketing automation can scale your communication.
Now it's time to put your SMS drive on autopilot mode and have the fruitful benefits of event-triggered messaging.
Real-life Example: 
A business was facing trouble managing their important communication workflows i.e. lead nurturing, welcoming, and onboarding process. Since they were failing to engage with people at the right time and with the right message, the business was losing revenue. For marketers and sales agents, it was next to impossible to engage with all customers manually.
Then SMS Drip came into the picture. It allowed them to create drip campaigns for each of their workflows. Now, the right SMS is automatically sent to the records based on their status and the field's value. For example, a record with the status "Newly Added" is sent an SMS instantly and after 2 days a follow-up message is sent again automatically.
Feature of SMS Drip Campaign Premium
Add to Drip based on the Record's Status and field:

The record will add to the drip campaign list based on its status and field's value automatically.

Set a time to send the SMS:

 Once a record adds to the drip, you can choose any time to send a message to it. For example, you can send instantly or after minutes or hours, days, or weeks.

Choose from multiple senders:

The plugin allows you to configure multiple senders in the SuiteCRM and while creating a drip campaign, you can choose from which sender you want to send.

Drip Manager Dashboard:

In this, select which module and field you want to create a drip. Also, here you'll get the option to choose the sender.
Multiple Drip Controller:

In the controller, you can choose the SMS template and the time span at which you want to schedule the drip. You can create multiple controllers to create a series of automated text messages.

Dashboard for SMS Drip Status:

In the drip manager, you can check the status of records currently in the drip queue. For example, you can check the scheduled time and time remaining to send. You can see other statuses like in the queue, phone numbers missing, etc.

Centralized Menu for Accessibility:

The centralized menu allows you to easily navigate through all the options available in the SuiteCRM SMS Drip Campaign (Premium) plugin.

Add to Drip button:

If you want to add records to drip individually then you can simply click on the "Add to Drip" button in the detail view.

Compatible with Custom Modules:

Just like all our plugins, this is also compatible with custom modules in SuiteCRM.

Powered by Twilio API: The ability to send SMS from the SuiteCRM is powered by the reliable Twilio SMS API, which is one of the best in the world.