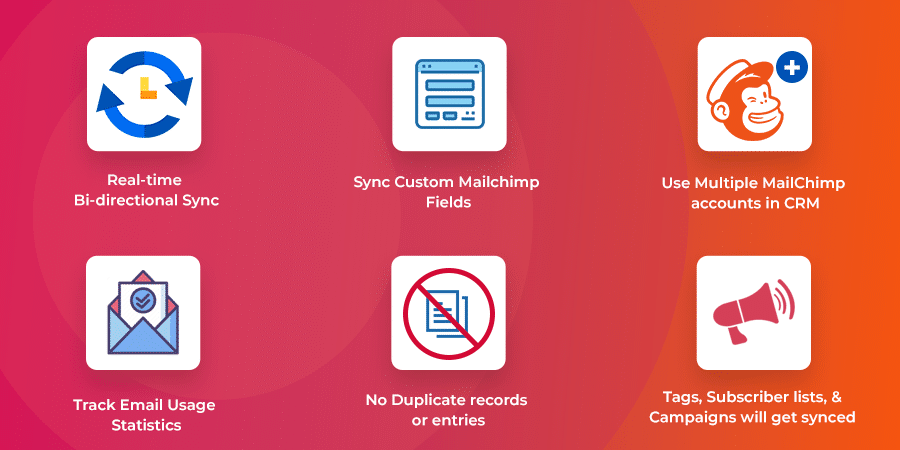 SugarCRM Mailchimp Integration can come in handy, whether you want to run segmented email campaigns or send newsletters. The SugarCRM comprises vital information of leads and contacts that can be leveraged to get the most out of targeted email marketing in Mailchimp. In the same way, the data collected from email campaigns could prove to be decisive for sales & marketing teams. But all of this is only possible when you possess a tool that can seamlessly integrate both platforms and maintain an uninterrupted stream of data flow in real-time.
Real-life Example: For instance, you're supposed to send emails to the New York-based leads, but only to those that are Sales Qualified Leads. Under normal circumstances, you would first collect leads in your CRM and then manually export them to Mailchimp, and only after that, you'll be able to send them emails.
It's quite clear that this process is time-consuming. But if you have the SugarCRM Mailchimp Integration Premium extension then your data like custom fields, target lists, audience information, etc will be synced bi-directionally.
Advanced Features of SugarCRM Mailchimp Integration "Premium" Extension
Now, you have learned the significance and benefits of the integration between SugarCRM and Mailchimp, let's have a keen look at the features of this plugin.
Sync Data in real time between both platforms:

Once the plugin is installed on your CRM system, it will automatically start syncing the customer information bi-directionally.
Link Multiple Mailchimp accounts with SugarCRM:

This advanced feature allows the users to sync not one but multiple Mailchimp accounts with SugarCRM. Each account can be assigned to different SugarCRM users as well.
Easily sync Custom Fields:

The plugin is capable of syncing the custom fields that you created in Mailchimp along with all the standard fields. It provides you the flexibility to work more creatively with Mailchimp and SugarCRM.
Use a dedicated Mailchimp account for a specific module(s):

If you want that only one user should handle the contacts and leads module then you can assign it to an individual Mailchimp account.
Sync Tags, Standard and Custom Fields, email campaigns info, customer details:

All the changes that you'll do the target lists, audience data, or even if you add some custom fields will be synced in both platforms in real-time.
Mailchimp Subscribers Dashboard:

You can have access to this dashboard from the SugarCRM admin panel. It will provide you with information about email subscribers like their IP addresses, the last action each of them performed, the individual's Mailchimp ID, Web ID, record module, and many others.