Why Do You Need CRM Solution for Your Business?
As of now, almost every big firm in the world knows the importance of Customer Relationship Management (CRM), therefore, all of them invested a big chunk of fortune into this technology. There is a myth that Small and Medium Enterprises (SMEs) do not require CRM software, but can't be any more wrong. It doesn't matter, how much bigger a firm really is? In order to keep growing their revenue, they need to create a loyal customer base with a high customer retention rate. This is only possible with a good CRM software that can manage and analyze the interaction with current as well as potential customers.
Therefore, we did deep research on the requirements of a small business and came up with a list of the best top 6 CRM solutions for small businesses in 2023. After meticulous analysis, we have curated this list of affordable CRM softwares that can boost your business revenue. The only thing you need to do is know your business needs and then opt for appropriate CRM software.

SuiteCRM
SuiteCRM has become quite the favorite among small and big businesses. It is an open source platform that allows Customizations and integrations to suit business process requirements. SuiteCRM also allows optimization of business processes. SuiteCRM allows businesses to gain in-depth knowledge and understanding of their customer interaction and therefore guide customer behavior. This results in eventually delivering highly sophisticated customer service and increasing productivity.
Every business has a huge task of handling a large multitude of customers on a daily basis. It allows businesses to meet customer demands and needs with accuracy and precision and deliver a highly enriched customer satisfaction experience. SuiteCRM also enables businesses to manage separate departments with more efficiency. This allows businesses to achieve their goals and increase productivity.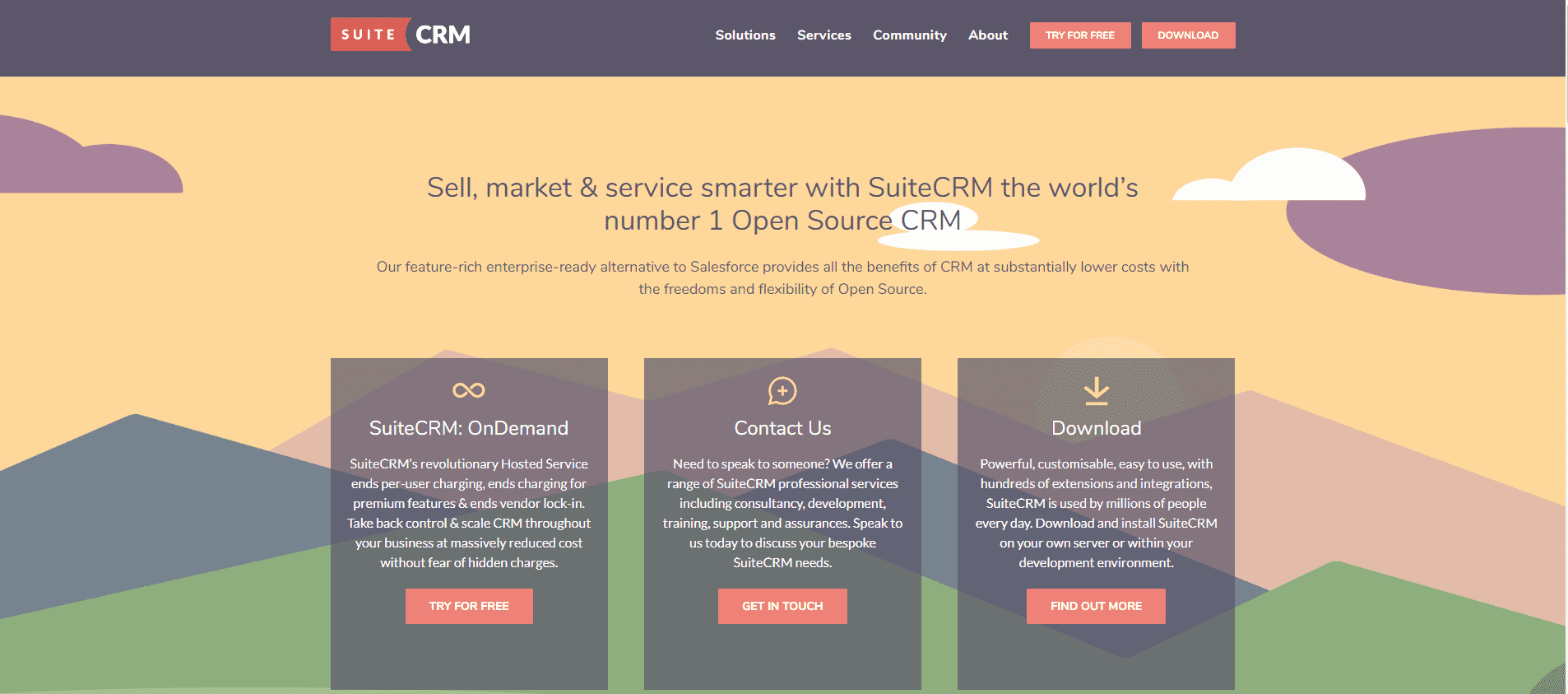 Here are some of the features of SuiteCRM mentioned below:
Q&A support
Contract renewals servicing
Pricing strategy control
Template quotations
Flexible modeling of business processes
Billing and invoicing
ROI calculator
Finance management
Marketing
Servicing
Flexible workflow
Sales portal
Customer self-service
SugarCRM
SugarCRM is one of the most favorite CRM software among small and large enterprises. It provides platforms to support sales, marketing, and customer support departments. SugarCRM allows businesses to stay connected with their customers and enrich customer experience. SuiteCRM provides businesses the flexibility and the fluidity they need to deliver desired results in a timely manner.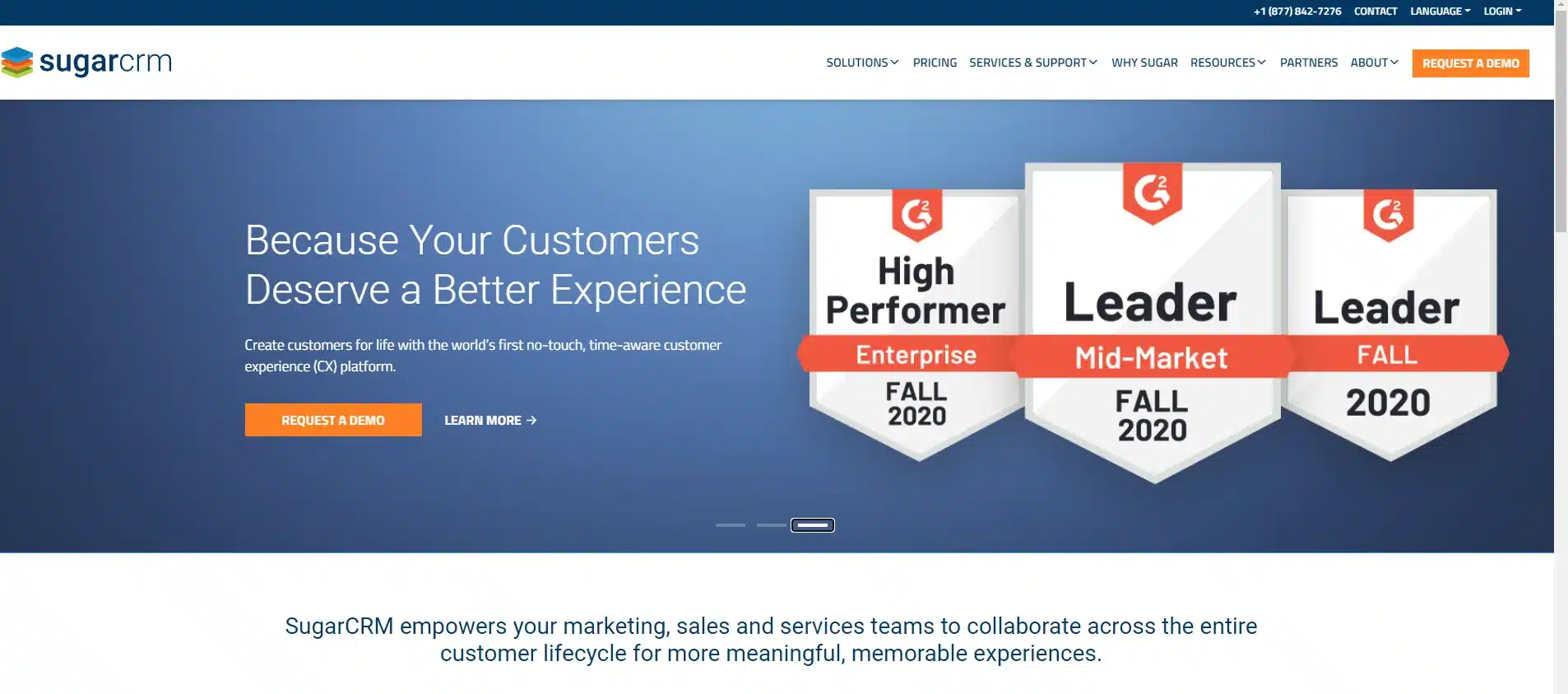 Sugar CRM is available in the market in 3 separate editions and we would recommend the one that costs $52 per month and here are some of its features mentioned below:
Support for MySQL and SQL Server (On-Site)Marketing lead management
Unlimited online support
Cloud or on-premise deployment
SugarCRM Mobile
Reporting & Dashboards
15GB storage
Unlimited Studio Customizations
Call center automation
Support automation
Sales automation and forecasting
SalesforceCRM
Salesforce is one of the most relevant CRM Solutions tools which is used quite extensively by small and big businesses all around the world. Salesforce has been a pioneer in the field of cloud computing and has delivered unparalleled results for separate business departments such as sales, marketing, and customer support. It is a highly sophisticated CRM solution that encompasses all aspects of customer interaction and behavior. Salesforce allows businesses to better manage their social media presence and convert potential leads into sales. Salesforce provides businesses to keep track of their sales activity on a real-time basis. Such valuable information allows businesses to save both time and effort, which eventually helps businesses to grow and increase their productivity. Salesforce allows businesses to execute daily tasks at a faster rate.
Salesforce is absolutely easy to use and employees can easily adapt to it and utilize it to its fullest potential.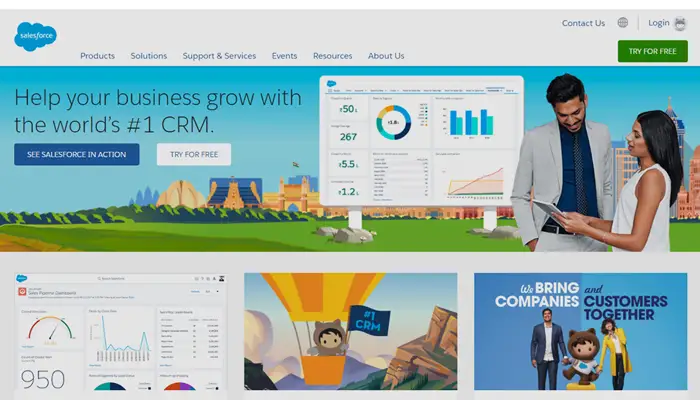 Here are some of its features mentioned below:
Intuitive, Mobile-Ready Dashboard.
Analytics.
Collaboration Tools.
Opportunity Tracking.
Task Management.
Workflow Creation.
Customer Engagement Tools.
Contact Management.
Hubspot CRM
For Small and Medium Enterprises (SME) Hubspot offers an innovative CRM solution. The software comes in a free edition as well as the paid versions. A small and medium-sized business requires reliable and well-maintained software that can help them grow. And Hubspot CRM successfully provides these functionalities to its users. Due to its extensive functionalities, it is one of the best CRM for Architecture Firms too. However, Hubspot CRM lacks some advanced features, still, it can fulfill the requirements of a small business without any issue. For starters, Hubspot's free version should be very effective when it comes to improving the productivity of a sales rep team and SMEs.
Below, we have mentioned some features that you'll get in the free version of Hubspot CRM. There are some paid add-ons that are also available like Marketing Hub, Sales Hub, and Service Hub. All these have a starting price of $50 per user per month.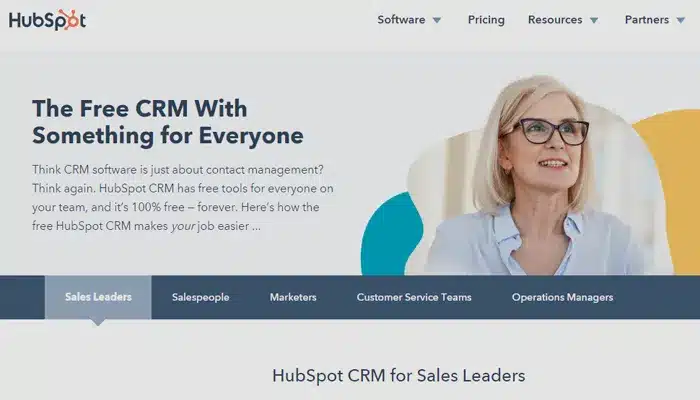 Key Features of Hubspot CRM
Optimized User Interface
Easy to use
Free Email Templates
Snippets for Instant replies to live chats or emails
Email status Tracking
Insightful Dashboard with information (Total calls, Closed deals, Notes, Meetings, Tasks Done, etc.)
Sort Customers and leads based on their demographics, social media activity, email information, and many others.
Categorize tasks based on (Assigned to, By association, Due date, Reminder, Task type, Title, & Status)
Zoho CRM
This CRM is also another great option for small businesses. Zoho CRM is available in five editions, which are Free, Standard, Professional, Enterprise, and Ultimate. Initially, we suggest you go for the free edition and if you find that useful then you can switch to any edition later anytime you want. The software is popular among small businesses because of its user-friendly interface, customizable modules, and social media features.
In the free edition of Zoho CRM, the user will get features like Export events to Google Calendars & Tasks. You'll also get page customization, rename tabs, custom list view, workflow rules, Email templates, Email authentication, and a few others. Since it's a free edition, only 3 users are allowed. In addition to free edition features, the standard version will provide you some outstanding features that we have mentioned below. It's Standard edition will cost you around $720 per user if billed annually.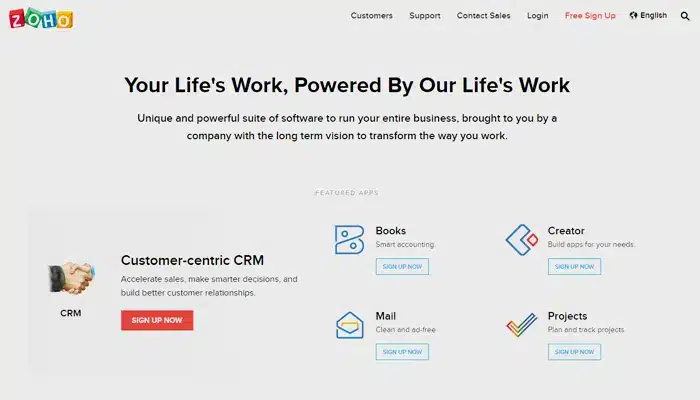 Extra features of Zoho CRM Standard Edition
Email insights and BCC Dropbox for emails
Custom Fields (10 per module)
Sales Forecasting
Reminders
Multiple Pipelines
100 Custom Reports
Scheduled Reports
Analytics Studio- Mobile App
KPI Tracking and Analytics Charts
Standard Dashboard & 10 Custom Dashboards
Automated Lead Generation from social media
Mass Email
Marketing Campaign
Google Calendar and Contact Sync
Less Annoying CRM
In this entire list, Less Annoying CRM is the only one that is designed for small businesses specifically. Quite an unusual name "Less Annoying" but their service is the same as their name. Unlike others, Less Annoying provides a 30-days free trial in which users can get their hands on every feature. The good thing is that you don't need to add payment information prior to using the 30 days trial. If you're satisfied with the performance of the software then you will be charged $15 per user per month.
Once you setup the Less Annoying CRM software, the customer service team will contact you via email in order to make you familiar with the features. You'll get a beginner's guide, scheduled live demo, and bi-monthly newsletter.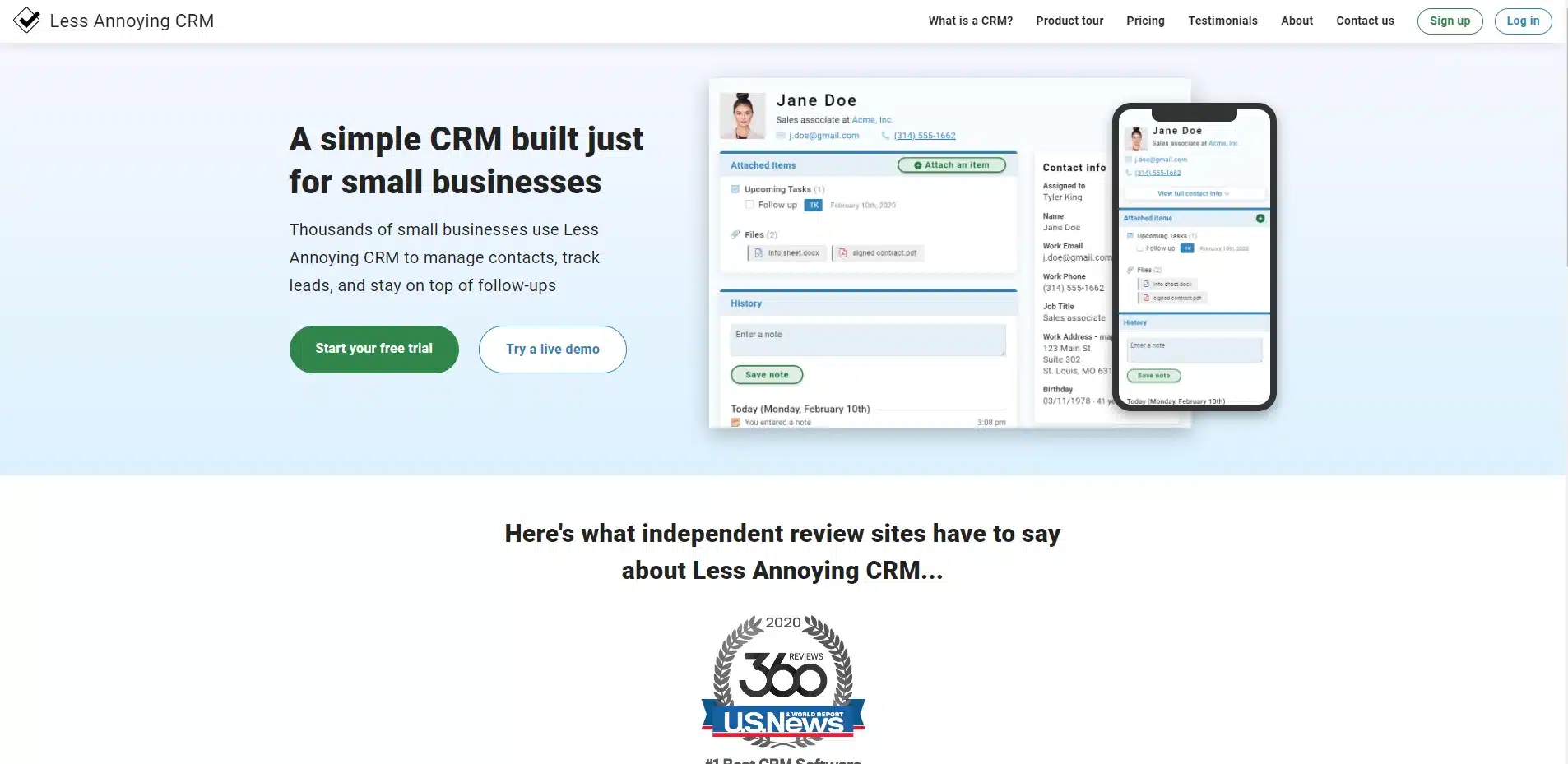 Features of Less Annoying CRM software
Lead Management (Including Lead status, priority leads, contact information)
Leads Tracking
Contact Management (Information like Tasks, Notes, Files, Events all in one place)
Easy to use in-built Calendar and Task
Synchronization with Google Calendar
Add users at $15 per month
Create Custom fields for companies, contacts, pipelines.
Export entire CRM Data in one-click
Phone and Email support
Easily accessible from Laptop, tablet, or smartphone
As we have discussed in detail the above-mentioned top 6 best CRM Software for small businesses in 2023. We would recommend all 6 as the most ideal and preferred business solution to gain a better understanding of your customer base. Still, a default CRM might not give you exactly what you are looking for and you might still want more out of your CRM platform. That is why we would suggest that you get your CRM software customized to better suit your business requirements more accurately and precisely.