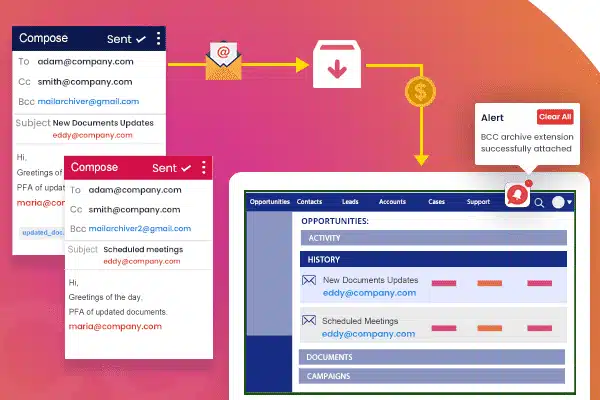 Archive Emails directly into the SuiteCRM
Users can set multiple Inbound Emails.

Real time alert of scanning and can see process audit reports of job done.

Opportunity History also can be attached.
Supported to All SuiteCRM Versions
Unlimited License for Single Domain & its Sub-domains

Lifetime Support

Unlimited User
Screenshots
--- SuiteCRM BCC Archive (Premium)
Businesses should take control of their conversation with every client while using the SuiteCRM BCC Archive plugin. We introduce this extension so that your conversations with every client automatically get saved in the CRM software. Moreover, you can start the conversation from any channel and it will keep the conversation in your CRM with no hurdle.
For Instance: Suppose one of your valuable clients shares an email with you and at that time you are using your mobile phone. You can reply to the client from the mobile platform. And the conversation will be saved in your CRM software. All you have to do is just use [email protected] (just example) in BCC. The key role of our add-on is to scan the BCC email address and then update customer history to the CRM system in real-time. Leverage it to keep the conversation of both parties always in one place.
Key Features:
Real-time synchronization is the main functionality of this extension. An email conversation will be updated in your CRM on a real-time basis.
Our Plugin Email Archive scans BCC, TO, CC, Body, and Subject. Parsing such crucial information is vital, so this functionality will help you.
When using this add-on, you can set up Multiple Inbound Settings quickly. It's quite easy to add more than one email archiver address in BCC.
Here you will get the Notification Alert functionality. Whenever an email is attached to the History, you will receive a notification alert at the top right corner of your screen.
The significant role of the BCC Archive extension is to Scan the email inbox automatically after every one minute. A user can check out the scanning time and new parsed email at the Activity Logger.
Another superfine functionality of the Email Archive add-on is it free you all from working under one module. There are modules like Leads, Contacts, etc, so use this plugin to archive the BCC Email address in any module that you want.
If you are working in Opportunities Module and you are getting numerous emails from that prospect, you can manage in one module only. No need to work on separate modules like Contacts. This feature of BCC Archive can save your efforts.
Wrap it up
Every email of your valuable client is safe in CRM. No matter from whichever channel you are getting plenty of emails. Get this extension in your business to control the entire important emails of your client. Understand the top-grade features of the Email Archive extension above.
Frequently Asked Questions
How does the SuiteCRM BCC Archive plugin work?
Scheduler scans the email archiver IMAP once every minute. If the scheduler finds a new email then it automatically attaches the email to the appropriate customer's history.
Why should I opt for the Premium version of the BCC Archive extension?
SuiteCRM BCC Archive premium takes automation one step further. It will allow you to create multiple inbound settings and also it works on the opportunity level. It means emails automatically can get attached to the opportunities modules.
Why is my BCC Archive Product License Validation taking so long?
After clicking on the Validate now button, you will be required to reload the page. Otherwise, the message "Please wait while we process your request" will keep showing on the screen.
Videos
---
Reviews
---
All Add-Ons are life time purchases, there are no recurring/hidden charges