Do you know the first email was sent nearly three decades ago? And since then, email marketing has gained immense popularity, but now many believe that email marketing is not as effective as before or you can say it is a dead-end.
In this article, we are going to put light on some key aspects that will change your mind. If email campaigns are not a part of your marketing strategies then you surely will be missing out on key metrics as well. Many marketers still believe that email marketing can bring more business to a company than any other. Due to this reason, a lot of big companies and firms stick to this effective and efficient strategy.
One might argue that since the rise of social media, emails are not effective as they were before. But let us tell you that it is not true at all. Below are the statistics that will show you why email marketing is still among the best.
Statistics show that Emails are better than Social Media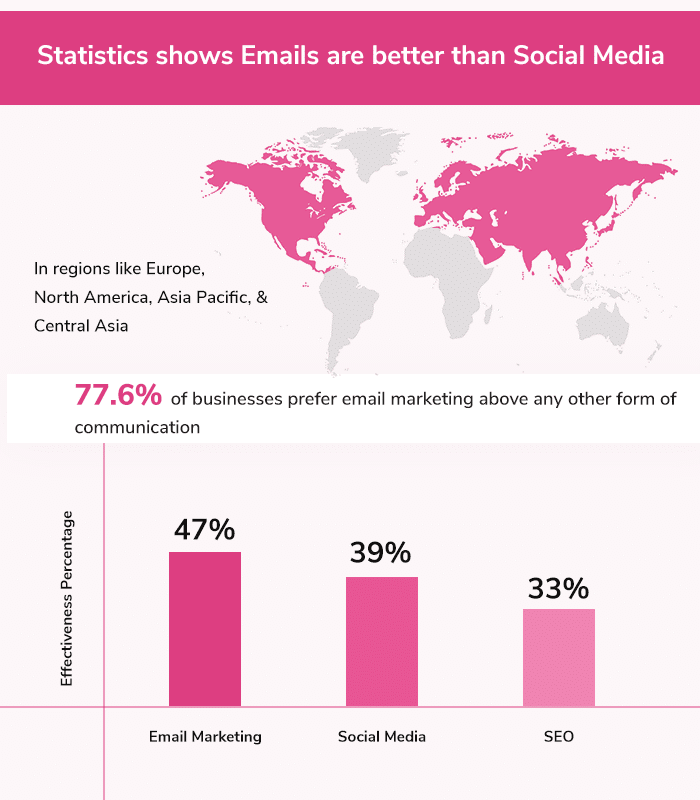 In regions like Europe, North America, Asia Pacific, and Central Asia, 77.6% of businesses prefer email marketing above any other form of communication for better customer engagement. Apart from this, 62% believe that content management is another good option and only after that, Social media comes at number three with 61% preferability.
When it comes to effectiveness, 47% of marketers would like to go with email marketing. 39% believe in Social Media and 33% prefer SEO (Search Engine Optimization). However, the success rate of any kind of email marketing campaign is based on many factors like whether it's a B2B or B2C model, audience type, targeted customer, etc.
Believe it or not, emails are way better than some huge social media platforms like Facebook and Twitter, when it comes to lead conversion rates. A study suggests that email can convert 40% more leads into customers.
One thing that you should never do in Email Marketing
Nowadays, no matter where you look the first thing you will see is advertisements, brand promotions, pitches. And honestly speaking, it is very overwhelming "in a bad way" as a customer. It doesn't matter if you are scrolling through your social media feed, reading an article online, or watching a video, ads aka "Interruptions" are everywhere.
"Never Take a Customer for Granted"
You need to respect the fact that a customer has allowed you to send emails. You should always make sure to improve their experience, not the other way around.
Senders always think that their emails are unique and special, but in reality, they are not adding any value to the experience of customers. So before running any campaign, ask a simple question, is this something that can add value? If the answer is genuine YES! Then go for it.
Email marketing examples from top companies around the world
Different kinds of businesses can have different benefits. For example, an eCommerce store can use this for product promotion while a B2B can use this for lead generation. This is the beauty of email marketing, you can customize it and get desired return on investment. In the link given below, we have mentioned various email marketing strategies that could help your business.
Recommended Blog: Ultimate 15 Email Marketing best practices for 2021
Since we are on the topic of ROI (Return on Investment), allow us to share an interesting statistic related to this topic. Every $1 spent on email marketing will get you $44 in return, this means the ROI is around 4400% which is exceptional. Now let's have a look at the benefits that a business can have from an effective email marketing campaign.
Uber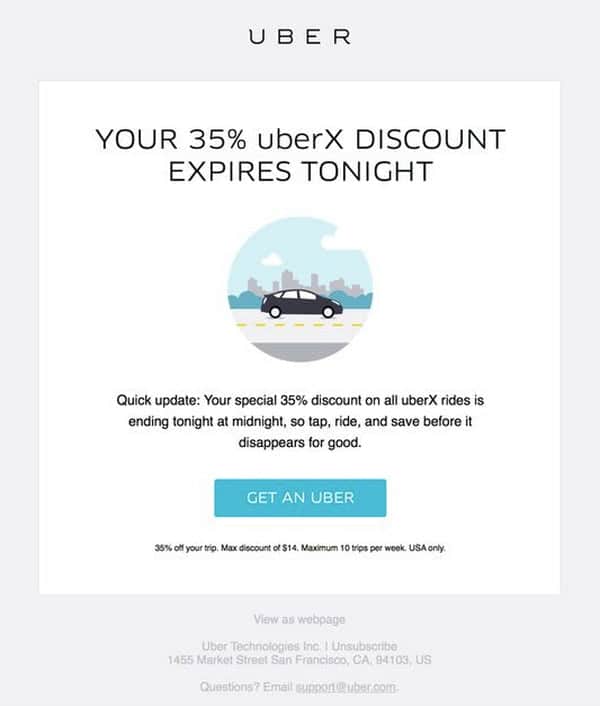 The email template of Uber is pretty simple with large texts and a very conspicuous CTA (Call-to-Action) button. This is a great example of how you can be minimalist in your messaging and still manage to grab the customer's attention. Another benefit of this, subscribers who don't have a lot of time to read full-fetched emails will only see necessary information right front. This is one of many Uber's email templates that they use to engage with customers.
Airbnb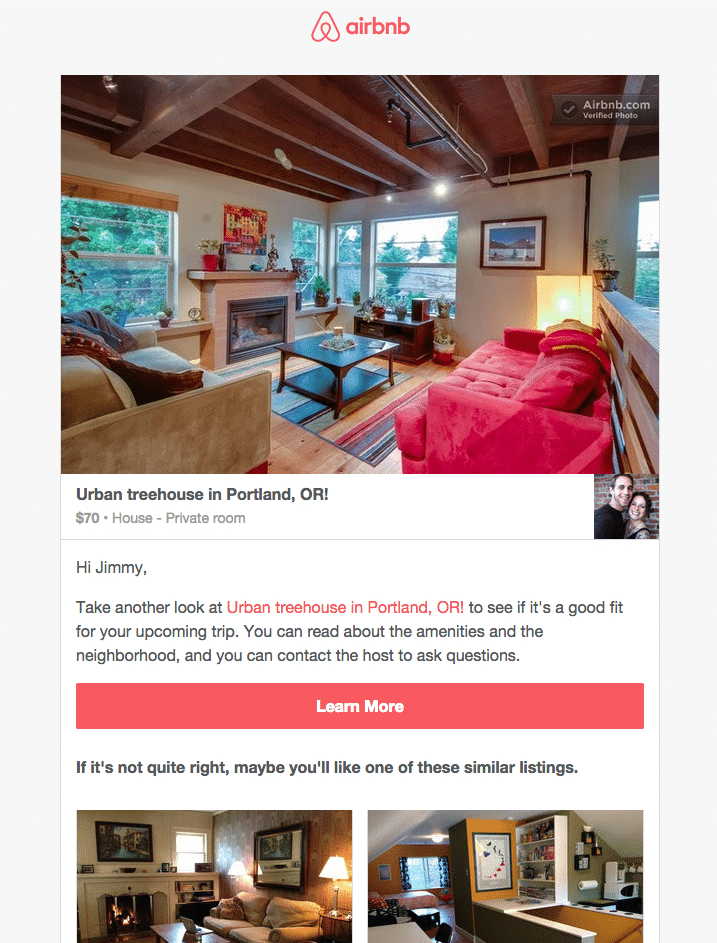 The best thing about Airbnb emails is that they are highly personalized and include content that can intrigue their subscribers. Not only this, but the headlines of their emails are also very targeted which arouses the interest in customers and improves the opening rate of their email campaigns. In the example below, you can clearly see the email does not consist of some random recommendations, Airbnb knows you were looking for a place to stay in Orlando and thus sent you places that fit your needs. All of this is possible because they are optimally using the customer data and enhancing customer experience by providing them great insights.
Mint by Intuit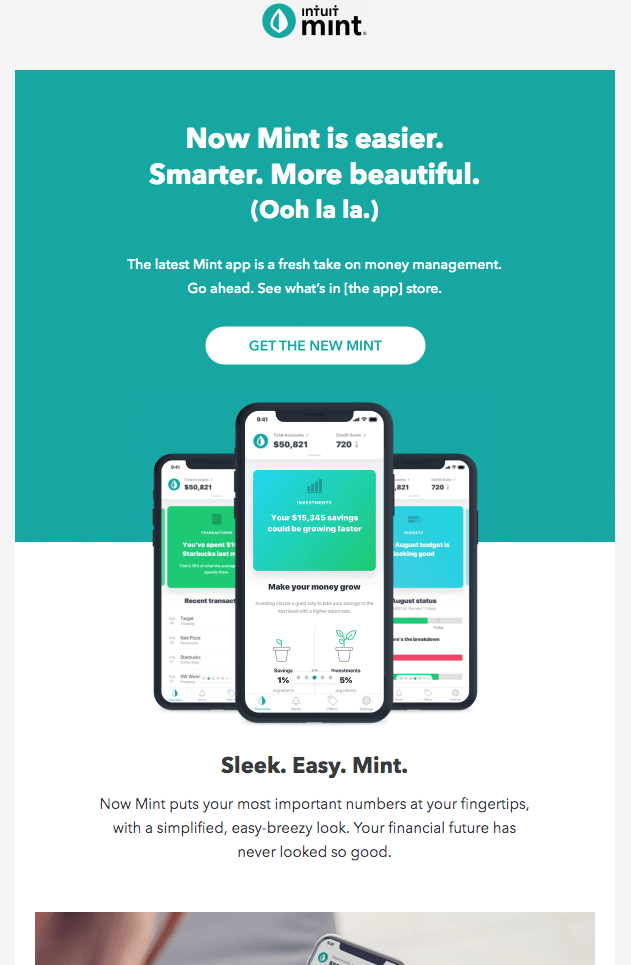 For those who don't know Mint is a personal finance application developed by Intuit. Apart from this, it also offers other financial services. Now, if we look at their email template, what do we first see? A striking and attention-grabbing headline nudges the user and encourages them to see what is happening. The design is quite elegant and simple. Also, most of their email templates are brand-oriented meaning that in one look you can tell they are from Mint. The color combination is subtle and completely harmonizes with the brand.
Most Common Types of Marketing Emails
Broadly, you can classify marketing emails into two categories. The first type is Promotional email and the second is Informational email. In business, both of them are equally important and used at a specific part of a customer's journey. Apart from these two types of emails, there are several other types like newsletters, email invitations, transactional emails, Survey emails, etc. However, all of them are somehow loosely related to either promotional or informational emails. Therefore, we are going to talk about only these two in detail.
Promotional Emails
Promotional emails comprise information about the products and services of a company. It could be related to newly launched products, or seasonal discounts, promotions, product recommendations, etc. Eventually, the aim is to encourage the users to make purchases. Promotional emails could be one dedicated email or a series of emails that are sent over a predefined period of time.
Usually, they consist of a clear Call-to-Action (CTA) button/link, which redirects users to a landing page or sometimes directly to the cart. But, before pitching out to the customers right away, you first need to nurture them through various means. Bear in mind, if you use email only for sales pitch then your business can lose that customer.
Informational Emails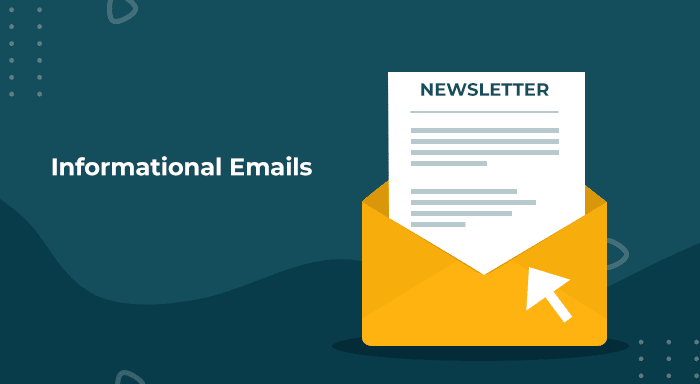 Informational emails mainly come in the form of newsletters. It could tell readers about the capabilities of your recently launched product or simply make them aware of a particular industry. Most businesses use informational emails to keep engaged with their customers. There is one thumb rule that you can follow when it comes to newsletters, which is, no matter what you share with your customers whether it be statistics, case studies, reports, a newsletter should add value to the customer's life. Some common examples of this kind of email are press releases, ebooks, white papers, etc.
Email Marketing "The Missing Piece of Puzzle"
Sometimes businesses face failures even after putting their heart and soul into the work. One of the main reasons behind this is adopting a poor marketing strategy. Nowadays, emails are accessible to all age groups. Let's see the aspects of emails that can help your business grow.
Accessibility: As we mentioned to you earlier, email is something that is accessible to all even when everyone is tech-savvy. So, you should leverage this extensive reach of emails and generate new leads for your business.
Affordability: When compared to other marketing strategies, email marketing is way more cost-effective. Traditional marketing requires initial investments which include printing cost, ad space cost, etc. On the other hand, digital advertising agencies like Facebook ads can cost you somewhere between $0.5 to $2 per click. Unlike these, email marketing requires minimal cost and there are some marketing automation platforms that even allow you to run free email marketing campaigns in the beginning. We are going to discuss such platforms in the latter part of this blog.
Control over the email list: Those who are into email marketing will surely know the value of their email lists. It takes years to build a genuine and valuable email list from scratch. Unlike your followers in your Social Media accounts, you have complete control over the email list. For instance, one day you woke up and found out that your social media account is revoked due to unknown reasons. This means all your followers vanish in thin air overnight and you can't do anything about it. But don't worry that's not the case with the email list, instead, it will keep on increasing over the period of time. So even if something went South, you will still be left with your audience list and you can still send emails.
Key Factors to consider when choosing the best Email Marketing Platform
Based on the type of business you are running your needs from an email marketing platform may differ. For example, an eCommerce website will have different sets of requirements as compared to a travel agency. Still, we have managed to curate three key factors that weigh in equally irrespective of the industry type and business size.
Integration with other platforms and business applications
Email campaigns should be optimized for the smartphone as well
Response Handling
Through our extensive experience and research, we have found two such marketing automation platforms. Here, we are talking about Mailchimp and Drip. We have the first-hand experience of both and used them for our own business processes. You should definitely check out our unbiased comparison in our Mailchimp vs Drip blog.