There has been an extravagant growth in CRM (Customer Relationship Management) business these days. How? The Business is focused on Customer Experience. After all, it's indispensable to keep a closer look there. De facto, every department in a business is aware of all moments and activities. Do you know how these all are achievable? It's too simple. All you need to do is just endeavor for frontline Collaborative CRM software for these activities.

Does it offer the Integration benefit with other apps? What's the process to track Customer data here? What actually is Collaborative CRM? Join us on this guided tour to understand one of the types of CRM software.

What is Collaborative CRM?
In very simple words, it's a method to deliver crucial info about your contacts to your business team department to work. It is helpful to share the engagement histories and communications of your contacts. This will give a green signal to businesses to step forward and improve the customer experience.

Understand this: Any CRM Business can track and share the info of contacts without breaking their brain and budget. When Interactions of the contacts are shared across the organization, it means you are making a thriving business.

We have an Example to understand this CRM method.
You hired a few employees in your business for a Bird's eye view of their ongoing clients. Information like which product they visit the most, which landing page they daily open, purchasing behavior, and the list goes on. Now for teamwork and communication, they need to deal with the Sales team here. Because the Sales reps will better understand the data related to ongoing clients. In this way, the sales reps can offer ultimate personalized service to the clients.

Such software of CRM enables you to Integrate with other effective applications. A business then runs more smoothly by collecting the end number of vital information from various sublime channels.

How does Collaborative CRM work?
Below are key points that may entice you all to give a try the best CRM which offers this Collaborative functionality in the business. Let's dig a little deeper-
Improve communication via Chat tools
Chat Tools are indubitably valuable for all businesses to smoothen your communication task. So much work you need to communicate with your amateurs (just an example). Chat tools enable you to communicate swiftly and manage all priority work with no hurdles. One key point to understand in this is Real-time Notification. Yes, that's right. A user will always remain alert to all important events.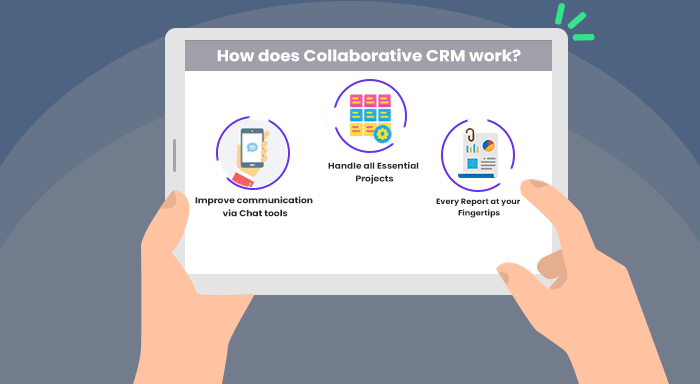 Handle all Essential Projects
Task assigning to every template functionality can be possible when investing in the right Collaborative CRM tool. Every document of your CRM company should be stored in a centralized location. It would be much easier for your business team to access there. Ultimately, the chance of duplication will get removed. Credit to the functionality like role-based user access to keep moving every crucial task further.

Every Report at your fingertips
Getting actionable insights means you can run your business with astonishing speed now. It will be much simpler for your company to make decisions. Insights from reports such as lead work, revenue, sale, etc you can get in real-time. You can share all those mind-blowing insights with your business team. And it will be helpful to boost the conversion. 
What are Two Major Parts to Know about this CRM?
This CRM collaborative software is divided into two parts:
Interaction Management
Channel Management
Interaction Management
Business is always knee-deep to interact with all the customers they get. Communication is key after all. Many customers love to interact with the business via email or phone calls. On the other hand, there are dozens of customers too who like to interact with the business via face-to-face or physical letters.
For better interaction and relationships, businesses are always looking to go for their preferred channel for communication handling. The role of the Interaction manager here is to pave the way for businesses to handle communication across multiple channels. Monitoring all the interactions means you get a 360-degree view of a complete understanding of the customer's needs.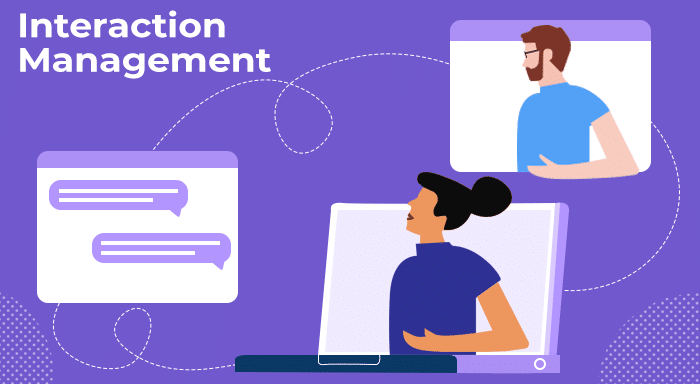 Channel Management
To dilate or we would say to maximize customer satisfaction across channels, Channel Management is preferred. No matter which channel you prefer to interact with the customer, it will definitely improve the customer experience.
Here, Machine Learning or functionality like Automation would be a great assistance. Because it opens a box of data and you can arrange all the duties and responsibilities of your business team according to that.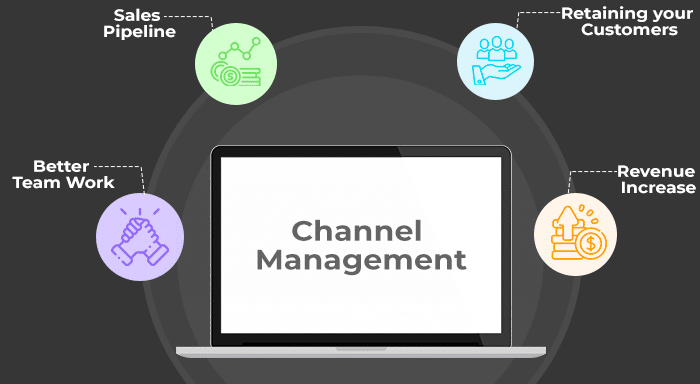 Your Organization Team can work Better. How?
Your business manages Customer information on different-different platforms. It means you are killing your team's productivity and making the whole operation quite hectic.
Who is stopping you from stepping into the advanced collaborative CRM tool? The reason why it is worth it to invest here is all the customer information in one place. Your business team of CRM software can work much better now with no complications. The biggest advantage would be accessing the individual file in real time. A user doesn't need to totally depend on tons of meetings with the customers to understand deeply.
Much Easier to Visualize Sales Pipeline
Get a Glean insight into your Sales Pipeline through the best CRM software. It not only unlocked this but also lets you know what to keep on the priority to close the deal faster. Your Sales team can work on the pipeline where they left the last. Working on all this makes your customer feel like you value them and look to make delightful relationships with them.

How is it more beneficial for your CRM company? You can reckon the Conversion rate. Also, the pipeline will enable you to know the roadblocks that are stopping you from putting the right foot forward. You can work on that and make changes.

The Biggest Benefit is Retaining your Customers
Organizations these days work more on retaining existing customers in lieu of paying more attention to acquiring new leads. The CRM Collaborative tool is a phenomenal solution for this operation. Do you know how the tool is going to do that?

Well, your team can curate a detailed profile of the customers embedded with insights into all their preferences. You plunge into all those channels they visit the most and can update yourself with the information related to your customers. Presenting the best that they need means you reduce the Customer churn rate and retention rate soar.

Super-amazing Advantage is Revenue Increase
After collecting immense data from your collective CRM, you can apply the strategy of Cross-selling and Up-selling. Both these strategies can drive more sales. Ultimately, the goal of yielding high Revenue is doable for business.

Furthermore, you can seek various automation functions that save you extra time. You can work more on crucial work like selling your products and services worldwide. Your Marketing team can curate smart strategies to retain customers. In short, investing in this CRM keeps you closer to grabbing more revenue.

All Vital Collaborative CRM Software for Every Business Size
So many features you expected the collaborative CRM tools to provide. The list below will show all the remarkable functionalities. Readout thoroughly-
SugarCRM software
The software SugarCRM acquired a unique position in the CRM industry by offering cloud-level functionalities to streamline every operation. This CRM is superlative for the Sales, Marketing, and Support team of the organization. It provides the Report distribution functionality that lets you deliver this with the right team member promptly. Another advantage of adopting this CRM is sharing automatic email archiving.
You can build a great design workflow for managing every single operation swiftly. It always delivers a real-time notification to keep you on track. Ready to leverage this CRM? There are five SugarCRM Pricing plans: Sugar Professional, Sugar Enterprise, Sugar Market, Sugar Sell, and Sugar Serve.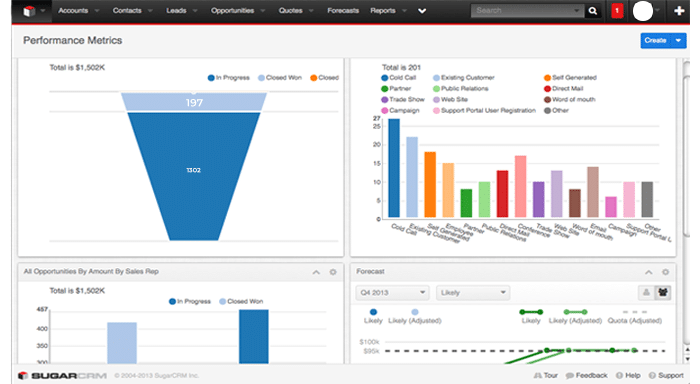 Copper CRM
Those who operate Google Workspace should not miss this chance. You need to pour your investment into the Copper CRM tool. Another intuitive collaborative CRM platform that is exceptional to integrate with Google software applications such as Drive, Calendar, Docs, etc. It saves a significant amount of time by updating all customers' critical records automatically.
It all updates as per the interaction with customers and conversations in Gmail. Whenever there is an event or upcoming activity, this CRM is powerful enough to send automatic reminders to your business team. There are four CRM Copper Pricing plans: Free Trial, Basic, Professional, and Business.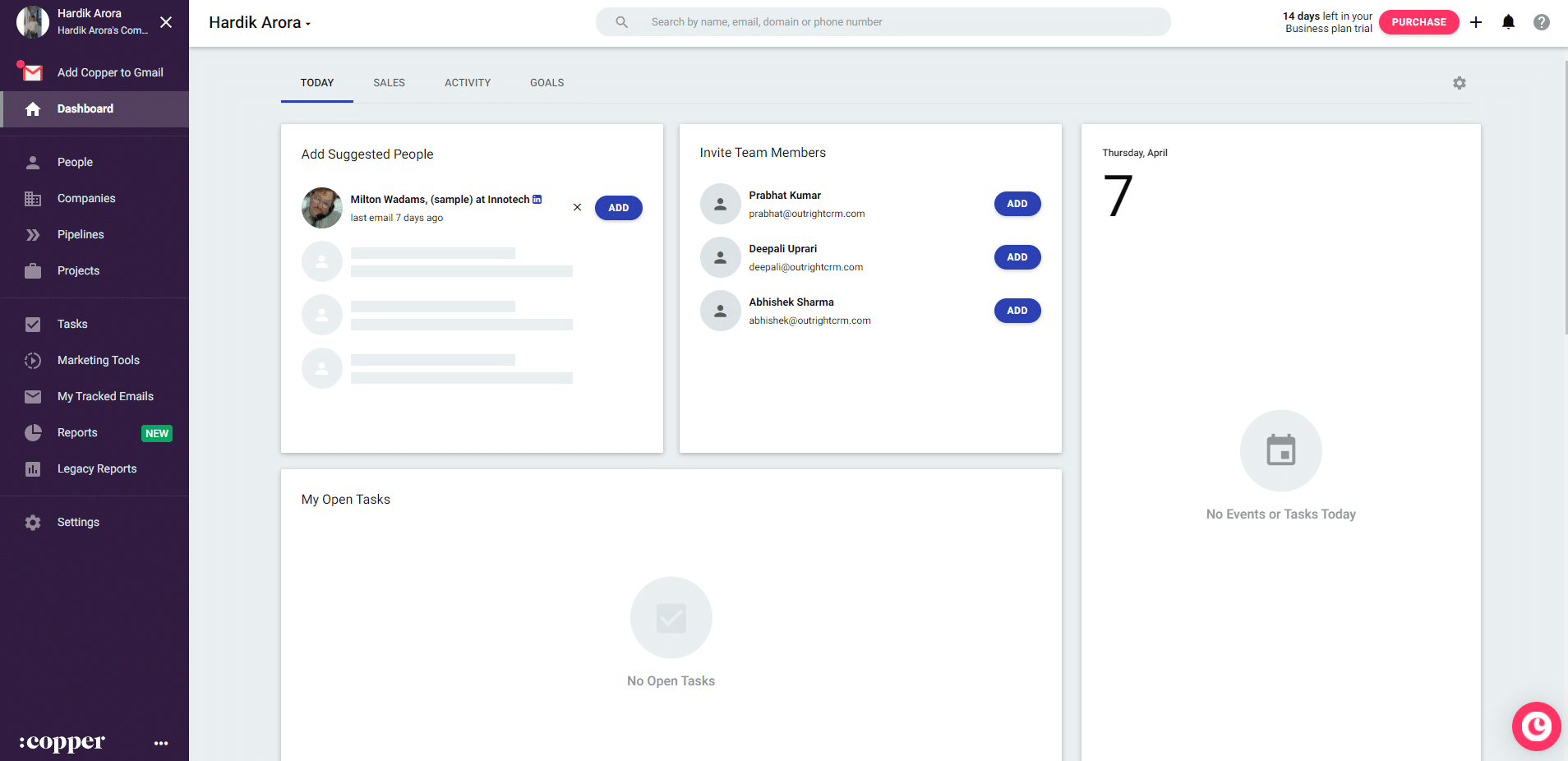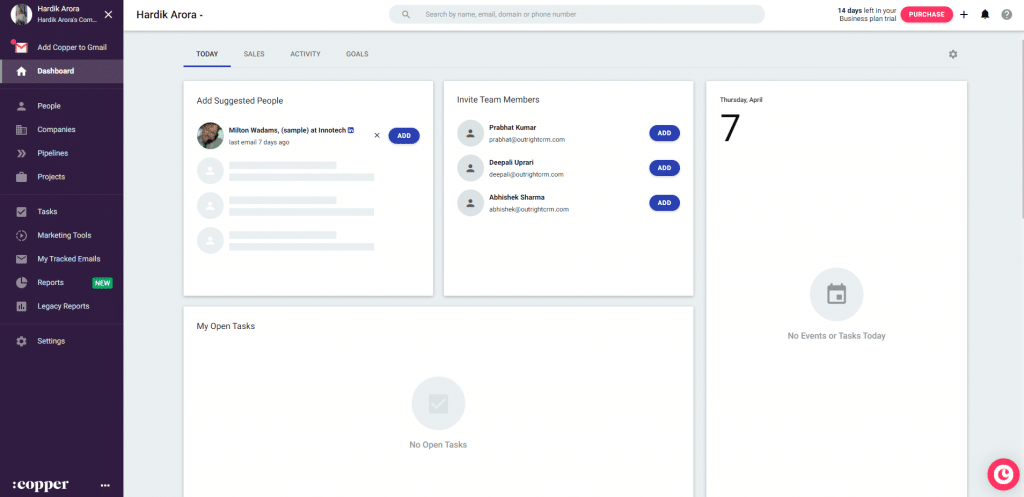 Microsoft Dynamics 365
A Renowned CRM tool that provides the functionality of CRM Collaborative like you can harness the power of sales force automation. The software is the ultimate choice for the Office 365 functionalities that make you more productive in your tasks. To adapt CRM Collaborate benefits, make sure to select the Sales Professional or Enterprise plan. What's more to know? Get the immaculate experience of Customer Summary.
The business team can initiate new messages, reminders, previous notes to follow, etc. In addition to this, the CRM uses an AI process to find accurate data for decision-making. There are Four pricing plans: Sales Professional, Sales Enterprise, Sales Premium, and Microsoft Relationship Sale.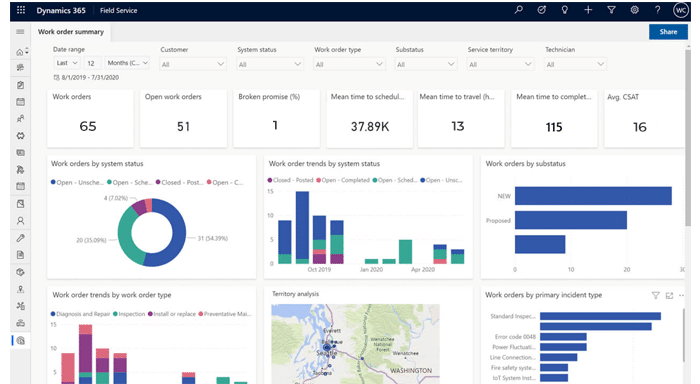 SAP Business One
Plenty of functionalities you need from the best CRM Collaborative for your business enhancement. Functionalities such as Sales pipeline monitoring, reviewing the critical data for your sales, interaction with the customers, etc are at your fingertips. Better achieve all these by adapting tools like SAP Business One.
The software is a helping hand as it can sync with superb apps like payroll software, outlook, onboarding, and much more. Most significant: you can work on Cloud or On-premise Hosting. A Manager in your company must endeavor for a Dashboard Designer. It enables you to add info the team needs to work on. You can customize the dashboard too.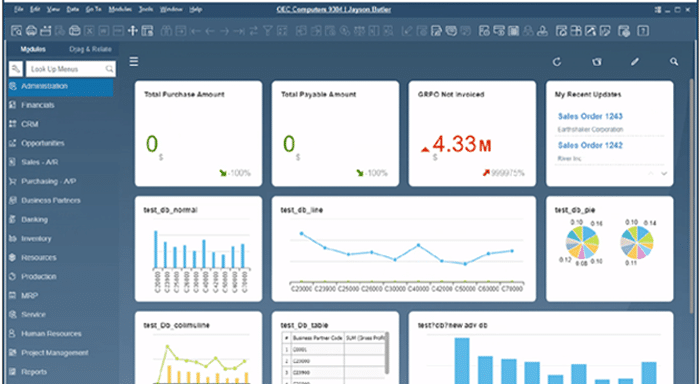 Bitrix 24
Need of Some best or most helpful Collaboration tools? Nothing is more slick or intuitive than Bitrix 24 CRM. The reason why we choose this as one of the greatest tools in CRM collaborative functionality is it provides intranet communication, access permission, can convert email into tasks, etc.
In this CRM, you are free to restrict access to some tools that are an important part of your company. This CRM even offers Free support and it is for unlimited users.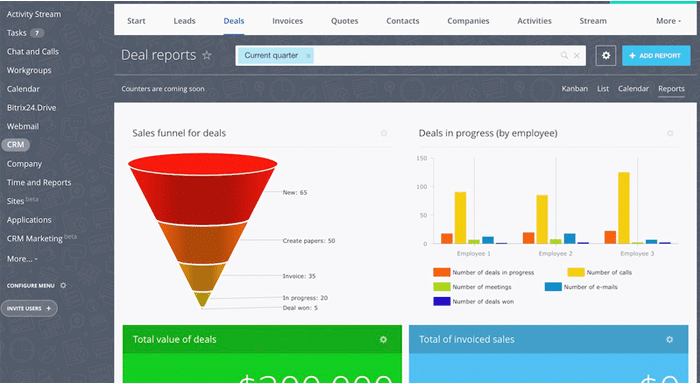 All CRM systems mentioned above are proprietary application and their pricing model is per-user per month. This can prove to be expensive if you scale your software. Fortunately, there are affordable alternatives as well, CRM open source like SuiteCRM, Vtiger, and Odoo which don't require a per-user cost. Although you might need to spend one time initially for customization and configuration.
Bottom Line: Aggregating the best info related to contacts means you are completely involved to manage your business with astonishing speed. Investing in the unrivaled Collaborative CRM software eases your efforts in managing communication and getting engaged with your right customer. A goal of effective communication is achievable through this CRM. All the above CRM we covered are really crucial for your business plus affordable for all-size companies. Select the software as per your need.