81% of the organizations do use the Customer Relationship Management software service but do they all use open source CRM software or still take CRM services at high prices? If yes, then don't worry since today I'll let you know about openly accessible CRM software that you can use for free or at a very low cost.
If you are thinking that why do you switch your business from traditional/proprietary CRM to Open source CRM then you need to know their difference first. To know each and every point you don't have any need to go to another page since in this article we've covered all the details of openly available CRM.
In this article, you will learn about openly available CRM software, how profitable it is for businesses, and the difference between paid and Open source CRM software. Also, get to know the Top 5 platforms for openly available CRM that you can use for your business growth. So, without making it delay let's move ahead to the article's deep information.
If you want to learn more about Open Source then follow this link.
What is an Open Source CRM?
An open source CRM is a Customer Relationship Management software that has made its source code publicly accessible. People can operate this open-source code CRM for manipulating, customizing, and integrating their business operations for free. The copyright holder of this Customer Relationship Management software has released its tool under a license in which people have the right to use, analyze, & modify the CRM software.
Similarly, customers have the right to operate, explore, & customize the open-source code of the CRM software. People can freely supervise the software for serving their different requirements. It can simply manage the marketing of a company, track its sales, and handle all interaction-related services with current customers as well as potential customers.
People like to use open source CRM software more than proprietary/traditional software since it does cover contacts management, pipeline management, marketing automation, and qualified functionalities. The Open Source Customer Relationship Management software does offer more controls to the users than the proprietary software.
What is the difference between Open Source CRM software and Proprietary/Paid CRM software?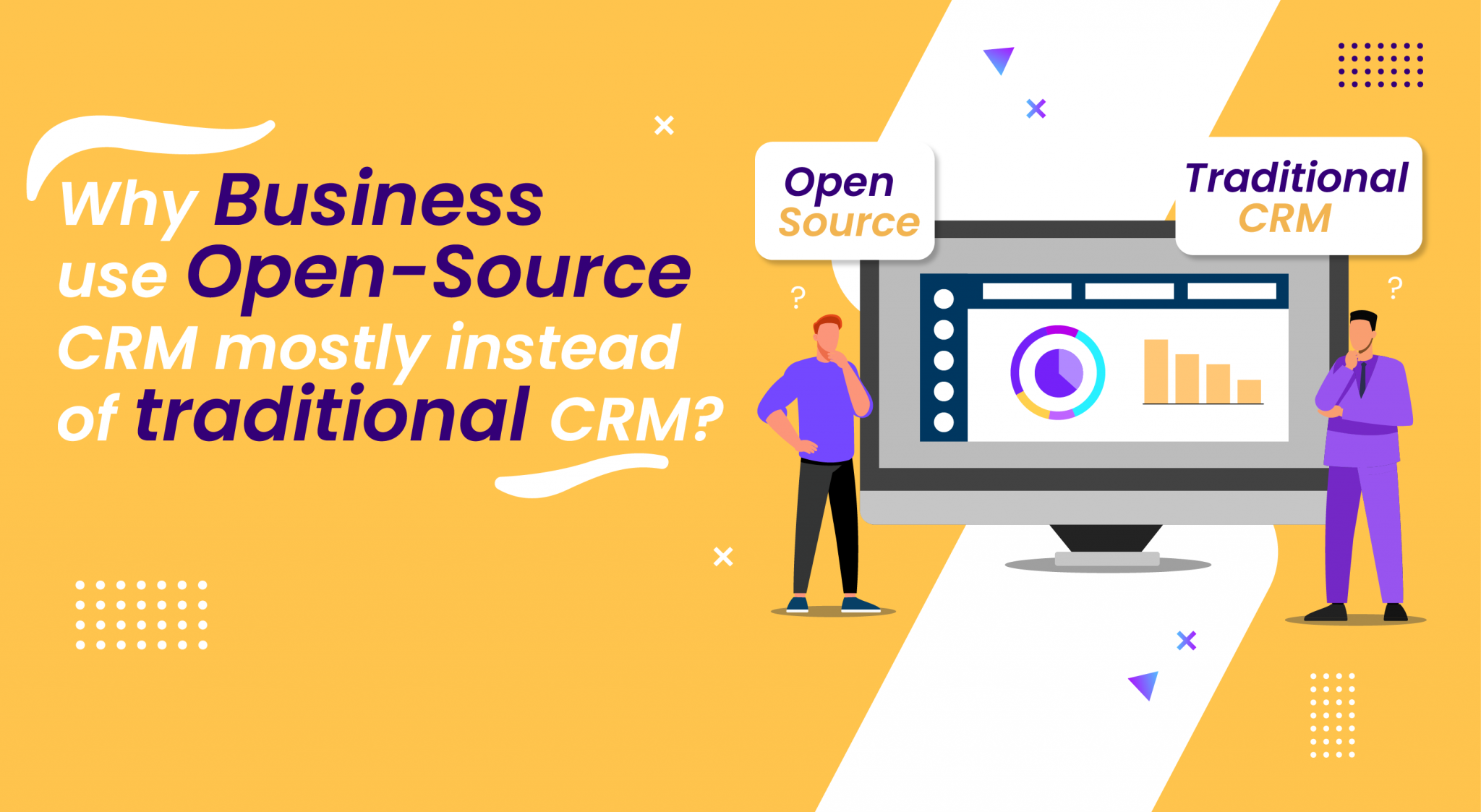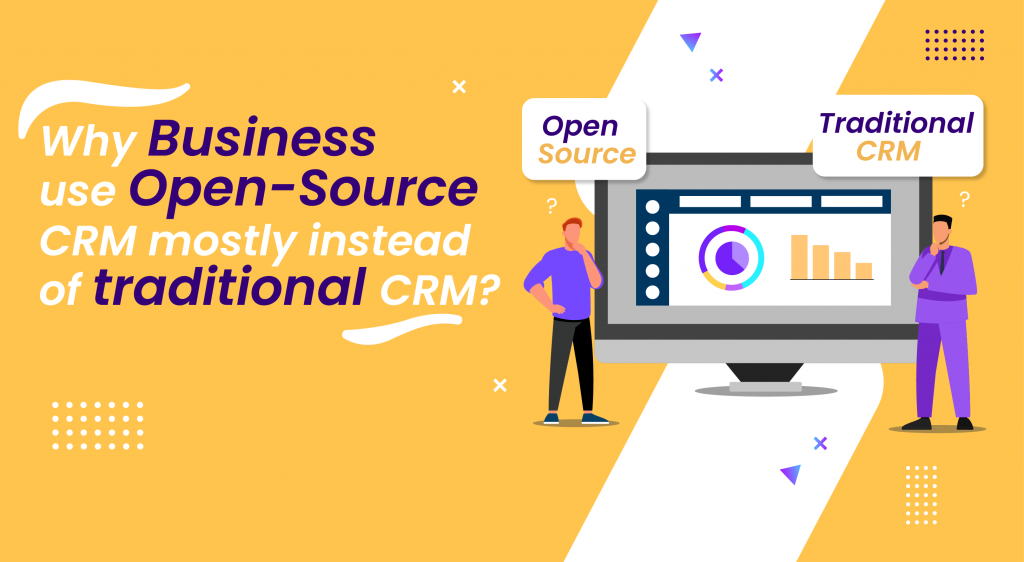 | Basise | Open Source CRM | Traditional/Proprietary CRM |
| --- | --- | --- |
| Definition | In open source CRM the vendor won't only be the one who has access to the software instead the CRM would be publicly available. Here, the user has the chance to rely on third-party CRM software & vendor can't deny them or stop them. Moreover, the user is free to manipulate the open-source CRM software since he also has access. | In open-source CRM the vendor won't only be the one who has access to the software instead the CRM would be publicly available. Here, the user has the chance to rely on third-party CRM software & vendor can't deny them or stop them. Moreover, the user is free to manipulate the open-source CRM software since he also has access. |
| Features | The using organization has full authority to customize the openly accessible CRM, so the using organization can make the changes by itself. Also, can request the CRM development community for made the modifications. The open-source software is available for free or at a very low cost, so the user can easily afford it. The Open-source CRM work on automated-based functionality and use predetermined triggers that perform the task automatically. Not only but also, move the task onward after it's being done, without the presence of humans. CRM software provides the reporting functionality that the business use for showing its revenue, progress, and overall growth. As a result, the using organization can easily analyze its position in the market. It allows you to lead management service from which you can capture and store the constant data of the customers & the leads. The automated marketing feature of this Customer Relationship Management allows you to perform marketing campaign tasks automatically across multi-media channels. | A person has not required any deep knowledge for running a proprietary CRM software. As it is so private or closed so the traditional/proprietary CRM will provide you with high security and save your entire data from breaching. Here the user can get outstanding customer service and technical assistance from the vendor without paying an additional amount. The CRM is already able to customization since it has developed for various niche sectors. You can get the update function of this CRM in one/ two releases or in several releases without paying the cost again and again. |
| Third-party Integration | The open-source CRM software provides fully optimize integration functionality with cloud-based services and other software applications like Microsoft Outlook, Paradot, Hubspot, etc. | As third-party tools are not possible to integrate with other tools. So, if you want to integrate the proprietary/ traditional CRM with any other software application then you have to spend more. Since the proprietary CRM is tied up with hardware or software for its running procedure, so you've to pay extra costs for changing its operating environment. |
| Pricing | The Openly available CRM required a very less amount for its running or you may use it for free. Also, you do not need to pay an additional amount for its update, support, and other factors. | For running the proprietary CRM Software you have to pay a high amount to its vendor not only for the license but also for customization, update, etc. |
Reasons | Why do Businesses use Open Source CRM most instead of traditional CRM?
Nearly all sizes of businesses prefer open source CRM most of the time and across the entire digital market to traditional/proprietary CRM. This is because this kind of CRM software has the capability to integrate with several niche applications that are used by the business. On the other hand, traditional CRM is not able to integrate with all niches of software applications.
Apart from this, open source CRM allows businesses to customize the CRM to fit their requirements. It does deliver its functionalities may at a very low price or either completely free. You can use openly accessible CRM software for giving a better flow to your business operation even without any financial investment.
What are the Top 5 Open Source CRM Platforms?
From the above information you have got to know how powerful open source CRM software is, for your business. Now you need to know what the top 5 usable CRM platforms are available in the market since it may help you to select the one for your own business. So, let me walk you through the list of the top 5 open Source CRM Platforms.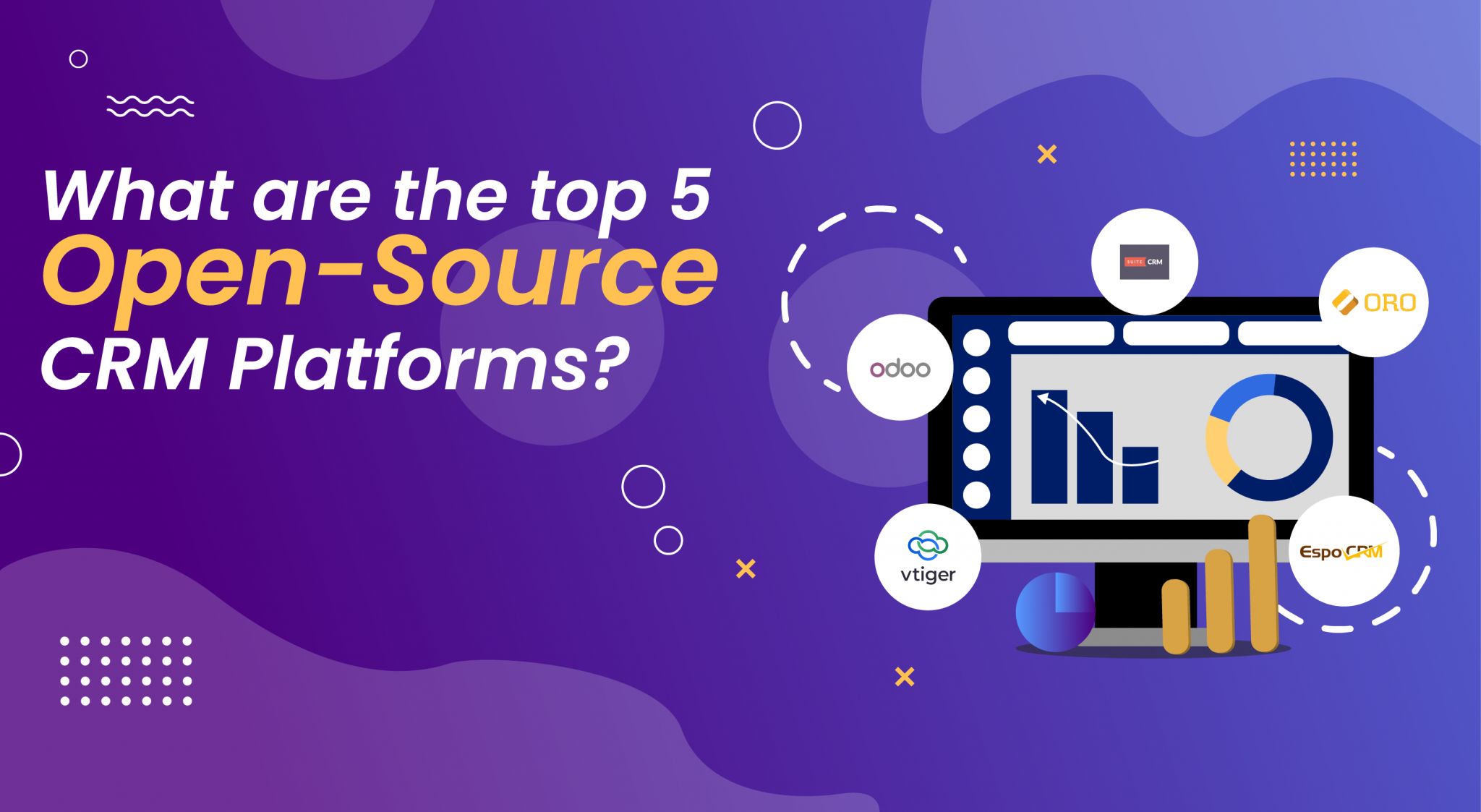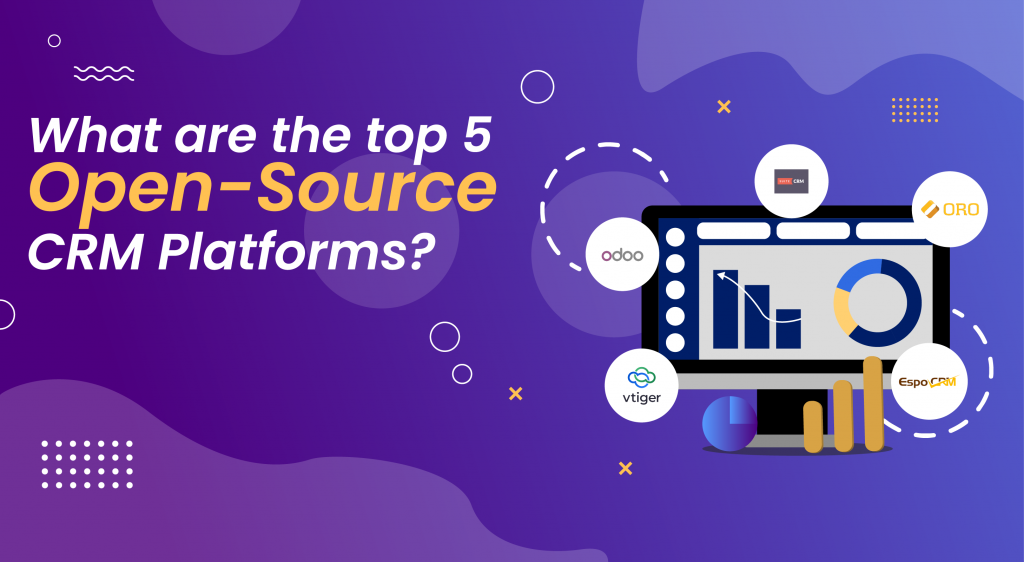 Oddo CRM
If you will search for the top open source CRM software then for sure you will find OddoCRM as the first option. The open-source development model of OddoCRM is very proficient in boosting sales, streamlining your operation, integrating with other applications, building stunning websites, and the list goes on.
SuiteCRM
SuiteCRM is one of the top open source CRM (Customer Relationship Management) CRM software that gives you an all-inclusive view of your customers and business. The SuiteCRM is the top alternative to Salesforce and allows you to manage your customers and improve business efficiency.
Espo CRM
The Espo CRM is a self-hosted cloud CRM software that does provide customization, configuration, data security, report, analytics, activity stream, dashlet, and other advance functionalities.
If you are completely unaware of the powerful features of the Customer Relationship Management system then you can try it as it'll provide you guidance for the working process.
VtigerCRM
The freely available open-source VtigerCRM has released its updated version that offers you the services such as PHP 8. x support, upgraded security & better performance. Also, it has the capability for being compliant with regulations.
Another of these advanced features of the VtigerCRM has its previous features are contact management, help desk management, pipeline management, multi-channel communication, and more.
OroCRM
If you are wandering for open source CRM software, especially for your e-commerce business then you must move towards OroCRM. The OroCRM is built for marketing requirements especially and eCommerce companies. This automated tool will track and segment your entire customers' information across multiple channels.
Ending Note
Most businesses are paying a high amount of money for upsurging their business and providing a better flow to their operations. On the condition of business growth, there're multiple CRM alternatives available but open-source is the great one since you can use it without paying any cost. If you are unaware of the functionality of openly available CRM software then this article is for you. In this article, you will learn about open source CRM software, the difference between traditional CRM and Open source CRM, the use case, and the top 5 platforms.