Updated: 11th Jan 2021
Every growing business needs to introduce innovation into their business processes. A wise investment in valuable integration dictates the success of businesses and keeps you ahead of the competition. It wouldn't be wrong to say that a SugarCRM investment will definitely boost your business success rate. Different types of SugarCRM Pricing 2023 come at various prices and In order to gain a better understanding of this pricing structure, we have created a detailed list of Sugar CRM pricing that is available in the market.
This information will not only enlighten you regarding the basic pricing structure but also help you to make a more suitable decision in choosing which particular SugarCRM should be implemented to meet your business requirements. Several things need to be kept in mind before initiating the implementation process of SugarCRM, such as the size and scope of your organization and the budget limit as well.
In this article, we will discuss the various editions of SugarCRM available in the market and their different features to best understand how it will benefit your organization. It will also include the points of our discussion in the final summary.

SugarCRM Pricing Chart 2023


| | | | |
| --- | --- | --- | --- |
| SugarCRM Edition | Pricing / Month | Minimum Users | Minimum Annual Cost |
| Sugar Enterprise | $85 | 3 | $10,200 |
| Sugar Market | $1000 | Unlimited | $12,000 |
| Sugar Sell | $49 | 3 | $5,880 |
| Sugar Serve | $80 | 3 | $9,600 |
Before we move ahead we would like to point out a simple fact that, most of the service providers only mention the price for the license cost of the SugarCRM and not the actual implementation cost. This is something that businesses interested in purchasing a SugarCRM should take into consideration.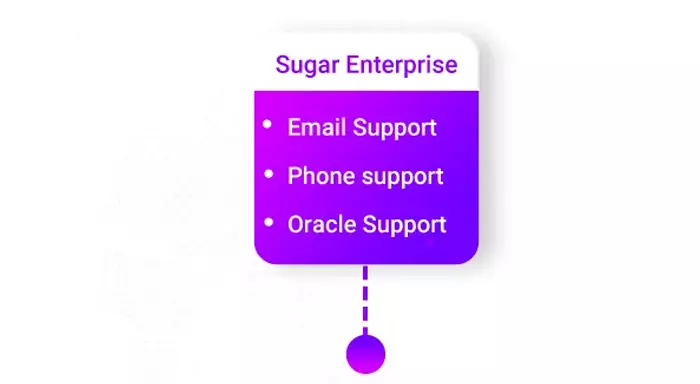 Sugar Enterprise
Sugar Enterprise is an advanced version of Sugar professionals.
Price per month- $85
Minimum annual cost- $10,200
Minimum users- 3
Here are some of the features of Enterprise SugarCRM Edition:

Email and phone support
DB2
Oracle Support
100 concurrent customer portal users
Role-based views
product-level Quotes
Forecasting
Revenue Line item-level tracking
Studio editor
Sugar Logic

Advantages of using Sugar Enterprise


As discussed earlier the use of any software completely depends on the size and scope of your organization. If your organization is medium-sized then this is the most suitable SugarCRM for your business process requirements. It allows users to track revenue and forecast with email and phone support. This can be a huge plus point for the sales department.
As discussed earlier, additional features such as google maps and LinkedIn can be integrated at an additional cost. For example, Outright Store provides a Database Backup automation tool.
Sugar Market
Price per month- $1000
Minimum annual cost- $12,000
Minimum users-Unlimited
Here are some of the features of SugarCRM Market
Support of Ads campaign
Can capture reporting and ROI
Build an interactive dashboard
Can improve the CX and Retention
Exceptional features you need to know about Sugar Market

For those who want to track the progress and even the customer's behavior lifecycle, we hope that the edition Sugar Market can assist you with this. This edition of CRM is much needed as it can increase the chance of launching a Google paid search campaign via Salesfusion and the interesting part to use the Sugar Market is, you can use drag and drop builder here which is just for building the custom and web pages forms. Well, too many features are there which defines the Market edition that how good it is.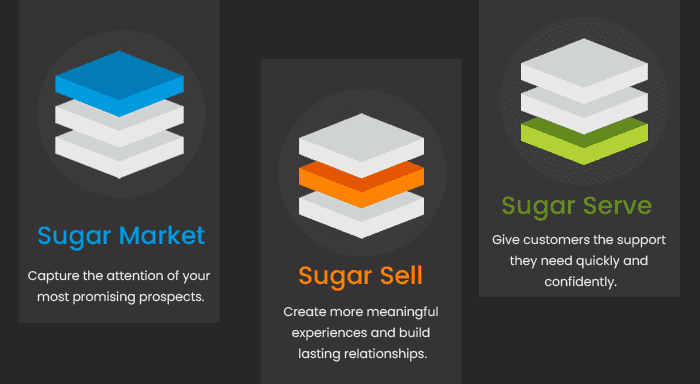 Sugar Sell
Price per month- $49
Minimum annual cost- $5,880
Minimum users-3
Here are some of the features of SugarCRM Sell
Grow Revenue more than your expectation
Save your time and simply increase productivity
Give a positive way for your business process management
It can reduce sales cost
Plus points that you need to know about Sugar Sell


Increasing revenue of your organization is everyone's requirement so make sure you go for the edition called Sugar Sell. Biggest chance here to raise your sale swiftly. You feel like you spend less time here so efforts save folks and yes, your investment regarding the sale will, of course, reduces. The best part about this vigorous edition is it keeps bringing the prominent lead and customer's information forward.
Sugar Serve
Price per month- $80
Minimum annual cost- $9,600
Minimum users- 3
Here are some of the features of SugarCRM Serve
Chance to increase business productivity
You can curb the service cost
It can accelerate for growing revenue
Customer's problem solve swiftly
Some advanced functions Sugar Serve offers to users


Now the time is to talk about one of the most vigorous editions which basically play a role of assistance for customers and that is Sugar Serve. Your customers get a chance to help themselves without any hassle as such services cost are not so high. Your customers are always in search of what they need to do so you are at the correct place because Sugar Serve edition will enable you to do so. In short, time is over to use old method editions where customers find uncomfortable regarding their issue solving method. Now Sugar Serve is here to complete your process quickly.
Bottom Line
It doesn't matter whether you are running a small organization or running a big organization, you all need the Sugar CRM platform to reinforce your business in the present and future both. We have shared the SugarCRM Editions 2023 and SugarCRM Pricing with you and of course, cost matters the most so we present the amount where the choice is yours only that which will be suitable for your day-to-day business activities. And to not confusing you, we have shared their advantages that can assist you in which one is better for your organization.

Want some more pieces of content regarding Pricing? You can straight go to SugarCRM Pricing main page where you get some more other details.