CMS stands for Content Management System which is used for content management and CRM stands for Customer Relationship Management which is used to enhance a business relationship with its customers and clients and automate many everyday repetitive monotonous tasks. In this article let's understand CMS vs CRM in depth.
CMS (Content Management System)
This is a software application made for managing and fostering the content management system. There is a centralized system for managing the content, where you can create, edit, manage, and publish your content. The content can be of various types such as content, such as web pages, articles, images, and multimedia elements. WordPress, Magento, and Joomla are some of the CMS applications. Content management is very crucial for a business as it is the first phase of a customer life cycle as well as marketing. As people first go through the content of a brand before deciding to purchase it. Some CRM systems offer open-source coding, while others offer paid subscriptions.
Use Cases of CMS platforms- 
Brands website content- CMS systems create and maintain the website content and you can also upgrade it from time to time.
Blogs- CMS systems have many specialized features for blogging. It can manage the entire process of publishing blogs and the engagement of the audience on that particular blog.
E-commerce and online stores- CMS systems are capable of creating and managing online stores, product catalogs, transaction processes, and tracking of delivery.
Features of CMS
Content creation and modification- CMS platforms have a user interface for creating and editing content.
Content publishing- CMS platforms have tools for publishing particular content on a website or any other software platform. It also manages the various versions of content and the schedule of publishing.
Content management- Various types of content like documents, images, and videos can be managed and modified using CMS systems.
User access- CMS systems manage the access of content to the users.
SEO management- Through CMS systems you can make your content SEO optimized.
CRM (Customer Relationship Management)
CRM is a platform designed to foster a business's relationship with its customers and clients. By using CRM platforms you can nurture your customers and leads and cater to their requirements in the best way possible. Plus it automates many everyday repetitive monotonous tasks. It also automates many sales, marketing, and customer service tasks. It has tools to store customer data and analyze them, interact with customers and record, track customer activities, etc. All these features and functionalities lead to increased customer satisfaction. 
Use Cases of CRM Software
Sales Automation: CRM systems automate many sales processes like lead generation and tracking, sales forecasting, management of sales pipeline and closure of deals, etc.
Marketing Automation: CRM systems automate many marketing processes like tracking target audiences, segmenting customers, running marketing campaigns, and customer engagement.
Customer Service Automation: CRM systems automate many customer service processes like personalized assistance, tracking customer issues, chatbots, etc.
Features of CRM
Contact Management: CRM systems fetch and gather customer and lead contact details, store their interaction, and track their activities.
Sales Management: Automating sales processes and managing the customer sales cycle.
Marketing Management: Automating marketing processes and managing them.
Analytics: CRM systems generate reports and analytics on customer interactions, sales performance, and marketing campaigns.
Collaboration: The team members can collaborate and work together on any task. The centralized data is accessible to all team members and the admins can track and check the progress of the team members.
Integration: CRM systems can integrate with other software applications and tools to deliver phenomenal performance.
Differences between CRM and CMS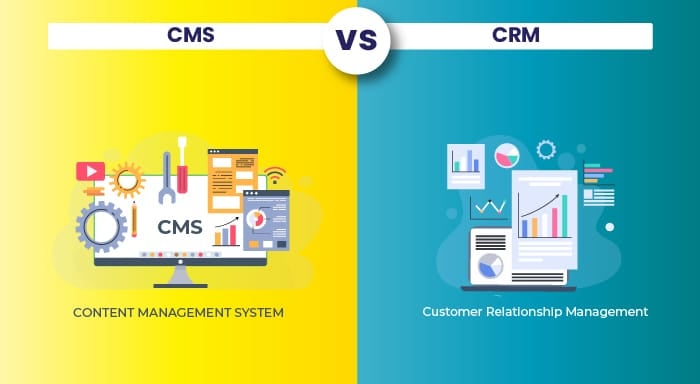 | | | |
| --- | --- | --- |
| | CRM | CMS |
| Functionality | Sales, marketing, and customer service management | It is used for content management and knowledge base. For example, blogs and articles website. |
| Users | Mainly sales, marketing, and customer service teams. | Mainly Content teams |
| Report Generation | It stores the information and even analyzes them. It has many AI-integrated tools for advanced analytics. | May provide customers information but cannot analyze it |
| Audience Segmentation | Leads are first categorized on the basis of their geography, demography, interest, business value, etc, and then segmented accordingly. | By collecting and storing data about website visitors, a CMS can help businesses identify different segments of their audience. |
| Documentation | Sharing of notes, documents, and reports can be done. | Component Content Management System (CCMS) can be used for documentation. There are other tools like Adobe Framemaker, Robohelp, etc. |
CRM and CMS Integration
CRM and CMS integration can benefit a business in many ways as it will provide a centralized database and automates many processes of the functioning of an organization. Businesses can provide the best content along with the best customer experience using this integration.
Steps for integrating CRM and CMS platforms
Integration Points and Data- You have to first identify the integration points between the CRM and CMS platforms. Then you have to specify what data has to be shared between both platforms. The data can be sales, marketing campaigns, customer, content data, etc.
Integration Method- Then you have to choose the most appropriate integration method for you. Some methods for integration are custom integrations, APIs, webhooks, middleware, etc. Choose the method according to your requirements, preferences, and budget.
Planning- Then you have to plan your integration process. You have to determine the resources required, set timelines, assign team members and their roles, etc. You also have to look at the potential risks and challenges that may arise during the integration.
Testing- Before launching your final integration you must test it before. You should first check the data accuracy and flow, system performance, etc. Also, you have to check whether your system can handle unexpected errors and bulk data or not.
Launching and maintaining- After testing you can launch your integrated system. You have to regularly check and monitor the performance of your integrated system and do any updates if required. You can also collect the feedback of your employees regarding the integrated system and improve it accordingly or remove any flaws required to be removed.
Conclusion
Content management and customer relationship management are the most crucial aspects of an organization. Therefore it's very essential for organizations to understand the importance of both platforms, their benefits, the functionalities offered by them, and the differences between the both. They should also learn how significant their integration is and how this integration can benefit them in delivering the best customer experience.