SugarCRM is utilized by more than two million businesses in nearly 120 countries. It has been recognized as the number one SaaS-based customer experience solution by many software reviews and end-user websites. Unquestionably, Sugar comprises some world-class features like AI-driven recommendations, marketing & sales automation, and much more. However, the thing that makes SugarCRM a complete software is its developers and add-ons partners. SugarCRM has created a marketplace called "SugarExchange" for all of its users. Let's learn more about the Exchange SugarCRM.
What is SugarExchange?
At SugarExchange different independent software vendors come together to improve the capabilities of the CRM solution by providing the add-ons. From there, the end-users can download the plugins as per their requirements. In this software marketplace, you will get extensions related to integration, lead generation, productivity, data management, etc. It is a good thing that all listed products are verified and go through various verification points.

However, it might be possible that you don't find what you are exactly looking for on SugarExchange. In this case, there are some alternatives that you can consider for example Outright Store. In this blog, we are going to show you the catalog of SugarCRM plugins. All of them are applicable for a 3-days trial, which means you can check out the functionalities without paying any upfront charges.
Advanced Plugins available on SugarExchange Alternative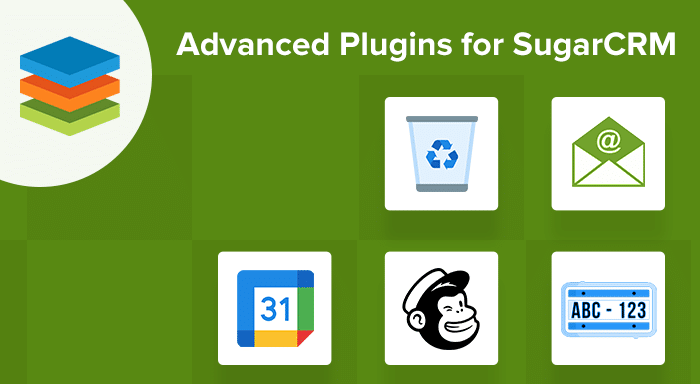 SugarCRM Recycle Bin
Recycle Bin should be included in any software that comprises a database. It gives the ability to the user to revert their mistake. We developed this extension because SugarCRM doesn't have an in-built recycle bin. If any of your records get deleted from the database then it can be hectic to retrieve data back to its original state. Below we have listed some of the features of this SugarCRM Recycle Bin plugin.

The users will be able to perform mass data restoration with a single click.
The data that was deleted even before the plugin installation can also get restored to its original state.
The premium version of recycle bin can also restore modules with any type of module relationships like one-to-one or many-to-many.
In the module, there are attached activities like calls, tasks, meetings, etc. Our extension can also restore all of them.
You can check out the plugin for free. There is also a lite version which we offer free of cost to the SugarCRM users so make sure to try them out.
SugarCRM Email to Lead or Anything
This plugin is only available on our SugarExchange Alternative i.e. Outright Store. This Email to Lead or Anything can automate your lots of work. From email lead generation to case management, everything will be automated to the greatest extent possible. Emails, contact forms, landing pages, etc are the most common sources of organic leads and therefore it is important to save each and every lead into the CRM system. The email to lead extension is capable of creating new leads in the database as soon as they arrive in the email inbox. There are other things as well that this plugin can do.

You can create and update records in any SugarCRM module you want.
The plugin can accurately parse data from the email body to the appropriate SugarCRM field. Data parsing is done via field mapper.
In extension, you will get different options that allow you to choose which email you want to fetch in the SugarCRM. There are options like emails received after plugin installation, all emails in the inbox, all unread emails, etc.
This SugarCRM extension is also capable of detecting duplicate entries on the basis of email address and phone number.
SugarCRM Google Calendar Integration
If you are looking for a plugin that can seamlessly integrate SugarCRM and Google Calendar then your search ends here. Using our extension, the user will be able to sync all of his/her Google Calendars with SugarCRM. This will allow you fast scheduling and hence productivity will improve.

Sync all Google calendar meetings in real-time with SugarCRM.
Add attendees to the meeting directly from the SugarCRM.
You can bi-directionally sync all meetings, tasks, and calls between both platforms.
The plugin also provides a detailed report of activities/meetings scheduled in a day.
The time zone of meetings will automatically adjust based on the attendees/guest's geographical location.
SugarCRM Mailchimp Integration
If you are using both SugarCRM and Mailchimp then it makes complete sense to integrate both of them. Mailchimp can provide you data on email marketing and SugarCRM can help in increasing the email (audience ) list. This will allow you to adopt a more data-driven and statistic-based approach. Apart from software integration, there are a bunch of other benefits that you can claim.

You will be able to sync multiple Mailchimp accounts with SugarCRM.
With help of this plugin, you can also assign one Mailchimp account to a dedicated SugarCRM user.
Apart from core/in-built Mailchimp fields, this extension also syncs the custom fields bi-directionally.
The plugin is capable of syncing various entities like email campaigns statistics, tags, target lists, customer data, etc.
There is an information panel called Mailchimp Subscriber Dashboard in SugarCRM from where you can access the insights like Mailchimp IDs, last action performed by the recipient, their IP address, etc.
SugarCRM Unique ID Generator
Assigning unique IDs to a long list of records helps the users to categorize and identify the records easily. Most businesses use our plugin to classify their records in the most manageable way possible. The auto-increment functionality saves the time and efforts of the users as well. The serial numbers are assigned automatically by the plugin and there are zero chances of any kind of error and repetition whatsoever. The SugarCRM Unique ID Generator has some more features for example:-

The user will be able to add prefixes and suffixes like AB-1-NY in order to create more specific lists of records.
The plugin will prioritize the existing record first and only after assigning serial numbers to old records, it will start working on new records,
There is an option to insert padding characters before serial numbers like ******5464.
The Unique ID Generator works in all cores as well as custom SugarCRM modules, so don't worry if you operate with a bunch of custom modules.
Why should you try these SugarCRM plugins?
First of all, the SugarCRM plugins we mentioned above are applicable for a 3-day free-of-cost trial. It means you don't need to pay any upfront amount for using any of these extensions. And after the expiration of the trial period, you will only need to pay the one-time payment. Some of these products are not even listed on Sugar Exchange and are exclusively available on OutRight Store only. Our products are very stable and compatible with Sugar On-Cloud as well as the Self-hosted versions.