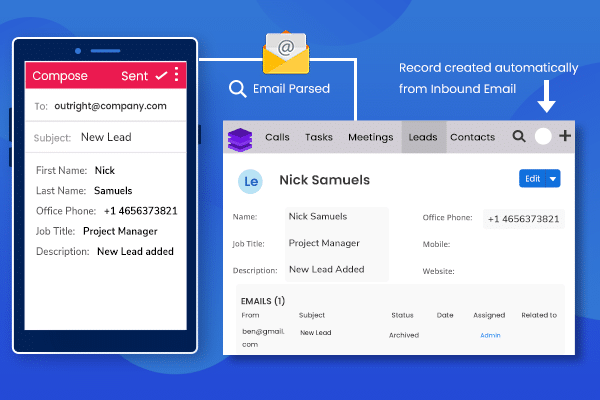 Create Any Record like Lead From Inbound Emails
Create records automatically to Any module like Leads from Inbound Email.

You can set many fields with predefined tokens.

Duplicate emails will be automatically skip to not create more records.
Supported to All SugarCRM Versions
2 Licences ( Production and Development )

Lifetime Support

Unlimited User
Screenshots
---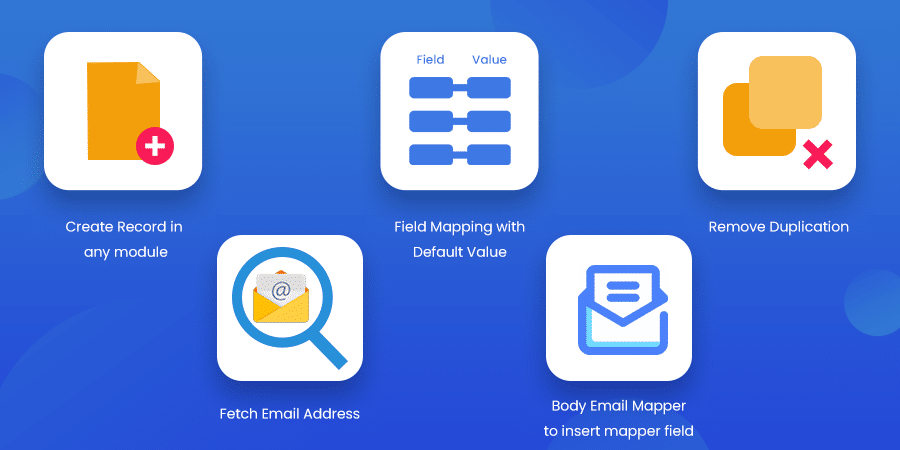 SugarCRM Email to Lead (Lite)
Businesses today receive a bunch of emails from their potential leads and then they manually create records in SugarCRM. There is a need for a top-grade extension that can handle the well-structured data of emails and create records with less effort. Introducing SugarCRM Email to lead (Lite) plugin for your business which plays an essential role in creating and updating records from an inbound email in SugarCRM. It will create records to any module like Leads, Opportunities, etc. The plugin is beneficial for businesses of all sizes. 
For example: On a daily basis, your business department team copies the data of incoming emails of your potential customers. They do this to build the important records in the Lead module. Well, an effortless plugin like SugarCRM Email to Lead (Lite) is ready to take this burden and ease your efforts. The key role of this add-on is to do record creation and everything will be done automatically for you. Simple and Robust!
Here are the key features :
Users can create and update Records in any module where they would like to target. 

A functionality of Mapping of Fields is there which is easy for the CRM to parse information and select fields for that with their default value.

Here "Fetch Emails" feature with some options to select and get emails according to your choice. You will see options like After Plugin Installation, All-New, etc. 

When Inbound emails are matched with the same email address and subject line or Phone number then our plugin helps you to prevent Duplicates. 

Save the Email address of the "FROM" field by using the "Customer Source Settings" option and you can off the "No email Key" if you get information from different fields. 

A Feature of Body Email Mapper where you will insert a Mapper field to fetch the email address of your customer
Frequently Asked Questions
Importance of Lead Module in SugarCRM
Lead Module always plays a crucial role just by automating and optimizing customer generation. It assists you to hike by your business activities as leads can be converted into contacts.
What are the benefits of using SugarCRM?
SugarCRM is one of the CRM software that can be beneficial for raising up the sales business by helping you to get engaged with customers. This CRM software is easy to access and provide mobile device support for you all.
How to Create Lead in SugarCRM?
Leads is everyone's top priority in their business. When you strive for software like SugarCRM for creating leads, Outright Store can share your steps with the best guidance on what to follow first then next till the end.
Why does Inbound email play a major role in Lead Generation?
The particular venture is in the hands of inbound email as it can be very helpful for the Lead generation for attracting customers, converting leads into contacts, helps in workflow and much more.
Best Lead Generator Plugin for SugarCRM
Generate leads with the assistance of email we have a feasible plugin for you called SugarCRM Email to Lead. Outright Store is offering this plugin where we have uncovered some of its advanced functionality for your work.
Enhance business performance with Email to Lead Plugin?
You can endeavour Email to lead plugin as it can enhance your business performance via features. Like it allows you to mapping your fields, you can also create records automatically, you can receive notifications and much more.
Video
---
Reviews
---
All Add-Ons are life time purchases, there are no recurring/hidden charges