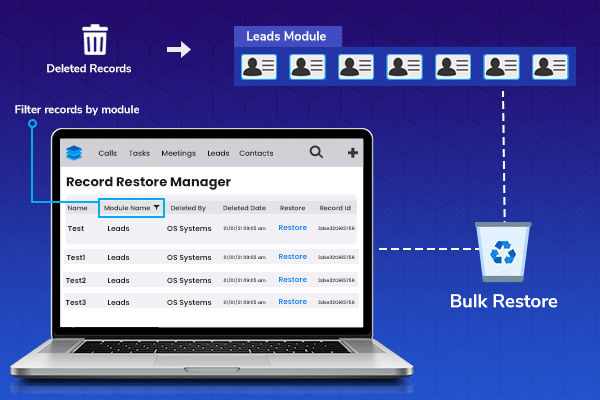 SugarCRM Recycle Bin Manager (Premium)
Restore records in bulk whether its core or custom module.
Restore records that were deleted even before plugin installation.
Also Restore related records like calls, Meetings ,opportunities, Emails.
Supported to All SugarCRM Versions
Unlimited License for Single Domain & its Sub-domains

Lifetime Support

Unlimited User
Screenshots
---
SugarCRM Recycle Bin Premium
Recycle bins are an integral part of many software as they hold the deleted files and folders safely in a virtual Trash Bin. With help of this, you can restore the deleted information back to its original state in just one-click. Therefore, we have launched an extension called SugarCRM Recycle Bin "Premium". You may need the deleted records back in case you erased them from your system accidentally or you just want to check them out again.
Significance of Recycle Bin: A typical organization deals with tons of information and their CRM system acts as the hub of information. Different departments of a company operate a common CRM software, so it's plausible that someone could delete the important information. If you have Recycle Bin Premium deployed then you can easily restore the deleted data. You don't need to worry about data loss at all. Recycle Bin will hold the deleted information for you.
Features of SugarCRM Recycle Bin "Premium"
From now on, you won't be required to write any line of coding for restoring the deleted records in SugarCRM. Our extension empowers you with the ability to restore records instantly. Below, learn the unique advanced features of the plugin.
Mass Restore in one-click:

Regardless of the number of deleted records present in the Recycle bin, you can restore all of them at once. No matter, if they are from custom or core modules, you'll be able to mass restore them.

Restore Data before plugin installation:

Don't worry if you have deleted records before installing the plugin but now you want them back. Our extension is capable of restoring all records that were deleted in the past before the installation of the plugin.

Restore records according to Module(Filter Module):

Suppose you deleted many records from different modules before plugin installation and realized you accidentally deleted important accounts. Then you can configure our extension for the accounts module and easily recover the previously deleted accounts. The user can configure for more than one module at the same time as per their requirement.
Restore records along with their relationships:

If you have created relationships between modules then our extension can successfully restore these relationships as well. You will get back your data in your original state as they were before.

All attached activities will be restored completely:

All activities like calls, meetings, emails, notes, tasks, and history will also get restored through Recycle Bin "Premium". Everything will be recovered no matter how many emails, notes, etc attached to a record.
Frequently Asked Questions
Why should I use SugarCRM Recycle Bin "Premium" extension?
The premium version will allow you to restore data in mass. Furthermore, the user will be able to restore records that were deleted before the installation of the plugin. Whether it's module relationships or attached emails, calls, tasks, etc, everything will be recovered to its original state.
Is Recycle Bin compatible with all SugarCRM editions and versions?
Yes, our extension is capable with all SugarCRM editions and versions which include: Professional, Enterprise, Sugar Sell, Sugar Serve, Sugar Market, and all versions
For how long the SugarCRM Recycle Bin can hold the records?
The records will remain safe in the Recycle Bin plugin forever. You can restore it whenever you want.
Can I know when and who deleted the records in the first place?
Yes, in the Restore Manager, you can see every detail like Module Name, Deleted By, and Date on which record gets deleted.
Who can Delete and Restore the records from Recycle Bin?
Only users with the admin roles can restore records using the Record Restore Manager plugin.
Videos
---
Reviews
---
All Add-Ons are life time purchases, there are no recurring/hidden charges