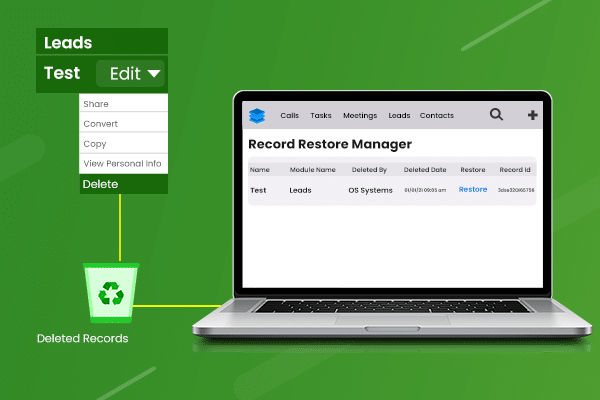 SugarCRM Recycle Bin Manager (Lite)
Restore records deleted from any module.

See summary report with deletion DateTime and user.

Tracker entry for each restored record
Supported to All SugarCRM Versions
Unlimited License for Single Domain & its Sub-domains

Free of Cost

Lifetime Support
Screenshots
---
SugarCRM Recycle Bin Lite
It's always a pain to recover records from your SugarCRM that you deleted by mistake. Well, now we have a rich plugin for your accidentally deleted records. Introducing SugarCRM Recycle Bin (Lite version) which helps you to get the deleted records back in your field. Your entire valuable records that you deleted by mistake will be back swiftly with this extension. Using this plugin, your important records always remain in a safe zone. The Summary Option here will highlight the details of deleted records of every module. 
Real-Life Scenario: Suppose a few employees with not good behavior for your company left and deleted the records from modules that are very crucial for your business. There is no need to stay panic. The best solution is to adapt the Recycle Bin (Lite Version) plugin for your SugarCRM. With just one click, you can recover the deleted records. This time-saving add-on is beneficial for businesses of all sizes. 
Key features of SugarCRM Recycle Bin (Lite version)
Recover deleted record in just one tap.

Admin can do the recover deleted record process.

The plugin saves your quality of time. No longer process here to get back the records again. 

Fetch the further deleted records after the plugin installation date. 

This rich extension brings relaxation as your records will get back quickly.

The plugin will highlight the Date and Time of Record deleted and also share the name of the person who does. 
Bottom Line: Just remember: loss of crucial data means loss of business. Everyone wants to recover quickly if deleted by mistakes. So, there is a need to use the splendid plugin called SugarCRM Recycle Bin (Lite version) which saves countless hours in the recovery of deleted data records. The plugin is Free of Cost. Its ultimate features help you to work more faster and increase productivity. Purchase it and insist others do the same. 
Frequently Asked Questions
Can I restore Multiple Records at one time using the Lite version?
The Lite version of Recycle Bin is only capable of restoring one record at a time. If you want to restore records in Bulk then you can upgrade to Recycle Bin "Premium".
Why is Recycle Bin Lite not working after the package installation?
You may not have validated the license key or there are any issues in the configuration of the extension.
What if Deleted records are not showing to the Record Restore Manager?
If this happens then you simply need to perform the Quick Repair and Rebuild in your SugarCRM. Afterward, everything will work fine.
Videos
---
Reviews
---
All Add-Ons are life time purchases, there are no recurring/hidden charges