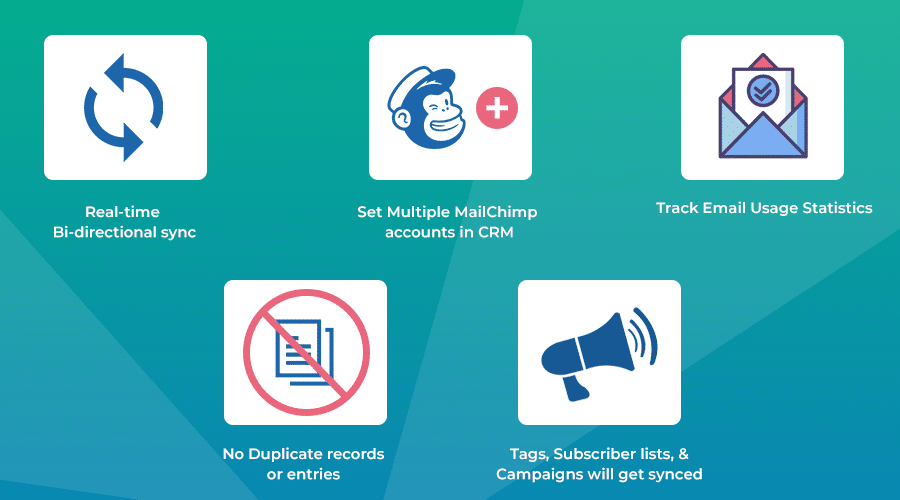 Mailchimp integration with SugarCRM can empower the users with capabilities of both the marketing automation platform and customer relationship management software. A CRM contains valuable customer information that can help in creating the perfect campaign strategy and furthermore, you can precisely execute the plan through Mailchimp.
The SugarCRM Mailchimp integration plugin works in a similar way. Its capabilities of syncing contacts or subscriber's information bi-directionally and in real-time are extensive. The benefits do not end here, there are tons of other features and functionalities that we have mentioned below.
Why Integrate Mailchimp and SugarCRM?
No doubt Mailchimp is a great email marketing platform with some great features, but it lacks when it comes to optimizing the sales process and lead management. However, if integrated with SugarCRM then both can complement each other and drive more business to a company.
Email usage statistics and insights gathered via Mailchimp can be used to optimize the campaign. This will surely result in the upsurge of customer interaction, CTR (Click Through Rate), and eventually ROI (Return on Investment).
Unique Features of Mailchimp SugarCRM Integration add-on
Let's have a look at all the features of the SugarCRM Mailchimp integration extension.
Choose how you want to sync: This plugin will allow you to choose how you want to sync. There are options like CRM to Mailchimp, Mailchimp to CRM, and Bi-directional sync. All the synchronization will happen in real-time so you don't have to worry about data inconsistencies between both platforms.
Select which CRM Module(s) you want to sync: There is an option that will allow you to choose CRM module(s) that you would like to sync with Mailchimp. If you want then you can also select multiple modules like Contacts, Leads, Accounts, etc.
Set up Multiple Mailchimp accounts in CRM: Using this plugin, the user will be able to set up more than one Mailchimp account. After that, only those contacts or subscribers will get synced that are connected to a particular account.
Track Email Usage Statistics in SugarCRM: In Mailchimp, you can see how your email campaign is performing from the reports. Similarly, this plugin will let you see the email usage statistics like Sent, Opened, Clicked, Bounced, and Unsubscribed directly from SugarCRM. You will not be required to toggle between both platforms just to see how the campaign is performing.
There will be no duplicate records or entries whatsoever: Prior to making any changes or updates to the existing records. The plugin will scan the entire database and check whether there is any record with the same email address, if not, only then a new record will be created. However, if there's an existing record then it will get updated automatically.
Entities like Tags, Subscriber lists, and Campaigns will get synced: The plugin can bi-directionally sync email campaigns, subscribers like leads, accounts, contacts, and Tags or target lists, or any custom CRM module you want.