What is CRM Call Center?
Just to make a call or receive a call is not a complete job of every call center organization. There are many tasks that they need to do and one of them is giving the best customer service to entire customers who get connected with them. You get more customers in your hands if you operate a great software or you need the best software to integrate business tools. This is the main purpose of CRM Call Center.
For example:- If you want to know the performance of your time, reporting details, want to give the best customer service so all this is possible only if you strive CRM software in your business.
We all know CRM has made a great impact where you can see that it works for everyone promptly. So, we want all the readers who are paying attention here that if you want your call center business to run smoothly make sure that you strive to get involved with Customer Relationship Management(CRM). How can the CRM Call Center assist you more? Well, if you have raised this question then we will discuss this below thoroughly.
Benefits to work on CRM Call Center
There were numerous advantages to adopt CRM software for the call center. We have shared some points below which are essential to get aware of the CRM Call center.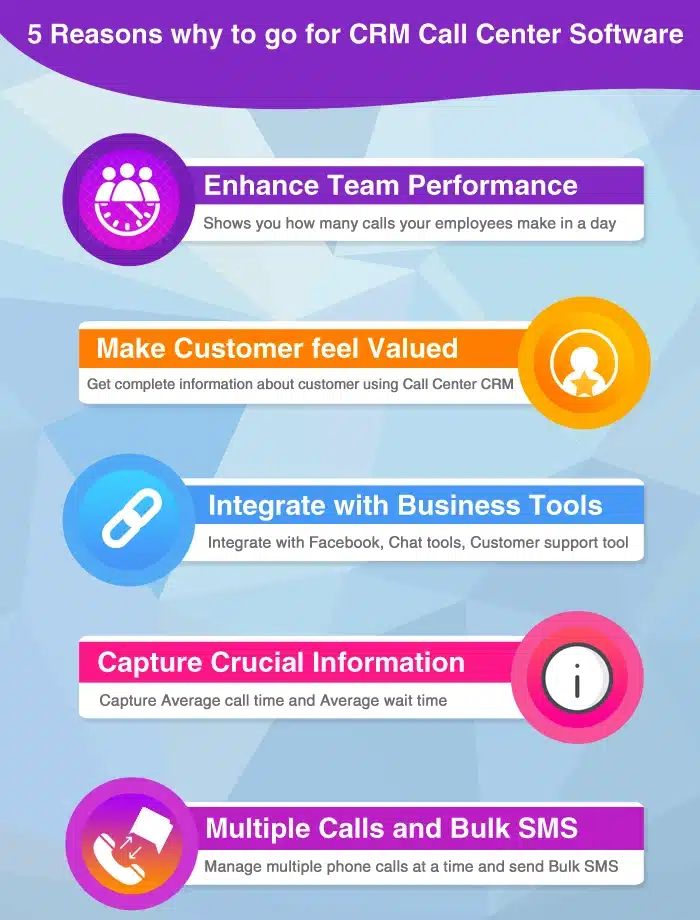 Suitable method to enhance your team performance
So, our first point is about the performance as we all know that working in a call center venture is not an easy job. You need to focus on your target more and get engaged with every customer. And after your task is done, your manager wants to see your performance and entire details. Right?
No such mistake can happen when going with CRM Call Center Software as it is considered to be the stellar software for managing your employee's entire work and target that you have given. Like it can show you how many calls your employees make in a day, about the target and many more.
Bear in mind: nothing can be hidden from you as you can check out each activity here while using the CRM Call Center.
Get engaged with customers and make them feel valued
This can be interesting for you as the situation happens when you call your customer and you don't know about that customer like what they need or something else. Using other software you can face this situation numerous times but not with CRM. Why?
Suppose you want to get connected with a customer than before the call connects, you get complete information about that person. You are looking to brighten the customer's satisfaction so now your job is done only if you get involved with Call Center CRM. 
Also, you can grab the information about the purchases of that customer from your business. A great way to start a call center business by using CRM.
CRM can easily integrate with business tools
Those who are unaware about the CRM functionality, you need to pay attention here because integration features are considered to be the best method for every business.
You are running your call center business smoothly then of course, you are adding more and more business tools that can upsurge your business with your competitors. Even we can share those tools with you and those were social media giant- Facebook, Chat tools, Customer support tools and many more are there for assistance.
A much-needed Call Center CRM Software and the reason is it can easily integrate with all these multiple systems. There is no such hassle for CRM to do this job. You all want these tools to work together so CRM can help you for this by integrating entire tools rapidly.
Capture crucial information with CRM Call Center Software
Reading out capturing crucial information not only for incoming and outgoing calls but also we are mentioning CRM Call Center can capture missed calls and even voice-mails for you. Interesting! How about capturing real-time data regarding other calls?
We are talking about average call time and average wait time that CRM can capture and can present entire information to you if there is a requirement. This is the best way for your business to check out who is giving the best or who has shown tremendous efforts in its task.
Do you believe that getting information about the best performing lead source? It is possible only with Call center CRM  for showing you such information where you can set your mind about your business growth.
Managing multiple calls & send Bulk SMS
Those who are looking for an extension to make your customers communicate with ease then we are pleased to announce about Twilio Auto Dialer where every call center organization can use it to run their business. This extension has the power to manage multiple phone calls at a time.
One more extension is here for those who want to manage a single call at one time and that is Twilio Click to Call. Your employees must use this because here the previous recording always remains safe so no chance of delete and all and some more big functionalities it offers.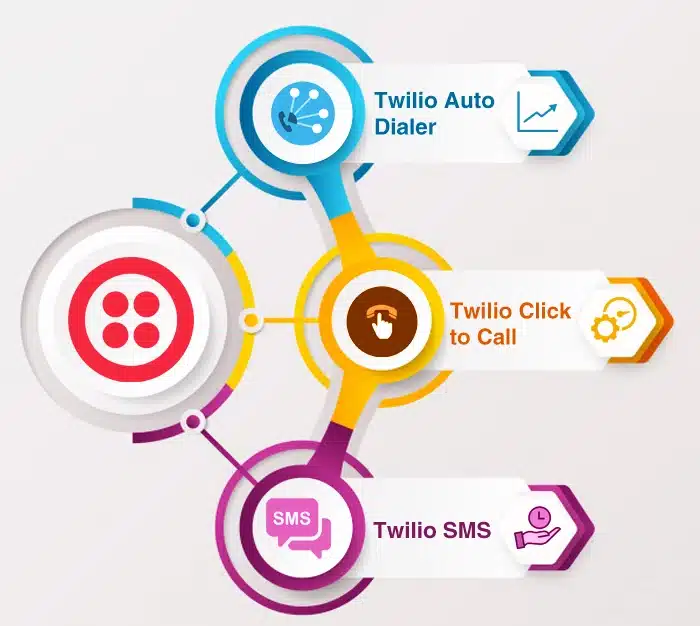 You want to get connected with your customers via SMS then make sure to strive for the extension known as Twilio SMS for this job. You can simply send SMS in bulk at one time so no such process of sending one by one method. Furthermore, you can even use SMS templates here.
Final Takeaway
Not every call center is hitting the mark correctly on best software to use for their customers. Make sure to read out each and every point given above about CRM Call Center Software so that you get to know how good it is for your Call center organization. Not only this Call Center CRM is going to assist you but also your organization employees as they can work effectively and can show excellent performance. Even we shared the extensions for you above so that your Calls and SMS job will go on comfortably and you will never find any hassle in the future.