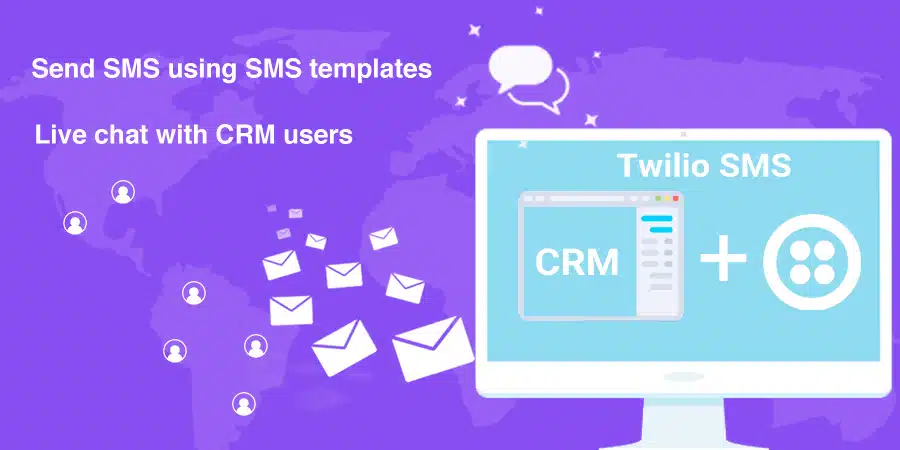 One by one sending message is an old method, try Twilio SMS
Day by day every business requires the best powerful tool for completing their sending and receiving SMS game. We have one of the extensions which save your quality of time so we offer Twilio SMS function where you don't need to show too many efforts, just send your message one time in bulk. An example of this- if you want to start a mobile marketing business, use Twilio SMS to send messages in a shorter way as possible.
Advanced functions when going for SuiteCRM Twilio SMS
It is possible that if we go for such exceptional extension, there are some features too which we can't miss out. So if this is something amazing that you need for your business then read points given below-
     * Previous details of your customers always remain here
Chances are very high that you need some SMS details of the customers you talk a few days ago and here the role of Twilio SMS begins when they present that information which you are looking for. Just simply go to the record section where everything is there so you can say that your SMS history always stays alive when working with SuiteCRM Twilio SMS. This is the best way to understand your customers better and of course, it can boost your relationship with them.
  * Now send SMS by using SMS templates
The thing you saw on Email templates the same goes to the SMS templates which can change the way of your conversation with customers via SMS. Sending SMS via templates is a great option which is up to you to choose which SMS template you require. For improving the level of communication between clients and customers, this is the best method folks.
   * Live chat with CRM users? Is it possible?
You already saw this way, sending a message and get revert back after some time. Well, using this extension, you get the response on the spot and no situation happens when will user replies to you. Such kind of method is a perfect way to win the heart of the users and this can be a plus point to maintain a relationship between both.
   * Enough with SMS communication, try Opt-out option
Twilio SMS has something for you and it is for those who just want this SMS communication to stop as soon as possible. Not such a complex process to do this folk, what you just have to do is simply type and send STOP that's it. After that, you will notice that no communication with the person in the future and this is what you want. Credit to the Opt-out option here.
Final words:
Every venture is in a hurry to use the best platform which can save their time toward communication with customers and the best part is we give the best solution to you all and that is SuiteCRM Twilio SMS. This extension is considered to be the best way to take your communication more amazingly with your customers as you already read out the functions so no need to think twice to use this extension, go for it.