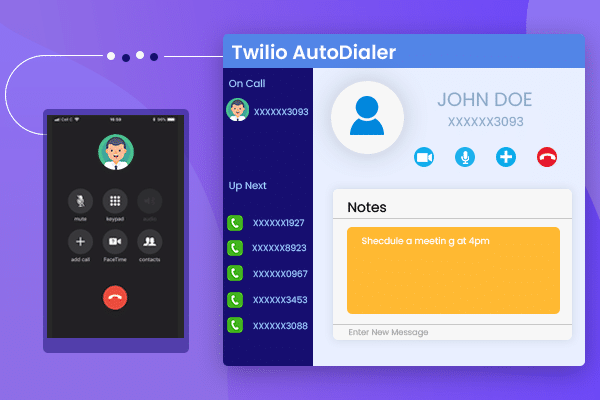 Generate Call Sequence and Automatically Dial Them One by One
Dial automatically phone number in sequence from searches with configured time.
Extension saves your quality of time.
You can save notes during the call.
Supported to All SuiteCRM Versions
Unlimited License for Single Domain & its Sub-domains

Lifetime Support

Unlimited User
Screenshots
---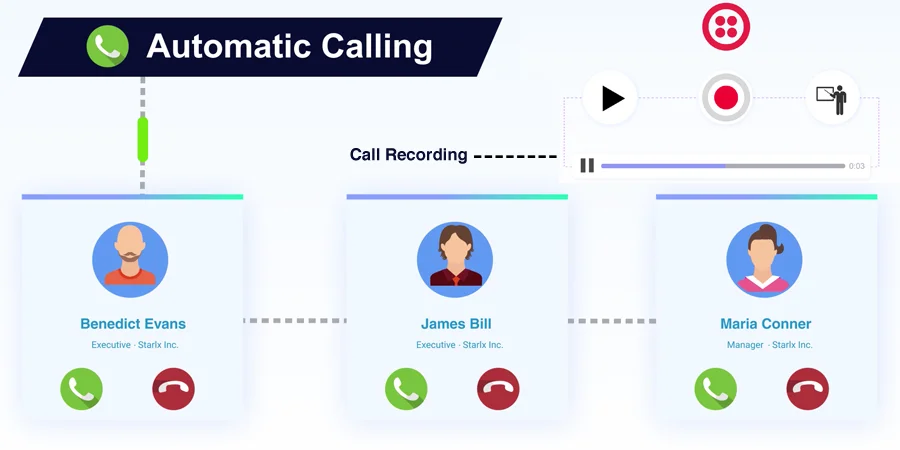 SuiteCRM/SugarCRM Twilio Auto Dialer provides the "Click to Call" functionality to the CRM users plus admin can manage the multiples phone number. This product allows you to auto-generate Calls and automatically calling them while starting from the listview. This extension works as a perfect power dialer which automatically jumping to the next record from detail View and calling automatically.
As a result, your team is going to save a lot of time while navigating records and finding a number to call. This product did this job automatically for users. Users can put the call on hold and also set the delay time between 2 Twilio Auto Dialer calls.
One of the most unique features of the Outright Store which helps save time and effort.
It also comes with a unique feature which enables the user to automatically dial another contact as soon as the Twilio call has been disconnected. Which gives users an added advantage to communicate with a prospect without any unnecessary delay or disturbance. Which eventually results in increasing productivity and benefits the business in the long run.
Prerequisites :-
CRM should have the Outright utils file, if not then install the prerequisites package first then install the Twilio Connector.
The user should have the Twilio account and a number with balance.
Installation Guide :-
Go to the Administration page and click on "Module Loader".
Browse the SugarCRM/ SuiteCRM Twilio zip file and select the package.
Click on the upload button.
Click on the install button.
Click on the commit button to finish the installation.
Twilio Account Setup :-
Log in to http://www.twilio.com using your Twilio Account or kindly sign-up if you don't have.
Buy a Number :-
We have to buy a number for further process, steps are below mentioned.
Click on the "Phone Numbers" tab on the main menu.
Click on "Buy a number" button (Charges Apply), if you don't have one.
NOTE: After installing each plugin, It is mandatory to repair and execute.
Frequently Asked Questions
SuiteCRM Twilio Auto Dialer Features
This advanced communication platform SuiteCRM Twilio Auto Dialer has great features like to always keep the conversation safe. Furthermore, it can manage multiple phones at a single time only.Big deal!
Will it work in the account and contacts module? or just accounts?
Contact , Accounts , Leads , Targets, Must work with all 4.
Important Prerequisites before installing Twilio Auto Dialer
Before going dig deeper into Auto Dialer extension installation, you should be aware of some points before installing. Outright Store has shared some steps where you need to bear in mind when going to use Twilio Auto Dialer.
Industries where twilio auto dialer used
This plugin is very useful for some of the industries like Call center, Banking, Sales and Marketing, etc. Why? It is easy to manage multiple phones at a single time, so overall it saves your high efforts.
Why is Twilio Auto Dialer important in SuiteCRM ?
You all understand communication is so essential these days. If you manage the communication then you can manage your business. Twilio Auto Dialer can assist you to raise up the communication level and give much better features.
Does It only work on one number on the account or contact module?
If you are coming from ListView , it will auto dial to next Number. And If you are at Detail View, it will only work for same Number as it don't have a next number from List view.
How Twilio Auto Dialer enhances the Communication with Users?
It's easy to manage the communication with customers when using the addon called Twilio Autodialer which can enhance user experience with better facilities like managing multiple phones, option of default number, etc.
One Click to Record the Conversation?
Most of you would like to hear the previous conversation of their customer for their business activities. We are keen to share that in just one tap, you can record the conversation and hear that anytime.
What if account or contact has 10 numbers? Can we call each number on the account or contact screen and then proceed to the next record?
Yes, this in Power dialer , not in Click to Call extension.
Will this dialer you sell work with SuiteCRM?
Yes, mostly with all versions. What version are you using?
Videos
---
Reviews
---
All Add-Ons are life time purchases, there are no recurring/hidden charges