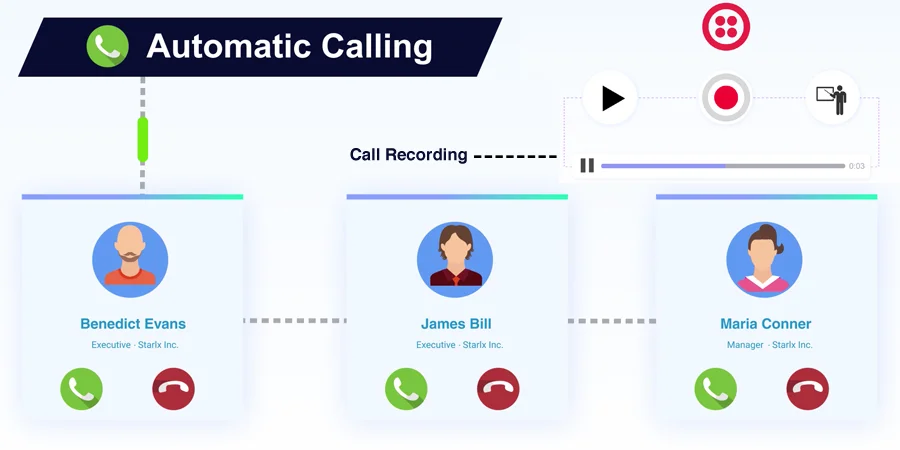 SuiteCRM/SugarCRM Twilio Auto Dialer provides the "Click to Call" functionality to the CRM users plus admin can manage the multiples phone number. This product allows you to auto-generate Calls and automatically calling them while starting from the listview. This extension works as a perfect power dialer which automatically jumping to the next record from detail View and calling automatically.
As a result, your team is going to save a lot of time while navigating records and finding a number to call. This product did this job automatically for users. Users can put the call on hold and also set the delay time between 2 Twilio Auto Dialer calls.
One of the most unique features of the Outright Store which helps save time and effort.
It also comes with a unique feature which enables the user to automatically dial another contact as soon as the Twilio call has been disconnected. Which gives users an added advantage to communicate with a prospect without any unnecessary delay or disturbance. Which eventually results in increasing productivity and benefits the business in the long run.
Prerequisites :-
CRM should have the Outright utils file, if not then install the prerequisites package first then install the Twilio Connector.
The user should have the Twilio account and a number with balance.
Installation Guide :-
Go to the Administration page and click on "Module Loader".
Browse the SugarCRM/ SuiteCRM Twilio zip file and select the package.
Click on the upload button.
Click on the install button.
Click on the commit button to finish the installation.
Twilio Account Setup :-
Log in to http://www.twilio.com using your Twilio Account or kindly sign-up if you don't have.
Buy a Number :-
We have to buy a number for further process, steps are below mentioned.
Click on the "Phone Numbers" tab on the main menu.
Click on "Buy a number" button (Charges Apply), if you don't have one.
NOTE: After installing each plugin, It is mandatory to repair and execute.