In this digital world from accepting loans via mobile phones to exploring debit/credit card options on the computer, customers are totally satisfied with the Banking industry. We remember those days when we had to wait and stand in a line regarding our work in the Bank and today, just in a few clicks your work will be completed easily. We have talked about many industries that have changed their faces and show great magic towards their customers, so now add the Banking industry too for this. Even the best way to interact with the customers swiftly is by going for Customer Relationship Management(CRM). Not the entire work every bank can do, CRM in Banking assists to do many such great jobs to reinforce the Banking industry forever.
What is Banking CRM software?
The Banking CRM software is considered as a platform that is ready to help you with data gathering, performance analysis, and if you want a platform to focus on customers' needs then it is possible when adopting Banking CRM software. This is obvious that Banks want to get engaged with their customers to satisfy their goal of the target audience. It is possible with the assistance of this software which can raise the efficiency and even productivity of the Banking industry.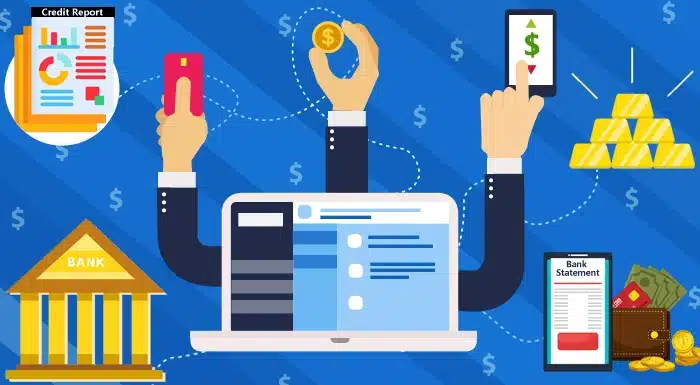 Half of your doubts about the Banking CRM software are now clear but still, some more piece of content is required to know how CRM for Banks is a stellar choice to change the face of the Banking industry. We have uncovered some questions regarding the CRM below. Keep reading this article till last.
Why is there a need for CRM in Banks?
Hope many employees of the Bank are reading this article. Many of you have a question like "Why to choose only CRM software in Bank"? Is It? Also, you can raise a question like "How the CRM software may help the Banking industry"? There were many questions, so we decided to highlight some rare points. Have a look
Storing information is possible when CRM is there
Daily you met with numerous customers and you heard their queries. Agree? Sometimes you save their information on a device, and we know you know that data can be deleted. Reasons can be many behind data delete but not when you have the software like CRM. How? CRM in Banking may help to store the entire customer's information and keep it safe forever. You are allowed to store the data like customer's contact information, their queries, interaction and many more.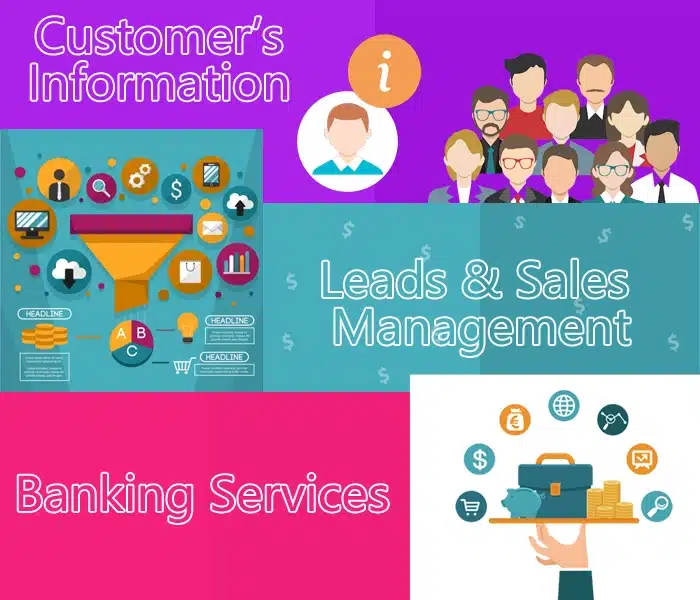 Identify leads and boost sales can happen
You are running the Banking industry, so we are a hundred percent sure that sales is your first priority but let us tell you that raising more sales can be possible if you strive for the software CRM. CRM in Banking helps in sales management where you can identify the leads and moreover, convert those leads into prospective customers. It is the best method to get engaged with customers and make them feel valued.
CRM for Banks a great platform to offer customer service
CRM in Banking, a plus point to catch up with the customers and offer some excellent customer service they need. How? Let us aware you that this is possible via quick automated response to customer's queries. This is a great chance where not only CRM but also Banks can offer the services that customers need while getting aware of customer's problems like their queries, their desire, etc.
Features of Banking in Customer Relationship Management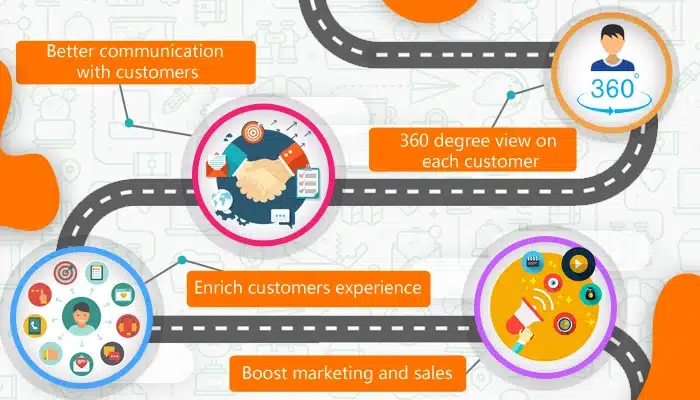 Meeting the customer's expectations is really a hefty task, especially when they trust you with their hard-earned money. Providing some plausible lending terms and a checking account is not enough nowadays, you need to do much more than that. In short, now you are required to provide a better, faster, and tailored experience to your customers. For this Banking CRM solution is indispensable. Based on our observation and experience, we have pointed out some key Banking CRM features.
A panoramic view of financial information: This will provide you with a complete insight into the customer i.e. services they are using, their income, credit score, etc. An ideal banking CRM should act as a centralized data hub. The customer information should be accessible to appropriate users without any issues. With the help of a comprehensive understanding of customers, the reps and advisors will be able to provide the best service and customer experience.
Contact Management: In CRM, contact management means keeping the records of customers, prospects, leads, opportunities, etc. The record could be documents, deposit slips, credit reports, etc. One way is through tracking all interactions between the customer and company. This will help in better understanding the customer journeys.
Lead Management: Lead management has been an integral part of CRM solutions ever since its inception. The entire journey from capturing leads to converting them into a customer should be linear. The sales funnel should be transparent and flawless. For every financial institution, the best ways to grow revenue are lead generation and the process of nurturing leads. So, at any cost, you can't afford to lose this feature.
Customer Engagement: Keep engaging with your customers frequently to establish trust between your bank and its customers. So, it's important that necessary tools like social media integration, marketing automation, etc should be part of banking CRM software.
Reports and Analytics: Having customer data in CRM is not enough, the software should be capable of generating reports out of that information. Furthermore, an analytics dashboard is also integral because it assists the performance and productivity evaluation.
Importance of CRM in Banking
You are going to use one of the most advanced and trending software in the Banking Industry called CRM. You must be aware of the benefits of CRM in Banking that how essential the role it plays in your work. Read out thoroughly
Entire information in one place saves your time
This benefit of CRM in Banking is much-needed to understand, and we will tell you properly. You all have seen that you need to go through different platforms and even via email to check the answers or any query of customers. Everything is now going to be in one place if you adopt CRM in your work.
CRM in Banking saves your time as all the information regarding anything in one place. Even you can get access towards your customers via CRM from any device whether you want to get connected with them through phones, laptop, etc.
CRM shows tremendous efforts on Marketing department
This can be interesting to know for you so pay attention here. The software CRM in Banking may be the best choice because it shows rare efforts towards the marketing department. Here the role of CRM indicates as it generates the reports where they mention customer's purchase behaviour, engagement channels and many more.
While getting aware of all such points about customers, the marketing team focuses more on marketing opportunities just for the retention. CRM helps the marketing department just to reinforce it with proper segmentation.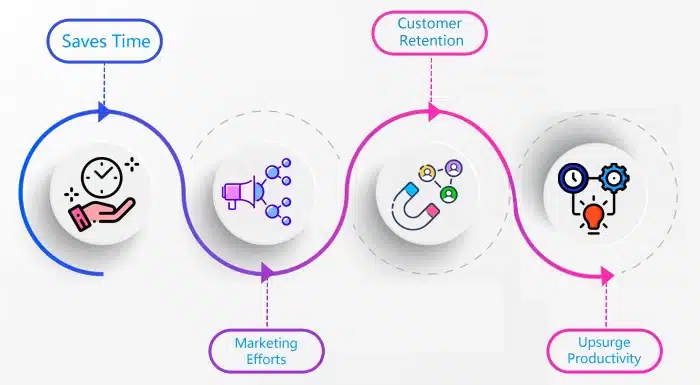 Is it possible to improve customer retention?
You have read out our blog of CRM software in industries where we already told you that maintaining a relationship with existing customers is quite tricky but important for the business. But, if you have software like CRM then we guess nothing is impossible. CRM in Banking may help you all to improve the custom retention. If you want to achieve customer retention or want to improve it then make sure to offer customer satisfaction and loyalty both.
A great way to upsurge productivity easily
We are talking about the benefits of CRM in Banking then we are sure that you have a question like "Is it easy for CRM to improve productivity in Banking Industry"? The answer is yes. You can adapt the CRM software and check it out the result as you will spend your time more on customer relationships which raises your industry productivity more quickly than before. A better chance to reduce the repetitive tasks and save your efforts when you have CRM software in your work. Every banker can handle the customer by spending less time now.
How to choose the Best CRM for the Banking Sector?
Whether it's retail banking or investment banking, CRM software is essential for all. In the above sections, we have shown you the importance, benefits, and features of banking CRM software. Now, we will answer some questions that come to mind when choosing CRM software for financial institutions like banks.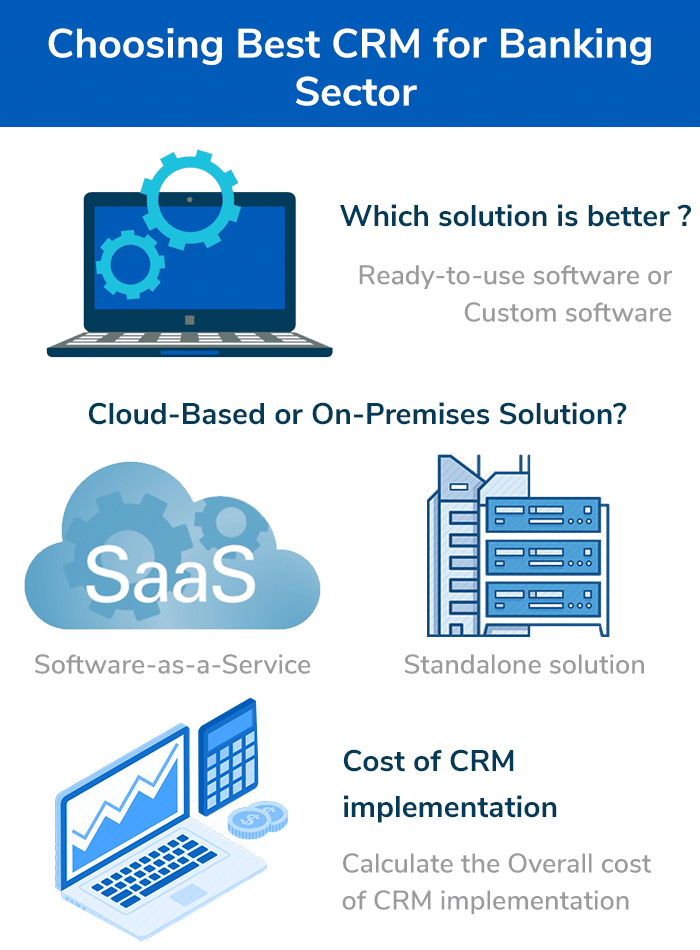 Which solution is better, Ready-to-use software or Custom software?
The answer to this question lies in the requirement of individual businesses. Some are completely comfortable with the out-of-the-box product that comprises stock features. The software developers create an application and send the same to all the buyers. The major drawback is that you can't customize the software as per your requirements neither can you scale it properly.
For those who want a tailored solution, custom CRM is best. As you can ask for specific features in your software. Many of the ready-made CRM products consist of unnecessary features which are of no use for many companies. For these reasons, a custom CRM is the first choice of many. The cost of tailored CRM can vary based on the features and tools you want along with it. However, if you are not willing to spend much on software then there is always an option of open source CRM software like SuiteCRM. Since it is open-source, you can even customize it as per your needs.
Cloud-Based or On-Premises Solution?
This is another most common dilemma among those who want to purchase a new piece of technology. Whether to deploy the software on the cloud or build an on-premise infrastructure for the CRM implementation. Let's compare both solutions and find out which one is most suitable for your business.
Software-as-a-Service (SaaS) or Cloud-based:- As the name suggests, software like this is provided by the developers/providers as a service to the customers. They are stored on the cloud server, so everyone can access them around the globe. The data of CRM users are also stored on the cloud and are accessible online through a smartphone, desktop, and browser. One of the major advantages of cloud-based software is that it is accessible from anywhere. You only need an internet connection and a web browser. On the downside, the bank loses control over the data since it is stored on the software provider's cloud. Data integrity has been a big issue since the introduction of this technology.
On-Premises or Standalone solution: Even after the arrival of cloud services, on-premises is still the first choice of most users. The foremost reason is the sense of security and trust it provides users as well as customers. But the cost of having total control is quite hefty. You need to spend extra on maintenance and optimum uptime.
On-premises products could be proprietary or open-source which means if you want then you can customize it as per your requirements. However, it requires some serious coding knowledge or you may need to hire some developers for you. On the other hand, all cloud-based banking CRM solutions are paid and non-customizable.
Calculate the Overall cost of CRM implementation
The website of CRM providers only showcases the initial cost of the entire software. For example per user per month cost of the product, charges of support and maintenance, data migration, and update cost. But, let us tell you one thing, this is just the tip of the iceberg. Your company will cost far more directly or indirectly.
The employees of your bank will need some time to get familiar with the software, in this case, they will cut-off time from their regular tasks and this will surely cost your organization. Every extra minute spent on understanding the software will cost a huge deal to a company directly or indirectly.
Pricing of CRM Banking Industry
Banking CRM Software
Features
Platform
Business Size
Price
Free Trial
Bitrix24


Collaboration Tools, Create Subtasks, Gantt/Timeline View, Mobile Access etc.
Windows

Mac

Linux
Small

Medium

Large
$39.00/month
Zendesk Sell


Contact Management, Call Logging, Product Catalog, Lead Scoring, Project Management, Marketing Automation etc.
Windows

Mac

Linux
Small

Medium

Large
$19.00/month/
user
Salesforce


Calendar/Reminder System, Document Storage, Email Marketing, Internal Chat Integration, Lead Scoring etc.
Windows

Mac

Linux
Small

Medium

Large
$25.00/month/
user
Infor CRM


Calendar/Reminder System, Email Marketing, Internal Chat Integration, Marketing Automation Integration etc.
Cloud, SaaS, Web, Mobile – iOS Native, Mobile – Android Native
Small

Medium

Large
$65.00/month/
user
Sugar CRM


Sales automation and forecasting, Support automation, Marketing lead management, Reporting and dashboard, Call center automation etc.
Windows

Mac

Linux
Small

Medium

Large
$40.00/month/
user
Norms for choosing the Banking CRM
This is a big question as you are looking for the software so it is obvious that every industry has separate criteria. You are not a prodigal who can invest every day. Let's understand the criteria a software has before going to use in Banking industry-
Data Import
You work daily in the Banking industry where you have to import humongous data on a daily basis of your customers. Your efforts are entailed here so you need such software which saves your quality of time regarding data import. Make sure you strive for software like CRM for Banks.
Contact Catalogs
You want to keep entire contacts of your customer safe so what will you do? You need to opt for the best software which can keep every contact in a safe zone because your relationship with them matters the most. CRM software is the best choice for handling this.
Integration
This is a common criteria but an important one for you all to understand. You need such a software for your Banking industry which can integrate with telephony, Apps and with many. Hope you get in touch with CRM software which can help you with these tasks. CRM for Banks is a great way to enhance your experience.
Pros & Cons for CRM Banking Industry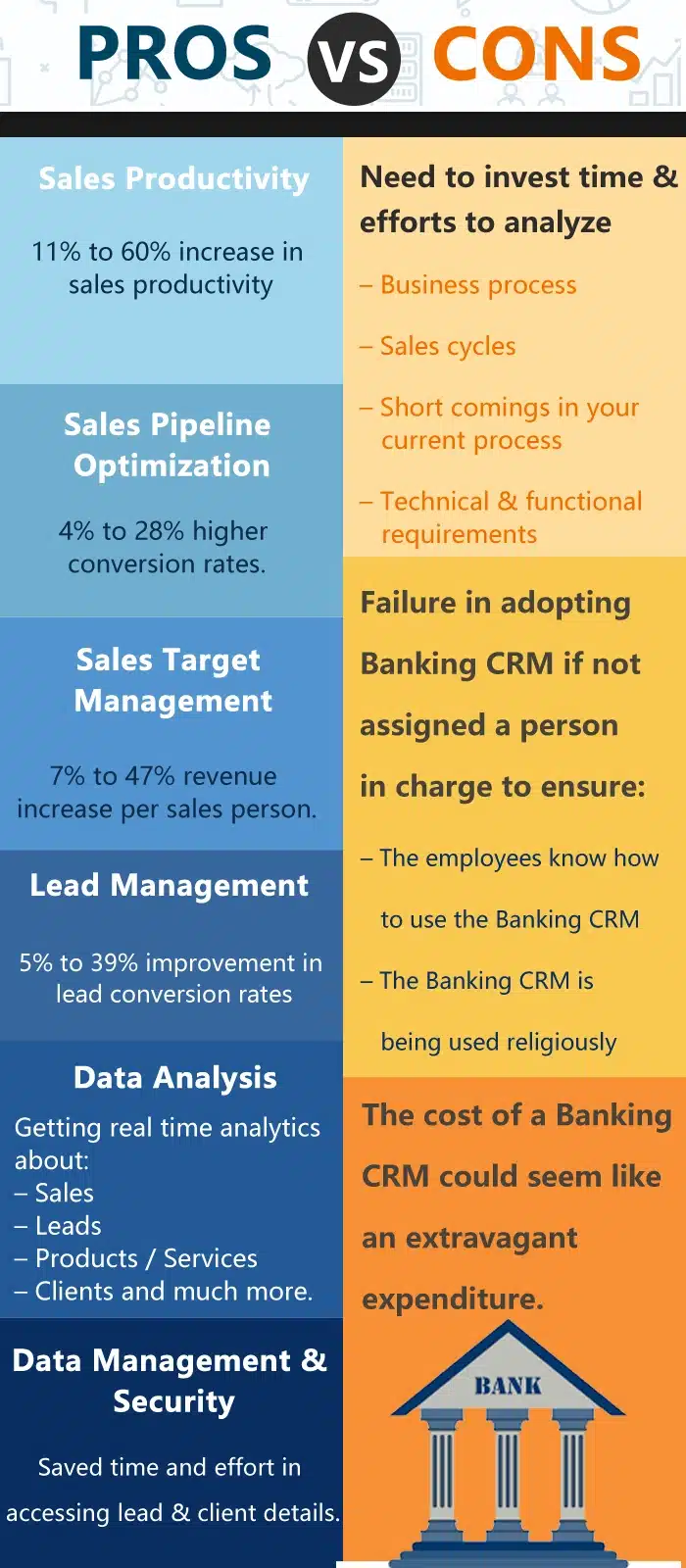 Wrapping it up
Industries are trying to adopt a better software that can handle their work and change their whole business and turn it to the next level. It's good to see users are starting to avoid the outdated software and shake hands with Customer Relationship Management software. Industries like Banking have so much work pressure and even they set so many goals for their work. CRM in Banking industry is a plus point that can strengthen their business and give more and more positive results to maintain their present and future. Just read out the benefits of CRM in Banking that how it will help you and enrich customer experience.