In this digital world from accepting loans via mobile phones to exploring debit/credit card options on the computer, customers are totally satisfied with the Banking industry. We remember those days when we had to wait and stand in a line regarding our work in the Bank and today, just in a few clicks your work will be completed easily. We have talked about many industries that have changed their faces and show great magic towards their customers, so now add the Banking industry too for this. Even the best way to interact with the customers swiftly by going for Customer Relationship Management(CRM). Not the entire work every bank can do, CRM in Banking assists to do many such great jobs to reinforce the Banking industry forever.
What is Banking CRM software?
The Banking CRM software is considered to be as a platform which is ready to help you for data gathering, performance analyzing and if you want a platform to focus on customers' needs then it is possible when adopting Banking CRM software. This is obvious that Banks want to get engaged with their customers to satisfy their goal of the target audience. It is possible with the assistance of this software which can raise the efficiency and even productivity of the Banking industry.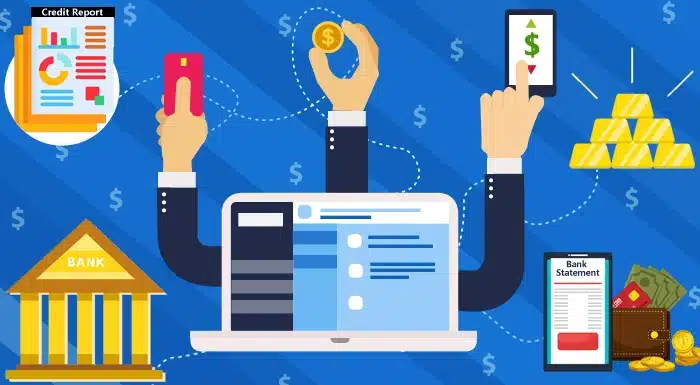 Half of your doubts about the Banking CRM software is now clear but still, some more piece of content is required to know how CRM for Banks is a stellar choice to change the face of the Banking industry. We have uncovered some questions regarding the CRM below. Keep reading this article till last.
Why is there a need for CRM in Banks?
Hope many employees of the Bank are reading this article. Many of you have a question like "Why to choose only CRM software in Bank"? Is It? Also, you can raise a question like "How the CRM software may help the Banking industry"? There were many questions, so we decided to highlight some rare points. Have a look
Storing information is possible when CRM is there
Daily you met with numerous customers and you heard their queries. Agree? Sometimes you save their information on a device, and we know you know that data can be deleted. Reasons can be many behind data delete but not when you have the software like CRM. How? CRM in Banking may help to store the entire customer's information and keep it safe forever. You are allowed to store the data like customer's contact information, their queries, interaction and many more.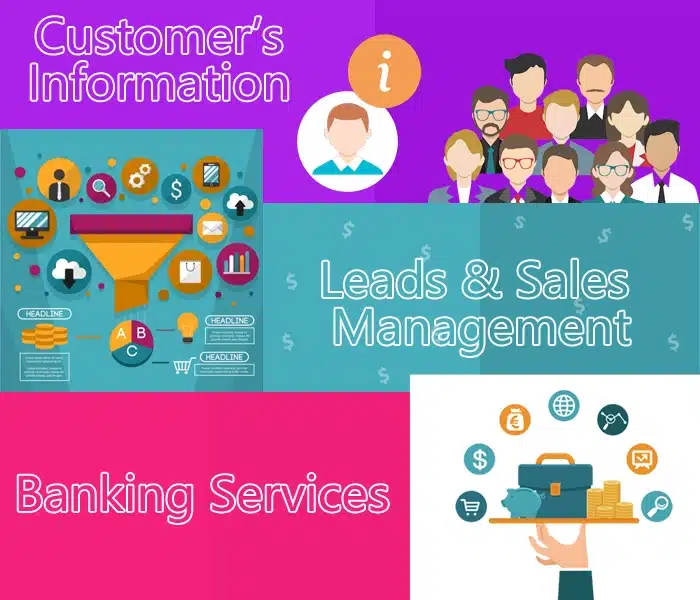 Identify leads and boost sales can happen
You are running the Banking industry, so we are a hundred percent sure that sales is your first priority but let us tell you that raising more sales can be possible if you strive for the software CRM. CRM in Banking helps in sales management where you can identify the leads and moreover, convert those leads into prospective customers. It is the best method to get engaged with customers and make them feel valued.
CRM for Banks a great platform to offer customer service
CRM in Banking, a plus point to catch up with the customers and offer some excellent customer service they need. How? Let us aware you that this is possible via quick automated response to customer's queries. This is a great chance where not only CRM but also Banks can offer the services that customers need while getting aware of customer's problems like their queries, their desire, etc.
Features of Banking in Customer Relationship Management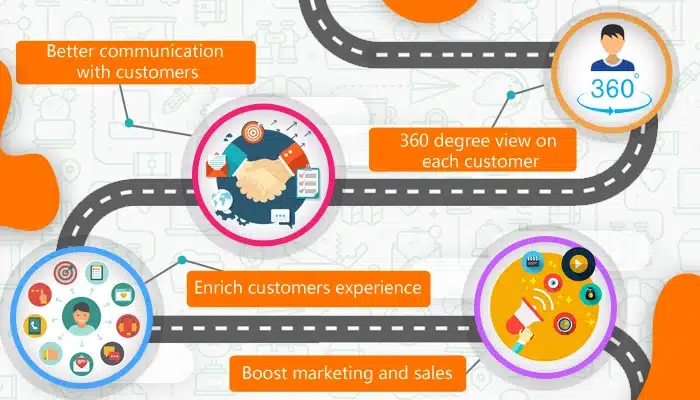 Importance of CRM in Banking
You are going to use one of the most advanced and trending software in the Banking Industry called CRM. You must be aware of the benefits of CRM in Banking that how essential the role it plays in your work. Read out thoroughly
Entire information in one place saves your time
This benefit of CRM in Banking is much-needed to understand, and we will tell you properly. You all have seen that you need to go through different platforms and even via email to check the answers or any query of customers. Everything is now going to be in one place if you adopt CRM in your work.
CRM in Banking saves your time as all the information regarding anything in one place. Even you can get access towards your customers via CRM from any device whether you want to get connected with them through phones, laptop, etc.
CRM shows tremendous efforts on Marketing department
This can be interesting to know for you so pay attention here. The software CRM in Banking may be the best choice because it shows rare efforts towards the marketing department. Here the role of CRM indicates as it generates the reports where they mention customer's purchase behaviour, engagement channels and many more.
While getting aware of all such points about customers, the marketing team focuses more on marketing opportunities just for the retention. CRM helps the marketing department just to reinforce it with proper segmentation.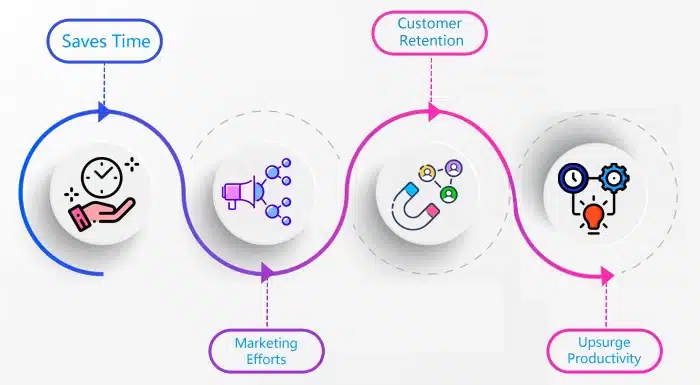 Is it possible to improve customer retention?
You have read out our blog of CRM software in industries where we already told you that maintaining a relationship with existing customers is quite tricky but important for the business. But, if you have software like CRM then we guess nothing is impossible. CRM in Banking may help you all to improve the custom retention. If you want to achieve customer retention or want to improve it then make sure to offer customer satisfaction and loyalty both.
A great way to upsurge productivity easily
We are talking about the benefits of CRM in Banking then we are sure that you have a question like "Is it easy for CRM to improve productivity in Banking Industry"? The answer is yes. You can adapt the CRM software and check it out the result as you will spend your time more on customer relationships which raises your industry productivity more quickly than before. A better chance to reduce the repetitive tasks and save your efforts when you have CRM software in your work. Every banker can handle the customer by spending less time now.
Pricing of CRM Banking Industry
Banking CRM Software
Features
Platform
Business Size
Price
Free Trial
Bitrix24


Collaboration Tools, Create Subtasks, Gantt/Timeline View, Mobile Access etc.
Windows

Mac

Linux
Small

Medium

Large
$39.00/month
Prophet CRM


Calendar/Reminder System, Quotes/Proposals, Task Management and Territory Management
Cloud, SaaS, Web, Installed – Windows, Mobile – iOS Native
Small

Medium
$55.00/month/
user
Zendesk Sell


Contact Management, Call Logging, Product Catalog, Lead Scoring, Project Management, Marketing Automation etc.
Windows

Mac

Linux
Small

Medium

Large
$19.00/month/
user
Salesforce


Calendar/Reminder System, Document Storage, Email Marketing, Internal Chat Integration, Lead Scoring etc.
Windows

Mac

Linux
Small

Medium

Large
$25.00/month/
user
Infor CRM


Calendar/Reminder System, Email Marketing, Internal Chat Integration, Marketing Automation Integration etc.
Cloud, SaaS, Web, Mobile – iOS Native, Mobile – Android Native
Small

Medium

Large
$65.00/month/
user
Sugar CRM


Sales automation and forecasting, Support automation, Marketing lead management, Reporting and dashboard, Call center automation etc.
Windows

Mac

Linux
Small

Medium

Large
$40.00/month/
user
Norms for choosing the Banking CRM
This is a big question as you are looking for the software so it is obvious that every industry has separate criteria. You are not a prodigal who can invest every day. Let's understand the criteria a software has before going to use in Banking industry-
Data Import
You work daily in the Banking industry where you have to import humongous data on a daily basis of your customers. Your efforts are entailed here so you need such software which saves your quality of time regarding data import. Make sure you strive for software like CRM for Banks.
Contact Catalogs
You want to keep entire contacts of your customer safe so what will you do? You need to opt for the best software which can keep every contact in a safe zone because your relationship with them matters the most. CRM software is the best choice for handling this.
Integration
This is a common criteria but an important one for you all to understand. You need such a software for your Banking industry which can integrate with telephony, Apps and with many. Hope you get in touch with CRM software which can help you with these tasks. CRM for Banks is a great way to enhance your experience.
Pros & Cons for CRM Banking Industry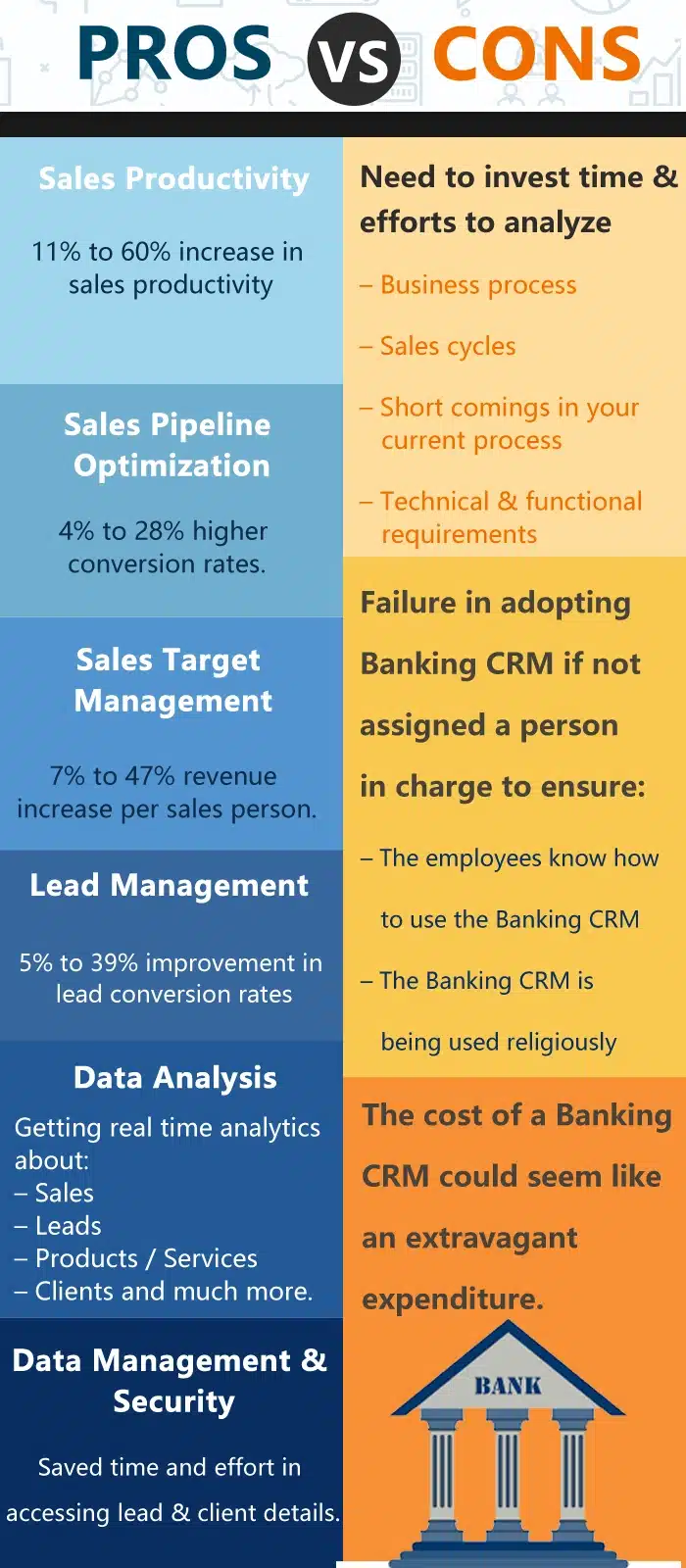 Wrapping it up
Industries are trying to adopt a better software that can handle their work and change their whole business and turn it to the next level. It's good to see users are starting to avoid the outdated software and shake hands with Customer Relationship Management software. Industries like Banking have so much work pressure and even they set so many goals for their work. CRM in Banking industry is a plus point that can strengthen their business and give more and more positive results to maintain their present and future. Just read out the benefits of CRM in Banking that how it will help you and enrich customer experience.