The earning coin has two faces and the names of both faces are "Customer Relationship Management" (CRM) and the other one is "Enterprise Resource Planning" (ERP). If one has been removed then don't expect business growth and development because in today's time you need both in your organization for gaining much better business efficiency. But keeping this aside and just think as ERP vs CRM then what you think that which one is more superior than others? You have read out about both these platforms, it's software, pricing and other aspects but actually, you all need to ask this question from yourself which one is better if you keep both in front.
What is Customer Relationship Management?
Firstly, we will discuss the definition of this software as for storing and keeping the entire data of your existing customers and new customers, CRM is the one who can assist you to store it in a safe zone. You have a chance to not only get your customers data but also can share if your customers want from your CRM.
Keeping your customers in first priority, it can maintain your relationship strong. You want to hone your goals like a hike up the sale, boost up your customer retention, making a relationship stronger than before, that all would be possible if you strive for the software called CRM. You can get aware of the History of CRM by reading out the blog separately.
What is Enterprise Resource Planning?
Before going delve deeper into ERP vs CRM, understand the next definition which is the next software after CRM and that is ERP. You have read out that CRM main focus on customers, ERP focus is on the business as this system will enhance your experience by giving much better features to boost up your business efficiency.
You want a 360-degree view of your business activity so that you get each information regarding your work. This is possible if you adapt the software ERP in your business life. Every entrepreneur wants access to procurement, accounting and even project management, you can strive for ERP software to smoothen your work.
What are the advantages of using a CRM System?
To understand more deeply about ERP and CRM, we decided to share the advantages of both these systems where it gives a signal that which one is more suitable for business development. First, understand the advantages of CRM software-
For supporting customers all the time, CRM is here
Customers are everything for you but are you giving them the best support when they need you the most? You need to dovetail your business today with the software like Customer Relationship Management that gives the perfect tailored solution to your customers and they get full support from your side.
To work fast and offer your customers a better service you don't need to dig deeper into other software when you have CRM with you.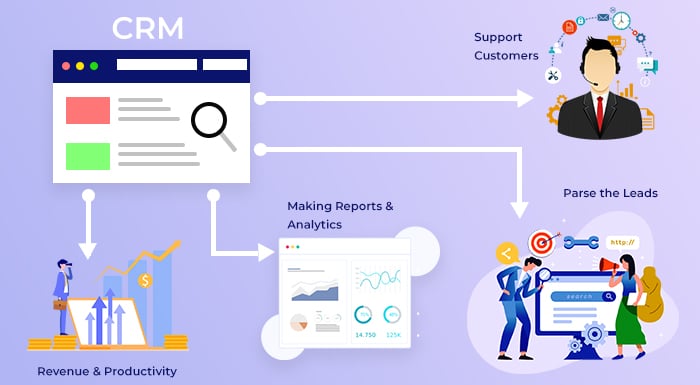 It's very simple to parse the leads for your work today
Can't say whether you are operating and your employee's are operating any vintage software or some other one for the lead purpose. You can't achieve this goal of lead capturing with other software. Entail CRM in your work now and have a chance to make the new leads and grab those leads for your business work.
CRM is the perfect example when talking about marketing business as they strive for CRM to meet up with the new leads swiftly. If you are keen to know which extension is suitable for lead purposes then make use of SuiteCRM Email to Lead extension.
Try CRM for making reports and analytics
This CRM vs ERP blog is going very interesting. Understood the above functionality of CRM, add on the next advantage for your organization which is regarding the reports and analytics. Your managers want to make the reports of your business employees at the end but are they doing this on software?
This is the big question because if you have CRM in your work then a zero percent chance of miscalculation or anything that can create a situation of confusion. You can make the reports and analytics with this software and can maintain this forever. Pay attention to the CRM graph too to know the growth of the past, present and the future of it.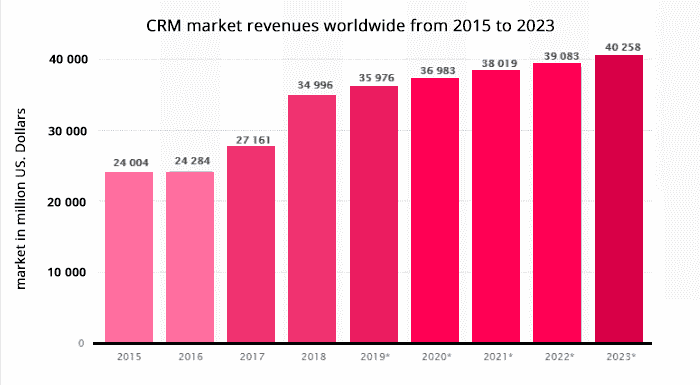 Hike up your revenue and productivity more easily
The more functions you know the better work you can perform. CRM software has great and exceptional functions that can help you to meet up with numerous customers for your work and make a good relationship. There is a big chance where you can earn a good amount of money that you spend already.
Software like CRM can save your quality of time where you can focus more on crucial tasks and this can increase organization productivity as well. If you need time saving-extension, opt for extensions like SuiteCRM Document Bulk Uploader, SuiteCRM Google Sign-in, etc. Both have different functionality but are time-saving for your work.
What are the advantages of using ERP Software?
Have you understood the key role of CRM software? This is important to share the advantages when talking about ERP vs CRM. Now keep your eyeballs below to know the advantages of ERP software-
The software like ERP is cost-effective for business
When we read out the word cost-effective, we just want that software to run the organization. You all will surely like the ERP system because it is cost-effective and prominent for your business activities.
How about cutting the operational and administrative cost? Is it possible to do? Don't know other systems but ERP can do this job and save a large amount of money where you can invest that on other tasks. Furthermore, you will get accurate and real-time information if your business has ERP in their work.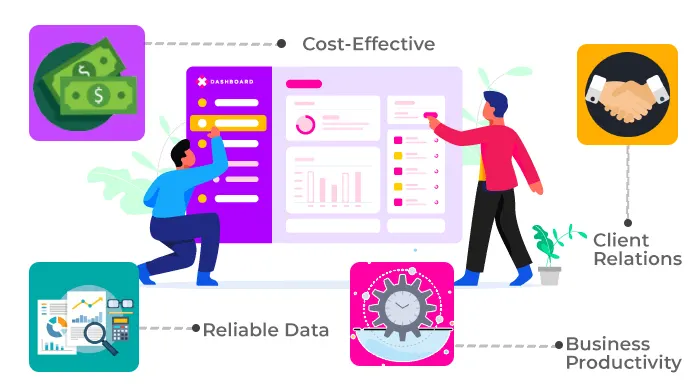 Maintain relationship with clients can be done
If you have customers with you then of course, you can expect your business to run and if they leave you then you all know what the result would be. In this world, you must make a good relationship with your clients for your work because they are the one who can boost up your activity and reinforce your organization.
If needed the software to enable that then strive for ERP now which can help you parse the leads and you can do many such tasks like monitor the result of the Email campaign that you made, access to customer's information, etc. To know the Email campaign more, you can read out the blog too.
Offering reliable data is in the list of ERP software
No such hassle now when you have ERP software with you that can enrich your experience by sharing the reliable data and even updating it in real-time. Data is always considered to be the backbone of every business, so keeping it safe is the duty of the software.
If you lose the data of your customers who trusted you the most then forget the chance to maintain a relationship with them. ERP software is one which has a perfect security level and keeps every data safe. You can make use of the extension like SuiteCRM Database Backup and Restore for data handling matter.
Expect the business productivity when using ERP system
Want every information that you maintain in one place or you can say in a proper way? You understood this in SuiteCRM Workflows, so now you will get this concept in software like ERP which can offer you great functionality to reduce your manual labour and save your time.
Your time will save and your main focus straight to the main task as we said this on CRM advantages. The same process goes in the ERP system to raise organization productivity and efficiency. Understand the graph of ERP software that we have mentioned below to see the growth of present and future.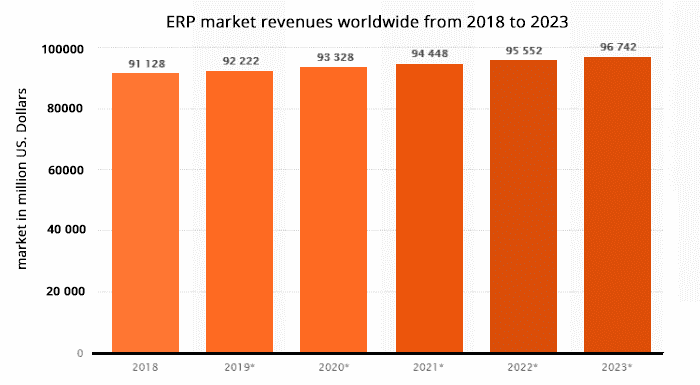 How is CRM different from ERP and vice-versa?
Finally, we understood the advantages of both ERP and CRM to clear entire doubts about both these systems. We decided to highlight one more thing like what CRM has ERP don't and vice-versa. If you have asked this question from yourself then we want to share some points with you. We have jotted down below-
Customer Relationship Management's main objective is about raising up the sale whereas Enterprise Resource Planning main goal is to reduce the cost.
The system CRM geared up for the front office activities. If we talk about the ERP software then it is geared up for back-office activities.
CRM first looks at the customer activity and operations whereas the system like ERP looks for the business operations.

The software like CRM is accurate for the customer's service and sales team. ERP is basically used by the projects and the inventory managers.
Just for creating the Reports, you must endeavour for the CRM system first and to minus the redundant task you need the software like ERP.
To get aware of time to convert leads into loyal customers, CRM helps you and in case if you need a service knowledge base then make sure you have ERP.
Which system to adapt for maximizing the growth of a business?
It will be easy for us if we mentioned any vintage software with ERP and CRM. Well, it's about the stellar software CRM and most advanced software ERP as both can give great functionality to enhance your experience. It is ERP vs CRM which one can change your business strategy and can play a key role for your organization development more in the market.
Every business goal in today's life is about more sales and their expenses will be saved. We must say that both these platforms can do this job for you where we can't mention only one name. How can they both play this role? The role of the CRM is to uplift your business sale whereas the role of the ERP is to cut down your expenses to save your money.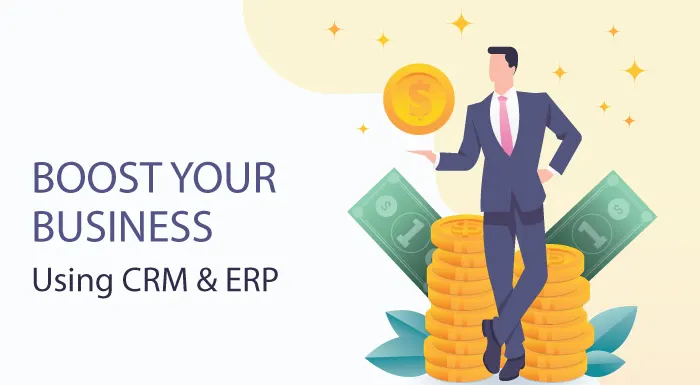 If your mindset is to separate both these platforms then it is okay but if adapting both these systems and dovetail both systems in your business then we guarantee of your organization growth and open up the gate of success path for efficiency. In short, both are superior and powerful for your business to work better so both win.
Putting it all together
The discussion about ERP vs CRM finally comes to end now and the result we get is both these platforms ERP and CRM are winners. We can't say that ERP is better than CRM and vice-versa because in this digital world where everything you want to complete more quickly and needs advanced features, these softwares can show you and give you suitable results. Expected the skyrocket growth of your venture? Make sure you are adapting these software which are the right concept to maintain the organization forever. It's very easy to change the mindset of people by sharing the low price of the software but you need to wake up and endeavour for the software that is not only cost-effective but also gives exceptional advantages. Hope you will put your hands on only these two and keep outdated software aside.