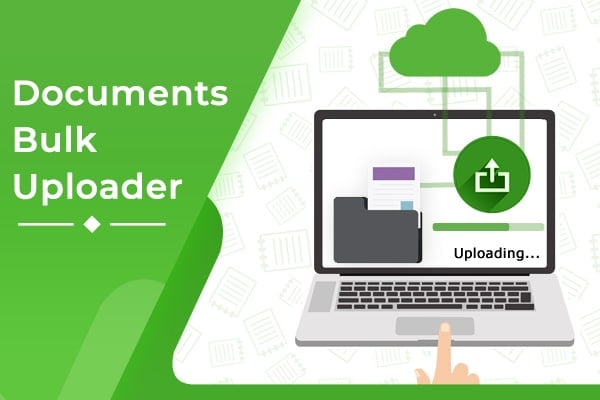 One Click Multiple Document Uploader
Allow multiple or bulk uploads in one go.
While uploading documents the status will display.
Already uploaded document will be skipped.
Supported to All SuiteCRM Versions
Unlimited License for Single Domain & its Sub-domains

Lifetime Support

Unlimited User
Screenshots
---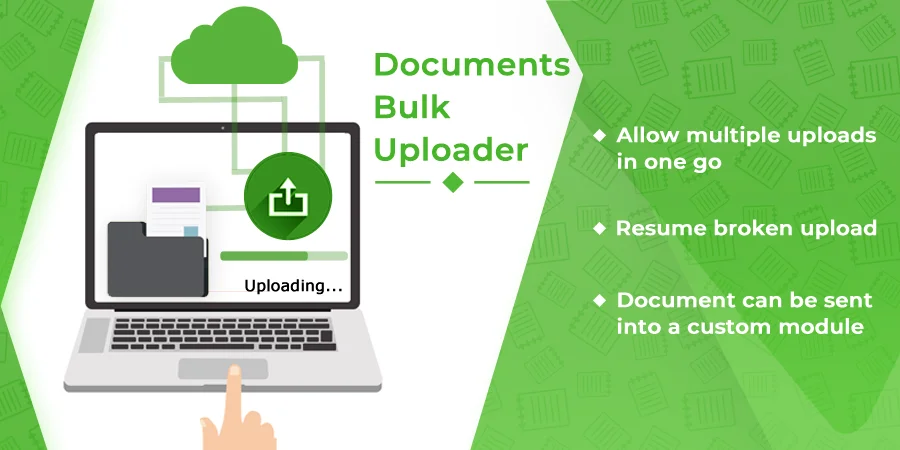 SuiteCRM Documents Bulk Uploader
Uploading process of documents takes too much time and effort. We want to share an extension called Document Bulk Uploader which is not time-consuming for this process. In just one tap, the bulk of documents will be uploaded. No matter how many documents come to upload, one by one uploading is an old method. Try this extension to save your efforts which has a feature to show status while uploading.
Let's understand this with an example- suppose you get numerous documents and you have less time to upload it quickly. So, you need to avoid one by one uploading process when Document Bulk Uploader extension is here to assist you. Select the entire documents that you want to upload and just one click, documents will start uploading and you can work on another task after that.
Features of Document Bulk Uploader
Some advanced features this plugin has so let's readout-
The first feature of this plugin is time-saving. You don't have to upload one by one as you can select the entire document at a single time. It will start uploading and your time saves. No such need to put extra effort to select one by one. Worth using!

The next feature is that the plugin doesn't upload any document again and again. When you start using Document Bulk Uploader then it will not upload one document twice. It will be skipped.
Using this extension, broken uploads can be resumed. There is a chance when your files stop uploading but going with our plugin your files can be resumed easily.

Document Bulk Uploader will show you the status of how many files have uploaded or how many files have broken. The status will be displayed while uploading documents.
Concluding Note:
No need to upload each document of your business task one by one. The best feasible solution is to go for the Bulk Uploader plugin which saves your precious time and completes the entire process in a minute. There is less requirement to show efforts while uploading. Read out the exceptional features properly of this plugin that how it can assist you in your day to day business task.
Frequently Asked Questions
Why we Use Documents Data Type ?
Well, the uploading process can be too long as you are using the old method to upload one by one. We have a time-consuming extension called Document Bulk uploader for your business.
Can we see the preview of the uploaded document ?
You want to check out the process of the document whether it's going properly or not or which document is broken or which you need to resume. When striving for the Document Bulk uploader it is possible to see previews.
What are the features of Document Bulk Uploader?
The extension is time saving as in just one click you can see that it is uploading in bulk in your CRM. If there are any broken records then you can resume it on the time in this plugin and the status will be displayed while uploading.
Can we skip the already uploaded document?
Yes, if the document is uploaded already in your CRM then it will not repeat again.
Is this plugin compatible with SuiteCRM and SugarCRM?
The plugin is suitable for SuiteCRM software, one of the best CRM platforms and most trending in the CRM industry.
How does this plugin save time & effort of User?
The plugin called Document Bulk Uploader can save your precious time and your high efforts as in just one tap, you can upload the documents.
Can we check the status of a file while uploading?
You are able to check the status of a file as status will be displayed while uploading. Totally worth it!
How to upload bulk documents in SuiteCRM?
If you are interested to use this Document Bulk Uploader addon for your work then we can assist you to know how to upload documents or what is the process to do this.
One time purchase & enjoy the service
There is just one time pay if you want this plugin to work in your business. You need to pay $199 for this.
Video
---
Reviews
---
All Add-Ons are life time purchases, there are no recurring/hidden charges