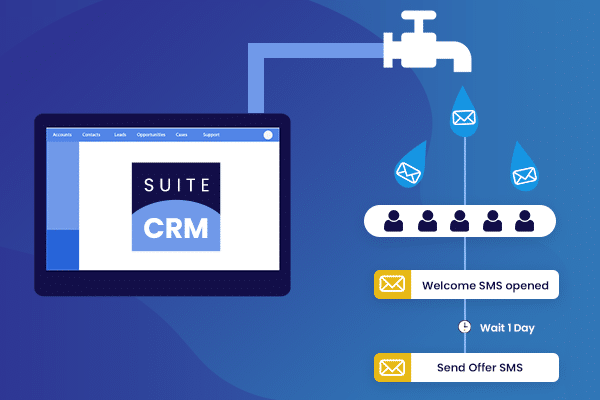 SuiteCRM SMS Drip Campaign Using Twilio
Set up Multiple Sender's Phone numbers in the plugin

Choose desired time period of sending the SMS

Run Multiple SMS Drip Campaigns directly from your CRM.
Supported All SuiteCRM Versions
Unlimited License for Single Domain & its Sub-domains

Lifetime Support

Unlimited User
Screenshots
---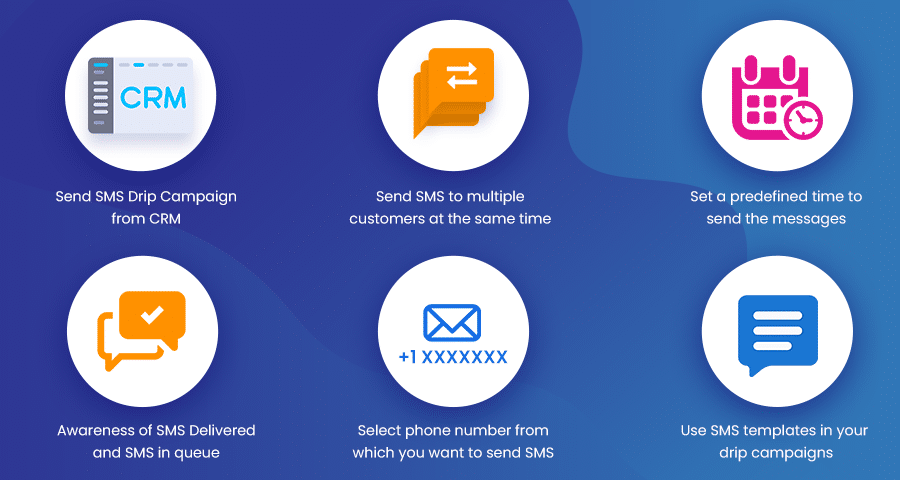 Just like the email drip campaign, now the time comes for businesses to run the SMS drip campaign. Why? Because SMS messages have a way better open and engagement rates. According to a report, SMS has five times more opening rate than emails. It means customers are more likely to engage with your offers and communication if they receive them through SMS. Due to this reason, we have decided to develop a plugin that will allow the user to run SMS Drip campaigns directly from their CRM software. Here, we are talking about an extension called SuiteCRM SMS Drip Campaign.
Real-life Scenario: A common practice that is done using the SMS Drip Campaign is nurturing the audience through a string or a drip of SMS. The audience can be segmented based on demographics or other means. After curating a list of customers, the users can start sending SMS messages to them in regular intervals using the plugin. It will allow you to choose when to start sending messages. You can either choose to send immediately or after some predefined intervals like after two, three, or how many days you want.
Top Features of SuiteCRM SMS Drip Campaign
The user will be able to run an SMS Drip campaign directly from their CRM software.
You can send SMS to multiple customers at the same time.
If you want then you can select a predefined time on which you want to start sending the messages.
In the plugin, you will know when the messages are delivered or in the queue waiting to be sent.
You can also set up multiple phone numbers in the plugin. The user can select from which phone number they would like to send messages to the customers.
The plugin will allow you to use SMS templates in your drip campaigns. It will create consistency throughout the messages you sent to your customers.
Frequently Asked Questions
Is it possible to send SMS to multiple customers at the same time through this plugin?
Yes, not only you will be able to send SMS messages in Bulk to multiple customers, but you can also set a predefined time to start sending the messages.
Will I be able to check the status of the SMS messages that I've sent?
The plugin will let you know if the message that you sent is received or still in the queue.
How many phone numbers can I use for sending SMS messages to customers?
You can set up multiple phone numbers through this plugin and later use any of them for sending SMS to customers.
Is there any way to use SMS templates?
In the SMS Drip campaign, you can use SMS templates that are appropriate as per your needs.
Video
---
Reviews
---
All Add-Ons are life time purchases, there are no recurring/hidden charges