Small Businesses Sales teams are managing their leads on Google docs or in Spreadsheet. They are probably pulling their hair out every day. Why? Such tools are good but not the easiest ones. Sales reps are often used to wearing many hats to put their right foot forward. So, the handy system would be CRM (Customer Relationship Management) which can elevate your small business to a higher level. Leveraging the best CRM for small businesses completes all essential needs. Without beating around the bush, let's cut to the chase and know about CRM in detail.

"Small Business can Visualize Revenue funnel via CRM software"

What's the Right Time to choose software CRM for Small Businesses?
In case, you have mediocre level software according to your budget and now you are facing arduous tasks and not able to handle them. You are probable facing-

Losing the right Track of your important clients and leads and can't follow up their emails.
No ONE place for every Customer data. Copious amount of data of your customer in various systems.
Can't go to other places because of all the information inside your head.
Not a single update of information about your customer who purchased something from your company.
You have dozens of clients and the Spreadsheet platform is too complex for your Business team.
No Data record is creating big confusion between your employees and clients.
Still want to keep your complicated software after facing such issues? Businesses, especially small scale are radically changing so why not your's? You want to win indefinitely, not just for a month. Wherefore, putting your investment in the greatest CRM software can work wonders and can bring awesome solutions to every task.

Expert says: "In general, Small companies are latecomers to CRM, so they have the advantage of avoiding the early adopters' mistakes"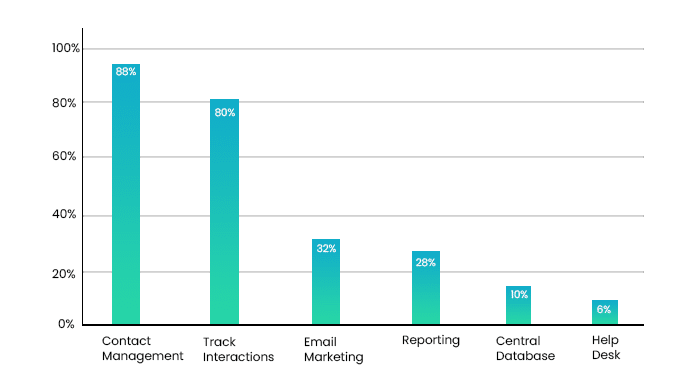 Steps to follow for Searching the best CRM software
We want software that can save a heap of time in various activities. It should help us to keep abreast of how to meet customer expectations. The CRM system for small businesses is a one-stop-shop.
 But if you are a startup operator then Open source CRM is the best choice for you. This is because, The open source CRM software application is approximately free of cost or you've to pay a very less amount for this one then a normal CRM. Check out the steps you need to follow before going to buy-

Research on your Business situation/needs
Not getting expected results from software is the reason why people want to transfer their Business activity into a next-level tool. Your first step should be identifying every key problem you are facing and what your needs are. Getting aware of your Business's current situation enables you to know whether it's good to drive your company on CRM or not. In addition, curating a list of your needs helps you to choose the paramount software easily.
In-depth information about CRM software
Why should I put my investment here? Does it give me ultimate advantages? Is it worth striving for a CRM for my Small scale business? These are the basic questions but most important. Not everyone is running the prodigal business. This is why we want our readers to know all about "What is CRM" and how it is advantageous for their business growth and development. Check that the software should not be overwhelming for your Business team.

A Closer Look at CRM functionalities
Every business needs an efficacious CRM system to control everything but that doesn't mean all systems should provide similar functions. All CRM software offers different functionalities. It totally depends on your business. If you are the one who will give this software guidance to the head of your team then make sure to check features properly. Getting aware of CRM features before purchasing is a good decision.

"Those extra dollars saved are not worth when not familiar about CRM features"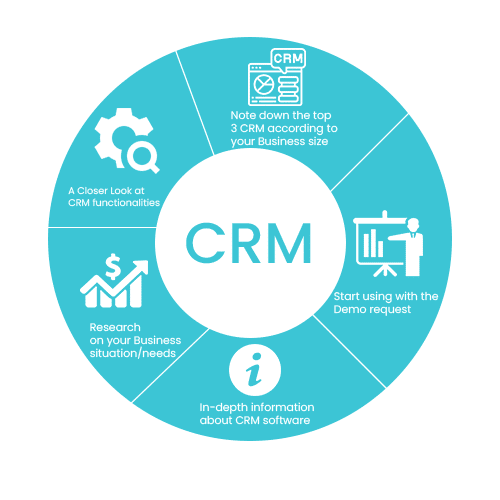 Note down the top 3 CRM according to your Business size
The Internet can unpack numerous CRM software. Don't even go with the idea of understanding all systems of CRM together. Figure out a few and select the top three according to your small-scale business. Remember: you choose with clear information about their functionalities. Also, prioritize the features of CRM with your business needs (mentioned in the first step). Starting your business with the right guidelines will never create complicated methods in the present and future.

Start using with the Demo request
No one will be forced to use a CRM for a lifetime. Or if you believe the software that you are going to adapt should be for a lifetime then first, go for Demo service. Going for the demo request aids to know each functionality and you will never regret your decision of purchasing the CRM. Additionally, move your department further for the demo service. They are the ones to handle crucial activities of your company in this software. The team must keep their eyeballs on Sales/marketing tasks, Customer service, and more. Choose wisely!
What to Integrate with CRM software?
Large-scale sectors Integrated their CRMs with various platforms. This saves a hefty income. It is better if small industries today will go with this idea. Because it not only saves your investment but also gives you a better opportunity for Lead nurturing. The best CRM for small businesses should be sync with-

The best way to achieve the goal of lead nurturing is by syncing your versatile CRM with Email Marketing. Email Automation is always advanced and halts the mundane tasks of every employee. It always keeps your business exceptional by helping you to make HTML emails to flash your brand and message. Moreover, there are many precise CRM tools that can share the email marketing analytics to know your performance. All you need to do is go with the blockbuster CRM for small business handling.

A new startup should always remember that Customers are the lifeblood of your Business. Not integrating the CRM with the Customer service option means you are doing your business a disservice. Everyone today needs 24/7 assistance no matter whether you are a startup or running a large-scale business in the market. For the communication handling with no hurdle, Integration is the key. Customers will always feel like the team is available to hear their queries.

Bonus: Integration with Mailchimp software
An Email Campaign task will always be hassle-free when choosing the Mailchimp software in your business. We recommend you sync it with the CRM you choose. Easy to send the newsletter, help to share product retargeting emails, generate custom reports, and much more. Use it and choose the affordable Mailchimp Pricing plan for your organization.

CRM will stop killing Work Productivity. How?
A real-pain is doing a number of manual tasks one by one. Yes, it kills your Business productivity. You are in a situation of avoiding other priority work by spending tons of time on one activity only.

So, using the best CRM enables you to make the Workflow of your business team easier. As a head, make workflows for your team and they will stick on that all the time. No confusion, No error, nothing! If you want to share the customer support service, or looking for automated follow-ups, CRM software is an all-in-one solution to hike up the efficiency. Must endeavour for our SuiteCRM Workflow service to get the accurate solution.
CRM can Improve your Small business Marketing
How can I improve my marketing goals when I don't know what the customers are looking for? You are looking to serve your customer but how it would be beneficial to you if you don't know exactly what they need. No such need for guesswork here and no requirement to call them one by one manually. Then what to do?

The software CRM is a door to your Small scale industry. It gives you valuable insights into what customers want from businesses today. Automatically gathering such pieces of details enables you to build such products and help to change your decisions (if required). Few clicks and all vital information in your hand. Credit to this software to identify their behavior, tracking essential trends, etc.

Get more Sales and Revenue for your Business growth
Startups are always in a hurry to get all the key benefits for their business growth and development. But somehow it is not possible to get the fruitful investment rapidly. One of the reasons would be not having handy software for their small industry. Avail of the power of CRM tools to improve your Sales and Revenue goals.

Users can grab more leads from the website and they can track them through their smart sales process strategies. Plus you can nurture the buyers from your Sales pipeline with the help of an effective Email Campaign. Put a bit more effort until that person is ready to buy from your business.

The best CRM for small businesses allows them to gauge sales reps' performance. CRM will let you know whether the reps are struggling or reach the target easily. Make business decisions according to that.

5 Best CRM software for Small Businesses today
There are a couple of softwares available for your small-scale industry. With the updated functionalities, find out which is a robust software for your company goals.

Zoho CRM
Harness the power of well-known software in the CRM Industry called Zoho CRM. You can recommend this tool to any sales business as it allows you to conduct Sales meetings and presentations from anywhere. And also, you can integrate the mobile app to get the updated real-time report about your Business team or everything. Note down the greatest functionality of this CRM system for small businesses: Email templates, Standard reporting, Workflow management, and more. It will provide Marketing Automation tools.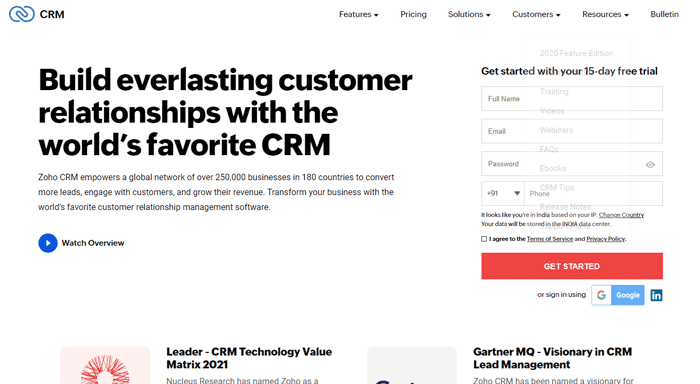 Insightly
If I talk about the best software for the purpose of improving Business productivity then I would suggest you to put your investment in Insightly. An award-winning CRM system to track every important activity, outstanding for assigning tasks, etc. Best of all, integrate this software with platforms like Dropbox, Office 365, etc. Insightly is a superior tool to map Customer relationships with the functionality of linking. Use it in your small business to get the advantage of Email Marketing options and Customizable Reports.

Salesforce
#1 CRM leading platform to grow your Small scale sector. The name is Salesforce CRM which is always the first priority of most businesses when making a decision of buying any CRM software. What's the most compelling functionality of Salesforce? Users can track the assignments based on the territory and can manage the communication with their customers. So, this beginner-friendly system will provide features such as customer management tools, Integration with DocuSign connector, automatic email syncing, etc.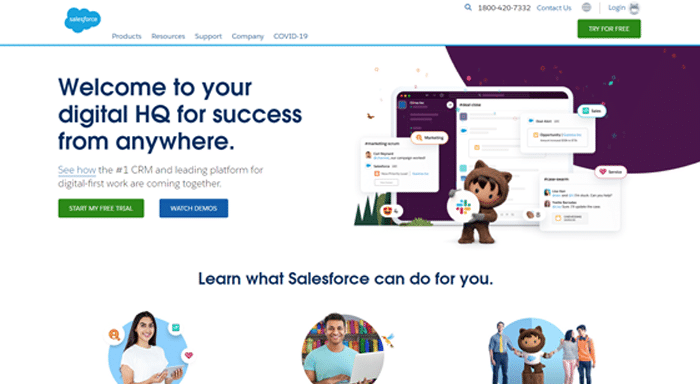 HubSpot
A solid features system to take your industry to a greater height. Introducing HubSpot CRM software which is awesome for your Marketing team. It will uncover the stellar options to improve your marketing skills. Users will get the functionalities like Ad management, Productivity tools, Pipeline management, and Live chat. Well, there are plenty more to entice you all to go for this software first. Which platform can you Integrate with HubSpot? It's time to improve efficiency while syncing it with Office 365, Zapier, and Google Workplace.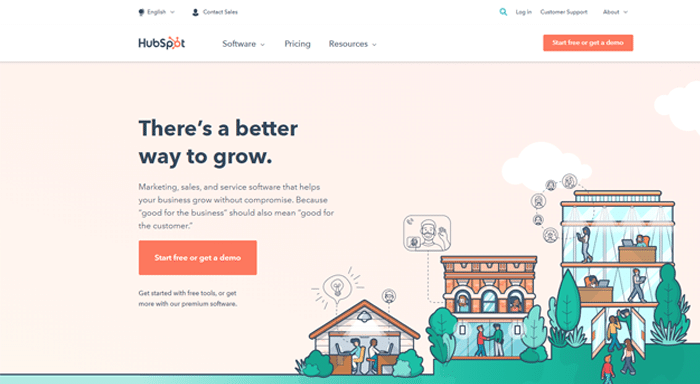 Pipedrive CRM
Another Small Business CRM system that is user-friendly and Sales oriented and that is Pipedrive CRM. If your Sales agent is done with the primitive tools then the better choice would be Pipedrive because of its unprecedented functions. The software has a customizable Dashboard for your sales agent. It will help them see a complete insight into current tasks and also a recap of current pipeline activity. Every plan is affordable, but you can also endeavour for a Free trial to see every functionality by yourself.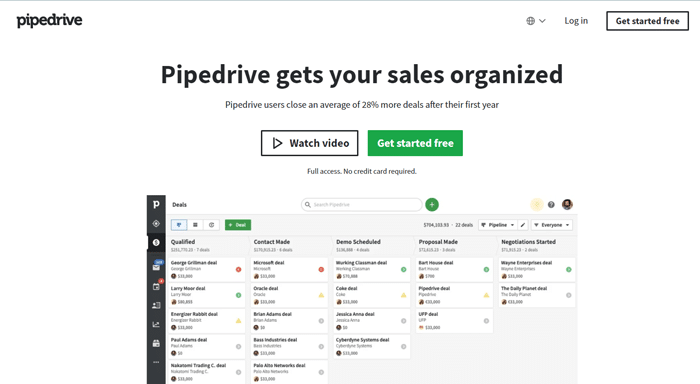 Final Note: Not only can large scale distinguish the prospects at every stage swiftly. Small businesses can also do this process to improve their performance by using Small business CRM software. The only need is a powerful, slick, and affordable CRM tool. CRM for small businesses is a gift to revamp their activities and make it more compelling to get the customers they are looking for. Use it today to get your demands done.