Are you pondering the same question- which CRM solution is fit for the organization to maintain the growth and development? Selecting the solution of Customer Relationship Management (CRM) that which one can fit for the business can be critical because you have numerous choices so it can make the situation bewildering for you. You all have great ideas regarding CRM features and it's software that shows how superior all are but we have a suggestion for you to go for that software that is strong in the current time and gives humongous benefits in the future too. For this goal, we want to highlight CRM software called Salesforce. You can raise many questions like why Salesforce or why to use Salesforce for business growth. The blog is going to be very informative so read out the whole content till the end.
What is Salesforce?
Before knowing about why Salesforce you all need to choose, first it's important to pay attention to what it is. This is one of the stellar Customer Relationship Management software that enables the clients and customers to share words and get connected easily. It enables every client to win the heart of every customer by letting them know about their customer issues and their big queries. Such a great platform it is that can share the seamless experience to you. This is the reason we said why it should be in your top priority.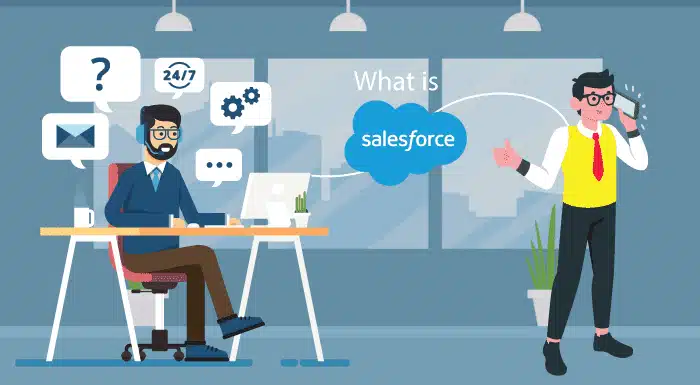 Why use Salesforce CRM?
Not only sharing the definition is enough for you to understand as if you have the question like why to use this CRM then let us explain- The software of CRM called Salesforce is easy to use as the platform is ready to help you by allowing multiple logins. Noe anyone can view the data of your customers and can edit it if required to do.
You have seen that you can't access some of the software from anywhere but not this type of criteria you have to follow for Salesforce. Use it from anywhere and at any time. Most of the users like to get the customization service from the software and surely you will get if you adapt this system in your CRM business today.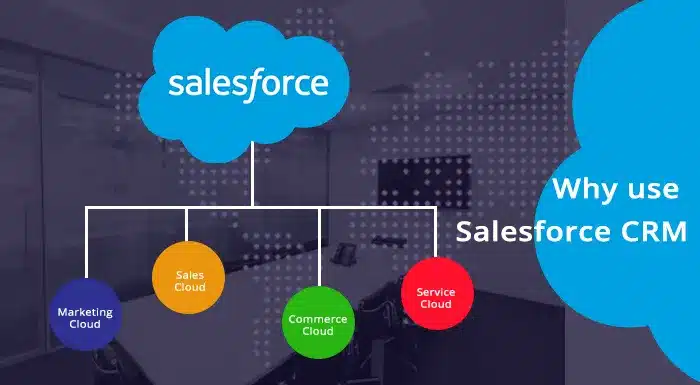 Do you want some special cloud solution for your business? This software is the one that can assist you here by sharing Marketing, Sales, Cloud, etc. Hope now you all understood why to use Salesforce. This dominant software can always share a feasible solution for your venture.
Reasons behind adapting Salesforce for better growth
Before selecting any software, you all must keep some information about that software so that it will help you decide whether to choose it or not. Read out the below points-
Easy to Improve & Updating data
Whenever someone talks about data we always suggest them to strive for CRM software where no such chance of data loss and security is always their priority. If you choose Salesforce in your business then it will assist you in your data matter.
Managing the customer's data is too simple for this software no matter whether you want to improve data, add data or share data, Salesforce can help you by sharing various options for that. For the data purpose, make use of SuiteCRM Database Backup and Restore extension for your organization.
Is it easy to improve customer service and support?
If the data is considered to be a top priority then offering stellar customer service and support is the next one that can help you to maintain a good relationship with your customers. But are you offering the best service that is the question?
Salesforce is one of the superior software that can not only improve the customer-business relationship but also give you a perfect signal to hike up the business efficiency or you can say the quality of customer intention will increase.
Parse more customers for business via Salesforce
If you still have a question "why Salesforce" then we would like to say that the software which can smoothen your relationship with customers, what else you wish.
This software of CRM enables you to offer informative details, reports, data of the customers that you are dealing with.
Also, it can help you to make new connections with the leads and turn them into your own customers forever. Furthermore, it helps you to facilitate the sales and marketing campaign from where you can catch-up new customers for your business.
Track your campaign swiftly to know the result
This is important to get the answer to your question about why to use Salesforce for your business work. You have created your campaign but have you ever thought about how to get the result easily?
Salesforce can help you here where it is quite easy to track your marketing campaign and to know whether the result is good or not for your organization. This is a great signal for your company to know from next time how much to invest or what campaign to build-up.
Big chance for boosting organization productivity
Salesforce is Cloud-based CRM and even integrates with various platforms or you can say with the mobile devices too. This will save your quality of time as you can use and operate your work sitting anywhere whether you go on a business trip or somewhere else.
You can say the mobility is ready to save you and your employee's time and of course, business productivity will upsurge.
Every type of business size is suitable for Salesforce
Many small businesses or mid-sized businesses always said that the software large companies operate for their work, they can't make use of it for their own work. We know that the readers who are paying attention here also have an issue of this but don't worry about the software like Salesforce. Why?
Salesforce is the one that is suitable for all types of business whether you are running a small business, medium-sized or large scale venture in the town. Make sure you have the employee's in your office that can work on that.
Enrich the cross-selling opportunity through Salesforce
If adapting the CRM software like Salesforce for your business then they can easily share customer demographics, their past experience or you can say other statistics of the customer.
And you can also check which customer has appreciated the most when you keep them aware of the products and service that you want to distribute. This is the big reason why use Salesforce CRM for business growth.
Big chance to earn customer loyalty and retention
While getting aware of the big advantages of Salesforce above, it is obvious that you will surely earn customer loyalty, customer satisfaction and retention. Salesforce is a better option for your business development.
Many of you have an objective to earn a good reputation in the CRM industry, so why don't you strive for the Salesforce that can take you towards this goal. Sharing the flawless experience Salesforce can do it.
Concluding Note
Customer Relationship Management is the one that is ruling in every big industry like Human Resource Management, Banking industry, etc as there are numerous software of CRM that is making a good image of CRM in every industry. One of the software we have mentioned today and that is "Salesforce". We researched and got to know that 91% of Salesforce user suggestion is to add this software in your list for business growth. We have uncovered the topics like Why Salesforce and Why to use Salesforce for your organization. Understand the whole 8 reasons that we jotted down above why this prominent software is so crucial to use.