Salesforce is one of the biggest marketing platforms that has something other's CRM platform doesn't. We know special and excellent strategies are there. But pricing can be different according to that. We have prepared some piece of content regarding Salesforce Pricing of this year.
Even though we did research and got to know that most of the clients always get confused about the Packages of Salesforce. Question is which one is suitable and can enrich their experience in the future? Let's understand the whole blog thoroughly so keep your eyeballs below now.
Why choose the Salesforce platform first?
The name of Salesforce is enough in the market as everyone knows how powerful this CRM software is. How? Okay, we have mentioned that it is the biggest software so if you want to know the reason then let us share that the platform has the power to manage your sales, marketing and even you can include customer services.
A plus point for the sales team who are reading this blog because you don't have to look for other CRM software when Salesforce is ready to assist you. Now if we go ahead and talk about the services of Salesforce then we are sure that most of you don't know.
Alright, there are four Salesforce services that you can go for. If you want to know the name of those services and also Salesforce Pricing 2023 so just read out the content till last because we also presented some basic information too.
Is it cheaper or expensive? Can we use Salesforce monthly?
Before we talk about the Salesforce services or Salesforce Pricing 2023 we want our clients to get aware of something that is much needed for you to understand before using the Salesforce platform.
Well, we know you know that everyone first wants to know the price because cost matters the most for everyone so if you are interested to use the biggest CRM platform Salesforce then let us share that it is not such an expensive platform for you.
In fact, it is not cheaper as you expected as the range starts from $25 per user to $300 per user. It's all process just depends on the plan that's it. In return you will get some best robust advanced feature package and also some support options are there to help you.
Most of the clients found month-to-month payment is a great option but if you want to apply the same in the case of Salesforce then, unfortunately, it can't happen. Monthly option is not available here as each plan is for annually so if you need a Salesforce Pricing plan then sign-in for full-year service.
What are Salesforce Pricing Plans?
Sales Cloud
Service Cloud
Marketing Cloud
Commerce Cloud
Even we are including here four Salesforce lightning packages which include in above services and their names are-
Salesforce Essentials
Lightning Professional
Lightning Enterprise
Lightning Unlimited
We think the name is not enough to describe the Salesforce Services which is highlighted with the word "Cloud" so keep your eyeballs below and understand it with Salesforce Pricing and some features about that.
Sales Cloud
Now let's get into dig to understand one of the Salesforce services called Sales Cloud. If you are a novice in this business and for you, Salesforce is new then you must go for Sales Cloud service first. We said this because research says it is one of the most basic software of Salesforce then, of course, it will not be so tricky and you don't get any hassle while working.
The Employees of your organization will definitely like this software as it can assist them to manage their entire accounts, leads, and contacts in a single interface. That's amazing! And also, it includes AI-Powered tools and customizable templates.
This is much-needed and the reason is you have a chance to save your investment and your entire focus will be on the matter that is prominent for you. Now finally we are going to share the Salesforce Pricing of the "Sales Cloud" service.
So, if you go for this service then
Sales Essential cost- $25 per user, per month
Lightning Professional cost- $75 per user, per month
Lightning Enterprise cost- $150 per user, per month
Lightning Unlimited cost- $300 per user, per month

Service Cloud
How many of you need a customer service platform in Salesforce? Yes, we know everybody is in search of so to reduce your efforts we are here to present one more service of Salesforce and that is Service Cloud.
Clients should read out about this service as here the platform can handle the customer's data because we all know that the data is considered to be the backbone of the organization.
You want to engage with your customers and make them feel valued and also you want to reach the device that can meet up your needs so get a chance now with the platform "Service Cloud".
Okay now if you are keen to know how much you have to pay for using this Salesforce service then read out the points given below.
Sales Essential cost- $25 per user, per month
Lightning Professional cost- $75 per user, per month
Lightning Enterprise cost- $150 per user, per month
Lightning Unlimited cost- $300 per user, per month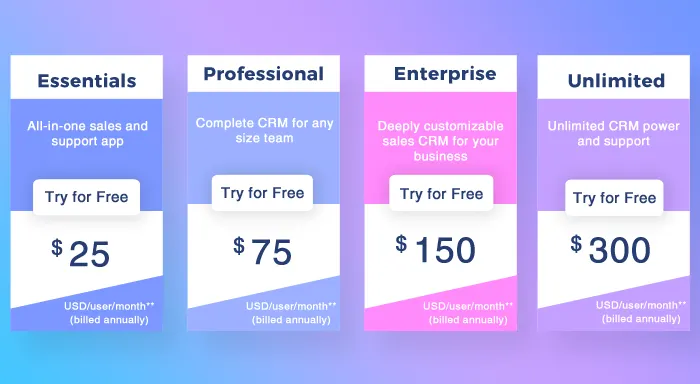 Marketing Cloud
Now business regarding marketing, make sure Marketing Cloud service you go for. Thanks to Salesforce to offer such a service that is a requirement of everyone these days.
So let us aware you of the Marketing Cloud service as here with the help of this platform, you can send marketing emails, chance to advertise it online and even you can send mobile alerts to whosever you want to. While using this service, we guarantee that your customer gets a good experience for sure.
Now, this is the essence of this paragraph because we are going to talk about the price of this service. Well, the CRM software Salesforce doesn't share any kind of information publicly about the price aspect of "Marketing Cloud".
One thing the platform has shared and that is Packages of Marketing Cloud service. You can meet up with the packages as they have shared for email or mobile marketing. Even there is a package for social media and one more package for online advertising.
Commerce Cloud
Focus more now on hitting the mark correctly of the target audience as now we are going to share one of the essential Salesforce services and the name is Commerce Cloud.
For your online buying and selling work, we want our clients to make use of Commerce Cloud service where you get the feature of one-touch payment, customer segmentation, some advanced marketing tools, social integration and many more which are ready to be as assistance.
Now a big question and that is about the cost of this Commerce Cloud service. So here let me aware you that its cost is customized based on gross merchandise value.
How many Packages Salesforce have? What are their Pricing?
The four services of Salesforce that you need to remember, we have mentioned above and to solve your problem regarding which one is correct we have shared some functions of these services. Now we have decided to highlight the Salesforce packages in brief. Let's dig deeper into the concept now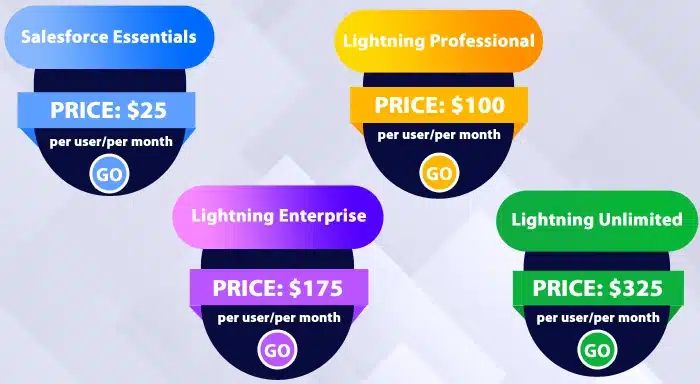 Salesforce Essentials
Let's start with the first package of Salesforce and the name is Salesforce Essentials which comes with two modules only and those were CRM and Customer Support. Now if you have decided to work on both and want access on both, you have to pay twice.
If you are keen to know how this package of Salesforce is going to assist you then allow us to share some features as the package is considered to be the perfect choice for managing account management and also case management.
Now the attractive feature while working on Salesforce Essential is it can customize the report and standard dashboard too and also how amazing that can be when the package can lead management and contact management.
Price per user/per month is- $25
Salesforce Lightning Professional
Now pay attention to those who are running mid-size organizations, you need to wake up and go for the package called Salesforce Lightning Professional because, at low cost, it offers you many such advanced features that are a basic requirement for you.
Thinking about how many users can go for this package? Well, there is no user limit first of all and it offers a way of Customization and also Integration. When you start working on this package, you can watch out numerous permission sets, control profiles and even the record types are there to give you the best guidance.
Price per user/per month is- $100
Salesforce Lightning Enterprise
Okay, so how many of you are here working on large scale organization? We guess many so this package called Salesforce Lightning Enterprise is for you all because the price is high in comparison with the above packages. Well, price high doesn't mean that you need to avoid it.
First, you need to understand it's features and some advanced functions that it offers so after that you can judge this package.
Working on Lightning Enterprise, you may set a good grip on increasing the business growth and flexibility as here the sales and marketing team find fabulous options for their work. And now the interesting part we are going to share with you- there are 100 validation rules for sure, more than 200 custom objects and even though it has the capability of 25 Lightning apps. Now the time is to present the cost of this package-
Price per month/per user is- $175
Salesforce Lightning Unlimited
One more package and once again this if for the large business organization and this we said because the cost is highest in comparison with all the above packages of Salesforce that we mentioned.
The price we will discuss later on but first, we want to share that cost is high just because it offers some great features and better one compared with other packages. How? Let us share as the package of Salesforce offers their users 500 validation rules and 2000 Custom objects.
Furthermore, it has 800 custom fields per object and yes, unlimited Lightning apps. We said the price is high but at least look at the features and that is the reason it is one of the best and expensive packages for you. You are getting 2000 custom objects, absolutely amazing.
Price per month/per user is- $325
Top four CRM platforms, check out which one is better
We have shared a table below and mention the top four CRM Softwares and those were Salesforce, Sugar, Zoho and last Hubspot. Check out the comparison and understand which one is better-
| | | | | |
| --- | --- | --- | --- | --- |
| | Salesforce | Zoho | Hubspot | SugarCRM |
| | | | | |
| Free Plan | No, it doesn't offer | Yes, it offers | Yes, it offers | No it doesn't |
| Plus point | Work here with ease and useful for every organization | Excellent features and have ability to robust business platform | Fabulous UX and can capture leads | Support automation and also third-party integrations |
| Price | Starting from $25 per month | Starting from $12 per month | Starting from $50 per month | Starting from $65 per month |
| Trial Period | For 30 days only | For 15 days only | For 30 days only | No free trial period here |
Do you want to use Salesforce software for free of cost?
If someone has written "Free of cost" most of the users go there to operate so now if you want this free cost in the Salesforce platform too then, unfortunately, it is not so. Salesforce doesn't offer any free plan for their users but yes, one thing we want to share is that the platform offers 30 days free trial to their users.
In those 30 days, you can set your mind that using the Salesforce platform is good for your organization or not because choosing the platform is hard to guess so patience is required. Also, try to understand all such features and great options that Salesforce offers to you and we are sure that you will like it.
To sum up:
We have shared one of the most fascinating software of CRM in the market that is Salesforce. It is important to work on such software that can reinforce your business in every aspect. Most of the clients have raised their questions regarding Salesforce about free cost process, annually or monthly basis issue, so we have shared in brief about it. And the most prominent aspect of Salesforce Pricing, we have shared and informed you about all four Salesforce services. Well, to be honest, all services of Salesforce are outstanding and can enlighten your business activities. Features are different but the choice is yours which one do you want to use. To solve this problem we have shared too many functions so we don't think so now you have any problem regarding the versatile platform "Salesforce Pricing". Not to get confused again and again just go with the flow of one of the biggest software of CRM in the market.
For more information visit Salesforce Pricing & Essentials.