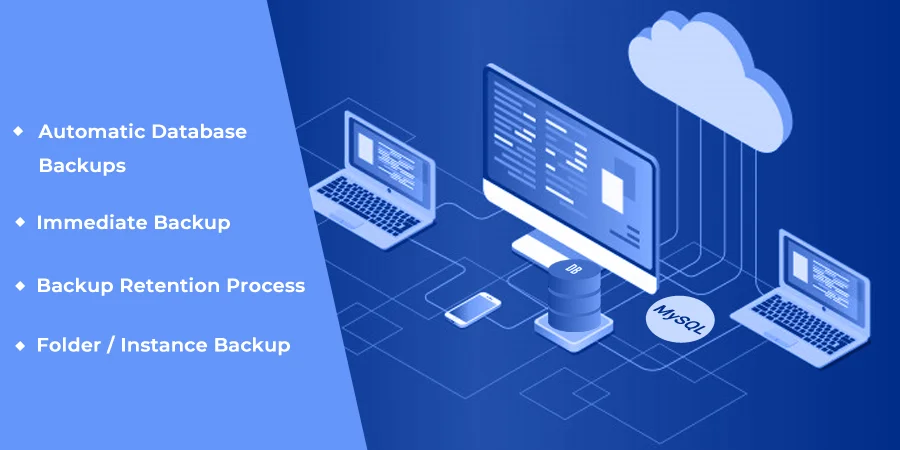 Automation of Backup and Restore of MySQL Databases Using SuiteCRM.
You can save customers data with proper security by using our Backup and Restore extension for your business activities. Data is considered to be the top priority for customer's so it's important to keep everything in a secure way. Our plugin can assist you hereby offering you some exceptional features and keep this plugin worth using.
Here is an example- you are working in a well-known venture so to keep your customer's data in a safe zone, you must go for our plugin where chances are almost zero for data loss and it simply recovers what you lose regarding your data matter.
Some key features of the database backup restore manager:
1. Automatic Database Backups
2. One-Click Data Restoration
Recovery has never been easier, data can be recovered from any secure location with a single click. You don't have to be technically trained to recover your lost data. You no longer need to upload or download.
3. Backup Retention Process
4. Folder / Instance Backup
5. Immediate Backup
6. Backup according to User's TimeZone
7. Restoration on Remote Server Location
Some additional benefits :
Backup files are compressed.

You also get a list view, download link, and one-click restoration link.

Notification at the time of database backup.

Detailed information of the database backup such as created on, name,  and size.

Set data backup timing up to three times a day.

SuiteCRM Backup helps you to select your retention period.
Conclusion
Data is considered to be the backbone of every organization and if you lose customer's data then you know what the result is. So, we are here to assist you just get in touch with our SuiteCRM Backup plugin folks that is Database backup restore manager which solves your data problem by saving your data in their own way. You can find many plugins in the market but choosing the correct one is essential so we are sure that reading the functions above you get to know how powerful a plugin we are going to offer.