About Product
---
Global Hide Manager for SuiteCRM Interface!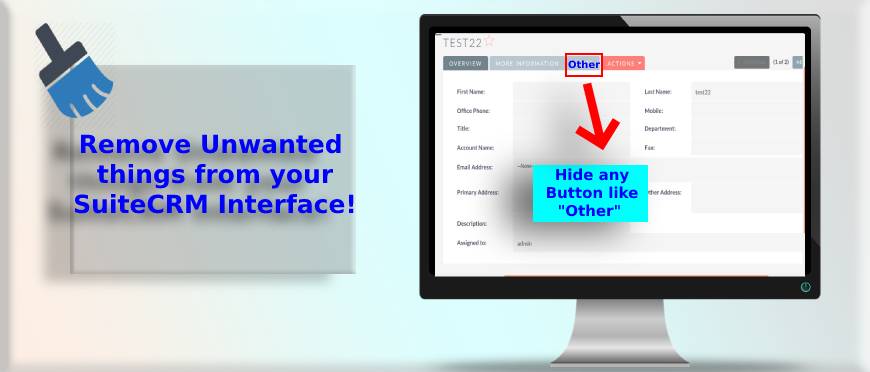 Default SuiteCRM comes with certain limitations and restrictions that can affect the user's ability to perform certain tasks. However, Outright Systems Global Hide Manager add on to give users the freedom to customize their SuiteCRM according to their preferences.
Here are some of the key features of Global Hide Manager:
Users can now hide fonts, fields, and sections of their SuiteCRM
Users can also hide whichever section they want to hide on their SuiteCRM
Company data is confidential and theft of crucial data can have detrimental effects on the growth of any company. So it becomes absolutely mandatory to protect company data from any third party.
This addon can give users the ability to hide any item from any section of their SuiteCRM. Users can also place certain restrictions on the field or section of their SuiteCRM. With the help of this tool, users can hide any item such as buttons, icons, symbols and much more. Global Hide Manager will help you in the safekeeping of your company data, you can easily hide any customer-related information on the SuiteCRM such as customer name, address or contact information. By doing so you can easily ensure the safety of your company data.
The recent introduction of GDPR also holds companies accountable that handle the data of European residents and any mishandling of their data can lead to serious consequences. Global Hide Manager can also help your company to comply with the GDPR regulations and ensure the protection of their customer information and avoid any mishaps as far as your company data is concerned.
Videos
---
Reviews
---
All Add-Ons are life time purchases, there are no recurring/hidden charges
Do you need to build a new product which is not in our list yet? Custom Plugin