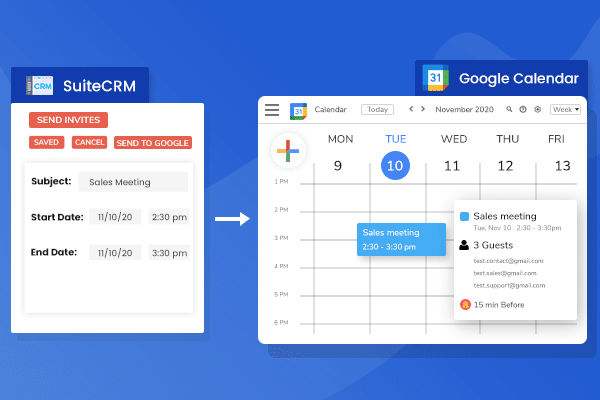 Google Calendar Integration with SuiteCRM
Sync events and meetings in real-time across both platforms.

Users can assign a dedicated Google Calendar to a person for scheduling meetings.

Time zone of meetings will automatically adjust based on attendee's location.
Supported All SuiteCRM Versions
Unlimited License for Single Domain & its Sub-domains

Lifetime Support

Unlimited User
Screenshots
---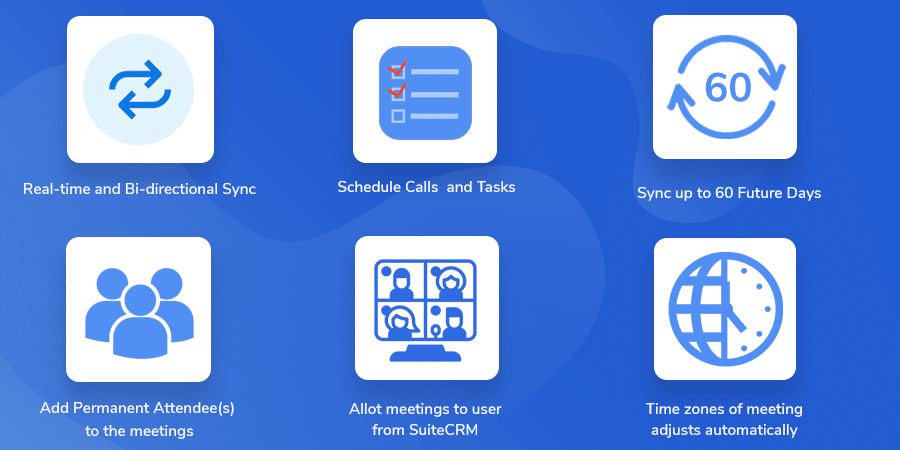 Meetings are an essential part of every business as they are hubs where new ideas are constructed, progress discussed, and problems are solved. Therefore, no one should jeopardize these meetings just because of an unorganized & decentralized system. Nowadays, most businesses use Google Calendar for managing their meetings and keeping track of upcoming events on the calendar. So the best way to centralize meetings is to integrate SuiteCRM with Google Calendar. After this, no team or person will ever miss their appointments and meetings because all of your upcoming meetings will be synchronized across two platforms.
Real-life Scenario: Usually, a manager had to engage in many meetings and it was noticed that the time of meetings overlapped due to an unorganized system. People of different departments scheduled meetings at the same time, because they are not aware of ongoing meetings. This plugin will eliminate all the confusion by syncing all meetings on Google Calendar as well as SuiteCRM in real-time. Managers can easily assign individual calendars to team members and they will always know which time slot is available.
Features of SuiteCRM Google Calendar Integration "Lite" Version
Real-time and bi-directional sync:

The plugin is capable of synchronizing the meetings and appointments of both platforms in real-time. In this way, information will be centralized and easily accessible from any single platform.
One person can sync Google calendar:

In the lite version, a person can sync all of his/her Google Calendars and assign each calendar to the appropriate user for scheduling meetings, tasks, and calls.
Schedule calls and Tasks:

In addition to the meetings, the user will also be able to create tasks and calls in SuiteCRM as well as Google Calendar. Just like meetings, they will be synced instantly into the appropriate module and all changes will reflect in real-time.
Time zones of meetings will adjust automatically:

Another best thing is every attendee will see meetings in their own time zone, no matter where and in which time zone you schedule the meeting. So don't worry if you have meeting guests all around the world in different time zones.
Add attendees/guests to meetings directly from SuiteCRM: Using this plugin, you will be able to add attendees from the Leads, Contacts, and the Users module directly from the SuiteCRM. The assigned meeting will be automatically attached to the history of that particular record.
Sync up to 60 Future days:

  In the first sync, the user is allowed to synchronize the upcoming 60 days. This will sync all future meetings on both platforms.
Get notifications of Updates/removal of meeting details:

  Whenever the user will make any changes to the meeting then all the attendees will be notified through an updated invitation email. The updates made on Google Calendar will reflect on SuiteCRM in real-time and vice versa.
Add Permanent Attendee(s)/Guest(s) to the meetings:

The user is allowed to add one or more permanent attendees/guests to all the meetings. After adding attendees once, they will automatically include in all future meetings.
Frequently Asked Questions
Is it possible to set up multiple Google Calendar accounts through this plugin?
No, in the SuiteCRM Google Calendar Integration "Lite" version, only one Google Calendar account can be synced. If you want to sync multiple accounts then you need to upgrade to the "Premium" version.
Will I be able to add guests to the meetings through SuiteCRM?
You will be easily able to do that. Furthermore, the attendees that you will add to the meeting will automatically get the notification and their meeting date will be synced to Google Calendar in real-time.
What if customers in my SuiteCRM are located in different cities with different time zones?
In this case, the attendees will get meeting notifications with adjusted times based on the time zone they are present. We have made sure that the user won't encounter any kind of inconvenience at all.
Video
---
Reviews
---
All Add-Ons are life time purchases, there are no recurring/hidden charges