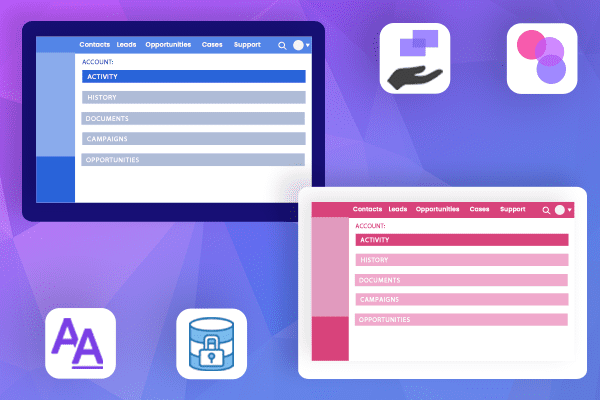 Brand Your SuiteCRM Skin In Your Colors / Fonts
Variety of Choice to use endless colors, fonts.

Select the font style from the font-family section.

Your data always remain intact.
Supported to All SuiteCRM Versions
Unlimited License for Single Domain & its Sub-domains

Lifetime Support

Unlimited User
Screenshots
---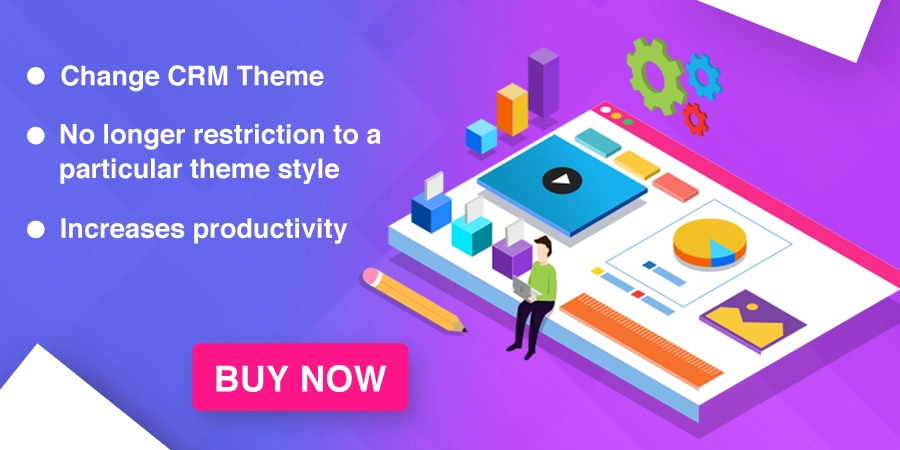 SuiteCRM Themes Customization
You can professionally change your CRM by yourself. We have an extension called SuiteCRM Theme Brand Builder where you get a chance to select themes and fonts according to your choice. There were numerous varieties of colors and fonts for your CRM. No such requirement of hiring any professional designer to complete this job. Using SuiteCRM Theme, not only improves the user functionality but also raises the business productivity.
For Example: You want to change your CRM Layout, so most of you look for some professional designer to complete this entire job. Well, going for SuiteCRM Theme addon, you can do it by yourself and make use of a variety of fonts and themes and there is no such chance of data loss when changing CRM layout.
Key features :
You can select an endless variety of fonts and themes by using the theme extension.
Using SuiteCRM Theme, you are not restricted to a particular theme.
Now an easy way to change the color of the list view, edit view, and detail view by going for SuiteCRM Theme.
Going for such changes improve functionality. A better chance to strengthen business productivity.
The theme you made for CRM Layout, users can apply for that.
When you upgrade the existing CRM then your data always remains intact.
You can modify links, buttons, etc in your SuiteCRM.
Users will now get different fonts for Header and Body.
Concluding Note: We have refined your daily task on CRM as using our addon SuiteCRM Theme, you can choose humongous colors and fonts whatever you like as the process of changing CRM layout you can perform by yourself. Many of you want to make their CRM a fascinating or creative one, so we are sure that this extension can assist you and reinforce your business productivity for the future.
Frequently Asked Questions
Advantages of using SuiteCRM Theme Brand Builder
If endeavour for a plugin like SuiteCRM Theme Style Builder then you have a chance to change the layout and design of your CRM to make it more fascinating. Entire data of the customer remain intact here.
Choose a variety of Endless Colors & Font.
When you are using this Theme Style Builder extension for your CRM then you can meet up with numerous colours and fonts that you like. Choose whichever you want to select for your CRM layout.
No data Loss during changing themes
If you are fret about your data when using the extension like Theme Style Builder for your CRM then let us tell you that your data will remain safe. This plugin always keeps the entire data intact.
Make your SugarCRM Interface with more interactive
When you have this addon for your CRM then you can parse a chance to choose a humongous variety of colours and themes for your CRM layout. It is the best way to make CRM more interactive and special.
Important features of using SuiteCRM Theme Brand Builder
The best features of the plugin Theme Style Builder is you are not restricted on a particular theme, choose different-different fonts and colours, hike up your business productivity quickly, you can bring change in list view and edit view as well.
Is it free or do you have to pay for this plugin?
If selecting Theme Style Builder as a priority then you have to pay $200. The plugin is cost-effective and highlights advanced features.
How to change color in SuiteCRM?
If you have adapted the extension Theme Style Builder and want to change the colour of your SuiteCRM then contact us and we will share the best process and guidance to do so. The process is quite easy and perfect.
Video
---
Reviews
---
All Add-Ons are life time purchases, there are no recurring/hidden charges