With technology advancement, the ways companies approach their customers have changed drastically. They have moved on from traditional strategies like flyers or print ads to digital marketing and segmented advertising. Earlier, marketing and advertising were about telling customers what you have for them, but now the scenario is not the same. Here, we are talking about creating a long-lasting relationship with customers and making sure they remain loyal and engaged throughout their customer journey. If you want to do the same then (Customer Relationship Management) CRM for marketing software should be your choice.

Let's Understand how a marketing CRM can help your organization. For this, you can look at the local shop owner or vendor. The shopkeeper knows almost everything about their customers from their names to daily requirements. Due to this reason, customers tend to purchase from the same local shop again and again over time.
CRM in marketing is capable of doing the same but on a much larger scale. An integrated CRM solution can assist you in anticipating the personalized needs of your customers by evaluating an individual's customer journey, behavior, buying pattern, market trends, etc. If you are intrigued by the extraordinary abilities of marketing CRM then read out this blog thoroughly.
CRM Marketing: Definition
Broadly saying, CRM marketing is the set of strategies and tactics, furthermore, it also involves applications and software that help in the successful execution of these strategies. To rationalize the term "CRM Marketing Tools", we can say that it is a piece of technology that assists marketers in managing relationships with customers. Down the road, the aim is to provide the best customer experience and keep them engaged throughout their customer cycle. There are some other integral components of CRM marketing like a CRM database, automation processes, etc.
Benefits of Marketing CRM Software
One mistake a lot of companies commit nowadays is they underestimate the customer. Marketers sometimes forget that customers are also boon by the technology and they also have stretched to many social channels. It's not that easy to simply point out in a direction and customers will follow it blindly.
They have become tech-savvy and will do their own research, even before spending a penny. One way to overcome this is to provide personalized service to each and every customer. Ask them what they are, instead of showing them what you have. This is one of many benefits that a CRM for marketing has to offer.

You will acknowledge the power of personalization from a statistic that says 91% of consumers are like purchase from that brand/company which provides relevant and personalized product recommendations. One word is more than enough for the modern marketing strategies i.e. RELEVANCE and a CRM system is the quarterback for marketers in this game. Apart from this, there are a few other benefits as well that we have mentioned below.

Niche Marketing: This is an important point if you are running a company that deals in an over-saturated market like electronics, travel agencies, etc. In this case, sometimes it became impossible to stand out from your competitors and peers. Niche marketing will allow you to focus on one group at a time. The groups can be categorized based on different demographics like profession, lifestyle, culture, occasion, age, gender, needs, etc.
An optimum CRM system with a full-fetched database includes all this vital information and thus helps in implementing a better niche marketing strategy. This data-driven action can lead your business to success without compromising the customer experience.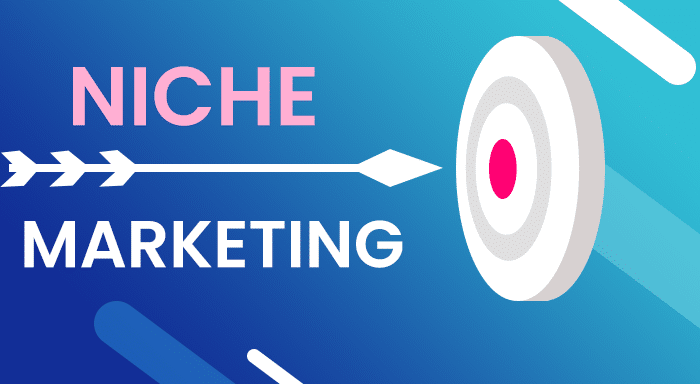 Market Segmentation: In businesses, those who adopt a proactive approach are always deemed to runaway success. This statement makes even more sense to marketers, who always need to foresee the upcoming marketing trends earlier than others. This job of "Predicting the Future" could be easier if marketers have resources that can provide segments other than basics like industry, age, and gender.
We have to understand that apart from these rudimentary segments there are others like social activity, likes, and dislikes, buying patterns, past purchases, etc. Again, CRM can provide all these resources and narrow down the scope to a great extent. In addition to this, if you have access to such micro-segments it will be easier for you to run effective email campaigns as well.

Connect with the audience through personalized content: One thing that you should not do is try to attract customers through generic content. The concept of mass marketing does not apply here in any way possible. In this crowded waters of content marketing where every day thousands of blogs have been posted, you need to know your audience.
You can't afford to start your email with "Dear Customer", this is the exact opposite of what we are trying to achieve here i.e. personalization. The CRM for marketing will provide you with information more than just their names. You will have the name of their company, occupation, interests, etc. You cannot approach a manager in the same way as you approach a salesperson. You need to provide a tailored experience in order to increase customer engagement.
Learn from mistakes and become better every time: In the end, marketing CRM also provides a holistic view of everything that you've done whether they're email campaigns, PPC campaigns, or social media marketing campaigns. In the analytics, you can see which activities have landed the best performance for you or which ones have gone South.
Later you can analyze each of them and make changes to those activities which are not performing while keeping those intact that are delivering great results. This will cut the cost down of operations that are in vain and improve the lead conversion rate at the same time.
Top CRMs for Marketing in 2021
Most of the marketing CRM solutions come with principle functionalities like data centralization, task assigning, unified communication platforms, etc. Some provide integration with departments other than marketing like sales and customer service and those are the optimum ones. Without further ado, let's have a look at our top picks.
If you are looking for a CRM system that is solely designed for marketing then Act is the one for you. This CRM can empower you with real-time customer insight and metrics. Its users recommended this software to those who want to convert high potential leads into definite sales. It can create a unified platform for both sales and marketing departments so that they can work collaboratively.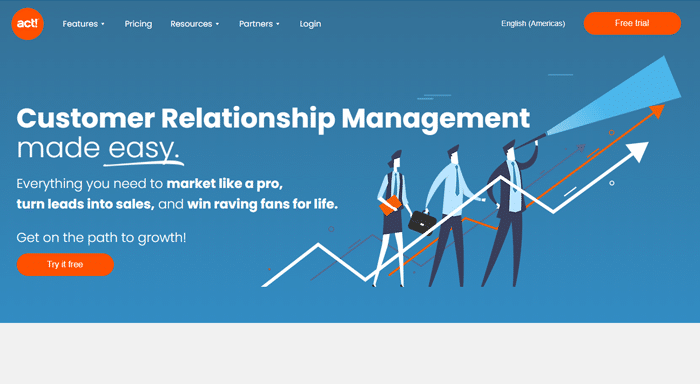 Pricing: There are three plans available for the Act! CRM i.e. Essential, Standard, and Expert.

Essential: This plan is priced at $15 per user per month. It includes features like Relationship & Task Management, Opportunity Management, Act! Companion Mobile App, Data Import Tool, etc.
Standard: This plan is priced at $30 per user per month. It includes all the features of the Essential plan and in addition, you'll get Office & Google Integration, Integration with Popular Apps, Team Management, 4Gb Cloud Storage, 10,000 Emails/mo, etc.
Expert: This plan is priced at $45 per user per month. It includes all the features of the Essential and Standard plan and in addition, you'll get Advanced Sales Pipeline Management, Custom Dashboards & Analytics, 6Gb Cloud Storage, 25,000 Emails/mo, Advanced Customization, etc.
Nutshell is a very reliable marketing and sales CRM that provides the user flexibility to work from the web as well as mobile applications. It will be easier to find data like customer conversation history, new lead information, etc. When it comes to nurturing leads, it can empower you with great insights from next-gen reporting and analytics tools. Seamless integration with other marketing automation platforms like Mailchimp allows you to run some most effective email marketing campaigns ever.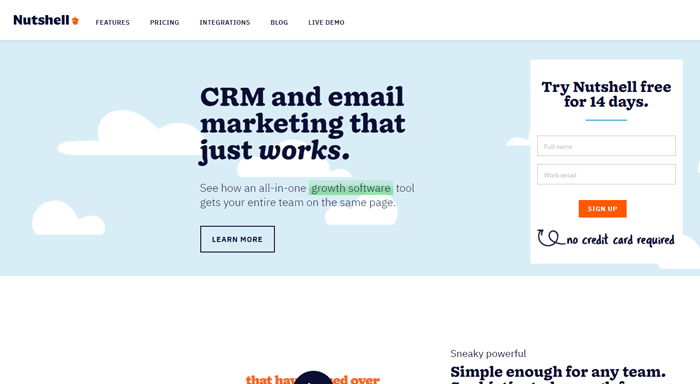 Pricing: There are two plans available for the Nutshell. The one is Starter and the other is Pro.

Starter: The price of this plan is $19 per user per month. It includes features like contact management, email, and calendar synchronization, customizable single sales pipeline, sales reporting, forecasting, etc.
Pro: The price of the Pro plan is $35 per user per month. In addition to all features of the Starter plan, in this, you'll get an unlimited number of pipelines, Activity and funnel reports, unlimited click-to-call and recording, Sales automation, personal email sequence, etc.
Based on the number of marketing contacts your company has the price range can be varied. For example, if you have up to 100 contacts then you will be charged $5 per month and if you have up to 60,000 contacts then you will be charged $800 per month.
If you are a little bit short on capital then Hubspot should be the option for you because it is entirely free of cost. And the good thing is that even after being complimentary it doesn't cut short on any key features. For those who strive for content and inbound marketing, Hubspot provides features like email automation, lead management, social media, reporting and analytics, landing pages, and a bunch of other functions as well.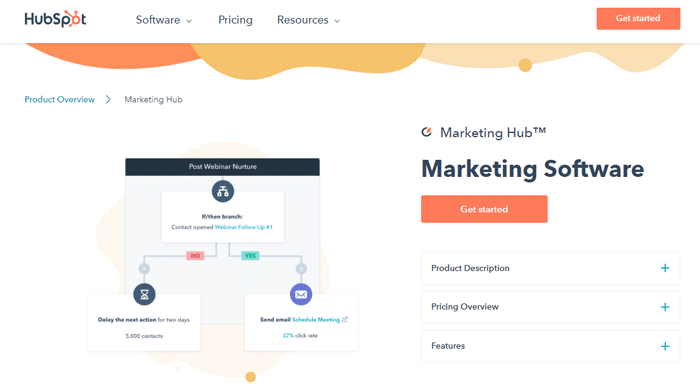 Pricing: In addition to their free plan, there are a total of four Hubspot Marketing software plans are available i.e. Free, Starter, Professional, and Enterprise. Let's see how much they will cost you.

Free: In the free version, you will have access to limited functionalities like 2000 emails per month, and that too with Hubspot branding. There are some advanced features like form follow-up email, reporting dashboard, mobile application, live chat, conversation bot, and all free CRM features.
Starter: It is priced at $45 per month. In this, you can start with up to 1,000 marketing contacts. Apart from features of Hubspot free CRM for Marketing, you will get up to 5 currencies support, all kinds of ads with a $1K spend limit, email health insight, 1,000 custom properties, 10 dashboards, and 10 reports, etc.
Professional: It is priced at $800 per month. This plan is a huge leap from both previous plans in terms of functions and capabilities. Here, you can start with up to 2,000 marketing contacts. The features you will get are Google Search Console integration, content strategy, SEO optimization, 1 root domain and an unlimited number of subdomains, custom reporting, deal and company scoring, A/B Testing, social media integration, and Salesforce integration, etc.
Enterprise: As the name suggests, this plan is developed for fulfilling the needs of big organizations and therefore has fancy pricing i.e. $3,200 per month. Hubspot Enterprise plan includes all the features of Starter as well as Professional plan. Updated features include up to 200 currencies support, YouTube Analytics Integration, adaptive testing, programmable chatbot, predictive lead scoring, event-based segmentation, custom objects, etc.
Conclusion
The best CRM for marketing is the one that can fulfill your business requirements. You will start seeing positive results such as customers will start liking products that you are recommending to them, prospects are leaning towards your brands, etc. The ultimate objective is to create a two-way communication platform for a company as well as its customers. Marketing CRM should be able to provide meaningful information so that you can make data-driven decisions based on that information. Personalization is also another aspect that should be considered while looking for CRM software. You can further enhance relationships by nurturing and engaging with the current customers, in the meantime, always lookout for new potential customers.