With the introduction of Twilio everywhere, the platform has made a great impact and upsurges the communication level with each customer. For communication purposes, every client's first priority on the list is only Twilio. Well, we already highlighted Twilio in our previous blog and even about the Twilio Flex regarding reinforcing communication levels for medium and large-scale organizations. Now we are going to share one more new introduction which Twilio has shared globally and it is related to Artificial Intelligence chatbots and that is Twilio Autopilot. The blog is going to be very informative but before going to explain other aspects, we are going to share first "What is Twilio Autopilot".
What is Twilio Autopilot?
Autopilot is considered to be the conversational Artificial Intelligence platform that is well-known for building up, training, and also even deploying artificially intelligent chatbots. There is a big opportunity to adopt this platform as it can train task-driven conversations which is basically to automate data collection flows and also intent-based routing. Its features are:
Its main focus is on deploying as conversation IVR on a phone number and the best part is it deploys chatbots on SMS, FB Messenger, and on WhatsApp too.
You have all heard about the Alexa Skill, so let us aware you here that Autopilot deploys chatbots on Alexa skill or Google assistant action.
One of the best features of Autopilot is it learns from a real conversation as it easily reforms your assistant learning from real conversations and also with real-time analytics.
With the assistance of Autopilot Twilio, its handoff to the human agents when there is a requirement in a programmable voice or if the requirement is in messaging channels.
How does Twilio Autopilot fulfill your needs
You all have understood the features of the Twilio platform and even about Twilio Flex and how it may strengthen your business objectives. It's time to understand how the advantages of Autopilot Twilio, that how it is best for your assistance.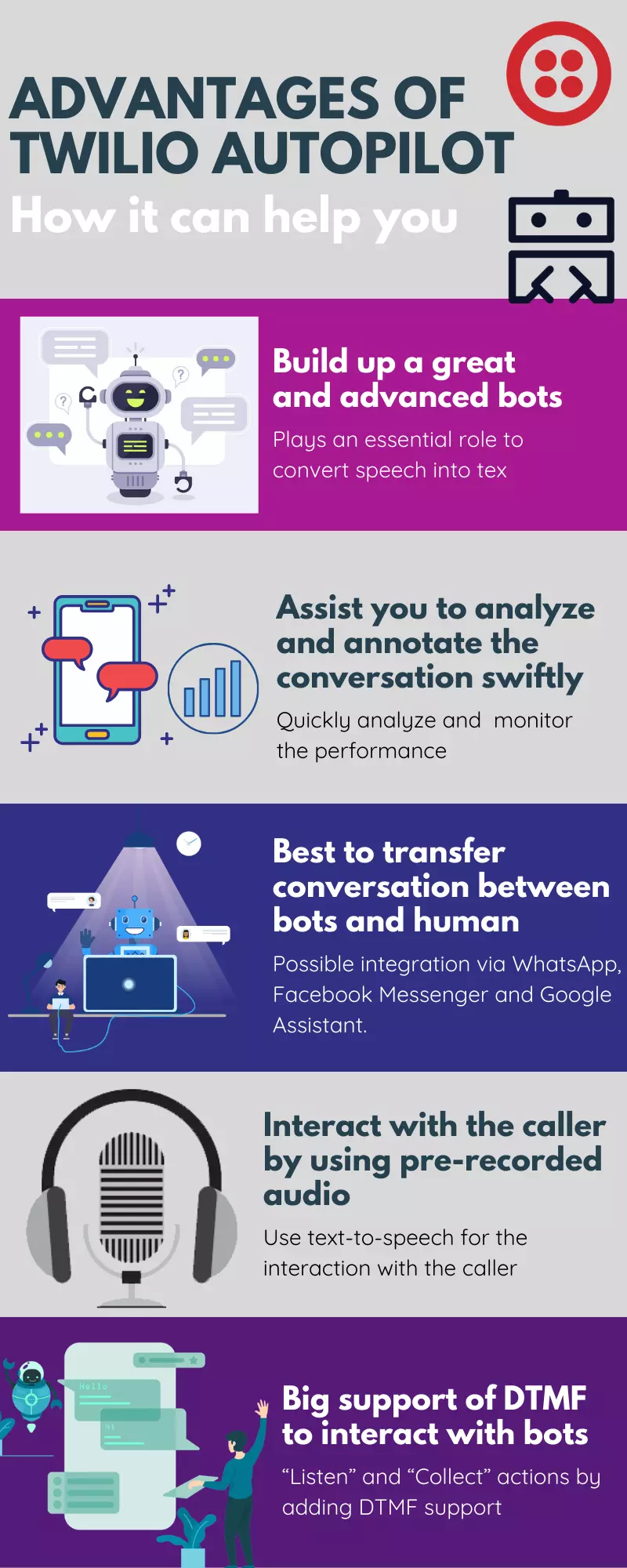 Build up great and advanced Bots
If you want to hone your goals to make smarter and great bots for your work then you can do this by using Autopilot Twilio. We believe that you shared your extra efforts for making bots but by going for Autopilot your efforts will be saved while using built-in capabilities.
It plays an essential role to convert speech into text and then just feeding it on Autopilot's NLU engine. Now if we talk about the data purposes then it safely stores the entire data collected from customers.
Assist you to analyze and annotate the conversation swiftly
Basically, Autopilot may assist all of you to annotate fields in real customer conversations as it is a part of the task that your bots need to get access to.
If there is a requirement from your side to analyze the performance of Autopilot then you quickly do that and monitor it too. You can get to know when the tasks were performed or when the entire data was collected.
Best to transfer conversations between Bots and Human
This is what you actually should believe as it's a prominent method to transfer conversation and it can happen as you can transfer from bot to human and there is zero percent chance to lose conversation text.
Information can be regarding customer's details or about customers provided but feel free it will remain safe. Now let us aware that you can add up your customer channel and also integration is possible via WhatsApp, Facebook Messenger, and Google Assistant.
Big support of DTMF to interact with Bots
Reading out about the advantages of Autopilot Twilio, add this too which can help you regarding caller options. If you build IVR with Autopilot, it's easy for you now to provide callers option just for using the DTMF for the interaction with the bot.
Do you want to know more about why it is useful for you? If there is a requirement of providing a long numerical sequence like you can save a Bank account number. For your help, make sure to go for "Listen" and "Collect" actions by adding DTMF support.
Interact with the caller by using pre-recorded audio
You have a chance to use pre-recorded audio with the assistance of Play action only as you can use text-to-speech for the interaction with the caller.
Before going for this, make sure you have the perfect IVR script and need to use pre-recorded voices. We heard many want the best method to interact with the caller so it's a great holistic method introduced by Twilio in Autopilot for you all.
Industries where Twilio Autopilot can rule easily
Using a most advanced platform then how can it not help in the industries? You all have read out about CRM Software one of the most trending industries as we shared too, where it can play an essential role in day-to-day business. Now it's time to understand Autopilot Twilio on which industries it is suitable for. Have a look
Retail and E-Commerce
First, we are going to share with you about Retail and E-Commerce as using this Autopilot in your work you can share more and more promotional offers for your organization. Big deal!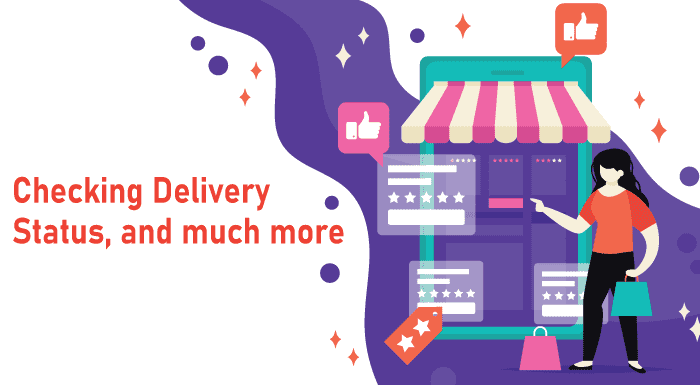 Wait, not only you but also your customers too which allows all of them to search the products more quickly and easily. Using this Autopilot, you can grab many such features like checking delivery status, work profile status, and much more so go for it.
Travel Industry
Now the second industry where this platform can play a big role and is the Travel Industry. You all have understood earlier about CRM software in the Travel Industry that how the software gives much better functionality.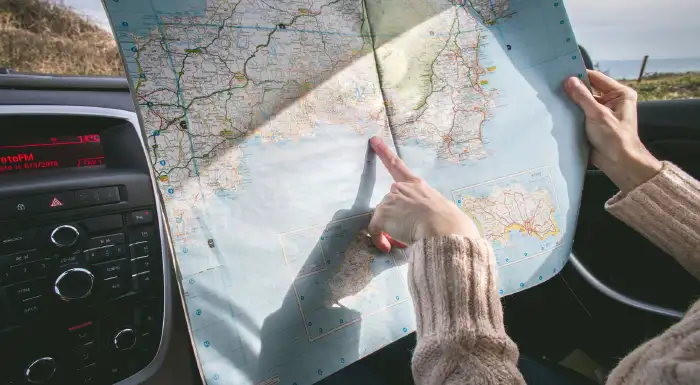 Let us clear your doubt about Autopilot Twilio that when you apply for it and make use of this industry then it is going to help you self-service offer changes or even you can send promotional offers for your industry growth. You can answer every question in FAQ too.
Real Estate
Hope every entrepreneur in Real Estate is reading this blog as we are going to share now about this industry and how Autopilot may strengthen their whole industry. Every real estate worker always thinks twice and thrice to choose software or even a platform to hone their goals.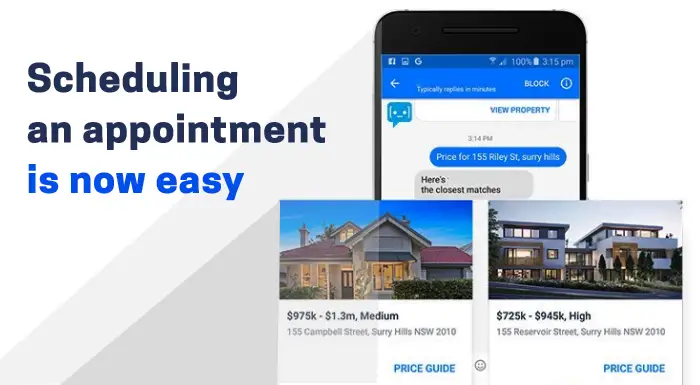 But let us tell you that Twilio Autopilot can really assist you in generating leads in your work and making a good connection with customers. You are able to answer every question about listings. Moreover, scheduling every appointment with the help of this platform is an easy job.
Hospitality Industry
Now the last but not least as we are going to introduce here to the Hospitality industry. We are sure that Autopilot can help you in a better way and can completely change the way of your business by giving better features.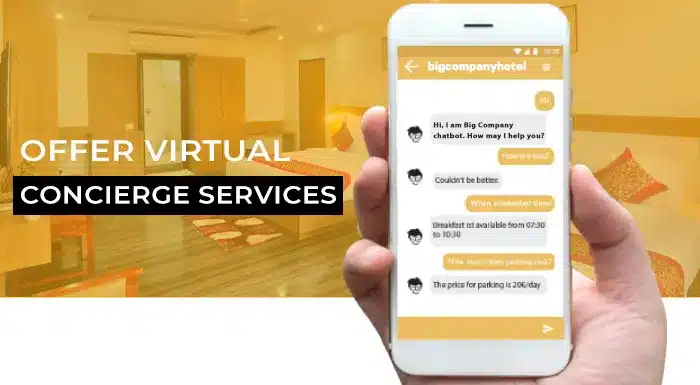 Going for Autopilot, you have a chance to present and offer virtual concierge services and yes, you can answer to every FAQ properly. How about conducting a survey? You can perfectly conduct a customer satisfaction survey if you want to.
Three Primary components of Autopilot
We shared what actual Autopilot is and its role in some of the greatest industries. Now you need to keep your eyeballs here and understand the core components of Autopilot. We have jotted down some points below-
The first component and most well-known in the Twilio industry is "Natural Language Understanding" which is a perfect choice for each and every developer for building up the custom model. It's a great idea for Artificial Intelligence as it will go to enable them to understand use cases or grammar.
Moving on to the next core component of Autopilot and the name is Conversational Application Platform which is well-known by its name called a Style sheet. The role of this component is to handle the dialogue and state management too. It is responsible for that and also the component that handles the errors is this CAP component. If you want to have full control of the bot's tone and language then it is possible.
The third and final core component is Omni-channel Hub which plays an essential role in translating JSON into protocol just for selected communication channels. Let me share the parts of these components and those were handoff action and data collection and instruction regarding communication.
Current Twilio Autopilot Pricing 2023
You can say that this is the crux of this blog as you are using something, so you must be aware of its latest pricing. Well, talking about Twilio Autopilot Pricing 2023 then let us tell you that the pricing is based on the channels of it. Allow us to share the names of the channel and Twilio Autopilot Pricing 2023.

Voice: $0.04 per minute
Messaging: $0.001 per message
Chat: $0.001 per message
Google Assistant/Alexa: $0.001 per utterance
Concluding Note
Thanks to Twilio for once again showing a greater format for all such users who want a platform like Autopilot which is the perfect choice to build up the chatbots for you. We are sure that reading out about the advantages of the Autopilot you get to know how dominant the platform it is for your work activities. But the platform is useless if the user doesn't know about its pricing. We find this accurate for you by sharing Twilio Autopilot Pricing 2023 so that you can choose the channel whichever you like or which one is most suitable. Sharing in brief about the Twilio Calls and SMS, it's time to shake hands with Autopilot now.