A new talk has been in the headlines about the communication channels that Email, Calling and Social media are a great one to make the communication better. But have you heard the word "SMS"? Short Message Service has always been above in comparison with other channels and yes, we will say that SMS is prevalent.
The reason you already know is because of its top-notch functions to get engaged with the clients or with anyone. Getting enormous opportunities, businesses today strive for Online SMS to get connected with everyone in the world rapidly.
Statistics of Short Message Service
Well, if you decided to plunge into the pool of getting aware of online SMS for business, this is essential for you to know about the real statistics of the SMS today. Like 99% of all the messages are read by the recipient, 90% of the text messages easily get readout within 3 minutes, approximately 61% of marketers still don't use the SMS marketing for their business and 6 billion text messages are sent daily.
Around 81% of the professionals use only text messaging for their business work, 2.27 trillion texts are sent every year, SPAM rates of SMS is just 3% compared to email channel which have 53% and the open rate of SMS is 98% compared to email channel which have 20% only.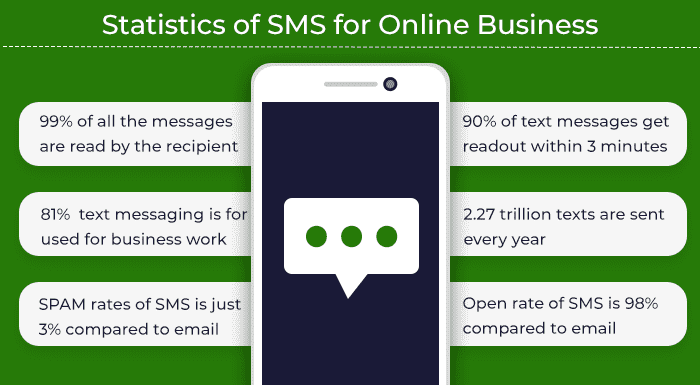 Above are real and some interesting statistics of Short message service platform. This is why big organizations or small venture's first priority is SMS to run their business everywhere in the world with astonishing speed.
A question here arises that if they choose the online SMS for business then what's more enormous benefits they will get? Are you curious to know about it? Hold your breath and read out the whole content till the end as we have a great extension too for your business purpose.
Ultimate benefits of SMS for business
Online SMS is just to get engaged with customers?
We shared above "online SMS for business" but it's not like you will be connected with your customers only. We believe that you must go for the internal communication too which can be very helpful for your business like you are working to set up the meeting, planning events of your business in the coming days, sending reminders or alert messages to the one who should join the meeting and you can do much more.
It is not just for the customers as online SMS for business can be helpful for getting engaged and informed in a quicker process. Around 71% of consumers feel like text messaging to communicate with businesses is effective, 29% of recipients click on the link in the SMS message they receive, and 90% of the leads like to get connected via texting not on calls.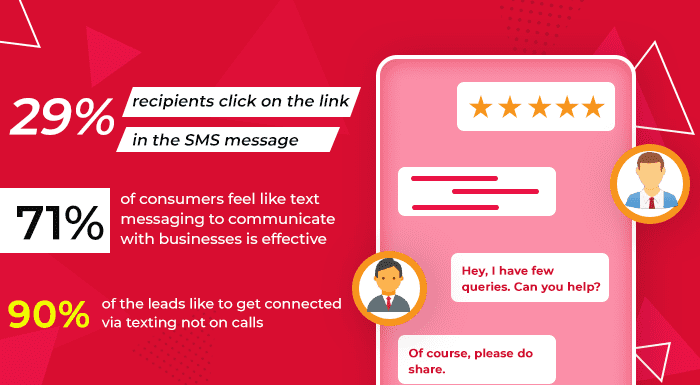 Is it helpful in executing the SMS Campaign?
This is a big question and most of the organizations want to know that if they endeavor for online SMS then will it help to execute the SMS campaign? The answer is "YES" as running the campaign to get more leads is utmost important and you choose numerous communication channels for that to get more leads to strengthen your business.
Now time to work in an advanced way. Therefore, your focus should be on running the SMS campaign which is quite easy to create, perfect to use, and helpful to execute for your business. You are free to run your SMS campaign as you will get the platform to expand more in the town. Many big industries like the Education sector also get connected with online SMS for business.
Do you want to work more significantly?
With the assistance of SMS for business, you have a great chance to work technically by getting bundles of features and top-notch functionalities. What about SMS API? We already inform you in our previous blog about the SMS API platform, so it is obvious that if you choose online SMS then get ready to start using the features of SMS API.
More such features you will get on online text messaging for business like connecting the service with your website or with a custom software application, Email-to-SMS can be done, Unicode SMS, etc. This is good to adapt the text messaging for business because 83% of marketer said that they promote email subscription via SMS, 55% of users strive for SMS for appointment reminder compared with email only 35% and 83% of millennial consumers said that they like text more than call.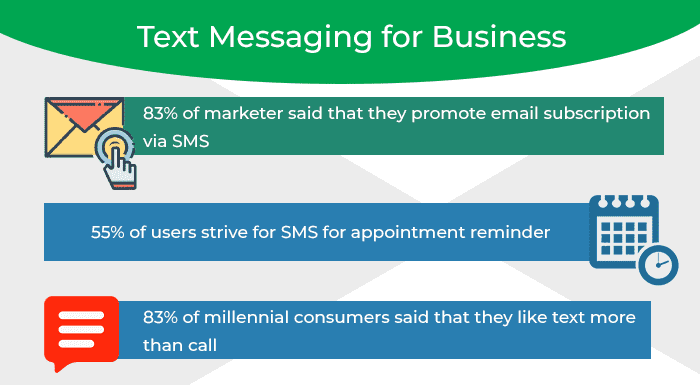 Adapt the online SMS to minus the hassle
Many large scale organization entrepreneurs travel abroad for their business once in a month, so they are surely facing a problem in getting connected with their customers. Are you one of those people who don't like calling communication channels when you are in abroad? We have the best feasible solution for you called an online text message.
Online SMS for business is totally worth it which easily reduces the hassle and can send SMS normally. When you are in abroad then a situation can happen when you find out that applications are not working and also you don't like the roaming option for your customers.
Therefore, SMS online is an accurate option for you. 82% of the users keep the SMS notification switched on, CTR of SMS is 36% compared with social media which has only 2% and the response rate of text messaging for business is 45% compared with the email communication channel which has 8% only.
Prepare your text message in advance to save time
Let's now understand the fifth benefit of SMS for business where it indicates that you can prepare your message for the clients in advance. This is something unprecedented as sometimes the head of your organization is busy in some other crucial task and at the time of sending SMS, it will be difficult for him to prepare properly to send the matter to the clients.
This is why you can prepare the context in advance to save your time and efforts and guess what you can do this while putting hands on online SMS. You can make up a future SMS campaign to send to your clients for your business activities later on.
This is an advanced concept, so we believe that you will surely like this benefit and use it in your organization's work. This benefit is just to reduce some burden and work pressure.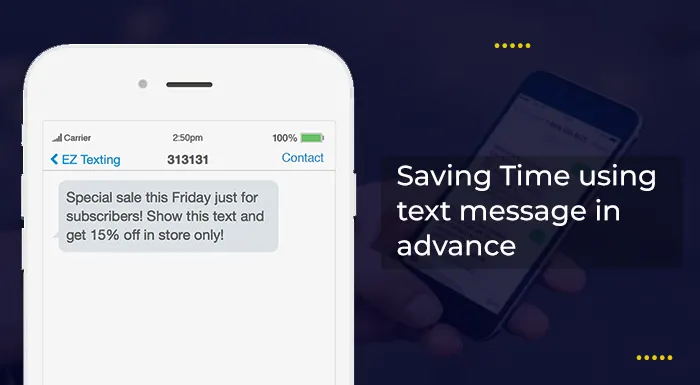 Get the latest extension Twilio SMS API for your SMS purpose
Organizations still believe in SMS power and consider it one of the effective communication channels to make business compelling. You all need an extension for your business and that is why today we are going to unhide a new plugin for your SMS activity called Twilio SMS API. It is especially for sending SMS in bulk to your contact members in just one tap.
Every industry likes bulk SMS functionality, so we present this addon for your business that can be very helpful. The extension Twilio SMS API is suitable for industries like a Call center, Banking industry or even for the sales business. Let's dive into the pool to find out its top functions-
You can send SMS in bulk in just one click
You can do a live chat with your prospects and clients
It offers you a feature of SMS Template
You can save your SMS Conversation here
The extension saves your quality of time and efforts
Twilio SMS API offers an opt-out function
Way forward
We believe that for your instant communication, you can find an abundance of communication channels but it's hard to replace the Short Message Service (SMS) platform. Reason you already know not just of its popularity because of its exceptional features for your business enhancement. We are not describing how other communication channels are not so effective but still, the SMS has which others don't. We are living in today's era where everything has to be done in an advanced way.
This is why today we put a spotlight on the SMS online work for your business that gives you a much better functionality. We have shared the benefits above so that it clears your doubt that how it can help you to reinforce your marketing goals. Also, you can entail the Twilio SMS extension in your organization to reap up the full advantage of that plugin. Time now to see whether you make the SMS platform your first priority or not.