You are not alone to feel that SMS is the best communication method in comparison with others. In our daily life, whenever we want to share anything to our near and dear always SMS method strikes in our mind. Countless benefits the SMS has that may surely change the gear of your business. You can drive your business with astonishing speed today. We decided to let you inform about the SMS tips or we would say SMS Sales practices that what to bear in mind when working on this platform.
What is SMS Sales?
Before going to dive into the pool of practices, first, let's understand in-depth the definition as the term SMS Sales is considered to be the top-most and remarkable sales strategy that assists every kind of business to flash their brand and service and sell their products to their customers via SMS. Gone are the days where you have to make a call to the customer and share the details to make a connection. We agree with you that a Call is a good option but if you strive for the SMS platform then you get engaged with the customers more quickly and your selling idea goal will go perfectly.
Let us explore the real-statistics as 5 billion users in the world have access to send and receive SMS. 90% of the SMS readout within 3 minutes and daily users are sending 23 billion SMS all over the world. The percentage of click-through SMS is 10%. Around 48% of consumers said that they like SMS to receive loyalty messages. 20% of leading marketing groups strive for SMS first. 232 million of American prefer the SMS service first and 98% of SMS get noticed by the target audience. Well, these are really amazing statistics that symbolizes how amazing the platform it is for your business.
Coming back to the point as read out the above paragraphs, it's quite clear to many of you that SMS is best for the Sales and Marketing platform. Nevertheless, if you still have any doubts then we would like to clear all by putting a spotlight on SMS sales strategies today. Read out the whole blog thoroughly
Best tips for SMS sales strategies to grow your work activity
Ask permission before sending
If you are ready to Sell via Text and ready to understand the strategies then let's focus on the first one before going to read out the rest of others. Asking for permission before sending SMS is a holistic idea but if you neglect this idea then do you know which condition you can face? Not only your prospects but also your regular customer gets angry here.
Here no need to break this law and go with best ideas by asking permission from your audience. There are two ways for asking permission from your audience: the first one is creating an SMS campaign and the second one is providing an opt-in box. Then you can move if you get a good response from them. Don't start too early.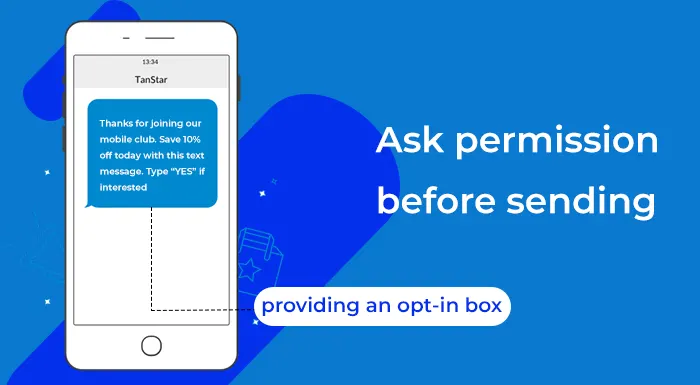 Put hands on plenty of SMS tools now
How many of you just have this mindset of creating a campaign and their job is done? It is the worst idea and you need to run fast with some effective solution and the best one is to put hands on the SMS tools today. Why?
Sell via Text is not so daunting for you when you use tools of SMS which can maintain your communication, set the automation for sending SMS to customers as you already know the significance of automation, set the privacy and much more. Not ending the paragraph here as we also want to uncover those tools: Text Magic, Tatango, Simple Texting, etc.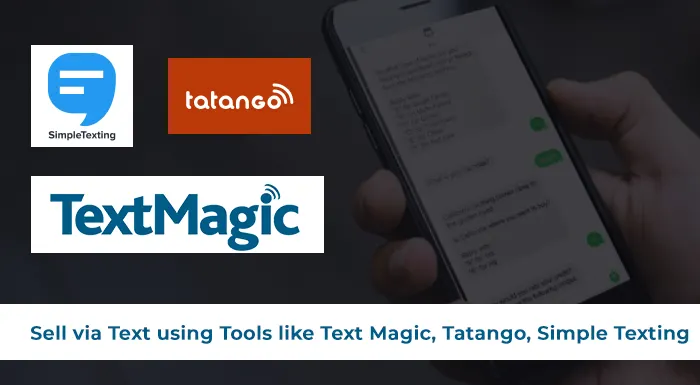 Don't waste time, offer something valuable for them
Sharing an SMS to your prospects with no reason means you are giving signals to your business to shut down soon. We agree with you that no one wants to bring that situation, so we have a suggestion for you all that whatever you send by text to your prospects or even to your customers, your text message should have value.
Before starting work, just think about your customers that why would they open your message first or why do they contact you first, what is your message, does it value them, etc. The best part is offering them in the form of discounts which play the role of a "Magnet" here for you where you get connected with them swiftly.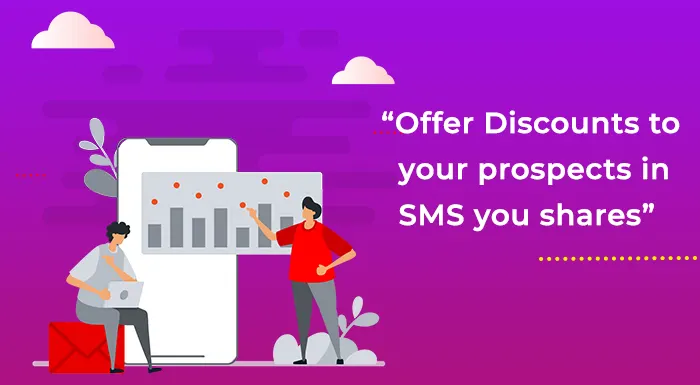 What is your timing for sending SMS?
62% of the cell phone users check their device for new messages immediately and the average response time for a text message is 90 seconds. Sounds good! The statistics always create hopes that platforms like SMS are hard to beat if you follow relevant strategies.
Question is "How many of you send SMS text at lunchtime" or "How many send messages at midnight"? Going on a wrong path and we are here to hold your hand to run on the right track. Timing is very important as you must know what time is suitable or at what time users respond faster to the SMS. It seriously looks creepy when you send SMS without thinking about customers' timing. Change this strategy and get aware of what timing is suitable to get connected.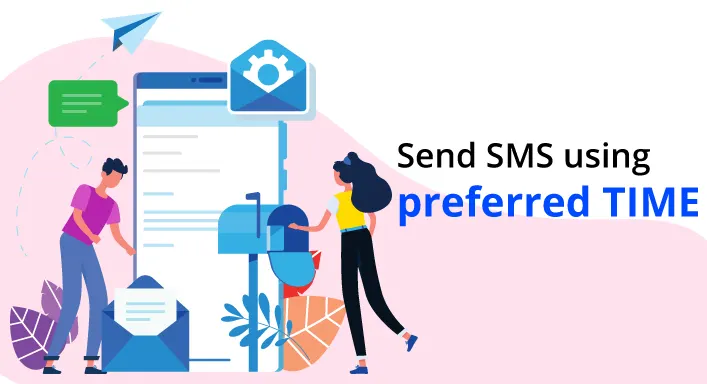 Create SMS Sales messages urgent
An advanced concept but still, it is one of the best one for your business to catch-up customers easily. You have to create a message on an urgent basis where your regular customers feel like "Today is the last day so I have to hurry up" or "I don't want to miss this opportunity at any cost".
Sell via Text is not so challenging if you follow the right guidelines as here when creating a message for them just includes: Limited time offer, Today only, One-time only, etc. This is not an irritating situation as it creates a "Hurry up" situation in them and we are sure that you will get a response soon when sharing such messages.
SMS concept should be clear and in brief
Sending SMS doesn't mean that you have to write an article and explain about your product as you don't have much space and also this is an irrelevant idea to run a business. We said in the heading that SMS should be in brief where you have to cover everything in a shorter way. Confusion about what to do?
Let's clear your doubts here and allow us to guide you: your message should begin with enticing phrases like Free offer or New discount scheme today, pay more attention to the benefits like what customers will get when I share this message and last but not least take the assistance of MMS. Multimedia message service enables you to add images on your text message.
Entail Call-To-Action in SMS sales strategies
Next and one of the most important SMS sales strategies is about the Call-To-Action as sending the message and it should be valuable. Okay but what about the Call to Action? Here you must build up a message that is not only compelling to share with them but also gives them the best result-driven solution and for your assistance, the Call-To-Action idea may enable you all.
Want a suggestion? Start focusing on sharing a survey and encourage users to win that and get exciting prizes. This SMS Sales concept is best where you are showing them you are a straightforward person. Share with them: Use code and get a 40% discount, Sign-up today for free of cost and much more.
Time to share personalizing messages
The Short Message Service is 56 times more affordable in comparison with Adwords, 85% of users said that SMS provide great value return and if talk about the success rate then SMS has 209% in comparison with email or Facebook marketing. We believe that a platform like SMS is a great area of sharing personalized messages and we would suggest you to add this on your list of the best Sales practices. Why?
Customers feel like they always get a message or any update here only as they don't need to open every platform like email or social media to get a message from your side. The customer feels like one-to-one conversation here is the best to deal with anyone. Three best ways of personalization are: Including the name of your customers in text message, Mention his/her activities and customize messages just to cater their location.
Having an extension for your SMS business can help you all the time
It's shocking to see that users still operate vintage tools or you can say old type plugins for their SMS purpose. Gone are the days where users prefer the plugins which are cheaper than others as today' era wants the best function plugin and we are ready to introduce to you an addon called Twilio SMS API. The plugin Twilio SMS is one of the most remarkable ones for your business that can give bundles of features for your SMS activity. How?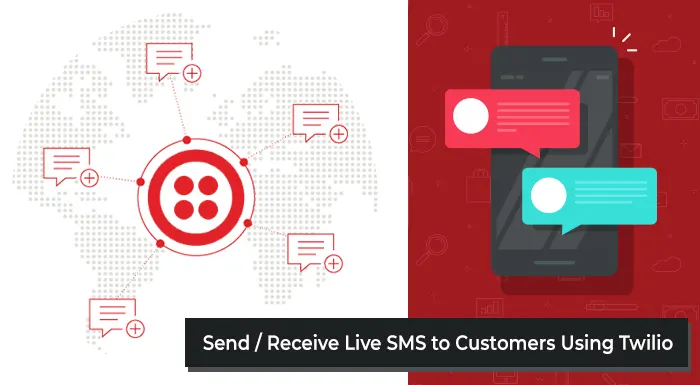 Let us examine whether the plugin is worth it or not: you are involved in an activity of sending SMS to plenty of customers at a single timer and you feel like sending one by one is a burden for you. Let the plugin take your burden The functionality of the plugin is to send SMS in bulk to your customers in just one tap. You don't need to send one by one to your customers.
Furthermore, Twilio SMS API is today's generation plugin where you can strive for the features like SMS template where a template is quite easy to send from this extension. Also, there is an option of opt-out where you can stop getting the conversation by typing and sending "STOP". You can also read out conversation separately as the Twilio SMS plugin has a feature of saving the conversations of your customers.
Final Bricks
In our daily routine task, we prefer first SMS instead of calls or email because SMS unlock the abundance of features and everyone pays more attention to the SMS first. This is obvious that if a platform gets more attention than all of us go to their first instead of wasting time on other platforms. This is why today we explore in-depth about SMS Sales where you get to know what are its best practices to improve the daily activity that you do. Moreover, chances are very high when you want such an extension for your SMS activity that can handle your work to ease your efforts, so we highlight the most dominant extension called Twilio SMS API that what actually it is and how it can save your countless hours in business work. So, what will be your next task? Sharing an email to customers or sharing text messages to customers?