Every business is in a hurry to catch up to more customers and make a new connection with some of the vigorous platforms. Well, in case if you search then obviously you can find out many but being prudent in the organization you will accept those platforms or communication channels that not only grow your venture but also give much better functionality that can hone your goals. We have a suggestion for you to strive for the Twilio which offers the extension called Twilio SMS. Why? Not only is a call a feasible solution to meet up the customers for your work, but you can also endeavour an SMS facility to get a new connection and share many things to flaunt your business in the town. If you already set SMS in your list to use for getting engaged with customers then Twilio SMS is an absolutely stellar choice.
For example: On a daily basis, your Call Center company employees always send SMS to their customers regarding offers or about anything. We are sure that you are not finding this a cost-effective method to do. The reliable solution is the extension called Twilio SMS integration that can save your amount of money and removes all such hassle that you are facing through an old vintage SMS platform.
Still, we think that sharing only one feature like cost-effectiveness is not the solution. We decided to expound on all details of this extension of Twilio Platform that how it can enhance your experience. Let's make a start
Features of Twilio SMS why it is valuable for business
Send SMS in bulk to your customers swiftly
We all know the process of sending SMS as you have to select the message and just send one by one to your contact members to whom you want to share.
But Twilio has something out of the box solution why don't you use Twilio SMS plugin where in just one click the SMS will send to your customers? It is one of the best methods for your business which not only saves your quality of time but also your efforts. You don't have to share one by one to your customers.
Conversations in Twilio SMS will remain saved
Sometimes you want to read out the conversations of the past related to your business activities. Many of you find it clueless because it's hard to get those conversations back. But it can be possible if you adopt a Twilio SMS integration plugin.
Outright Store offers this feature in this plugin where the conversation that you perform will remain safe. You just simply go to the record section where everything is there. Keeping earlier conversation is a plus point of this plugin because it's a signal to you to strengthen your relationship with customers more.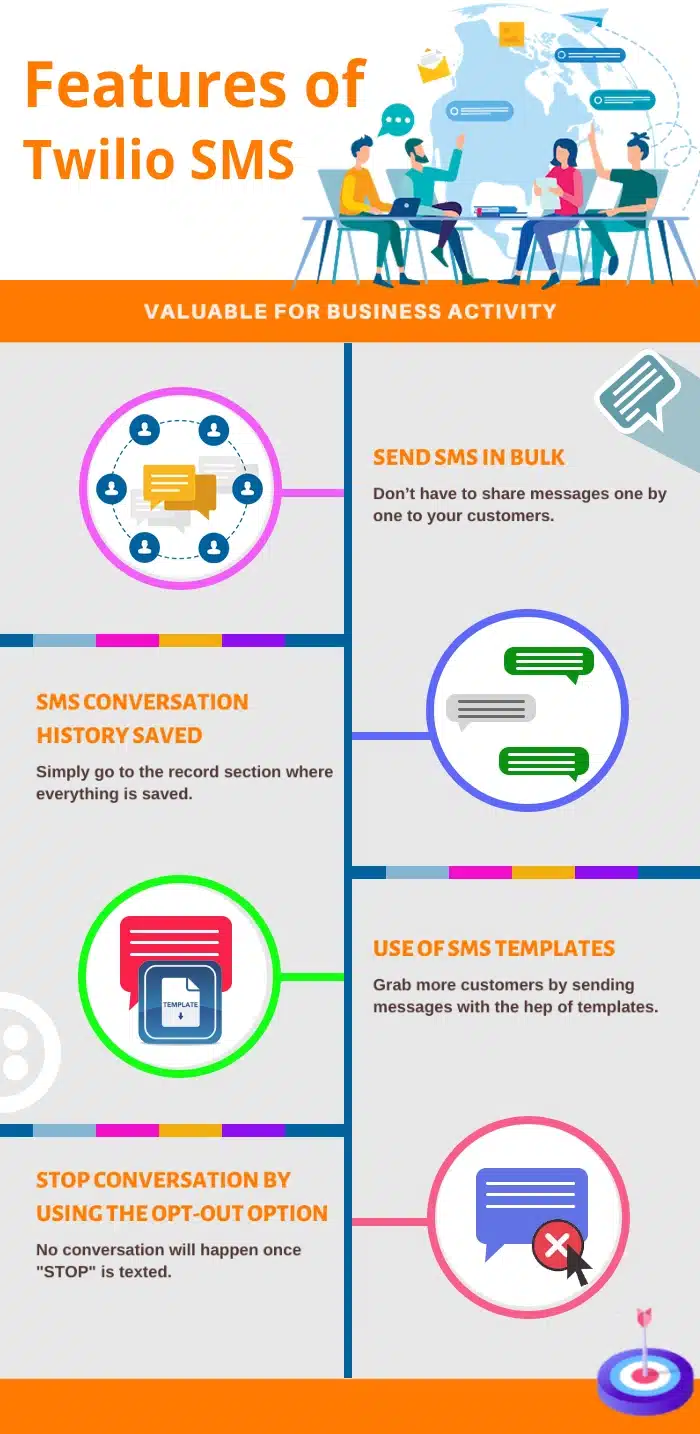 Make use of SMS templates when choosing this plugin
We think we don't need to tell you about email templates as you all know how crucial it is for your entire business work. The similar process you will get in SMS templates as Twilio SMS plugin has a feature of SMS templates.
You can send SMS with the help of templates now to your customers. It can be a great strategy to grab more customers as they will surely like your SMS template the way you will present in front of them.
Try Opt-out option to stop the conversation
We believe that you will now like this Twilio SMS extension for your business work. There can be a chance when you don't want any conversation should happen. Is it possible?
For your assistance, the feature of Opt-out option may be helpful for you. You just have to type STOP and then send. After that, no such conversation will happen with that person to whom you send.
Some basic criteria before sending SMS to customers
How many of you are agree with us that SMS is the most dominant tool for managing conversation with customers? We think that SMS can even flaunt your business and can assist you to make a good connection promptly. Still, you need to understand some criteria and keep in mind like-
The offending method is when you send bulk of SMS to only one customer relentlessly. Obviously, this is the worst method to get engaged with them. Too much SMS can create bewildering and customers may feel frustrated. Don't send too many texts at a single time, have patience.
What is the time to send SMS to your customers? Have you ever worked on this criteria? Timing is crucial you can't text them at any time when you are working or free. You should know what time is suitable to get an accurate response.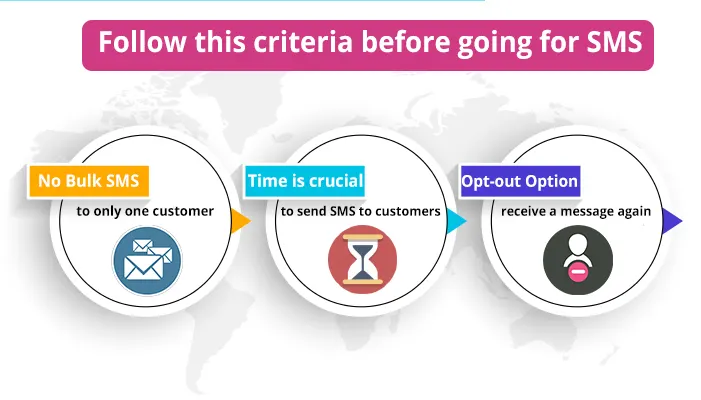 Many don't want any SMS from your side then please don't message them again and again regarding your business activities. Give them an option of Opt-out. They will not receive a message from your side after that. Do what customers need not every time you should focus on fulfilling the needs of your organization.
On which industries this plugin can enable activities
This plugin called Twilio SMS integration can play a key role and give much better ways to hike up your business. Using this, it can give much better ease to grab more customers like-
Call Center Industry: You have hired numerous employees to highlight your business. Your call center organization must strive for Twilio SMS extension where they can share SMS in bulk to your customers for maintaining good relationships with them.
Travel Industry: Why don't you expand your business of Travel by using this plugin which is the basic requirement for your activities? Share your business offers regarding Travel like brochures, discounts, etc through SMS only.

Human Resource Management Industry: Like the above industries, if you are running your Human Resource Management industry successfully then you can also add this plugin in your list. It helps you to send messages to hire someone by sharing messages in bulk to everyone. Time saving!
Sales and Marketing Industry: The first strategy of every Sales and Marketing industry is to flaunt their organization by sharing their product details and service to their customers. You can try this cost-effective vigorous tool Twilio SMS integration for your task.
Twilio SMS pricing 2020
If you are keen to use this extension for your venture why don't you watch it's pricing too. Money matters the most for some quite of you, so have a look-
Programmable SMS: Cost is $0.0075 for sending and receiving SMS both
Programmable Chat: Cost is $0.03 per active user per month
You can also endeavour this plugin from Outright Store as we have introduced Twilio SMS at $299 for our clients.
Closing words
Twilio is considered to be as the most advanced platform for the communication in the CRM industry which has raised the level of the communication and reinforced every business. Like you have read out our previous blog on Click to Call, we have presented one more Twilio plugin but it is something unprecedented and this dominant tool is Twilio SMS. It is for making your SMS conversation more amazingly than before. You all have used out many outdated SMS tools that are not so cost-effective and don't have any exceptional features for the users. You must try this Twilio plugin for your business that can help you in your work with the utmost ease. Read out the whole blog and its functions like how it will grow your business more.