After ruling some of the great industries like Sales and Marketing, you have to agree that without Customer Relationship Management (CRM) a business can't stand strong. You can say that CRM always plays a role of assistance in every business operation.
CRM is expanding and its advantages are always showing positive results. This is the reason we wrote this to inform you that CRM is also helpful for the Healthcare sector. How? You already know the previous scenario of the Healthcare sector. It is different in comparison with the current one.
We are not saying that the current time of the healthcare sector is fine, but CRM has changed the whole level. Your Healthcare business is now under this eminent software. CRM in Healthcare plays a major role and has bundles of functionalities. It will keep on growing your business. You can expect more development in this business.
What is Healthcare CRM?
Healthcare CRM is one of the systems that has enormous benefits to build up a great platform for the healthcare organization. Every doctor or employee in your organization gets a 360-degree view of the patients.
It enables them to check out their activities and habits. You already set to hone your goal of retaining patients. Take the assistance of Healthcare CRM you not only get engaged with your patients but also can retain them.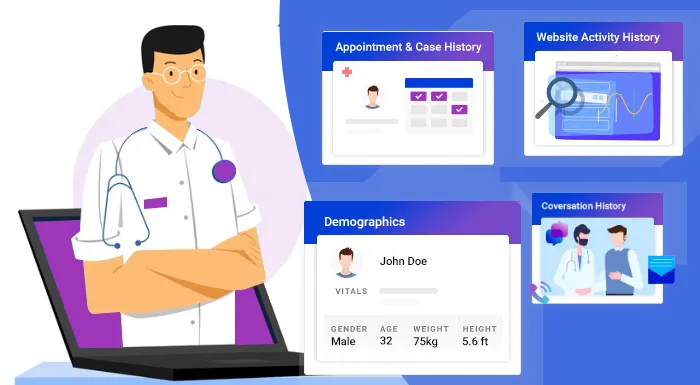 For example: You are a doctor, so it's very common that you prescribe medications daily to every patient. It's hard to maintain the record and remember what you wrote earlier. The best solution for you is CRM in Healthcare organizations that may help you all to keep the records of prescriptions and medications of every patient. Records remain safe when you strive for CRM Software in this business.
Let's walk through the whole blog as we have more details for you to show regarding the CRM Healthcare industry. You all should understand some of the great Healthcare software for your business.
Evolution of Healthcare CRM
Before going dig deeper into the concept of benefits of Healthcare CRM Software, first, let's understand the evolution of this. You already are well aware of the healthcare organization earlier as they were established but with fewer facilities and equipment. Every patient wants a better customer experience so that they never feel fretted and this change has come after the introduction of Customer Relationship Management.
As you know, CRM has positively impacted industries, it has started to work harder and from now patients are now called Consumers. CRM plays a crucial role in this venture, for example, providing the relevant information of every patient via communication like phone, email, etc. A big thanks to the Healthcare CRM because it is the one to deliver information of patients straight to doctors and personalize the experience even growth and development.
Earlier what healthcare systems needed let us tell you as they are in a hurry to get that system that supports electronic health records; content management system, content rationalizing system and many more are there. CRM is the one who supports all this and brings a vast change that no healthcare industry has expected. In short, for hiking up patient satisfaction and retention, it is now possible after the introduction of Healthcare CRM Software.
How can CRM enhance the Healthcare industry?
We told you that CRM is the best solution in every healthcare sector but how can it enhance this industry that is the question? We have compiled some pointed so readout:
The first is maintaining long-term relationships. Between who? Take the help of exceptional Healthcare CRM Software for your day to day work. It helps to maintain the relation between patients and the practitioners. They can parse a complete record of every patient profile and keep that profile safe in CRM.
The data of every patient can be watched by the concerned person too, so zero percent chance of data loss and if they keep their data safe then it's a great signal of maintaining a good relationship.

The next is you can keep a patient medical history safe in your CRM as here CRM is well-known for maintaining the records. You can share those medical records to them via CRM. Big deal!
Also, it can detect the drug-related pathology of every patient and after that maintain the records. Like you have read out in the previous blog of CRM Banking and CRM Call Center that maintaining records is the first priority, same goes in the Healthcare sector too.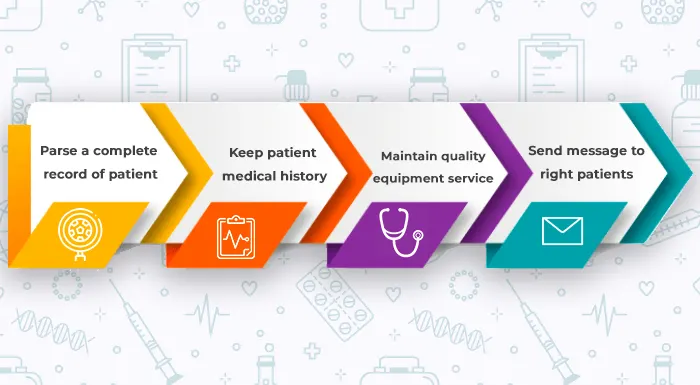 How about managing the pieces of equipment service in a proper way? CRM in Healthcare is a perfect choice for this organization to not only maintain the equipment service but also deliver high service quality. CRM can notice all this and can alert you.

Is it possible to enhance the Healthcare industry by sending messages? Healthcare CRM Software will allow you to send the personalized message to the right patients and here a great chance to understand your patients better by maintaining conversations. You can target every patient accordingly and this assists every patient to enable them in decision-making.
What are the benefits of Healthcare CRM Software?
Understood the Evolution of CRM software in the healthcare industry and how it enhances your experience? It's time to pay attention to some of the benefits of CRM software for this industry. Let's go ahead
A notification process plays a role of reminder
You have an appointment with the doctor and suppose you don't want to miss that then CRM can help all of you. How? You can set the appointment schedule in your CRM and it will remind you when you have to go instead of going unattended.
This is the best feature of Healthcare CRM which plays an essential role of reminder for every patient. Moreover, you will get an alert message via SMS or through email.
A great chance to boost up the collaboration
We are informing you about the importance of CRM software in the healthcare industry, so add-on this too because it is about the collaboration that not only enhances the collaboration of organization but also of every patient. How?
They don't need to go to any laboratory for the report collection or for other purposes; CRM in Healthcare can link up there to every patient for their work. It is time-saving and your efforts will be saved.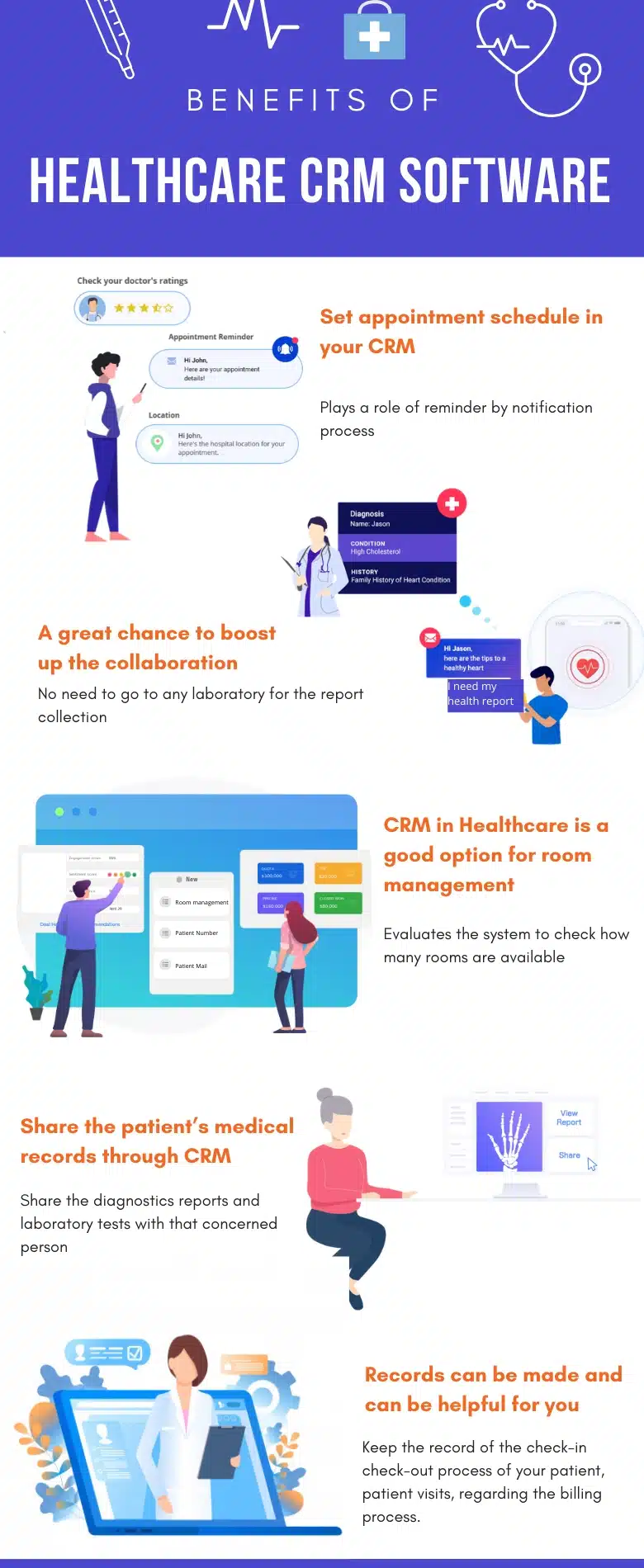 CRM in Healthcare is a good option for room management
Well, if the benefits are creating interest that how superior the system is for the healthcare sector then just read out the next feature too. Are you facing the problem of room management all the time when you there is a requirement?
This is the common problem and the solution for this is putting investment on the Healthcare CRM Software which just evaluates the system to check how many rooms are available. In addition to this, you can also get to know the reservation done by the patients, appointment time in a doctor's schedule, etc. You can make use of the products like SuiteCRM DocuSign for this industry.
Share the patient's medical records through CRM
Sometimes, you think that sharing the reports of the patients to the concerned person is a good decision.
You all can do this with the assistance of Healthcare CRM as you can also manage and upload that swiftly and share their diagnostics reports and laboratory tests with that concerned person only if you want.
The process of sharing the reports or tests can be done rapidly and even just sitting at home, patients can also grab information that he/she wants to know.
Records can be made and can be helpful for you
You want to keep every single information of the patient safe, so adapt the CRM software as soon as possible for your healthcare sector. Like you want to keep the record of the check-in check-out process of your patient, patient visits, regarding the billing process. Here for keeping records safe, SuiteCRM Database Backup and Restore Manager plugin can be your priority.
It does not only help your business but also it can be very important at the time of life insurance policy. Such benefits are crucial and can raise the healthcare organization into the new height of success.
8 best CRM Healthcare software for 2023
Many of you started researching CRM but let us expound on one thing, there are many CRM Software that can enrich your experience. We have jotted down some points below regarding that software-
Pipedrive
The most stellar software for Healthcare CRM which is beneficial for your business to check out the sales overall activity at the same time.
Your all-important deal will not be dropped, it remains safe.
Pricing of Pipedrive software starts from $9.90 per user per month.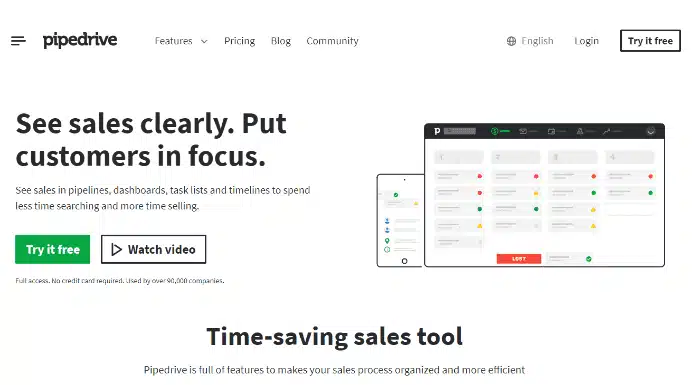 Zoho CRM
CRM in Healthcare is totally worth it and its software like Zoho CRM which is a perfect choice for mid and large scale organization.
It has some of the advanced features like pipeline management, artificial intelligence, etc.
The pricing of this software starts from $14 per user per month. Though it also has a freemium version that allows up to 3 users.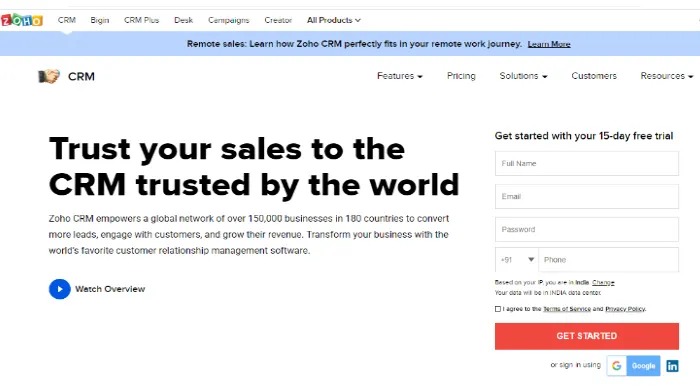 Nutshell
Running your small or medium scale business, adapt Nutshell CRM software to strengthen your goals.
The software is best for bulk email templates, import contacts, sales automation, etc.
The pricing of Nutshell software starts from $16/per user/per month.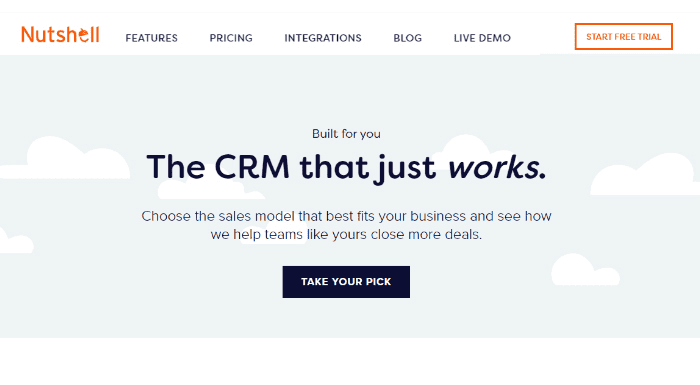 Zoho Support
The Healthcare CRM has one more software for you and that is Zoho Support which is an accurate choice for every type of business.
It has features like contract management, customer support portal, report creation and much more.
The pricing of this software begins from $12/per user/month.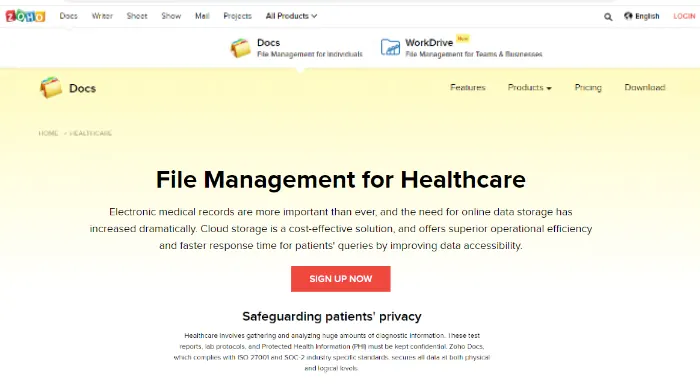 Freshdesk
This cloud-based help desk system is perfect for medium and large ventures.
You will adapt features like ticketing, automation and even collaboration too.
This CRM software pricing starts from $15/per user/month.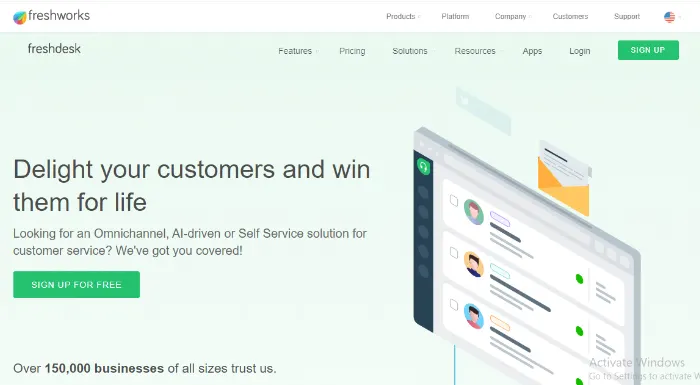 SolarWinds
This can be also your first choice for Healthcare CRM software as it is perfect for every type of business.
You can meet up with features like change management, IT Asset management, etc.
Here the pricing of SolarWinds starts from $800/ per user/ year.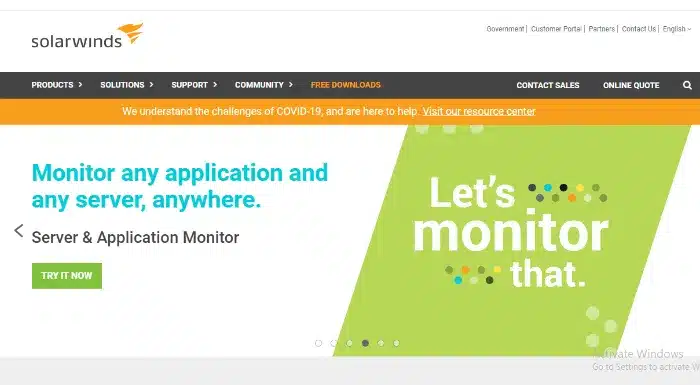 Zendesk
Add this customer service software too which is a holistic software for any type of business.
Zendesk software may be a suitable choice to build up a relationship with customers.
The pricing of this software begins from $29/per user/month.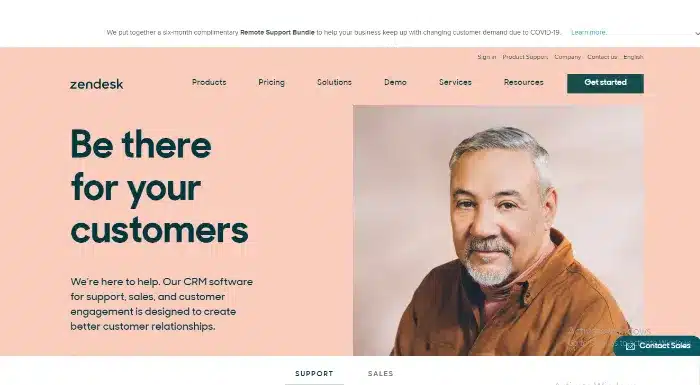 SugarCRM
Most popular and dominant CRM software for the healthcare sector that is offered on cloud and a good choice for any business type.
You can endeavor for the features like sales automation, marketing automation, account management, etc.
The pricing of SugarCRM starts from $49/per user/month.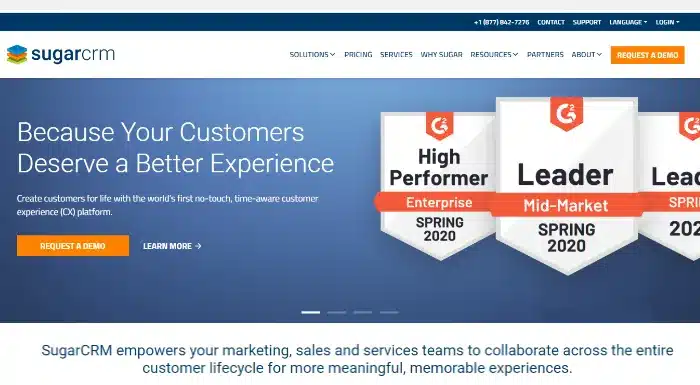 Final Track
This can be a surprising moment for most of you but the real fact is 60% of the United States hospitals use Customer Relationship Management. They know their work can go with utmost ease if adapting the CRM software forever. There is a requirement of CRM to give a result-driven solution and reinforce this sector for lifelong. Not only the doctor and staff want CRM, but also patients need this profitable software to manage everything. Check out above software for your business handling. Hope you choose the right one according to your business need.