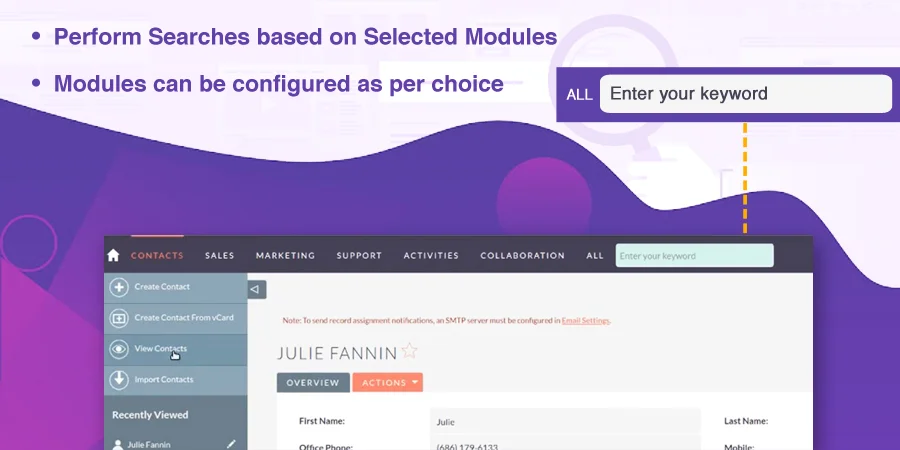 SuiteCRM Faster Global Search
Searches always play a prominent role in SuiteCRM, so we just want to highlight a time-consuming addon called SuiteCRM Faster Global Search. Here search a keyword that you want to open and it gives you multiple options to select it and for setting up the search preferences. The plugin can raise a chance to enhance the ability to perform searches and of course, the plugin which saves your quality of time can rapidly increase your business productivity.
For example  -: You work daily on CRM so it's quite obvious that when you search any keyword then it may take a lot of time to check that module which you want to open. But using our plugin, you can simply set the search preferences like "Best Match".
Key features of Faster Global Search :
The extension Faster Global Search

allows you to perform searches based on selected modules. Moreover, the modules can easily be configured according to your requirements.




The plugin

Global Search

can enable you to keep track of your search history.

Enhance Global Search

allows you to move the location of the search bar. You can move the Location of the Search bar anywhere in CRM.

It's easy to set search preferences such as the best match or exact match.
Conclusion
Searches happen on a daily basis as per the requirement so why don't you save your quality of time to search something when Advance Global Search is here to offer the best functionality for your work. The best chance to raise business productivity and complete your task in a minute when using this advanced extension. Readout whole features about this plugin and understand it before going to use it for your business. 
Thanks for reading it, Your feedback will give a chance to do better, so please have feedback if you like it!