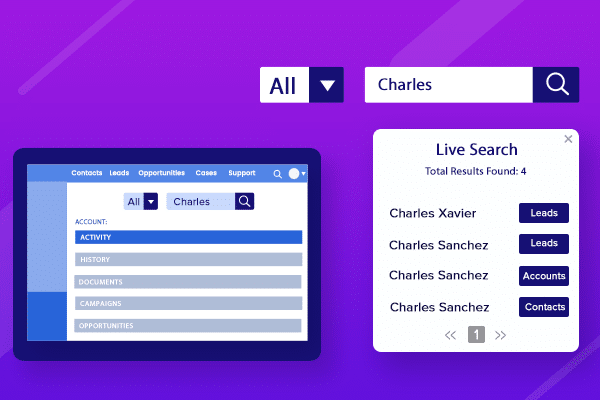 Fastest Global Search (Premium) Version
Get relevant suggestions & live search results instantly

Do module based searches for faster results

Check the user activity in the search history section.
Supported to All SuiteCRM Versions
Unlimited License for Single Domain & its Sub-domains

Lifetime Updates

Unlimited User
Screenshots
---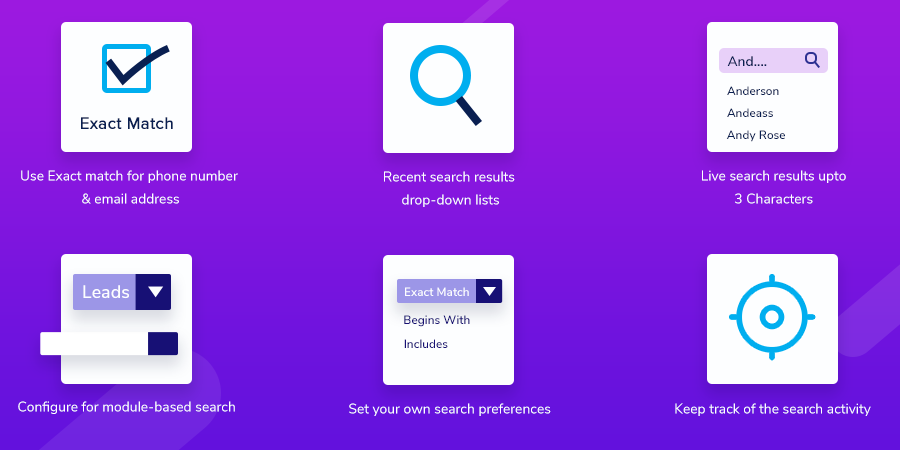 If you possess a plugin like Global Search (Premium) then you will be able to do more in a smaller frame of time. You can find anything from the entire CRM database immediately and hence productivity will be improved. In addition, faster and accurate search results allow you to understand data quickly and help in making swift decisions. In short, it enhances the user experience.
Real-life Example: It provides the most accurate information at fingertips, constantly. For example, one of the managers wants leads from ABC Inc. then instead of finding them one by one in your database, you can use this faster global search to look for leads in the module. The entire process will be done in just a few seconds.
Features of SuiteCRM Global Search (Premium) Version
Use Exact match for phone number & email address:

In the extension, there is a feature called "Exact Match" which is effective for quickly finding and opening phone numbers and email addresses.

Recent search results:

In the upgraded search bar, the users will get drop-down lists with all the recent and past search results. Not only this, but you can also see the related module of each and every record.

Live search results:

After entering up to 3 characters, the plugin will automatically start showing related recommendations in the drop-down. So even if you don't know the entire name of the record, you'll be able to see the most related results.

Configure for module-based search:

If you just want to search in the particular modules only like Accounts and Contacts then you can do it as well. The only thing you need to do is select the targeted module while configuring the search settings. 

Set your own search preferences:

In the search configuration, you'll have three options i.e. Exact Match, Begins With, and Includes. You can choose any one of them to get the desired search results.

Keep track of the search activity and history:

The user will also get a search activity tracker in which all the search queries and results will be displayed.
Frequently Asked Questions
Can I search in the particular module like Leads, Contacts, etc using this extension?
Yes, this plugin can be configured for one particular module as well. The benefit is it will reduce the response and loading time to a great extent.
How can I assign the plugin to the different users?
The admin will be able to assign the functionality of the plugin either based on their user role or user security group.
Video
---
Reviews
---
All Add-Ons are life time purchases, there are no recurring/hidden charges