Cloud computing is on the rise and it will be for upcoming years. There are numerous advantages that a business gets from cloud computing. Above all cloud computing provides users the flexibility to access and manage data from anywhere. That's the reason why every enterprise is moving its software applications to cloud-based platforms. Likes of SugarCRM has also become a part of innovation with its cloud-enabled platform i.e. SugarCloud. It is renowned for CRM software (Customer Relationship Management), which is serving versatile industries.
Most businesses are adopting the cloud computing approach because of its easily accessible data, a report suggests. On the other hand, on-site IT systems are rigid when it comes to accessibility. And, the current pandemic scenario has taught the importance of remote data accessibility. The traditional IT Systems include infrastructure and on-premises systems and their maintenance cost a lot to a business. Therefore, quite a few industries have been gradually switching towards a more flexible and easily feasible solution.
Benefits of Cloud Computing Software Applications
Before unveiling the benefits and advantages of cloud computing. First, let us give you a brief overview of SugarCloud. One of the best things about SugarCloud is that it is based on SaaS (Software as a Service). In simple terms, you can access this software from anywhere with the help of the internet and browser only. It is ready to install and an easy to use application. Its cost is also considerably low due to the co-hosted environment of SaaS and eventually helps in saving some capital of businesses.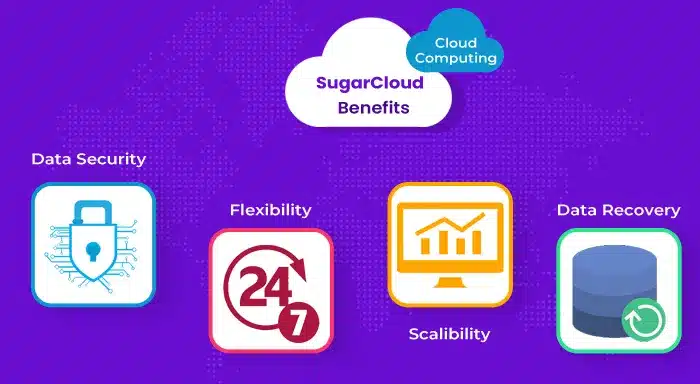 1: Security
The first and foremost reason due to which every business hesitates in adopting cloud-based applications is security. A study shows that nearly two-thirds of organizations believe security is one of the major drawbacks of cloud computing. Data privacy and regulation should be the utmost concern of every enterprise.
Organizations opt for different preventive measures like end-to-end encryption and multi-layered identification to avoid any data breach. Cloud vendors spend billions of dollars every year to create a state of the art security and multi-layered defense mechanisms. In the past, it has been proved that cloud providers are optimal for data security rather than in-house security.
Below are some of the top features that you should look for in every cloud computing vendor from a security perspective.
i) Top-Notch and Advanced Perimeter Firewall.
ii) End-to-end Encryption
iii) Individual Firewall for every database and application.
iv) Tier IV Data Center with state of the art infrastructure.
v) Multi-factor authentication
2: Flexibility
As we said earlier flexibility is one of the major contributing factors due to many organizations striving for cloud computing. According to research, 42% of businesses prefer those cloud vendors who can provide access to data anytime, anywhere, in short 24/7. With cloud-based IT infrastructure, you won't need to put too much effort into the maintenance of computer or storage devices. Instead, you can focus on the achievement of business goals and satisfying customers.
3: Scalability
Cloud computing applications like SugarCloud can fulfill the needs of whether it's a huge enterprise with more than thousands of employees or a budding startup. Not just this, especially when a company is growing rapidly it needs changes and so does their IT demands. A perfect cloud application can also scale up and down based on the business requirements at the same rate and efficiently as well.
An ideal cloud solution provides you the scalability of a wide range of bandwidth. But, it's not the same case with traditional IT infrastructure. You have to think twice whenever you need to upscale your systems. It can cost you money, time, physical space, and a lot of other things. Therefore, it makes complete sense to invest in cloud-based solutions, specifically if your business at the budding stage.
4: Disaster Recovery and Data Loss Prevention
Whether it is cloud-based solutions or On-premises IT infrastructure, you can't avoid unexpected disasters like power outage or natural disasters. But one can always adopt some proactive measures for speedy disaster recovery. Some cloud users claim to have disaster recovery within four hours. These results are significantly better than compared to non-cloud users.
One of the major drawbacks of office computers is if they get damaged somehow then it would be really difficult to retrieve all the stored data. And the huge possibility is you end up losing the entire data. On the other hand, data stored on cloud-based servers can be accessed with only internet access. Even if your existing system is not in operating condition, you can access data from any other computer.
Email to Lead Plugin for SugarCloud
For the past few years, Outright Store has been serving the CRM community with its advanced and powerful extensions of Suite/SugarCRM software. Our SugarCRM Email to Lead addon is one of the many plugins that we have developed to enhance the software's functionality. The main objective of this plugin is to generate leads from the inbound customer's email. Not only this, the extension is completely capable of managing those leads within the SugarCRM software.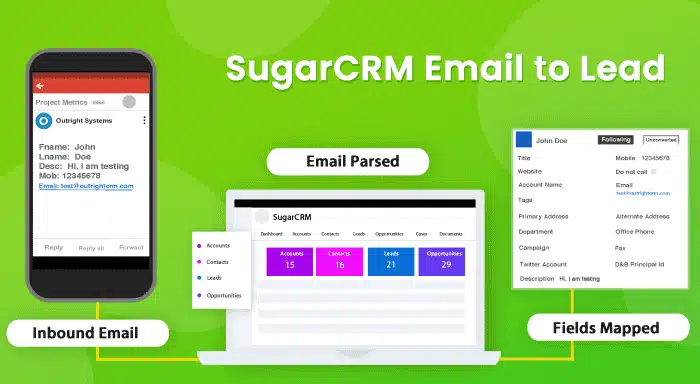 Features of SugarCRM Email to Lead Extension
Get deeper insights into features of SugarCRM Email to Lead extension from the list mentioned below.
This add-on will allow users to create records automatically using inbound customer emails. This will save the user's from tedious tasks and saves a lot of valuable time as well.
The user will be able to create records in any module with SugarCRM as per requirement. In terms of work flexibility and data management, this feature holds a lot of value.
Our Email to Lead extension is quite capable of reading the entire email body. Not just this, it can also extract email from the body and attach it. The users get more insightful information due to this feature.
You can also map the fields using predefined tokens and the even good thing is that you can add many fields.
Once the records are created in the SugarCRM, it is even easier to assign them to the appropriate teams. As the entire process is automated, you can save a lot of time here as well.
You can also get a notification on the Email ID of your preference, whenever a new record is created in the software.
The Bottom Line
We hope now you understand the benefits of having a cloud computing platform like SugarCloud. Especially, for a growing business that has a lot of potential and expansion plans in the upcoming years. After an initial investment in the cloud-based platform, you'll no longer need to worry about maintaining and scaling up IT infrastructure.